Quincy Conserve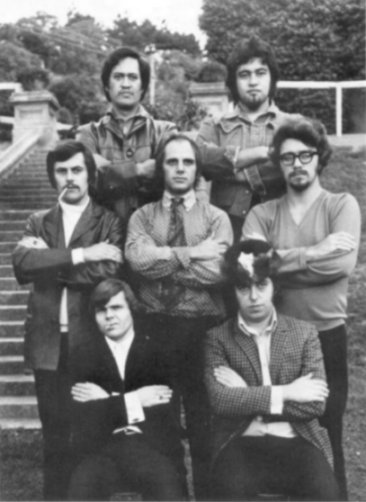 1970: L to R, top to bottom: Rufus Rehu, Dennis Mason, Johnny McCormick,
Bruno Lawrence, Kevin Furey, Malcolm Hayman and Dave Orams.
Line-Up:
Malcolm Hayman (Lead Guitar / Vocals)
Dave Orams (Bass Guitar)
Rufus Rehu (Keyboards)
Johnny McCormick (Saxophone)
Dennis Mason (Saxophone)
Brian Beauchamp (Drums)

The Quincy Conserve was formed in Wellington in late 1967 by Malcolm Hayman. Malcolm was an extremely talented musician who had already been on the music scene for twelve years by that stage. Hayman was only 15 years old when he arrived in Wellington in 1955 as a member of the Maori Hi Fives showband. The following year the singer-guitarist formed the Trademarks, long-time residents at the Mexicali, a popular nightspot owned by American expatriate Harry Booth. The Trademarks were very popular, and after four years of constant playing, queues formed to see them every time they played. Over the years, 30-odd musicians passed through the ranks of the Trademarks, before Malcolm disbanded the group in 1961. The Trademarks owed more than a little to the Maori showband tradition, where Hayman had learnt his licks, but the group gave Wellingtonians their first taste of rock'n'roll. One member of the Trademarks was Rodney "Dody" Potter, who was later a member of the Keil Isles and Dallas Four.
Following the demise of the Trademarks, Malcolm spent 18 months at the New South Wales Conservatorium of Music, followed by two years on the Australian-Pacific cabaret circuit with a variety of bands. Malcolm was a severe diabetic and in 1965, during a residency in New Caledonia, he came down with tuberculosis, spending the next 14 months in a Noumea hospital. He returned to Wellington in the middle of 1966 and formed a new band called the Soundells.
The Soundells had a residency at the Downtown Club in Wellington and at the end of 1967 they were enticed to go to Auckland to play there. They accepted the offer, but Malcolm decided not to go. Now without a resident band at the Downtown Club, owner Roy Young had enough faith in Malcolm to give him a budget to recruit, equip and rehearse a new band for his club. Malcolm immediately tried the rhythm section of Sounds Unlimited, who had just dissolved, but at rehearsals found that they were not appropriate. He then started scouring the countryside, looking for the best musicians, with a promise of a regular gig and a steady wage.
Malcolm recruited bass player Dave Orams from the Underdogs, keyboardist Rufus Rehu from the Quin Tikis, another previous member of Sounds Unlimited, saxophonist Johnny McCormick, and an inexperienced saxophonist, Dennis Mason. On drums was Bryan Beauchamp, from Bari and the Breakaways, but he was quickly replaced by another former Quin Tikis, Earl Anderson.
Rehearsals over, the Quincy Conserve debuted at the Downtown Club in February 1968. They were one of the most talented and professional groups to appear on the New Zealand music scene in the late sixties. They were Wellington's first 'supergroup'. Ria Kerekere returned from the Soundells to provide some vocals for a little while, and not long after they got going, Earl Anderson came down with hepatitis and was replaced by Raice McLeod.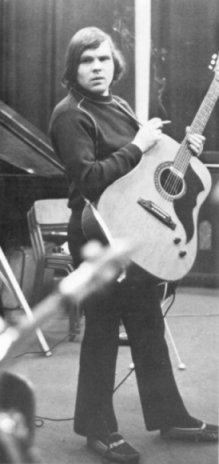 Malcolm Hayman 1969.
Word spread fast about this group and Roy Young soon recouped his investment. Patrons got their money's worth from the entertainment and the club even featured floorshows from the top soloists in the country. It was a top-class venue , which kept out riff-raff by strictly adhering to stringent dress regulations and an over 18 age restriction. Producer Howard Gable visited the venue and was impressed enough to sign the group to EMI, not only as artists but also as a studio band, to record backing's for the large roster of talent recording for the company, including Allison Durbin.
Releasing on the HMV label, their first single "I'm So Proud"/"I've Been Loving You Baby" came out in June 1968. This was followed in 1969 with "Hallelujah"/"Here's To The Next Time" and "Lovin' Look"/"Soul Thing".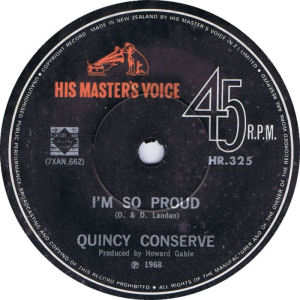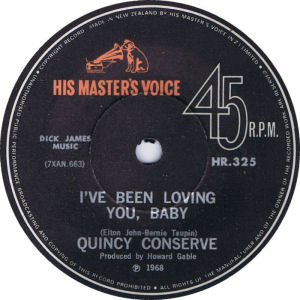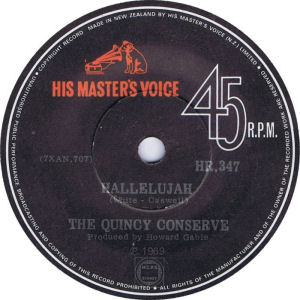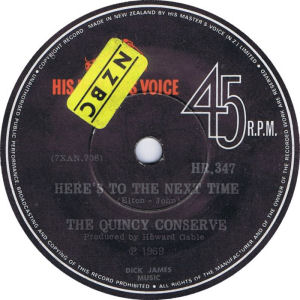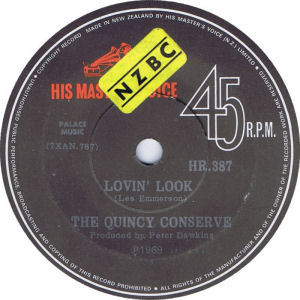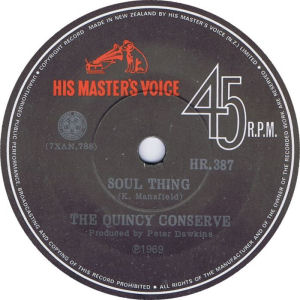 These records got very good revues, but that wasn't reflected in the sales. Unless you were from Wellington, no-one really knew anything about the group. This was rectified slightly when in December 1968, the group backed Allison Durbin on a national tour. This was the first time they had played outside their Downtown Club residency.
Kevin Furey, who had previously played with Top Shelf, joined the group on both guitar and trumpet in 1970. Two months after Kevin joined, Raice McLeod left and he was replaced by Bruno Lawrence, who had been playing drums in Sydney with Electric Heap.
The true story of Bruno's introduction to Quincy Conserve was explained to me by Raice McLeod himself. Raice had put a couple of feelers out to some friends in Australia to see if there was a gig available over there. While he really enjoyed playing with Malcolm and the guys, he was intrigued at the opportunity to travel. He had also mentioned this to some of the musos in Auckland, and it was a bass player from Auckland, John Coker, who called one night from Sydney. He had just accepted a gig with Ricky May to play a residency at a hotel in Surfers Paradise, and they needed a drummer. Ricky, who Raice had never met, wanted a Kiwi if possible. Within a day or two, Bruno called and said that Ricky had offered him the job, but he wanted to get back to NZ, and did Raice think Bruno could have the Quincy Conserve gig if he took the Ricky job. It sounded like an "OK" arrangement to Raice, but when he laid this all out to Malcolm, he was not happy. He never wanted to hold Raice back from new opportunities, considering that Raice was fairly new to the music industry, but he felt that Quincy Conserve was good the way it was, and he knew that Bruno, though brilliant, could be trouble. Raice always got on very well with Malcolm and didnít want to do anything that might damage the group, so they agreed that Bruno would have to audition. If everybody, including Roy Young, who owned the Downtown Club and thus controlled the band's residency, was happy with the way Bruno played the audition, the deal could go down.
Well, Bruno came in and impressed of course. He was way more experienced than Raice, and it showed. Raice loved the way he played. Malcolm's point was that he had complete respect for Bruno's musical ability, but he didn't think that Bruno would last in the very structured format of the Quincy Conserve. Right after Bruno auditioned, Malcolm and Roy took Raice into the back room at the Downtown. Roy said, "Bruno plays great, but Malcolm has concerns. I've been happy to have you in the band, but it's your decision. If you want to go, good luck. If you want to stay, this gig is still yours." Raice couldn't ask for fairer deal than that. After a day of thinking about it, Raice called and accepted the Ricky gig and went on to Australia. The way his resignation from Quincy Conserve was handled by Malcolm and Roy was just one of the reasons he always liked and respected them both.
Bruno had an immediate impact on the group. He wrote a song that was included on the group's first album, and the song became their biggest hit. The album released in 1970 was "Listen To The Band" and the single was "Ride The Rain"/"I Feel Good". The single was also released in Australia. Bruno's "Ride The Rain" became a finalist in the 1970 Loxene Golden Disc Awards. The second single from the album was "Everybody Has Their Way"/"Purple Frustration".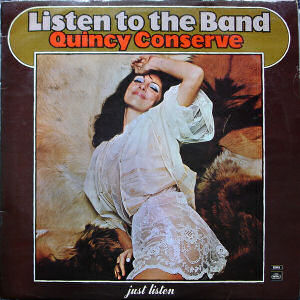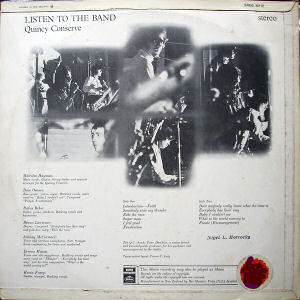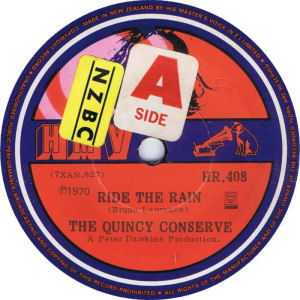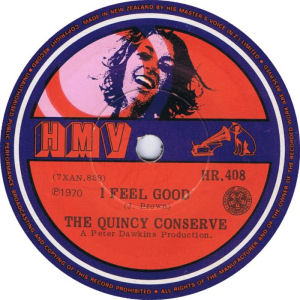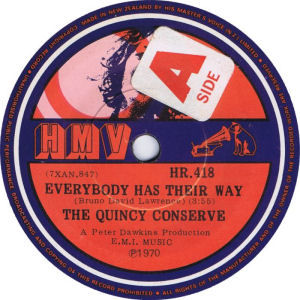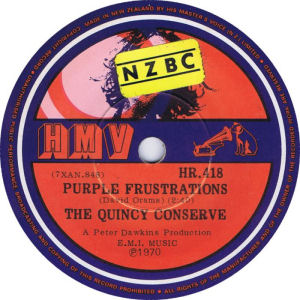 A second album "Epitaph" was released in 1971. It contained a number of excellent songs and from it came three singles, "Aire Of Good Feeling"/"Don't Arrange Me", "Alright In The City"/"Somebody Stole My Thunder" and "Going Back To The Garden"/"My Michelle Chan". The single "Aire Of Good Feeling" was an album track from The Ides Of March debut 1970 album "Vehicle" and the song "Alright In The City" was the second single from American pair Dunn & McCashen in 1970.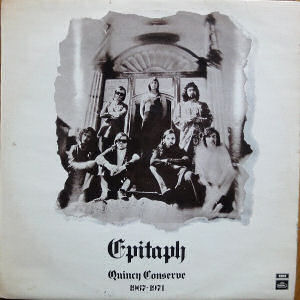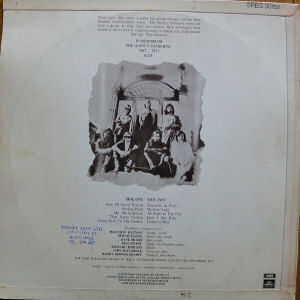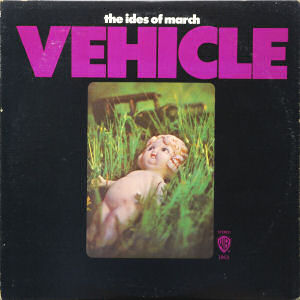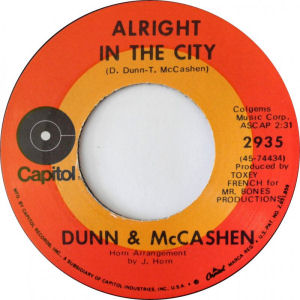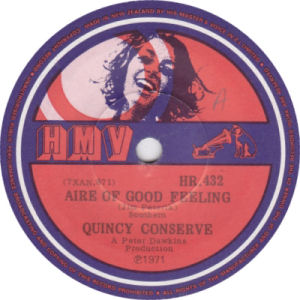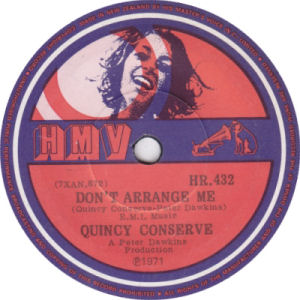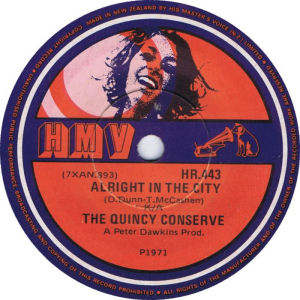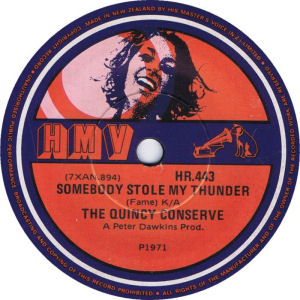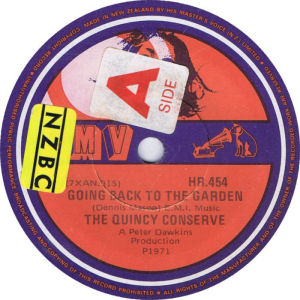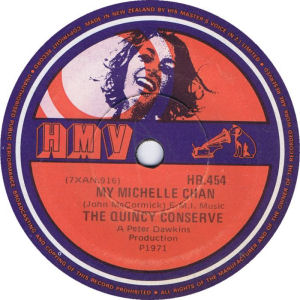 The Quincy Conserve was always Malcolm Hayman's band and he was a perfectionist and a strong disciplinarian. His rigid control of the group always went down well with venue owners, but didn't always sit too well with band members. It caused the unit to be unhappy at times and the band members resentment eventually tore the group apart. Bruno was always a hard person to manage and he treated Malcolm with casual disdain. Even though Bruno was good value to the group, his irreverence caused him to be fired by Malcolm. In February 1971, a new drummer Richard Burgess was acquired. Bruno was undeterred and moved on to form Blerta.
Not long after Richard joined, Kevin Furey left to form Tanglefoot, and he was replaced by a new trumpet player Barry Brown-Sharpe.
Pressure within the group exploded towards the end of 1971 when Malcolm fired Dave Orams during a rehearsal session. Dennis Mason took exception to this and an argument took place, basically with everybody being sick of being in a band where they had absolutely no say. Dennis said if Dave goes, so do I, and Barry Brown-Sharpe and Johnny McCormick both agreed. The result of the argument was the group was four members less. Hayman decided that there was no point continuing with the group, so he officially disbanded it. Putting their grievances aside, they did get together to do a farewell performance at the Downtown Club on October 30, 1971. Dennis Mason went on to become a member of Arkastra.
Malcolm then joined Furey at Tanglefoot, but before the end of 1971, Roy Young was concerned at the drop of patronage at the Downtown Club, and started putting pressure on Malcolm to form a new band.
Malcolm swallowed his pride and put together a new Quincy Conserve, promising that it would be a more democratic outfit. From the first version remained Malcolm and Rufus Rehu. Malcolm convinced Johnny McCormick and Dave Orams to return and they added Mike Conway on drums and two temporary members, Australian Peter Cross on trumpet and Harry Leki on guitar.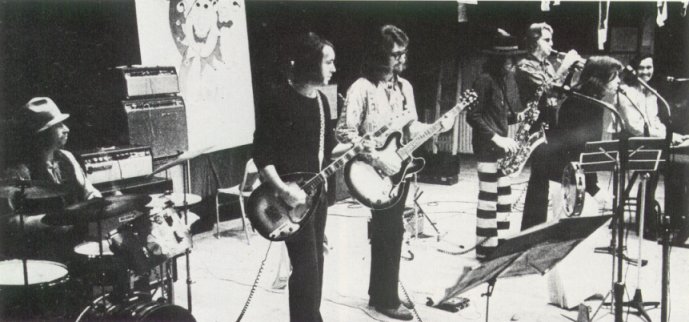 1972 L to R: Mike Conway, Dave Orams, Kevin Furey, Johnny McCormick,
Barry Brown-Sharpe, Malcolm Hayman and Rufus Rehu.
At the beginning of 1972 they were back at the Downtown Club, just as popular as before and as if they had never left. After just a month, Peter Cross and Harry Leki had gone and back from the original version were Barry Brown-Sharpe and Kevin Furey. Dave Orams also went and was replaced by Frits Stigter on bass guitar. Now with the band members having more say, they musical direction moved towards a more jazz-rock style.
Two new singles were released in 1972, "Somebody Somewhere Help Me"/"Tango Boo Gonk" and "Roundhouse"/"You Can Take Your Love".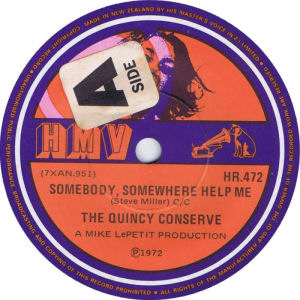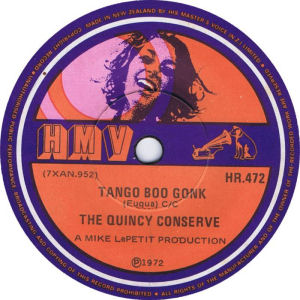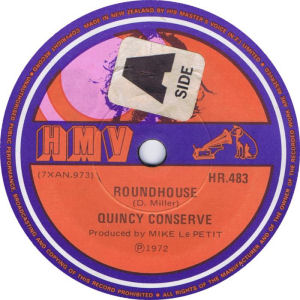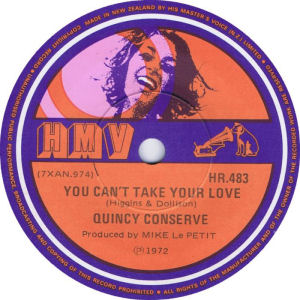 In November 1972, EMI promoted a concert at the James Hay Theatre in Christchurch. Quincy Conserve performed there along with Blerta, Lutha and Desna Sisarich. The event was recorded and released early in 1973 as an album called "Live". They contributed three tracks to the album.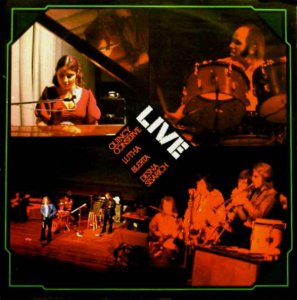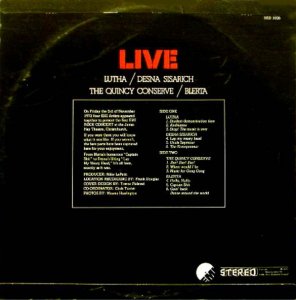 By the end of 1972, Quincy Conserve were no longer resident at the Downtown Club. In 1973 the breweries had begun to recognise the value of live music in their taverns. Lion Breweries opened a rock venue in the Spectrum Room at the Lion Tavern. Their second venue was at the Cornhill Tavern and Quincy Conserve were installed as residents. They also held a residency at the Speakeasy Bar in Manners Street.
In 1973 their third album was released. It was called "Tasteful" and came with a 7" EP called "Extra Tasteful". Two singles were released from the album, "Keep On Pushing"/"Lady Listen" and "Slut"/"Keep On Playing That Rock'n'Roll".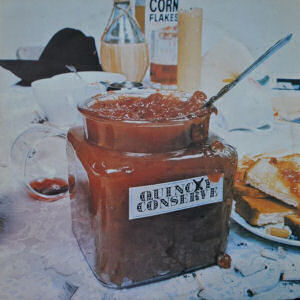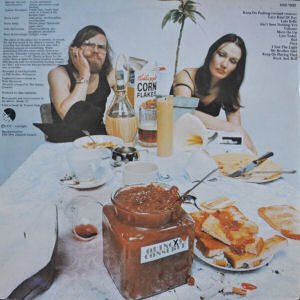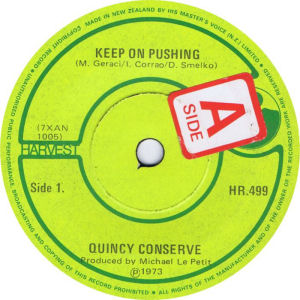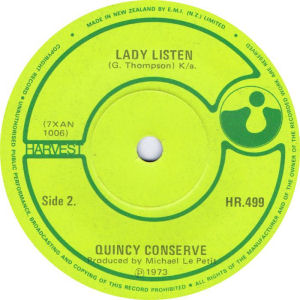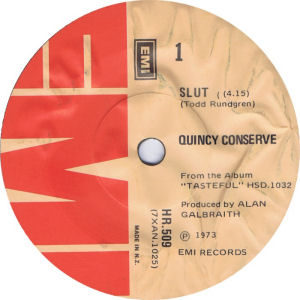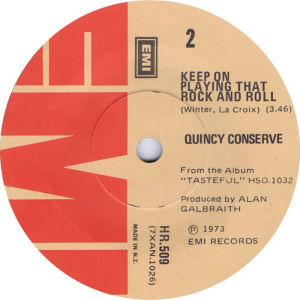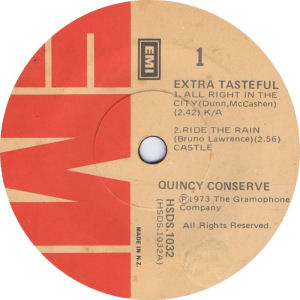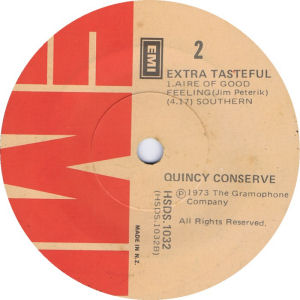 A deal with Lion Breweries was signed in 1974, and the group spent most of the next year constantly touring the country. They spent on average a week in each town and during that time musicians came and went. By 1975 the group found that their most appreciative audiences were found at jazz festivals. By this stage the line-up consisted of Hayman, Paul Clayton on lead guitar, Peter Blake on keyboards, Rodger Fox on trombone, Geoff Culverwell on trumpet, Murray Loveridge on bass and Billy Brown on drums. Geoff Culverwell had previously been with the Wedge. This combination recorded the group's last album called "The Quincy Conserve" in 1975 for the Ode label and also released two singles, "Song For The Man"/"Epistolary" and "Rockin' Chair"/"Super Strut".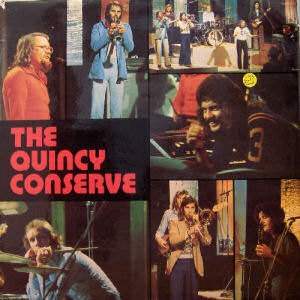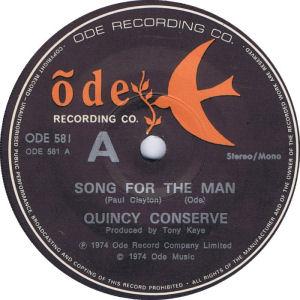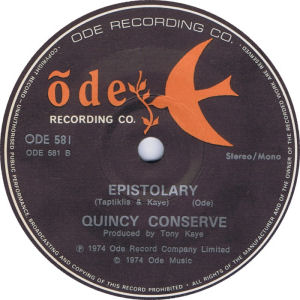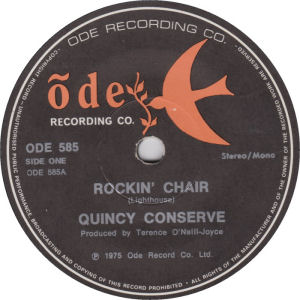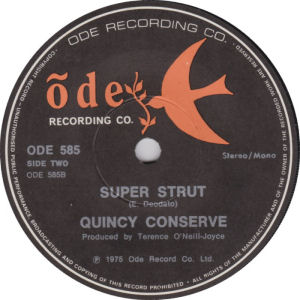 In September 1975, Jack Cooper, manager of Wellington's newly opened 1860 Tavern, invited Rodger Fox to form a jazz band for Saturday afternoon entertainment. He created the 1860 Band, and it comprised Fox, Blake, Brown and Culverwell from Quincy Conserve, plus bassist Dave Pearson. By the end of 1975, the 1860 Band had greater pulling power than Quincy Conserve themselves, so it became a full-time venture in the new year, officially putting an end to Quincy Conserve for good. Hayman and Loveridge went on to form a pub band called Captain Custard.
Rodger Fox went on to form the Rodger Fox Big Band in the late seventies. They recorded a number of albums and included quite a few respected musicians within their ranks over the years. They included Geoff Culverwell from Quincy Conserve and David Feehan from Lost Soul and Tapestry.
Malcolm continued playing for a number of years, but finally his diabetes caught up with him and he died as a result of complications on the 5th November 1988.
Quincy Conserve were never a true pop group, they were more of a musicians band, with Malcolm Hayman possessing one of the most distinctive voices in Kiwi Rock.
In 2001 EMI released a CD called "The Very Best Of Quincy Conserve", which contained most of their singles and some good album tracks.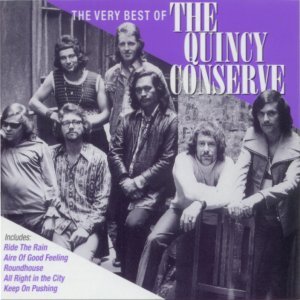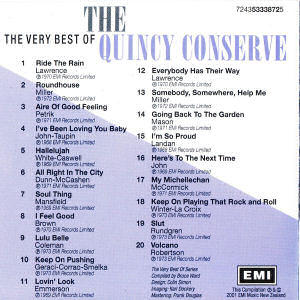 Another CD "Aire Of Good Feeling - Best Of" was released in 2008.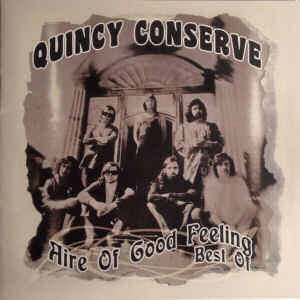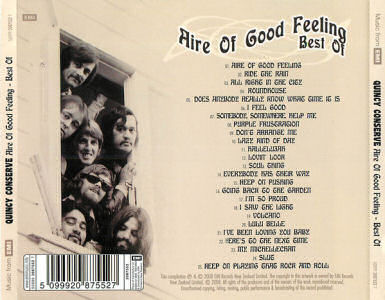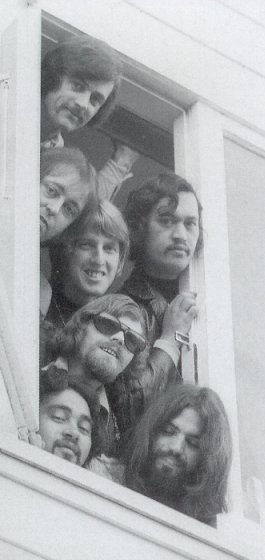 Quincy Conserve can also be found on the following compilations.