Lost Soul
Line-Up:
Alan Stephenson (Lead Guitar / Vocals)
Steve Adams (Guitar / Vocals)
David Feehan (Bass / Vocals)
Peter Kennedy (Drums)
Wayne Feehan (Keyboards / Vocals)
The Lost Soul evolved in Wellington in 1965 after the band David Feehan was in, Dave and the Downlyners, folded. David, along with Alan, Steve and Peter, formed the Lost Soul. Early in 1966, David added his younger brother Wayne to the group to give the line-up listed above. After a while Steve Adams decided to leave, so Peter Kennedy switched to guitar and Rod Veale came in as the new drummer.
In 1968, Alan Stephenson left the group to pursue a solo career performing under the name Steve Allen. Peter Kennedy left about the same time to join Original Sin, and was replaced by Derek Archer from Stacey Grove. The group continued as a quartet from this point.
The group was used by HMV to sing backup vocals for many artists who recorded at their Wellington studios, among them Allison Durbin and Mr Lee Grant. Even after doing numerous demos for HMV and providing them with backups, they were unable to secure a recording contract for themselves, so they started their own label, Climax Records, in 1969 and released their own original composition. The single was "Take A Load (And Lay Me Down)"/"Julie's Gonna Join The World" and was released in 1969.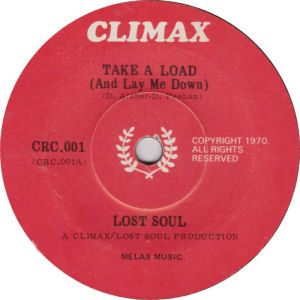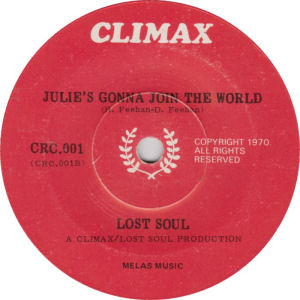 In the later stages of the group, there were a few more line-up changes. Derek Archer was replaced by Lawrence Cooper. The drummers seat changed hands a few times with Kim Priest and Graham McFarlane doing stints.
In 1970, the band evolved into Tapestry, a popular club band.
The Lost Soul can be found on the following compilation:-