Arkastra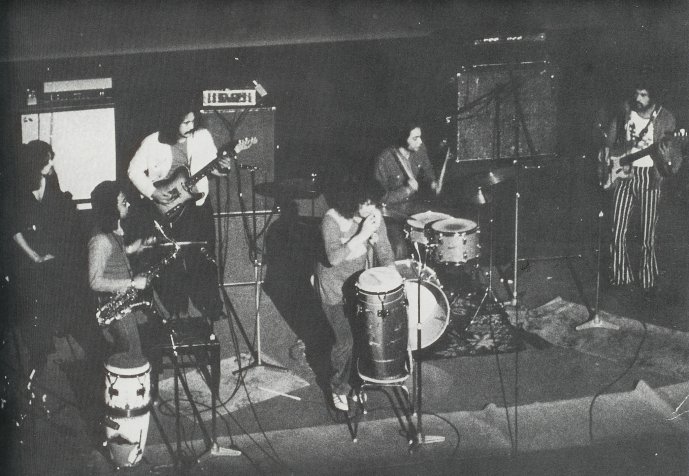 Arkastra at Wellington Opera House 1972
L to R: Peter Blake, Dennis Mason, Harry Leki, Andy Anderson, Tom Swainson and Paul Read.
Line-Up:
Andy Anderson (Vocals)
Peter Blake (Keyboards)
Harry Leki (Guitar)
Dennis Mason (Saxophone)
Paul Read (Bass Guitar)
Tom Swainson (Drums)
Formed in February 1972, according to John Dix, Arkastra was a dangerous collection of hippyish hoons who, as much as anyone, were indicative of the rampant hedonism that prevailed. Keyboardist, Peter Blake and bassist Paul Read, were teenage trainees at the National Film Unit before joining the group. The other four members had enough credentials to give Arkastra a super-group appearance.
Drummer Tom Swainson had just departed Farmyard, and saxophonist Dennis Mason came from the bust up that had recently occurred within Quincy Conserve. Guitarist Harry Leki had just returned from Sydney, after Simple Image folded, and singer Andy Anderson, was also returning from Sydney, after a two year stint with the musical "Hair".
Andy Anderson, real name Neville Anderson, was from Naenae in Wellington. He was a drummer and started out playing with Hutt Valley bands, Mike and the Beavers, the Skyrockets, and the Corvairs. In 1964, at age 16, he took his drum kit and headed for Sydney. Using the name Andy James, he reformed version two of the Australian band, the Missing Links. By now, it wasn't his drums that provided him a living, it was his voice. By August 1966, they had burned themselves out, with Andy moving to Melbourne to form Running Jumping Standing Still. Andy quit this band in January 1967 and formed the short-lived Andy James Asylum. In 1968 he joined up with Action, who were now in Australia, for a short time. A brain haemorrhage in 1968 slowed Andy down, but he returned to performing when he took a part in the 1969 Sydney production of the American tribal-love rock musical "Hair".
It was a pretty wild Anderson, who arrived in Wellington in late 1971, and it was only the very daring who attempted to hold their own with Andy Anderson. Harry Leki was of the same mould, and with Mason and Swainson attempting to keep up, Blake and Read wondered what they had let themselves in for.
Unsung, unrecorded and definitely underrated, Arkastra was one of the better Kiwi bands of the early 70's. Not surprisingly, they didn't last long but those converted to their high energy performances caught their every gig. Not the type of band to sit down and write their own songs, Arkastra merely took what they wanted and adapted it to their own purposes. There were few groups who boasted such an electric repertoire, featuring anything from 12-bar blues to Baby Huey to Frank Zappa.
Harry Leki, his Fender Strat held together by string and sticky tape, had developed into an explosive guitarist since his last New Zealand gigs with Simple Image, and Dennis Mason was just beginning to show the traces of brilliance for which he would become renowned. Blake, a classically-trained pianist, was a rare find, and his mate Paul Read slotted in well with Tom Swainson's drumming style, and over the top of it all howled the voice of Andy Anderson.
Apart from a self-promoted and well attended Opera House concert and the occasional University gig, Arkastra only played at two venues in Wellington, Lucifer's and the Downtown. They were offered a headlining appearance at a one-day festival at the Gore Racetrack. They followed this with a number of appearances at various gigs in the South Island before heading back to Wellington.
Arkastra's very next gig was at the Great Ngaruawahia music festival in January 1973. They secured a key Saturday night spot, which saw the band so far out of it that during White Trash's "Fly Away", Swainson flew away and played along to a totally different song. The audience didn't seem to notice, responding with calls for an encore.
When, in late February 1973, Lucifer's finally closed its doors, Arkastra was offered a well-paid residency at the Downtown Club. The new proprietor had noted the huge turn-outs at Lucifer's and believed this was the ideal band to boost his flagging patronage. They weren't however, and just two weeks after moving to their new residence, Arkastra was out of work and decided to call it a day.