Bruno Lawrence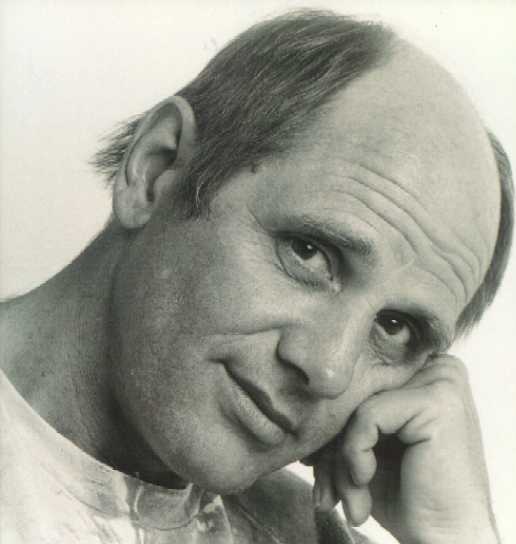 "His first name conjures up so many memories that the surname is just about superfluous. From the 1960's until his untimely death in 1995, Bruno was an enduring popular culture figure on both sides of the Tasman: from songs like 'Dance All Around The World'; his band and theatre troupe Blerta; to films such as Smash Palace, Goodbye Pork Pie, The Quiet Earth; and the outstanding television series Frontline ... the list goes on and on. Boundless energy, diverse talents, tremendous charm, a strong sense of fairness... these were just some of the qualities that made him so memorable."
Roger Booth "The Bruno Lawrence Story"
Bruno Lawrence was born David Lawrence on 12th February 1941 in Brighton England. He emigrated to New Zealand with his parents and sister in 1946 at the age of five, settling in New Plymouth before relocating to Wellington in 1948.
David's interest in music developed when he was very young and during his school years his love for the drums became more pronounced. At Wellington College he was a regular at the lunchtime music room jam sessions in 1955. Some friends formed a Dixie band in 1956 and David made his first band appearance playing at teenage dances at the local church hall. It was while playing there that the "Bruno" tag was attained.
After leaving school, some of his friends went to Victoria University and they revived the University Jazz Club. David preferred jazz as a musical direction and bluffed his way into University so that he could play at the club. When it was discovered that he was not eligible, he was banned from subjects, but still stayed with the club. There he mixed with a lot of talent and gained significant experience and musical education from 1958 to 1960.
In 1961 jazz pianist Ronnie Smith set up a group to play at the "Sorrento" in Wellington. The group included Tommy Tamati on bass and a young Ricky May on drums and vocals. Dave was always in the audience and was given a chance to play the drums when Ricky got up to sing. He impressed Ronnie enough to become a regular with the group. They stayed together for about a year, even touring around the lower North Island area.
1963 saw David being involved in a number of projects. He had weekend work at the "Pines" in Wellington, drumming for a semi-jazz combination which included Tommy Adderley as vocalist and Garth Young on piano. Garth used David for a number of recording sessions, as did Laurie Lewis, who had set up a recording sessions band called Blockbusters. This consisted of Dave Fraser on keyboards, Neil Harrap on guitar, Bill Evans on bass guitar, Terry Crayford on piano and David on drums. David was also involved in jazz recordings for radio programmes and formed a trio, which included Tommy Tamati, for this purpose. They even appeared on Television during the year.
David had always considered himself a jazz drummer and had resisted the requests for him to play rock and roll. He had played with Neil Harrap in the Blockbusters, and in 1964 Neil was setting up a rock group and he wanted David as his drummer. David finally agreed only because regular work for the group had been obtained. They called themselves the Measles. On lead guitar was Neil, who had played in the Premiers, bass guitar was Puni Solomon, previously with Ray Columbus and the Invaders, and Paul Muggleston on rhythm guitar and vocals, who went on to play with the Secrets. The group stayed together for about a year.
While resident with the Measles, David released a single called "Bruno Do That Thing" in 1965. It was a cover of "Bobo Do That Thing" by American Willie Bobo. The song sold reasonable well and even made the finals of the Loxene Golden Disc Awards. It was released under the name Bruno, so the name was now official.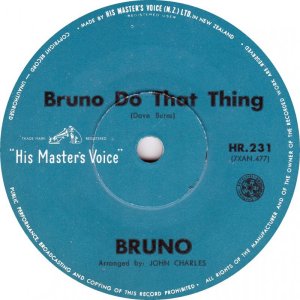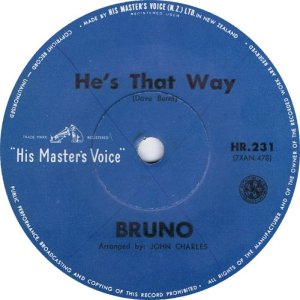 By mid 1965, Bruno was now with Ronnie Smith, Tommy Tamati and Dave Fraser, playing at Del Monico's in Wellington, the jazz scene of the capital. He also pursued a young lady by the name of Veronica. By August 1966, the stint at Del Monico's was over and Veronica found she was pregnant, so they decided it was time to discretely move on. Bruno left for Australia in October and Veronica followed early in the new year.
The couple married in February 1966, with Ricky May accepting the honour of being best man. Ricky had moved to Sydney earlier and had begun his own series on television, and brought Bruno in occasionally to play drums with his resident television band. One session in the series featured Max Merritt and the Meteors, who were based in Sydney at the time. They were without a drummer, as they had just lost Jimmy Hill and Bill Fleming in quick succession. Ricky suggested Bruno fill in for the video clip, they liked what they saw, and signed him up.
This line-up had Max on guitar, Billy Kristian on bass, Peter Williams on rhythm guitar and Bruno on drums. After a stint in Sydney, the band took up residence in Melbourne, playing at a number of different venues. Bruno stayed with Max for nearly two years, during which time his first child was born. The band had a lot of gigs and received numerous appearances on Australian television. In August 1966 they toured New Zealand and appeared on television's "Let's Go". During that visit the single "Fanny Mae" was recorded. A gig aboard a pacific cruise ship ended Bruno's association with the band when he jumped ship in Auckland.
While in Auckland, Bruno played at the El Matador restaurant for a few months. The vocalist with the band there was Tommy Adderley. He also spent a short time with a group called the Brew. After this he moved back to Wellington to rejoin his family, to which a second child had arrived. He released a second single under his own name in 1967 called "Mandy Jones"/"I Don't Care".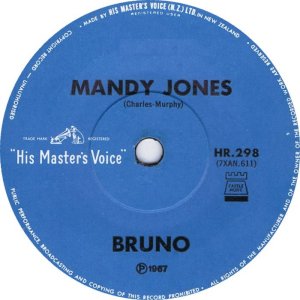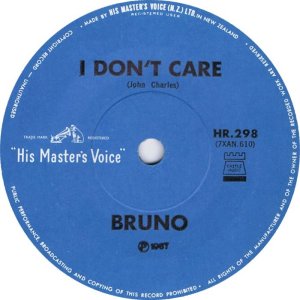 Back in Wellington, Bruno became involved in some minor film projects with some of his friends. He either appeared in them or directed some of them. This put a temporary hold on his music interests for a few months, but at the end of 1967 he made a very brief appearance on a tour with the Keil Isles. Billy Kristian was also in the line-up.
In 1968, Claude Papesch, who had been an original member of the Devils, brought Bruno back to Sydney to join his band, the Electric Heap. The line-up included Dave Russell from the Invaders and Tim Piper from the Breakaways. Bruno didn't stay long and moved back to New Zealand to replace Raice McLeod in Quincy Conserve. He stayed with them through 1969 and 1970, contributing to the band by writing one of their biggest hits, "Ride The Rain", which made the finals of the 1970 Loxene Gold Disc Award.
A more serious attempt at film acting took place while still with Quincy Conserve, with Bruno appearing in "Tank Busters". A third child was born into the Lawrence household and he then played a role in a television documentary called "Time Out". He did such a good job of it that he was awarded the 1970 Feltex Television Award for Best Actor. Further roles followed with a part in the television series "Pukemanu".
In June 1971, Bruno joined Fresh Air as a replacement drummer. (See Fresh Air). The venture only lasted six weeks, but was significant, as all members were later to end up playing with Bruno in Blerta.
Bruno moved back home to greet a fourth child and do the odd gig. He was asked to back Corben Simpson at some recording sessions. Corben had been playing with a group called Movement, which included Tony Littlejohn, but the group folded and Corben was in need of a good drummer. So Bruno joined Corben and Tony in September 1971 to create a trio called Littlejohn. Alan Moon, ex Sons and Lovers, was added to play keyboards in October. Once again this venture didn't last very long as Bruno was getting restless and starting to put together his ideas for a complete change in lifestyle. This change came about in the form of Blerta.
For a full account of the Blerta days see Blerta.
Bruno was involved with Blerta from 1971 to 1975 and then drummed with the Beaver Band in 1976. The Beaver Band consisted of Terry Crawford on keyboards, Bruce Robinson on guitar, Mark Hornibrook on bass and Beaver on vocals.
After Blerta, Fane Flaws put together a group called Spats, with Tony Backhouse and Patrick Bleakley. On drums was Steve Garden, Peter Dasent on keyboards and Julie Needham as backup vocalist. Steve Garden didn't stay long and before he knew it, Bruno was sitting in the seat playing drums. He stayed there for about six months, with Spats going on to play together for about eighteen months, unfortunately never recording any of their music.
In 1978 an all-female band was put together in New Zealand called Wide Mouthed Frogs. Members were Tina Matthews on bass, Kate Brockie on lead vocals, Andrea Gilkison on guitar, Bronwyn Murray on keyboards and Sally Zwartz on drums. Also recruited was another vocalist named Jenny Morris. Bruno had been mastering the art of playing the saxophone over the last six months and was given the opportunity to try out the challenge of the new instrument with the girls by playing on gigs for a number of weeks. Peter Dasent, from the Spats, was musical director for the Wide Mouthed Frogs, so it was pretty obvious where Bruno's opportunity came from.
Meanwhile Fane Flaws, Tony Backhouse and Peter Dasent were putting together another band with bass player Mark Hornibrook. Bruno was on drums and they successfully attracted Jenny Morris as lead singer. They were called the Crocodiles and before really getting going, Hornibrook was replaced by Tina Matthews from Wide Mouthed Frogs.
The Crocodiles gigged in Auckland and also performed at the 1980 Sweetwaters Festival, which ironically was the event that the Wide Mouthed Frogs last played together. An album called "Tears" was released in 1980 and from it the title track was released as a single. It and the album both reached number 17 on the national charts.
After the Crocodiles, Bruno concentrated on the film side of his career, but did have a small stint playing in a jazz trio with Wilton Roger on saxophone and ex-Blerta bass player Bill Gruar, supporting the "State Of The Nation" tour by a group of poets sponsored by the Arts Council.
Over the next fifteen years Bruno spent most of his time acting. There is a large number of feature films that he had an acting role in. They were Wild Man, Goodbye Pork Pie, Beyond Reasonable Doubt, Race For The Yankee Zephyr, Battletruck, Carry Me Back, Smash Palace, Wild Horses, Prisoners, Pallet On The Floor, Lizzie, Utu, Death Warmed Up, Heart Of The Stag, Quiet Earth, An Indecent Obsession, Bridge To Nowhere, Initiation, As Time Goes By, Grievous Bodily Harm, Rikky and Pete, Delinquents, Spotswood, Jack Be Nimble, Gino, and Cosi. The last one Bruno did not complete.
Throughout his acting career, Bruno still played drums whenever possible. Bruno loved drumming and always said that he did not become an actor by choice, drumming always was and remained his first creative love.
Peter Dasent, ex-Crocodiles, who had been living in Australia for a while, came back to Wellington in 1985 to play a gig for a few weeks at the Oak Brasserie. Peter played keyboards and with him in the Combo were Jonathan Swartz on bass, and Jane Lindsay on vocals. He invited Bruno to join him on drums, and Bruno couldn't resist. Another constant friend of Bruno's was the Australian jazz singer Vince Jones. In 1985, at Bruno's suggestion, Vince brought his saxophonist Dave Addis and his bass player Rolf Stube with him to New Zealand for some gigs. He linked up with Bruno and another of Bruno's favourite musicians, talented young pianist Jonathan Crayford, for a short North Island tour.
Bruno organised an event called "Jazz At St James" in 1989. He organised Larry Gales, from the USA, to play bass, ex-Blerta Bernie McGann on saxophone and Jonathan Crayford on piano. It was a remarkable show and in 1990 they did it again, this time with Vince Jones on vocals, Dave Addis on saxophone, Jonathan Crayford on piano, Rolf Stube on bass and added the New Zealand String Quartet. Drums obviously being provided by Bruno on each occasion. Bruno enjoyed playing with Jonathan and they soon formed a band called Jazzmin. Other members included Patrick Bleakley on bass, Georgio Quevedo on saxophone and percussion, Kim Paterson on trumpet and conga, and Geoff Hughes on guitar. They played on and off around Wellington from 1990 to 1993. Bruno's last musical outing was in an outfit called Cracker, with Grant Winterburn on organ, Jeremy Jones on guitar, and Patrick Bleakley on bass and vocals.
The other area that Bruno came to prominence in the public eye was when he took on the role of Brian Thompson, the Executive Producer on the ABC's television series, Frontline. The first series was a huge success.
At the same time Bruno was working on the movie Cosi, but he was not feeling too well. He was experiencing pain and was admitted to hospital. After extensive tests, it was found that Bruno was suffering from inoperable cancer and was only given a matter of weeks to live. Sadly, Bruno passed away on 10th June 1995.
Bruno can also be found on the following compilations.