Claude Papesch
Claude Papesch was a blind multi-instrumentalist who originated from New Plymouth. As a youngster he moved to Auckland where he was working the jazz clubs by the age of 16. He was a regular at the Point Chevalier Youth Club, the same club at which Johnny Devlin also used to play at.
When Johnny Devlin was going to go on a national tour, his current backing band, the Bob Paris Combo, weren't keen on going on the road, so a new backing band had to be put together. Graham Dent, Devlin's manager, asked Claude Papesch if he could put a band together to help out. Papesch recruited guitarist Peter Bazely, bassist Keith Graham and drummer Tony Hopkins. Together they became the Devils, one of New Zealand's first truly rock'n'roll bands.
In May 1959 the Devils went with Johnny to Australia and stayed there for a short while. After the Devils disbanded, Claude continued in the music industry for many more years in both New Zealand and Australia. He released a single by himself in 1960 for Zodiac called "In Apple Blossom Time"/"Danny Boy".
In 1964 he did two more singles for the Philips label. They were "In The Chapel In The Moonlight"/"Sweetie Baby" and "Yoshiko"/"Chapter Four". These were followed by one for HMV in 1965 called "The Way You Look At Him"/"Something You Got".
In 1966 he was in Australia as part of a jazz combo, resident at the Latin Quarter in King's Cross, supporting Ricky May. Playing drums in that combo was Bruno Lawrence.
In 1968 Claude Papesch had a band in Sydney called the Electric Heap. He brought Bruno Lawrence back to Sydney to join this band. The line-up included Dave Russell from the Invaders and Tim Piper from the Breakaways. Bruno didn't stay long and Raice McLeod from Quincy Conserve took his place.
Claude released an album in 1973 called "Hammond Spectacular" and followed this with another in 1974 called "Hammond Electrique". His only other recorded output was a single in 1975 called "Petra"/"Not The Way To Move Me" for EMI.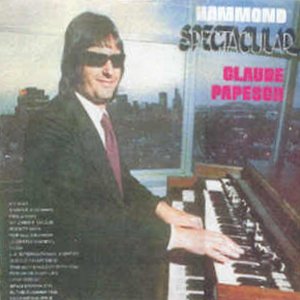 Of the original Devils, only Claude Papesch dedicated his life to music. Widely traveled around Australasia, he eventually settled in NSW, working more in the jazz field than the rock'n'roll which launched him.
Battling cancer during the last years of his life, he was an alderman of the Blue Mountains City Council, being elected in December 1981 and resigning due to declining health in September 1985. He served a year as Deputy Mayor. He also represented the Blue Mountains, Lithgow and Rylstone on Prospect County Council. Claude died, aged 45, on 2nd February 1987.
Following his death, a public Commemorative Tree Planting was held at the Wentworth Falls School of Arts. His companion Patti, son Justin and daughter Mahalia survived him. An active member of the Australian Labor Party, the headline in one of the local Blue Mountains newspapers read "City Mourns Man Who Helped The Little Guy".