Ray Columbus and the Invaders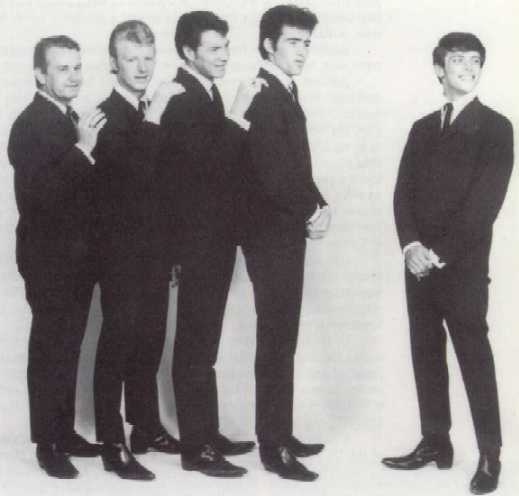 Jimmy Hill, Dave Russell, Billy Kristian, Wally Scott and Ray Columbus.
Line-Up:
David Russell (Lead Guitar)
Wally Scott (Rhythm Guitar)
Puni Solomon (Bass Guitar)
Peter Ward (Drums)
Ray Columbus (Vocals)
Ray Columbus tried putting together his first band around 1959 when he was aged 17. On drums was his friend Peter Ward, along with Billy Karaitiana (also known as Billy Kristian) on bass. Someone else played guitar, until they found a more competent guitarist in Andy Joines. As a quartet they tried playing to anyone who would listen around the Christchurch area.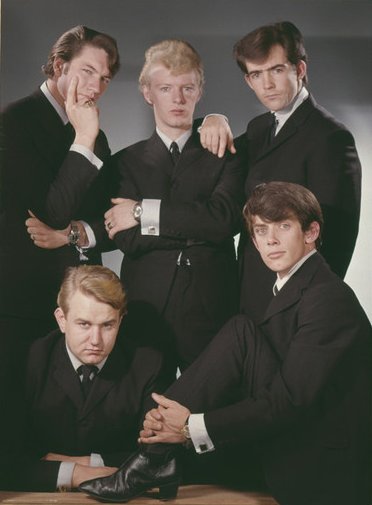 They didn't last long as a group and shortly afterwards, Billy and Peter left to join Saki and the Jive Five. They began playing around Christchurch and became stiff opposition for Max Merritt and the Meteors, who had the local scene well to their liking. Max checked them out and soon after Billy moved into a permanent position with Max Merritt and the Meteors. At that point Peter Ward left and secured a position with the Downbeats.
The Downbeats were an old-style dance band headed by Doc Foster. Members Doc Foster, Tony Athfield and Ross Clancy, had all played with the Saints. One night in 1960, Ray attended an engagement by the band and found that the lead vocalist, Jack Lark, wasn't there. Ray was given an opportunity to sing and was so successful he remained in that lead vocalist spot. Ray took the opportunity to introduce more rock'n'roll numbers into the bands repertoire. When someone left the band, Ray always organised a replacement. He introduced a bass player named Mac Jamieson, also from the Saints, and previously Bobby Davis and the Dazzlers. When Doc called it a day and guitarist Tony Athfield left, a 15 year old schoolboy, Dave Russell was recruited as lead guitarist. When the last of the Downbeats, Ross Clancy, left, he was replaced by a second guitarist Brian Ringrose.
This new line-up of Ray Columbus (Vocals), Dave Russell and Brian Ringrose (Guitars), Mac Jamieson (Bass) and Peter Ward (Drums) renamed themselves Ray and the Drifters. They began to make a name for themselves around Christchurch by late 1961. They performed mainly instrumental tunes with Columbus providing the vocals when necessary. The clubs in Christchurch at that time played host to numerous American servicemen stationed at Operation Deep Freeze. Their style and music interests had a major influence on Ray and his group.

Ray & the Drifters, February 1962
In February 1962, because they were very popular in their hometown, they received a boost in their career by appearances on TV in a local Christchurch production called "Club Columbus". The four programmes were screened nationally, bringing greater exposure to a wider audience. Thanks to these TV performances they were invited to do a months work in Auckland. Lead guitarist Brian Ringrose was still at school so could not go. He was replaced by Wally Scott. Mac Jamieson also left and his place was taken by bassist Puni Solomon. This is the line-up that left for Auckland, changing their name on the way to Ray Columbus and the Invaders.
They took Auckland by storm. With their Fender gear, fancy routines, matching outfits, Auckland audiences just stared in disbelief. Expecting to come to the big smoke and pick up a few tricks from the pros, they found that they were way ahead of the field. The Auckland groups sounded dated and were ignorant of American R&B and all lacked a lead singer as energetic and extroverted as Ray Columbus. In January 1963 they returned to Christchurch with almost every Auckland promoter dangling contracts.
An offer from Phil Warren was accepted and as they were preparing to return to Auckland, Peter Ward decided to get married and leave the Invaders. A replacement was soon found in Jimmy Hill. He came from Mataura, Wally Scott's hometown, where together they had played with the Flares in Invercargill.
In Auckland, they took up residency at the newly opened Monaco where they proved to be hugely popular. A recording contract was accepted with Zodiac and they soon recorded their first single. It was a double-sided original Columbus/Russell composition "Money Lover"/"So In Love". Released in April 1963, it went absolutely nowhere. Ray wrote the lyrics to "Money Lover" when he was 16 and two years later he completed the music with Dave Russell.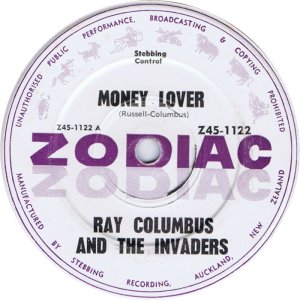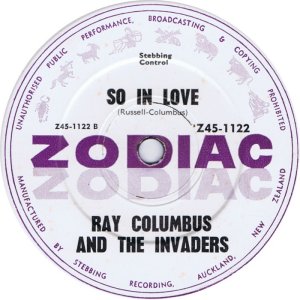 The group was discouraged from recording their own material until they were established. Their second single was an obscure Danish instrumental called "Ku-Pow" backed with another instrumental "Autumn Leaves". It sold reasonably well, thanks to radio airplay, but surprisingly sold even better in Sydney, Australia after receiving even greater airplay.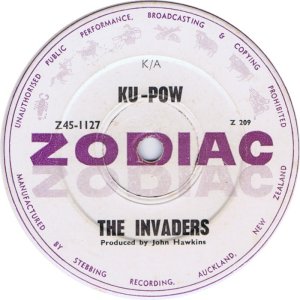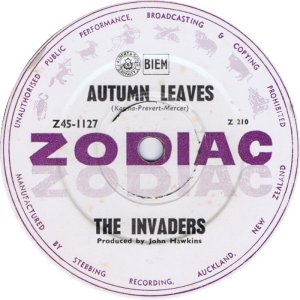 Another single "I Saw Her Standing There"/"Just A Dream" came and went in 1963, but that didn't matter as Ray had his sights set on Australia. They had recorded an album called "Every Nite" and a new single "I Wanna Be Your Man" backed with instrumental "Cat's Eyes". In preparation for the Australian trip, Puni Solomon had been dropped and was replaced temporarily by John 'Yuk' Harrison, bassist with the Embers.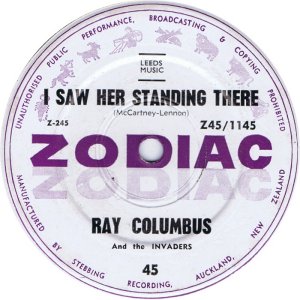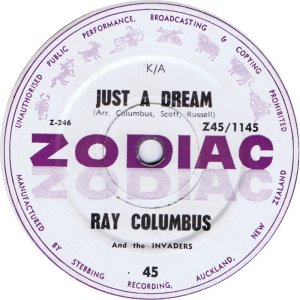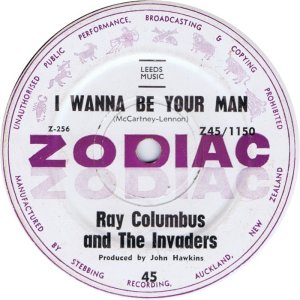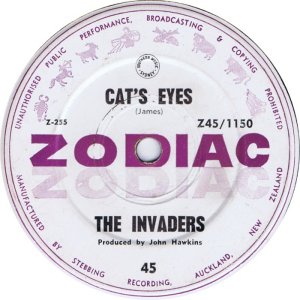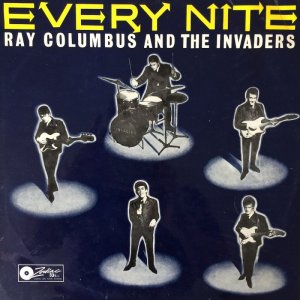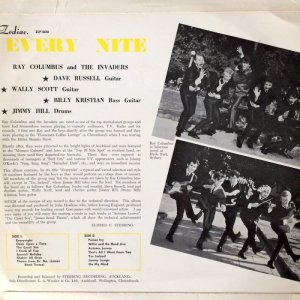 Ray pursued Billy Kristian, who was still playing with the Meteors, and he accepted the role with the Invaders. So armed with their new album and new single they set off for Sydney in November 1963. They debuted at Surf City, Sydney's top teenage venue. Ray constantly did the rounds of talking to promoters, press agents, DJ's, journalists and television personalities. As a result "I Wanna Be Your Man" started receiving extensive radio play. Also in January 1964 they appeared on TV with appearances on Bandstand and Sing Sing Sing.
The Invaders returned to New Zealand in February 1964 with "I Wanna Be Your Man" outselling both the Beatles and Rolling Stones versions, sitting in the lower half of the Australian Top 40, the first time a New Zealand recording had charted overseas. Another single with two songs from the album, "On My Mind"/"Theme From Dr No" was also released.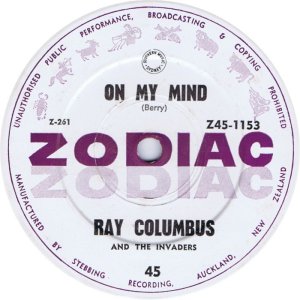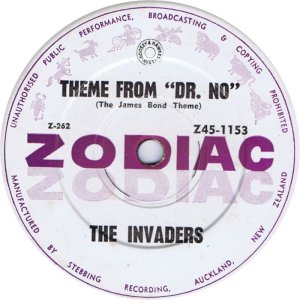 The group was given a demo recording of a song recorded by The Senators in the UK on the Dial label. The Senators drummer was John Bonham, later of Led Zeppelin fame. The song was "She's A Mod", which the group wasn't convinced was right for their style, but decided to give it a go.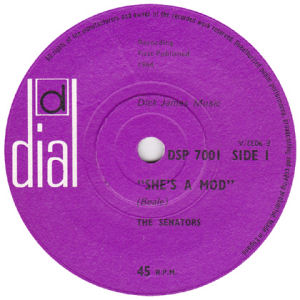 "She's A Mod"/"Poison Ivy" was recorded in May 1964 and released in June. It didn't attract much interest in New Zealand at the time as the Beatles were still visiting. It could have faded completely if the Invaders hadn't returned to Sydney. Billy Kristian was ill, so John 'Yuk' Harrison filled in for him.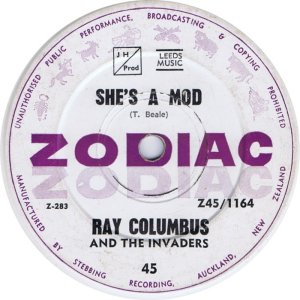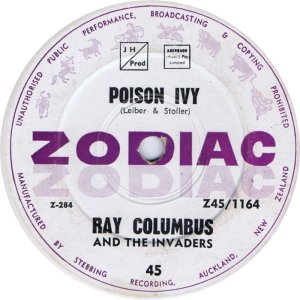 Following an appearance at the 2UW Radio Theatre, Sydney went mod crazy. "She's A Mod" went to number one on the Sydney charts and began to climb up the national charts. With this, expatriate Kiwi promoter Harry M Miller stepped in an began to organise a national tour. Billy wanted to be a part of this, so he rejoined them on the eve of the tour. The tour was very successful with audiences everywhere going wild. By the end of the tour, "She's A Mod" was at number one on the Australian National Chart, staying there for eight weeks. By now New Zealand had caught on and the song started topping regional charts throughout the country.
At the end of the tour the group stopped in at Phillips Studio in Sydney to record a follow up single. The group was determined to show they could write and record their own songs, so another Columbus/Russell composition was chosen. The song was "Yo-Yo" backed with "She's Gone". Recorded after ten weeks on the road, the song reflects a husky vocal from Ray. The song went to number one in New Zealand and was as popular with fans as "She's A Mod", but the R&B departure was not as well received in Australia especially in commercial radio. It hung around the top 40 there, but that was all.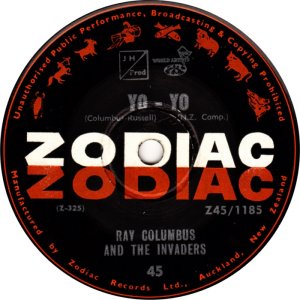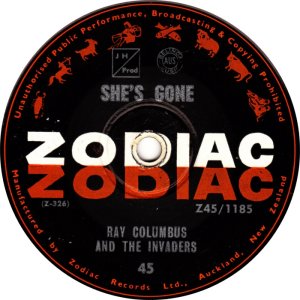 Back in New Zealand in early 1965, they received a heroes' welcome. They immediately went on another tour around New Zealand with the Rolling Stones, Roy Orbison and Newbeats. They generated as much hysteria as the visiting artists. Another cover was released while they were on tour. It was "C'Mon And Swim"/"We Can't Go Wrong", which was then followed by "The Cruel Sea"/"Spanish Holiday". Record sales were not good, so an EP "Now You Shake" was released. This didn't sell very well either and in fact record sales in Australia had already peaked despite going on another tour with the Dave Clark Five. The "She's A Mod" EP was released in Australia.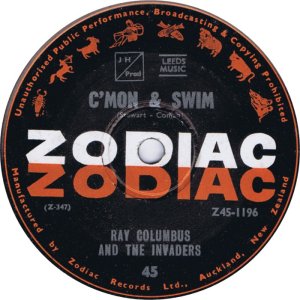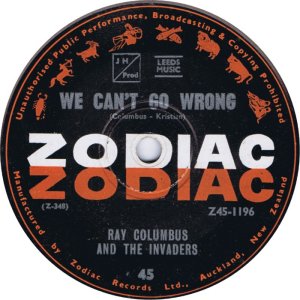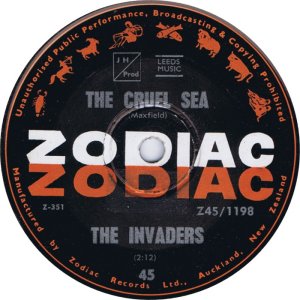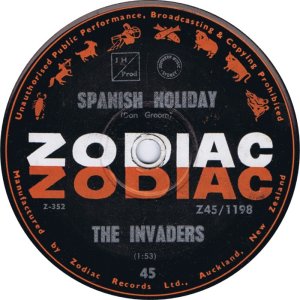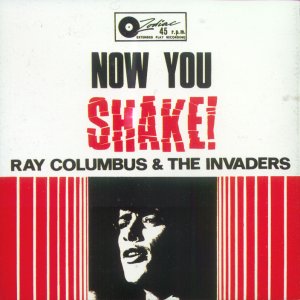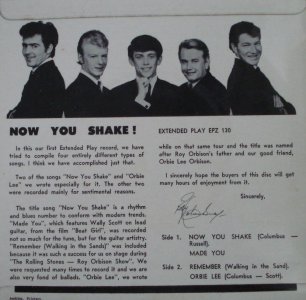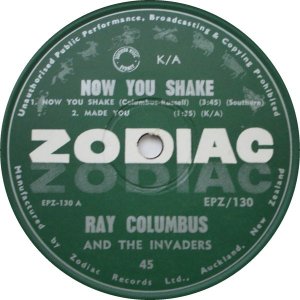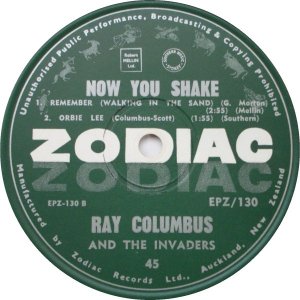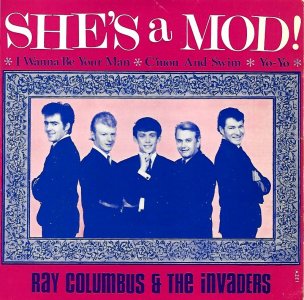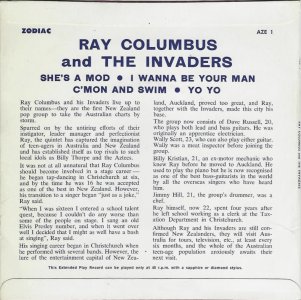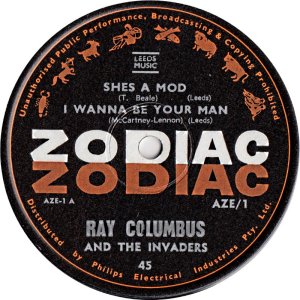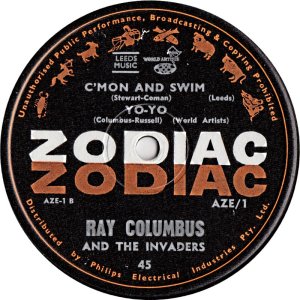 Ray was continually trying to get the band into the US, but was constantly rejected by the US Consul. So rather than go back to Australia they began work on another album. It was called "Original Numbers" and contained their next single, which was "Till We Kissed"/"She's Back Again". The song "Till We Kissed", originally recorded by Arthur Alexander, had been previously recorded by a number of other artists, including Gerry and the Pacemakers, the Searchers and Wayne Fontana, under the title "Where Have You Been". It turned out to be Ray Columbus and the Invaders biggest New Zealand hit, selling over 50,000 copies in 1965.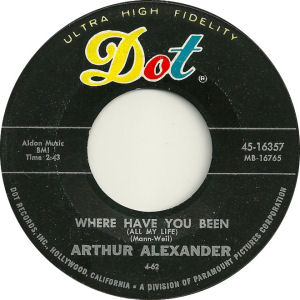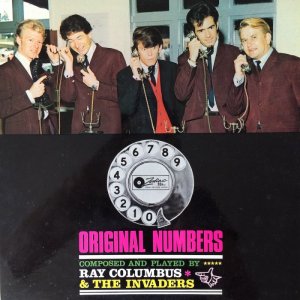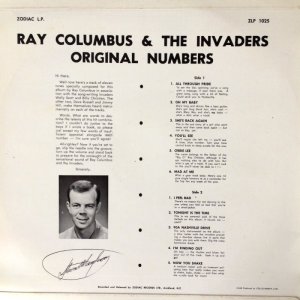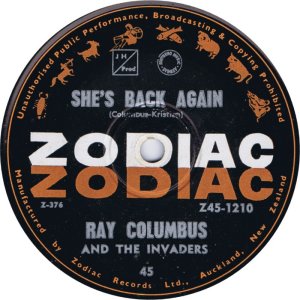 Feeling that they were not making enough money to continue, Jimmy Hill and Billy Kristian decided to leave the Invaders and headed back to Australia to join up again with Max Merritt and the Meteors. Ray decided that he would call it quits and Ray Columbus and the Invaders were no more.
Even after their demise, one more single was released from the album. It was "All Through Pride"/"Tonight Is The Time". But the biggest coup was still to come. On November 24, 1965 "Till We Kissed" won the very first Loxene Golden Disk Award.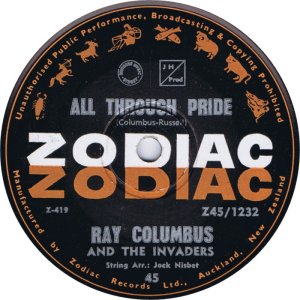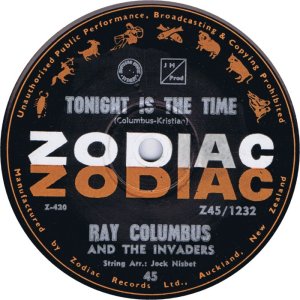 In 1966 a greatest hits album was released, and then an anthology album in 1981. This anthology album was re-released in 1985 on Raven and included some extra tracks. In July 1989, a very different revival of "She's A Mod" by Double J and Twice the T featuring Ray Columbus made it to number 2 on the National Charts.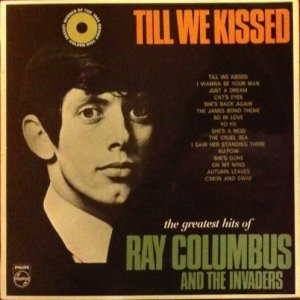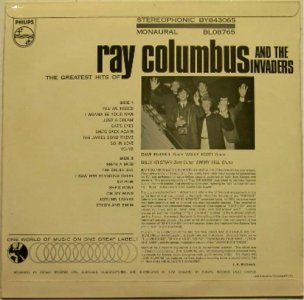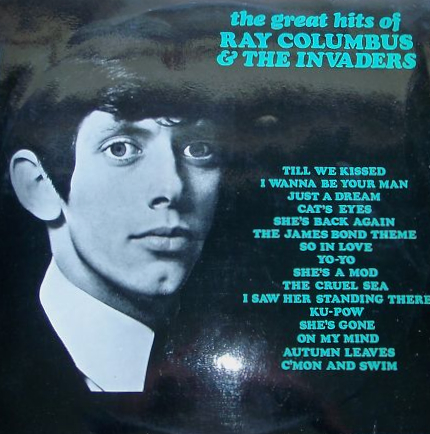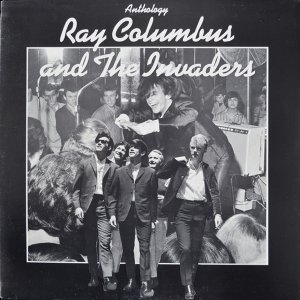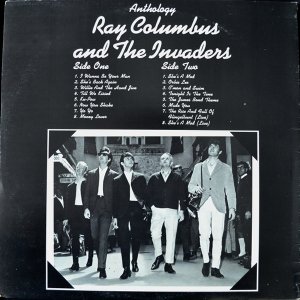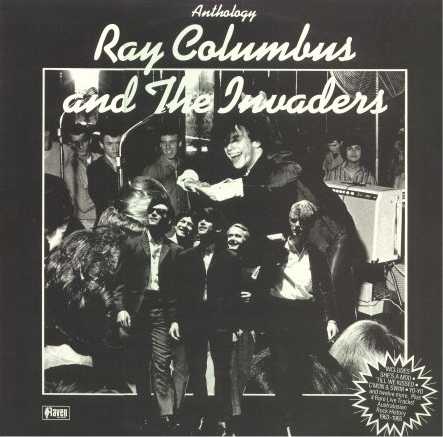 Original Release Raven Issue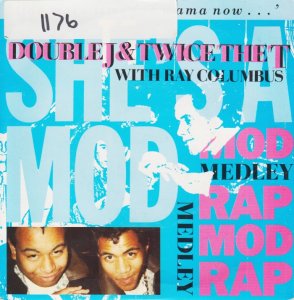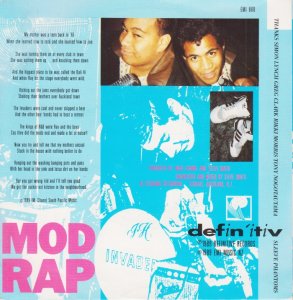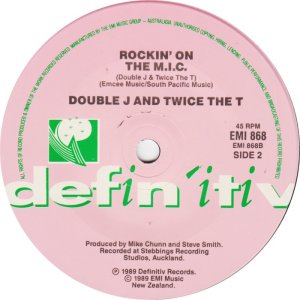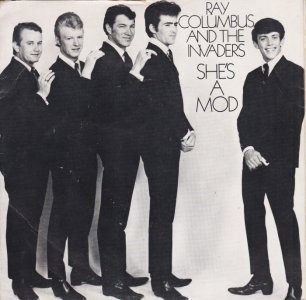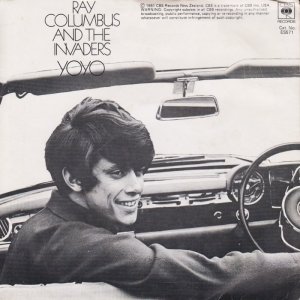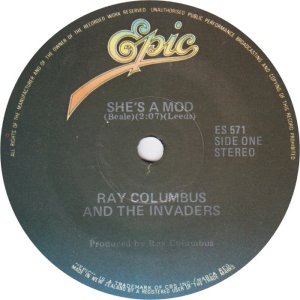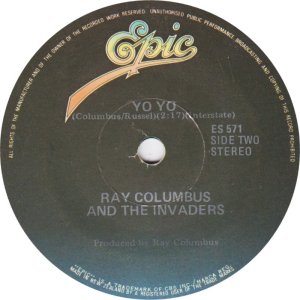 After the Invaders split up, Ray Columbus pursued a successful solo career, and eventually got his wish. With his American wife, he shifted to California in July 1966, spending two years in the USA. Wally moved to Australia and toured through Asia before also settling in the US. Wally died of cancer in 1980. Jimmy, Billy and Dave all played with Max Merritt at various times and appeared in other bands, including Dave with the Layabouts and Jimmy and Bill showing up in Headband. Jimmy Hill died on 7th November 2000 of cardiac problems, aged 56.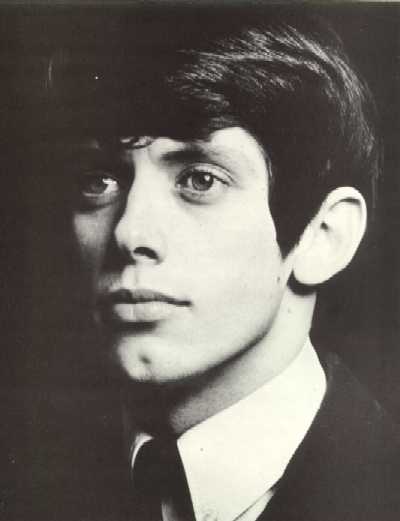 In 2000 Ascension Records released a CD called "Greatest Numbers" which contains 30 songs from their Zodiac collection, and in 2009 the Definitive Collection was issued with 45 songs.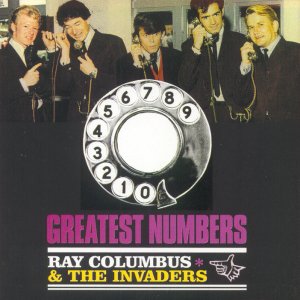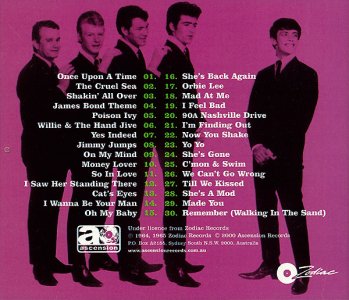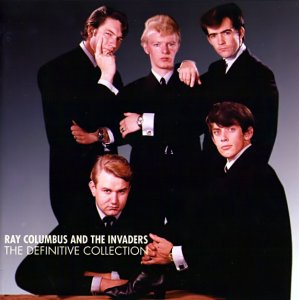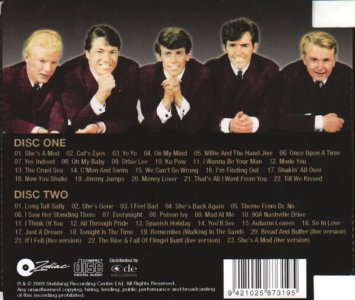 Ray Columbus & the Invaders can also be found on the following compilations:-