Saints

Original Saints: Ross Clancy, Neale McGrath, Tony Athfield, Gary Jones, Doc Foster.
Line-Up:
Gary Jones (Vocals)
Neale McGrath (Drums)
Tony Athfield (Lead Guitar)
John "Doc" Foster (Piano)
Ross Clancy (Tenor Sax)
It was around 1958 when local Christchurch boys, Neale McGrath and Gary Jones met for the first time. Neale was looking to form a rock group, and when Gary agreed, the two set about looking for appropriate musicians to join their group. They found lead guitarist Tony Athfield and pianist John "Doc" Foster. Both Tony and John were still attending Christchurch Boys High at the time.
With practice taking place at Neale's parents home in Cashel Street, Gary providing the vocals and Neale the drumming, they soon became a well rehearsed group. They settled on the group name, the Saints. Like most groups in those days, they started performing in Church Halls and at private functions. Their first ever public performance was at the Gaiety Dance Olivier's Road Hall, where they sang Cliff Richards's "Move It".
Teenage dances were becoming very popular in Christchurch and they were always well attended. By 1959, Max Merritt and the Meteors had established themselves at the Teenage Club. The Saints managed to get into this dance scene and often played at the Boatsheds Hall in Akaroa, just out of Christchurch on the peninsula. Attendance at these dances was so popular that the teenagers who couldn't get in at the door, resorted to entry through the windows wherever possible. The popularity of the Saints was beginning to grow.
Ross Clancy had been playing Tenor Sax with Max Merritt and the Meteors since 1956, but he left the group at the end of 1958 and came across to join the Saints in 1959. This gave the Saints the complete sound they needed. Around that time they ran a dance at Edgeware Road Hall. One night Gary did a song called "North To Alaska" and one of his two back up singers was Ray Columbus. He was still a youngster at that stage and used to turn up to a lot of Saints rehearsals.
During 1959, local entrepreneur Bart Ball put together a "Rock 'n' Roll Jamboree" and invited eight Christchurch bands to compete in the competition over two nights, a Friday and Saturday night at the St James Theatre in Tuam Street, later to become the Odeon Theatre. This was the first continuous rock and roll show to be held in New Zealand. Guest artists also performed and these included Danny McGirr, Julie Campbell, Michael Croft and Max Merritt and the Meteors, each adding a professional touch to the event.
The eight artists to compete were Johnny Rivas and the Golden Rockets, Peter McMullan backed by Pat Neho, Bobby Davis and the Dazzlers, the Viscounts, the Rhythm Rockers, Danny McGirr's Harlequin Skiffle Group, the Pices, and the Saints. The contest was sponsored by Coca Cola and with a first prize of ₤100 and a tour of the North Island, judging was to be by audience voting. Each group would perform four songs. Those chosen by the Saints were "Guitar Boogie", "Rock 'n' Robin", "Hoots Mon" and "Giddy Up A Ding Dong".
The Saints won the competition with a 38 point lead over the second placed Harlequin Skiffle Group. The offer of the tour was supposed to be with "Rock 'n' Roll Promotions", which was in actual fact Bart Ball, but it never did eventuate.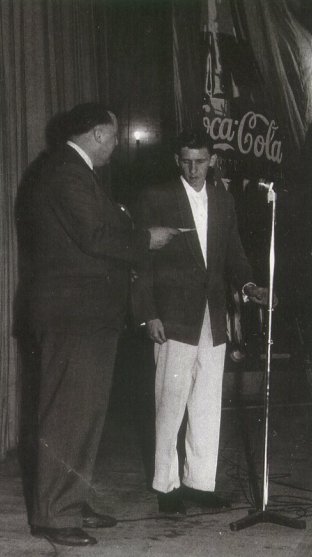 Gary receiving the winners cheque from Bart Ball.
After the Jamboree, Mac Jamieson, who played bass for Bobby Davis and the Dazzlers joined the group. With him they then did a couple of successful rock concerts for Bart Ball, before Bart offered to manage the group. This was agreed and under Bart they performed at various functions, beaches around Canterbury, and outdoor events, including bus trips to Kaiapoi dances. A teenage dance venue was organised at the Hibernian Hall in Barbadoes Street and the Saints played there, alternating with Max Merritt and the Meteors, who were also running a dance at the Carlyle Street Hall. At some of these performances, the Saints used two female backing singers. They were Maree and Pam Courtney. Another earlier singer was Judy Bailey.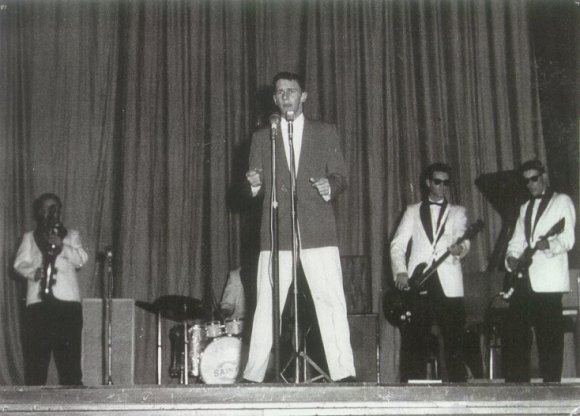 Original Saints with the addition of Mac Jamieson on bass guitar.
Although the Saints were ever popular, Bart Ball eventually split the group up. Doc Foster, Ross Clancy and Tony Athfield moved to the Downbeats.
This left Gary Jones and Neale McGrath to form a new version of the Saints. A young Maori lad by the name of Rongo Nehoneho, but known as Pat Neho, joined on lead guitar. The line-up for this second edition of the Saints was as follows:-
Gary Jones (Vocals)
Neale McGrath (Drums)
Pat Neho (Lead Guitar)
Stuart Murray (Piano)
Brian Wing (Bass Guitar)
Paul Sintes (Rhythm Guitar)
Stu Parsons (Baritone Sax)
Will Schneider (Tenor Sax)
Rod Gibson (Tenor Sax)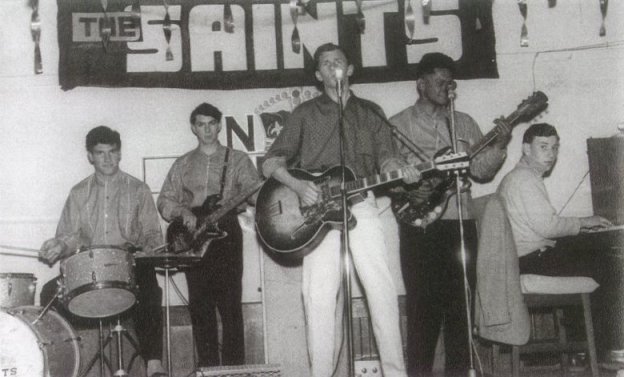 Saints (2nd Version) Neale McGrath, Brian Wing, Gary Jones, Pat Neho, Stuart Murray,
before the addition of rhythm guitar and saxophones.
Pat Neho had been working with Peter McMullan, and Will Schneider had just left Max Merritt and the Meteors. Rod Gibson would join Max Merritt after the Saints broke up.
This version of the Saints continued to run the dances at the Hibernian Hall as well as other venues, including Saturday mornings for the Coca Cola Bottlers Club held at the Civic Theatre with compare Harold Keen. When they broke up, Gary Jones and Neale McGrath went on to do other things. Pat Neho rejoined Peter McMullan in a group called Peter Lewis and the Trisonic Beat.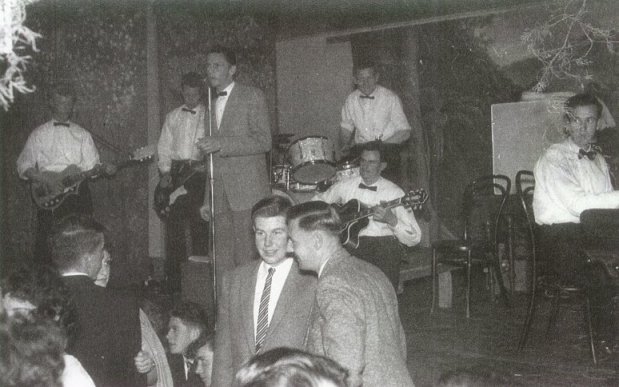 Gary singing at a Spencer St Teenage Dance. Far left is Dave Russell, later of the Invaders,
Pete Ward on drums, and Bob McNeely on lead guitar.
Gary formed a new group called the Versatiles. The line-up for this group was :-
Gary Jones (Vocals)
Bob McNeeley (Lead Guitar)
Stu Murray (Rhythm Guitar)
Ken Richardson (Tenor Sax)
Neale Stringer (Drums)
Ashley Glubb (Bass Guitar)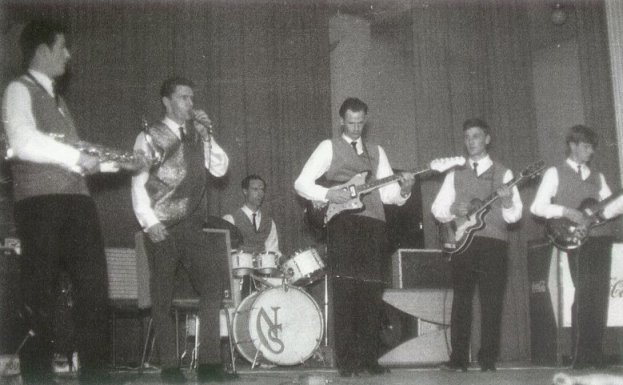 This group played at the Coca Cola Hi-Fi Club Shows, along with Max Merritt and the Meteors and compare Des Britten. They were held at the Caledonian Hall in Kilmore Street and tied in with Des's weekly Hi-Fi Club Radio Top Tunes. There were weekly guest artists of popular acts at the time, including Bill & Boyd.
After this group Gary went into the jazz field and sang for a number of groups at Hotels and Motor Lodges and other clubs during the seventies and eighties. These days he is a retired Natural History photographer and stays in touch with the music world through his son Todd, who plays bass and teaches music.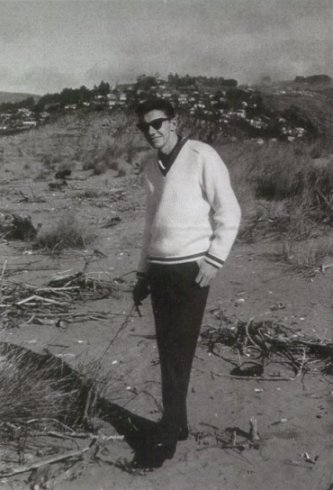 Gary Jones
It would appear that around 1962, Pat Neho has put together a new group, using members of some of the groups that had been around Christchurch during the late 50's. He has used the name, the Saints, even though technically this was not his to use. The line-up for this group were :-
Peter McMullan (Vocals)
Phil Garland (Guitar / Vocals)
Bernie Jones (Drums)
Pat Neho (Lead Guitar)
Ross Clancy (Tenor Sax)
Brian Wing (Bass Guitar)
Stuart Murray (Piano)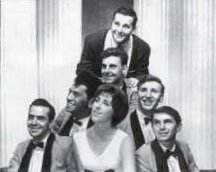 Known: (second left Pat Neho, centre bottom Diane Jacobs, bottom right Brian Wing, above him Stuart Murray)
Original vocalist Peter McMullan had previously recorded as Peter Lewis and the Trisonic Beat, a group consisting of Peter on vocals, Pat Neho on guitar, Johnny Philpott on drums and Ray Kamo on bass guitar. That group released five singles during 1959 and 1960.
Phil Garland was a rocker and Bernie Jones was playing drums in the 1959 line-up of Max Merritt and the Meteors. Ross, Brian and Stuart had all previously been members of the original Saints.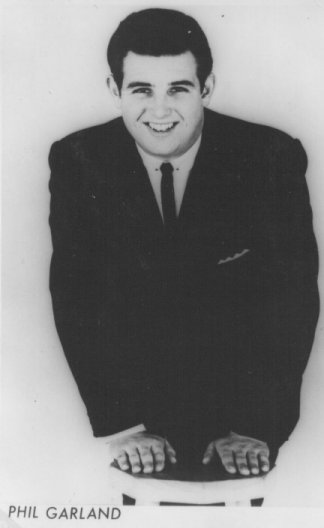 During 1962, a young Christchurch singer was just starting to make a name for herself, and the Saints provided backing for her on a number of occasions. She was vocalist Diane Jacobs, who later changed her name and went on to become the very successful soloist, Dinah Lee.
When Peter McMullan left the group he was replaced by Cyril Edwards. When this version of the Saints folded, Phil Garland formed the Playboys in 1962 and Diane joined him singing in the new band for a short while.
There was only ever one released recording under the name, the Saints, and it would appear that being released in 1962, it had to have been by this version of the band. The single was "Psycho"/"Scotland Yard" on the Robbins label.
I would like to thank Gary Jones for providing the information and photos of the original Saints.