Dinah Lee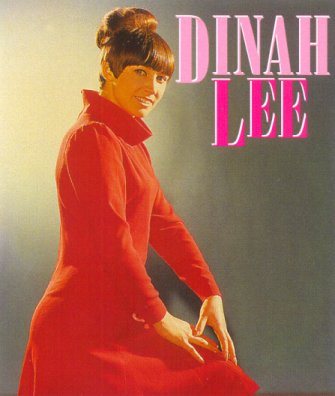 Dinah Lee was born Diane Marie Jacobs on August 19, 1943 in the small South Island town of Waimate. She was raised by a foster family in Christchurch, when her parents split up, but Diane always kept in touch with her father. He sold carpet in a department store, but also ran and promoted teen dances in his spare time. One night he asked Diane if she would like to sing some songs at one of the dances, and she jumped at the chance. The crowd loved it and she started singing regularly on Saturday nights.
Diane Jacobs made her professional debut in 1960 singing at a dance in a small Christchurch hall with Bobby Davis and the Dazzlers. She began appearing regularly with them in a local coffee lounge. She also gigged with the Saints and started dating Phil Garland, who was a member of that group. When the Saints folded, Phil Garland formed the Playboys and Diane joined him singing in the new band.
In 1962, Max Merritt and the Meteors had headed to Auckland, where they secured a steady gig at the Top 20 Club. When Max was offered a month long tour around the North Island, he needed a replacement band to mind his spot. He called the Playboys and offered them the gig. They jumped at the opportunity and Diane and Phil and the rest of the boys headed north. They made the most of their time playing every night for the month. Diane shared the vocals with Phil, and one song Diane included in her repertoire at that stage was a song she found on a Dee Dee Sharp album called "Don't You Know Yockomo".
When Max finished the tour, the Playboys returned to Christchurch. Diane now had a taste for the big smoke and when the Playboys folded, Phil and Diane tried playing with the Downbeats, but soon moved back to Auckland in 1963. Work as a singer was not easy to find, but she did manage to get a few spots with Max Merritt and Ray Columbus, and guest spots with a number of other established groups.
While trying to get her career started, she was introduced to a fashion model, who gave Diane a totally new 'mod' look. Short hair, white make-up, large eyes, pale lipstick, everything that was in the latest fashion magazines, and a look that had taken England by storm. The change was dramatic and transformed her life overnight. She now stood apart from all of her contemporaries.
In February 1964, the "Startime Spectacular" was promoted by James Haddleton, for a North Island tour. It was headlined with Bill & Boyd and included Max Merritt and the Meteors as well as Lyn Barnett. At the last moment Lyn had to cancel, so Max Merritt suggested replacing her with Diane Jacobs. This was agreed and for the three week tour, Diane took to the stage every night doing a thirty minute slot backed by Max and the boys. Some of the country towns had no idea of the fashion scene overseas and thought Diane looked weird when she appeared.
Back in Auckland, after seeing her potential during the tour, Haddleton signed her up with a management deal. He tied her up to taking 25% of all her earnings and for the next five years took total control over her income and the direction of her career. Diane now had a regular spot at the Top 20 Club and Haddleton invited Ron Dalton, from Viking Records, to come and see her performance. Viking was New Zealand's most important local label at the time. Ron caught her act and was quite taken with this ball-of-energy, arms pumping the ceiling, legs stomping the floor, and a look he had never seen before. An audition was arranged and Diane recorded two songs by the Exciters, "Tell Him" and "He's Got The Power". Viking's head office in Wellington approved and a recording contract was signed.
The first two songs Diane recorded were "Don't You Know Yockomo" and "Reet Petite". These two were scheduled to be the A-sides of the first two singles. Ron used Max Merritt and the Meteors as the session musicians and recorded the songs on a top-of-the-range two track machine. Viking also weren't happy with using Diane Jacobs as her recording name. They wanted something that sounded better, so they came up with 'Lee'.
The first single "Don't You Know Yockomo"/"You Don't Talk About Love" was released in August 1964 under the name Daine Lee. Within two weeks the single was in the top 40 and before long had peaked in the top 20. It generated a lot of interest from the media and suddenly Diane was 'Queen Of The Mods'. The first pressing of the single sold out, so just as they were about to press a second batch, Viking decided on a further name change and now she became known as Dinah Lee on the re-issue. The single was also released in Australia by HMV under Diane Lee and it peaked in the top 10 on many of the regional charts over there.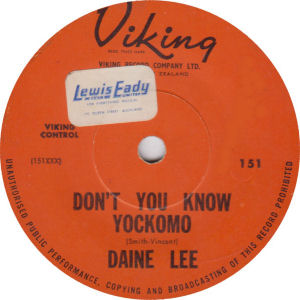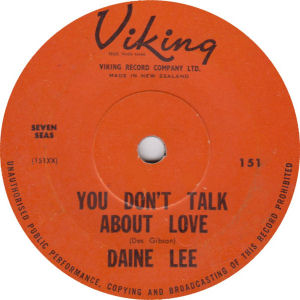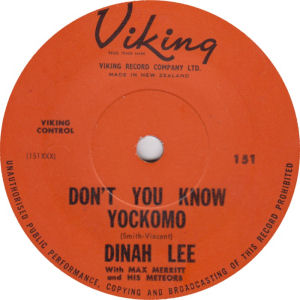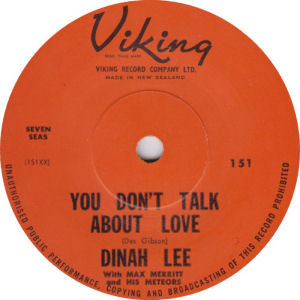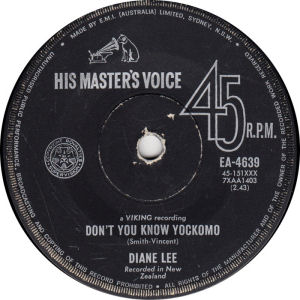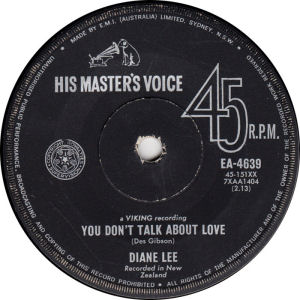 A month after the first single, the second was released in September. "Reet Petite"/"Yea Yea We Love Them All" consolidated her earlier success. The flip-side was a novelty song about the Beatles. This single wasn't picked up by Australia.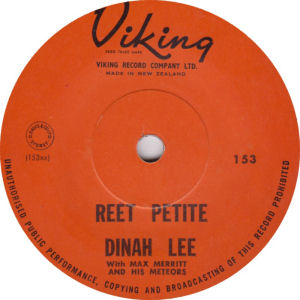 In June 1964, Ray Rivera recorded a song called "Do The Blue Beat (The Jamaica Ska). It went nowhere. Dinah was given the lyrics and she did her own interpretation of how she felt it should sound.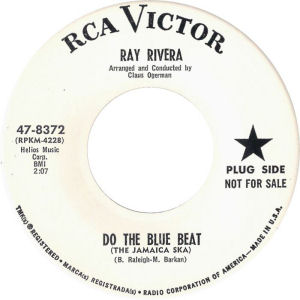 The third release in October 1964, was the one that truly established her. "Do The Blue Beat"/"Kansas City" was a huge hit. Viking Records were working on the principle of a strong A-side, the flip didn't matter. Australia didn't pick up the third single either and desperate for a follow-up to the first song, HMV decided to release "Reet Petite"/"Do The Blue Beat" as their second single. It was also a gigantic seller.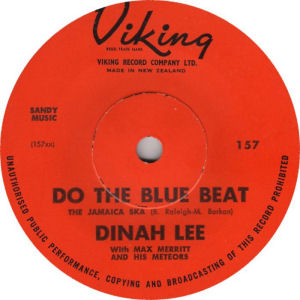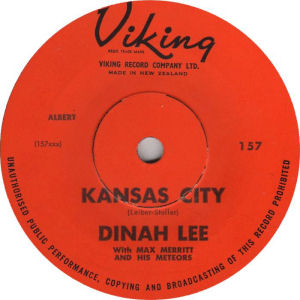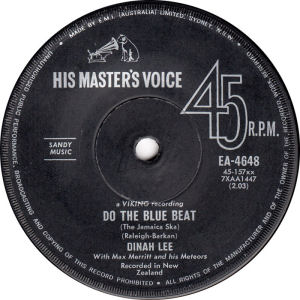 1964 had been a huge year for Dinah Lee. She seemed to be constantly on tour. One was the Haddleton promoted "Lou and Simon Spectacular", which also included the Sheratons, Tony and the Initials and Alex Neill. Dinah was also booked for the New Zealand leg of the "Jimmie Rodgers Show" that featured the Crystals and Terry Stafford. Her first international tour was the Pan Pacific Promotions "Starlift '64" that played Australia as well. Members of that touring party included the Searchers, Peter and Gordon, Del Shannon, Eden Kane and Dinah Lee. On that tour she played at the Sydney Stadium. Reviews said that she gave the most exciting performance of the night. When "Do The Blue Beat" hit the top of the charts, Dinah was touring on the Peter Posa Farewell Tour. Because "Reet Petite" was doing so well on the Australian charts, Johnny O'Keefe invited Dinah over to appear on his "Sing Sing Sing" show. She rushed to Australia, recorded the show and flew back to meet commitments in Auckland.
Viking issued her fourth single, "Who Stole The Sugar"/"Rock Around The Clock" in November 1964. Like the others, it also did well on the charts.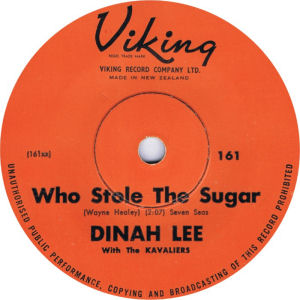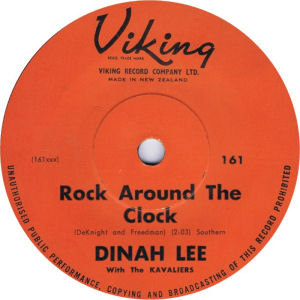 Considering that she had only been recording for four months, Viking had released four huge singles, two EP's and her debut album called "Introducing Dinah Lee". In total, she had sold over 100,000 units in that time.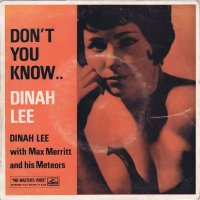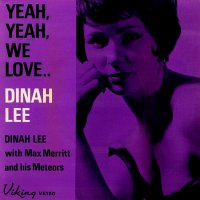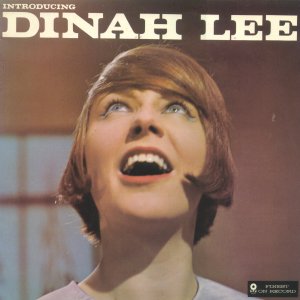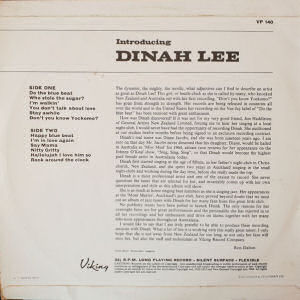 Once again Australia differed with the release of their third single. HMV chose to take "I'm Walkin' " from the album and put "Who Stole The Sugar" on the flip-side. Again it sold very well and also charted. Her appearance on the Peter Posa Tour was recorded and Dinah contributed four tracks on the "Live On The Peter Posa Show" album in 1964.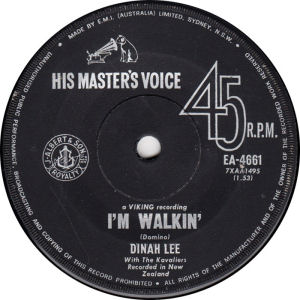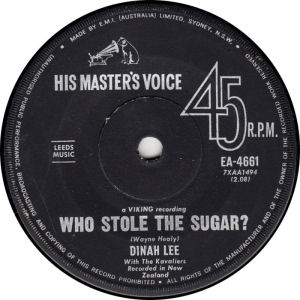 Dinah went back to Australia and recorded three performances to be shown on TV's 'Bandstand'. She also appeared on 'Saturday Date' and 'The Tonight Show'. One of the 'Bandstand' performances was at the Myer Music Bowl in Melbourne, where Millie Small was the star and the show also included Johnny Devlin.
About this time in early 1965, Viking released her fifth single, "Johnny"/"Let Me In". Once again Australia let this one go at this time. Dinah's third EP was also released.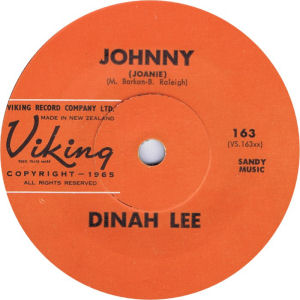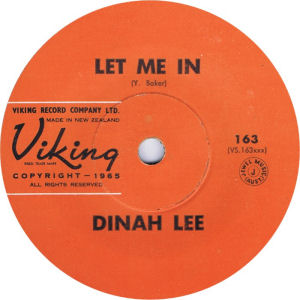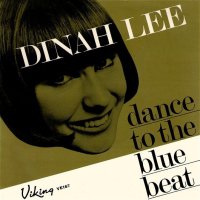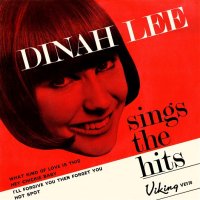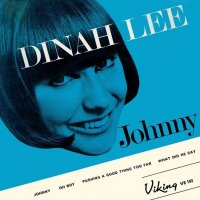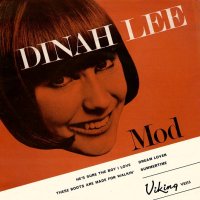 It was now time to make an attack on the lucrative overseas market. Being the most marketable female product on the local scene and given the number of appearances she made on American television, you would have expected her to do well. Dinah went to America and appeared on 'Shindig', one of the most popular music shows at the time. She wanted to do her hits, but after hearing them, the producers thought the American teenagers would have trouble relating to "Yockomo" and "The Blue Beat" so she ended up singing "I'm Walkin' " and doing a duet of "Hit The Road Jack" with Glen Campbell. She also appeared on 'Hullabaloo', 'Hollywood A-Go-Go', 'She-Bang' and 'The Jimmie Rodgers Show'.
On the record side, originally Vee-Jay Records were going to release her material, however none appeared. The only American release came out on Vee-Jay's subsidiary, Interphon Records. It was "You Don't Talk About Love"/"Do The Blue Beat". The B-side of her first single was the A-side and the A-side of her third single was the flip. With no promotion, it didn't stand a chance.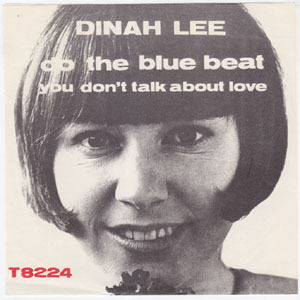 On to England, where she managed to record four tracks in a studio for Aladdin Records. They were "I Can't Believe What You Say", "That's It I Quit" and two others. Aladdin Records actually decided to go with two songs that Dinah had previously recorded earlier back in New Zealand, as their first single. So in May 1965, "I'll Forgive You Then Forget You"/"Nitty Gritty" was released in England. With the release out, an appearance was secured on 'Thank Your Lucky Stars'.
"I'll Forgive You Then Forget You" was first released by unknown American singer Lydia Pense.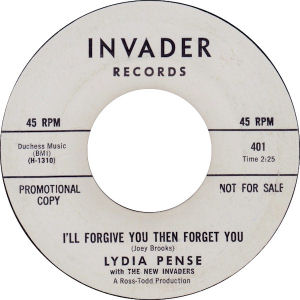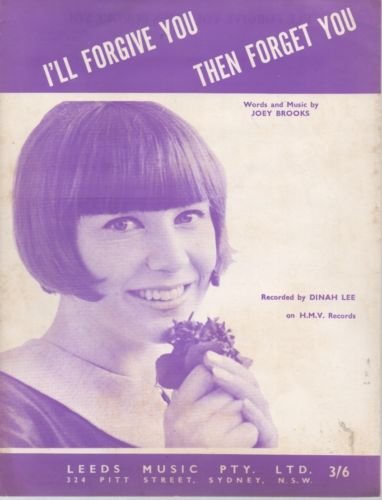 Meanwhile back in New Zealand, Viking released "I'll Forgive You Then Forget You"/"What Did He Say". With a different B-side, it made it a stronger disc. HMV also released this combination in Australia as her fourth single. The release did quite well considering she was not in the country to promote it. Aladdin Records went with a second release in England, "I Can't Believe What You Say"/"That's It I Quit", but it failed to sell. Having tried the overseas market, and not succeeded, Dinah decided to head back home.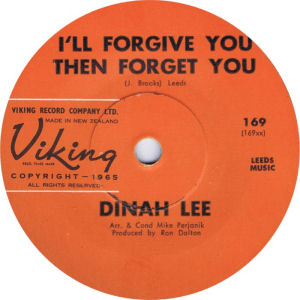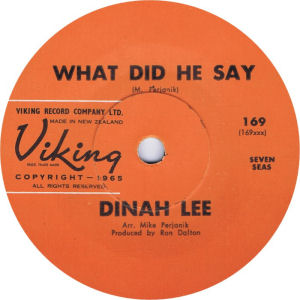 Back in New Zealand, she was still the most popular female performer on the local scene. For their fifth Australian single, HMV went with the second Aladdin release, and this put Dinah back on the Australian charts. Viking went for some different songs and released three more singles in quick succession, "He Can't Do The Blue Beat"/"The Birds And The Bees", "The Nitty Gritty"/"Hey Chickie Baby" and "That's It I Quit"/"Pushing A Good Thing Too Far".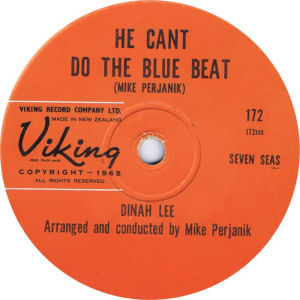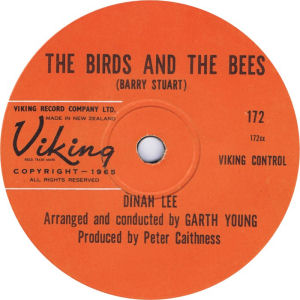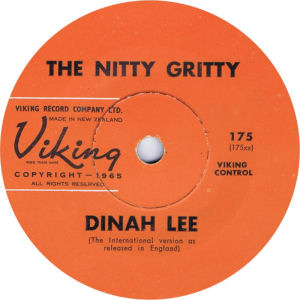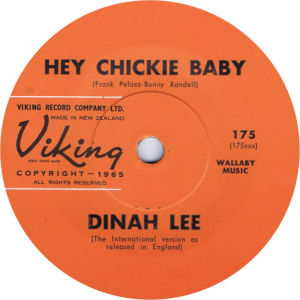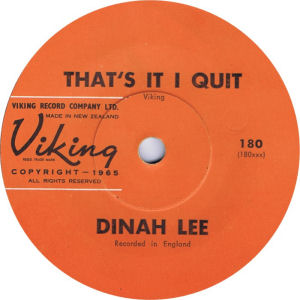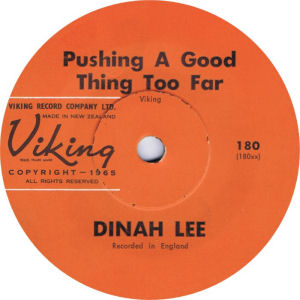 In September 1965, Dinah was booked for the Australian tour of P J Proby. To capitalise on this, HMV released its sixth single, the New Zealand release they passed up six months earlier, "Let Me In"/"Johnny". Following this tour, she flew to America to make another appearance on 'Shindig'. An attempt to line-up a better, more extensive tour, this time failed due to visa problems.
On September 14th 1965, Dinah Lee was named 'Entertainer Of The Year' at the NEBOA Awards. In November 1965, Viking Records released her second album called "The Sound Of Dinah Lee", again a massive seller.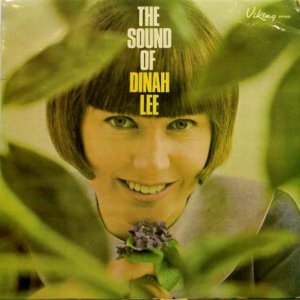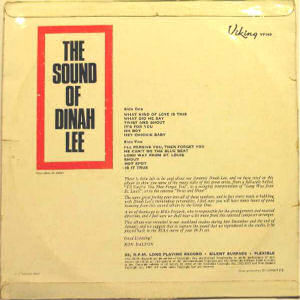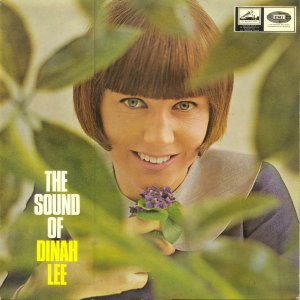 New Zealand Viking Cover Australian EMI Cover
A second "Live On The Peter Posa Show" album was also released, on which Dinah contributed four tracks. By now, Dinah had based herself in Australia, so after picking up her award she went on her own farewell tour. Two songs from that are captured on the "Live On The Dinah Lee Show" album.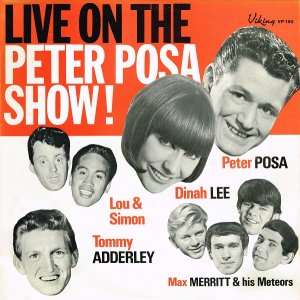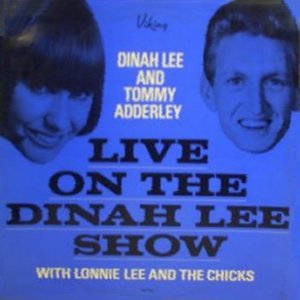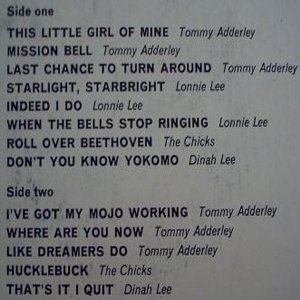 March 1966 saw a second Australia / New Zealand tour with Millie Small. Coinciding with the tour came her seventh HMV single and tenth Viking, "He Don't Want Your Love Anymore"/"Don't You Just Know It". However, by now Dinah's chart days were over. The music scene had changed, the innocent pop of 1963-64 was no longer in fashion. Viking and HMV kept on going with new releases all the same. May saw "The Right Time"/"Summertime" and in August "Not In This Whole World"/"He's Sure The Boy I Love".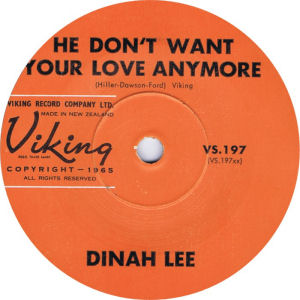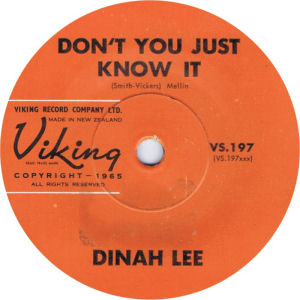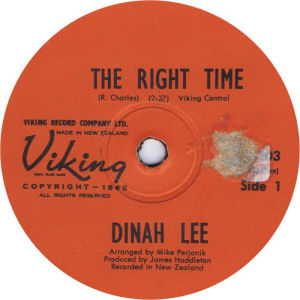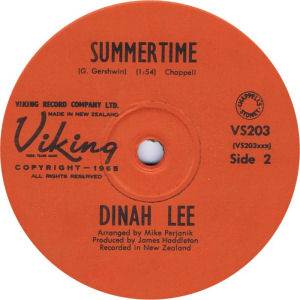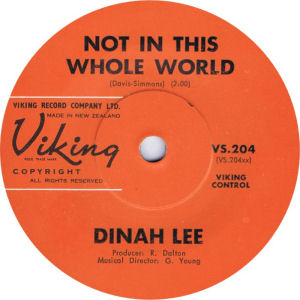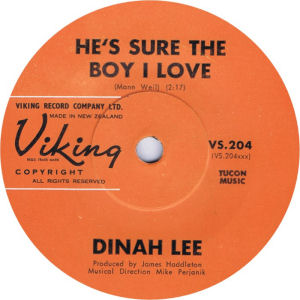 P J Proby came back for another tour in October, and Dinah was once again on the bill. A third album was issued late in 1966. It was called "The Mod World Of Dinah Lee".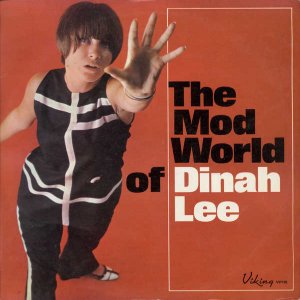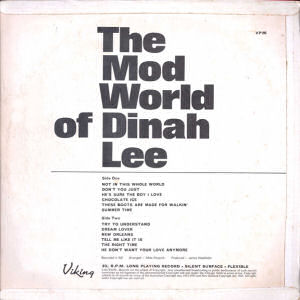 February 1967 saw a further single, "98.6"/"Too Many People" on both labels and her last single on these labels was released around July 1967. It was "Sorry Mama"/"I Keep Forgetting". After three years at the top, her recording contract was not renewed by either Viking or HMV.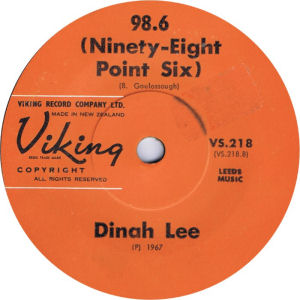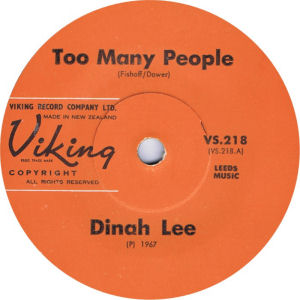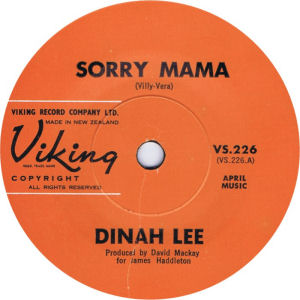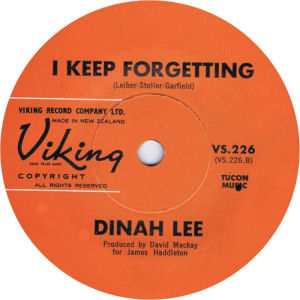 An Australian EP released in 1967.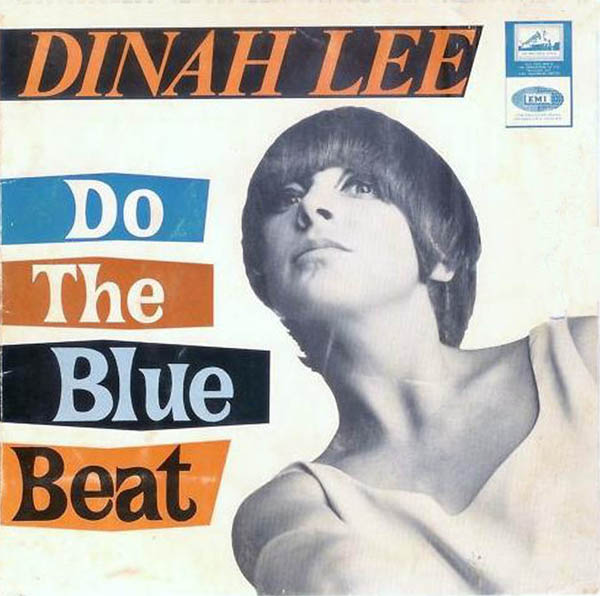 Dinah Lee's career never really slowed down in Australia. She became a very popular artist on the club scene. Older and wiser, she successfully sued James Haddleton in the Australian courts for monies owed.
Dinah has released three other singles since her HMV / Viking days. The first in 1972 was on Polydor, "Tell Him"/"You Are The One", the second on Festival in 1976, "It Doesn't Matter Anymore"/"Midnight Blue", and the third in Australia on Laser in 1979, "I Can See Clearly Now"/"Let It Take You".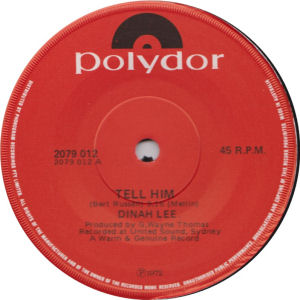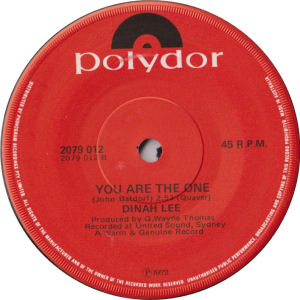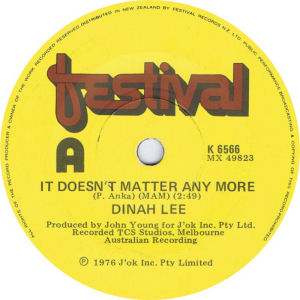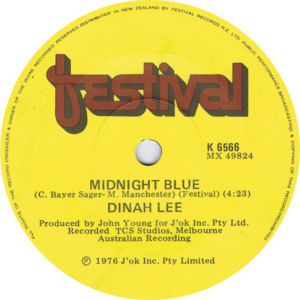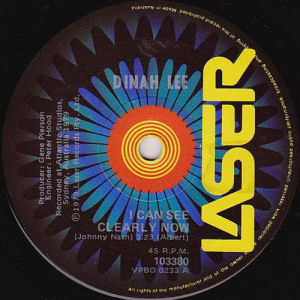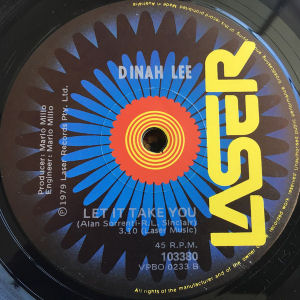 In 1982, a "Best Of - 20 Golden Greats" album was released on Music World.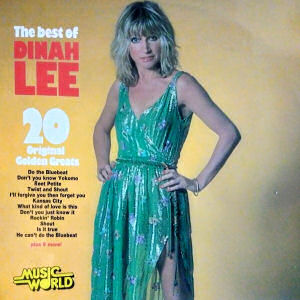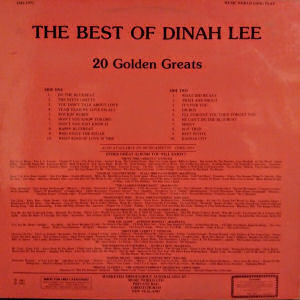 Two excellent CD's have subsequently been released, containing all of her better material. The first from Canetoad Records, covering her Viking Recordings from 1964-1967, shows the original cover and a later version. The second CD came out in 2001 from EMI New Zealand.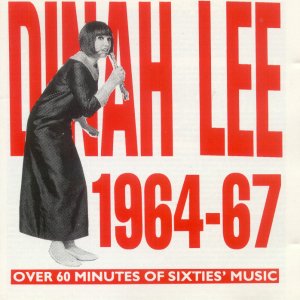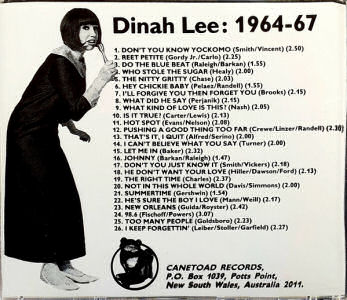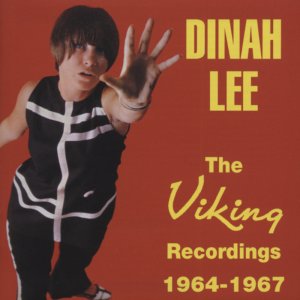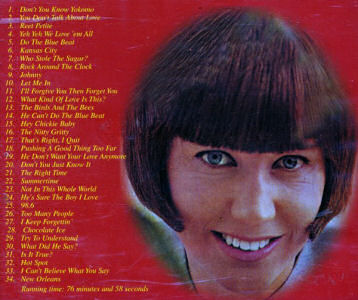 Canetoad Records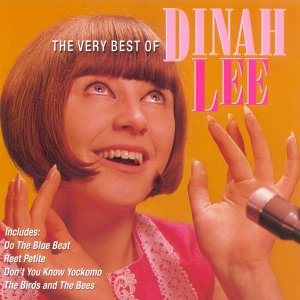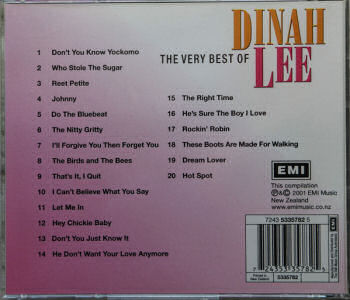 EMI New Zealand
Dinah Lee can also be found on the following compilations.