Keil Isles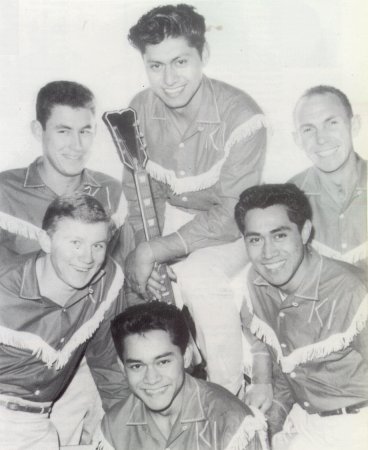 Clockwise from top: Olaf Keil, Lou Miller, Klaus Keil, Herma Keil, Bill Fairs and Norman Akers.
Original Line-Up:
Olaf Keil (Lead Guitar)
Herma Keil (Rhythm Guitar)
Rudolph Keil (Bass Guitar)
Klaus Keil (Drums)
Freddie Keil (Vocals)
The Samoa Islands are a group of islands in the Pacific Ocean about 1750 miles north-east of New Zealand. The islands are volcanic or coral in origin and were frequently visited by earthquakes and hurricanes. The topography and climatic conditions are an apt description for the Keil Isles who catapulted onto the New Zealand musical scene in the exciting early days of rock and roll and left their mark.
Olaf Keil was born in 1934 in Apia, Western Samoa and developed a love for music at an early age like most of his fellow islanders. The enterprising Olaf was building his own ukuleles out of coconut shells at the age of 10. Olaf had an aptitude and interest in photography, electronics and woodworking. He left in 1951 for a six month course in photography in Fiji when he was 17 and landed in New Zealand the next year.
Olaf started playing guitar with his uncle's 14 piece band and young cousin Freddie Keil would approach Olaf to back him on some rock and roll songs which were becoming popular. The response was favourable and soon Olaf taught his brother Herma to play guitar and along with brothers Klaus on drums and Rudolph on bass, they formed the first incarnation of the Keil Isles in 1956. The musical family played at their Mormon church, but good response at a talent quest contest along with their ability and well rehearsed professional sound convinced them to branch out. A regular booking was at the Orange Dance Hall in 1958 before a tour of the North Island. On their return to Auckland, they secured regular bookings at the Jive Centre, replacing the Bob Paris Combo.
The group soon recruited pianist Heke Kewene to fill out their sound and they approached the owner of the Tanza record label who also owned a recording studio which was mainly used for cutting radio commercials. (Tanza stands for To Assist New Zealand Artists). The owner was not sure about recording rock and roll as he was more attuned to pop and jazz music, but he finally agreed. Pianist Norman Akers came into the group in place of Heke, but after a short while he was replaced by Brian Henderson.
The Keil Isles were keen to record Chuck Berry's "Johnny B Goode" which they had received from the US as it looked like the Berry version would not be released in New Zealand. With Joe Turner's "Flip Flop and Fly" on the reverse, the single was released at the end of 1958. The songs were recorded on a one track Ampex tape recorder with only one microphone placed strategically to capture the group. The record was a success and the label owner eventually released four more singles in their versions of "Crazy Dreams"/"I'm So In Love With You" and Gene Vincent's "Say Mama" coupled with Hank Williams' "Your Cheatin' Heart", two Bobby Darin rockers in "Splish Splash" and "Bullmoose", Buddy Knox's "C'mon Baby" and Frankie Ford's "Sea Cruise" as well as an EP called "The Keil Isles", all in 1959. Soon after the initial release, Brian Edger was brought in on bass replacing Rudolph and sisters Eliza and occasionally Helga sang with the group. Freddie or Herma were the featured singers on many early sides until Tanza ceased operations in 1959. Brian Edger didn't stay long and was replaced by Lou Miller.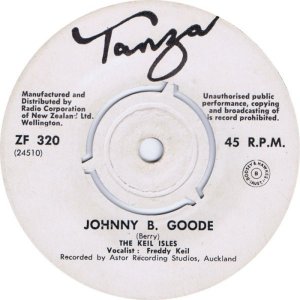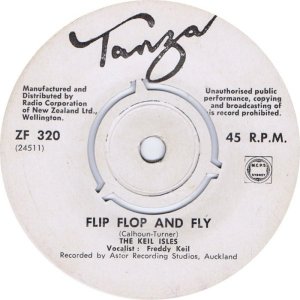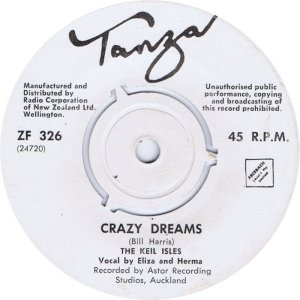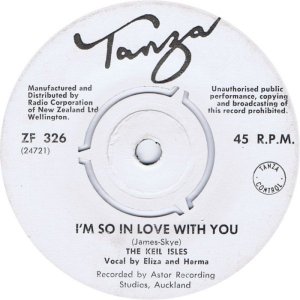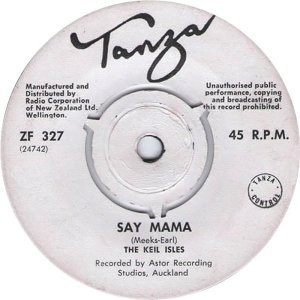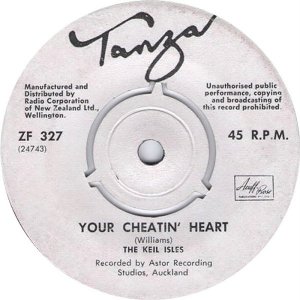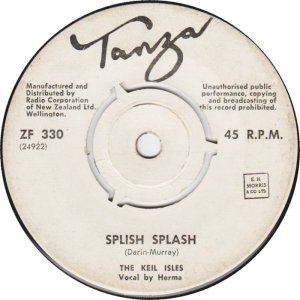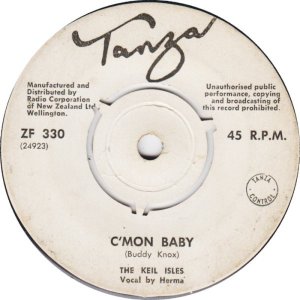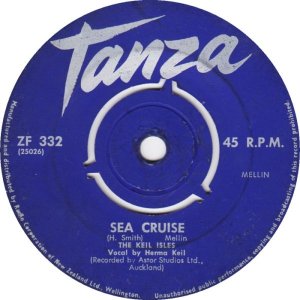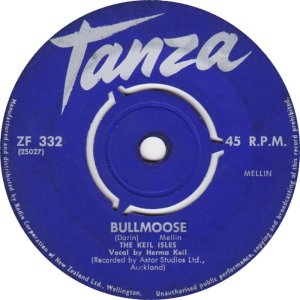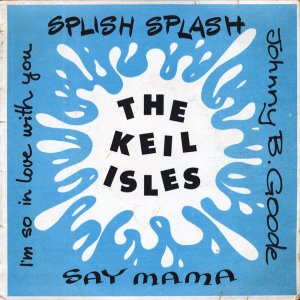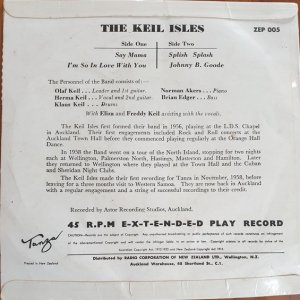 With the Mormon Church's USA connections, the group was able to import equipment, stage outfits and records and this all added to their dynamic visual act. The group boasted two fine and versatile singers in Freddie and Herma who were able to inject life into even straight pop songs like "My Heart Cries For You". Olaf Keil was a brilliant guitarist who could duplicate the guitar solos he heard on the American records that were dominating the world market. The fact that he was a technician was also very important as he could create a great sound with his amplifiers and guitars, while others could only dream of such a sound. Olaf successfully designed and built the first echo unit in New Zealand trying to emulate the sound on Elvis Presley records. This enabled the Keil Isles to actually compete with the visiting American and English artists on their level. This full sound was extremely popular with the dancers and the group would play one night a week at the Jive Centre and two nights a week at the Orange Hall. While Olaf managed the group initially and would book the halls and proceed to pack them with dancers, it became too much and David Dunningham started to manage the group.
The group soon signed to Eldred Stebbing's Zodiac label, but the lead singers Herma and Freddie became entangled in a controversy and cousin Freddie soon left the group. Freddie formed his own group, the Zodiacs, before settling on the name Freddie and the Kavaliers. Bill Fairs joined the Keil Isles on saxophone. The expanded group started having success with some Fats Domino songs in "Be My Guest" and "Country Boy". The Keil Isles were a talented music act with a highly visual stage presence. They were soon added to the touring Cliff Richard show in 1961. The Shadows were impressed with the Keil Isles and loved their "big, big sound". The group backed Del Shannon and Bobby Rydell on their tour of New Zealand and also backed touring Australian artists and local New Zealand singers. Unfortunately, the group did not tour outside of New Zealand and kept to their weekly bookings as well as an occasional tour of the country. At times they had to play for peanuts and had their share of promoters skipping out with the takings. It was difficult to make a living at music, so they usually had day jobs to supplement their income.
While at the Zodiac label, they recorded seven singles.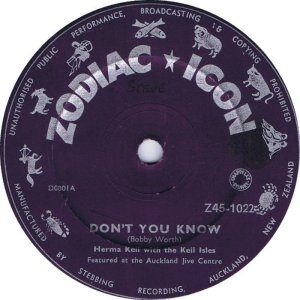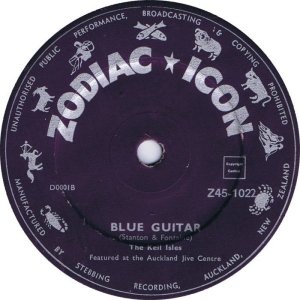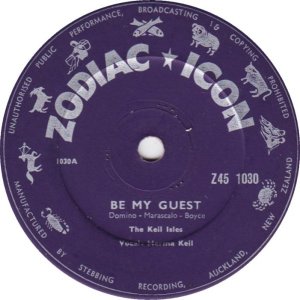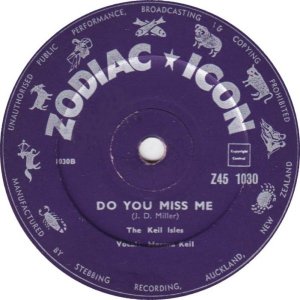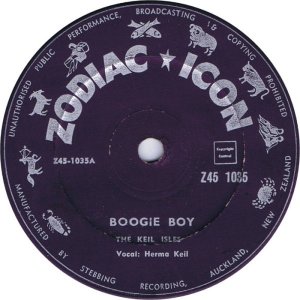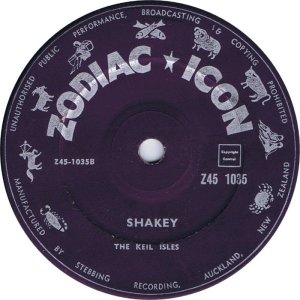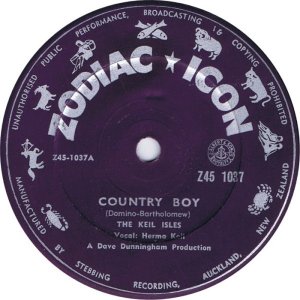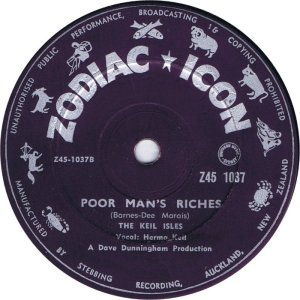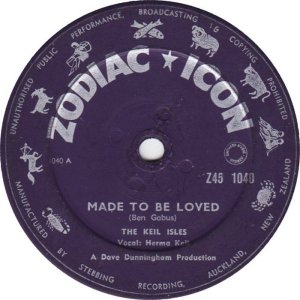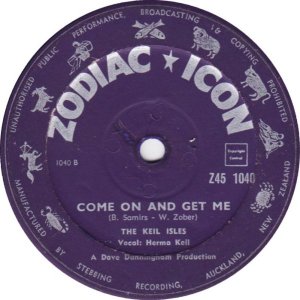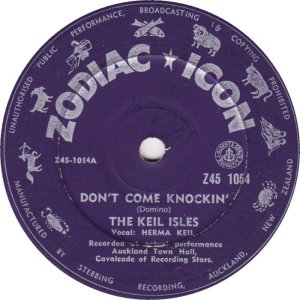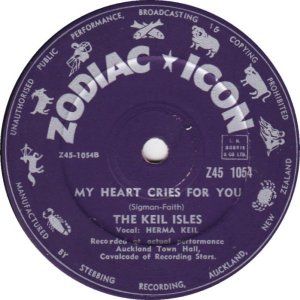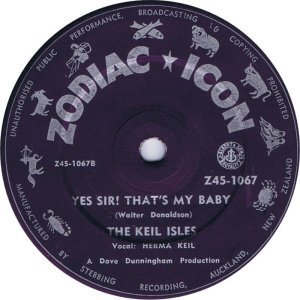 After their 7 singles on Zodiac, they settled in for a long stay with the Viking label, signing with Ron Dalton in 1962. For Viking they recorded 13 singles, 5 EP's and 5 LP's. Dalton was the recording engineer on their Viking sessions which were cut at the Jive Centre. Their varied repertoire ranged from covers of pop/rock hits of the day as well as instrumentals by Bill Haley, "Joey's Song", the Shadows "Peace Pipe", the Champs "Limbo Rock", to straight pop items like "Around The World" and "Cherry Pink and Apple Blossom White". The group toured with Bobby Rydell and Del Shannon for promoter Harry Miller in 1962 and it proved to be a turning point in the future of the group. Lead guitarist Olaf Keil was always interested in emigrating to the US and Del Shannon encouraged him in that direction. Olaf arrived in America on December 30, 1962, but said it was mainly at the urging of a Mormon missionary.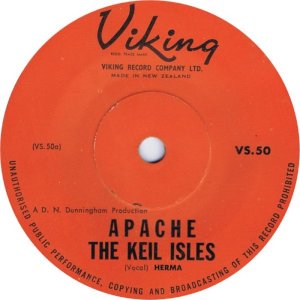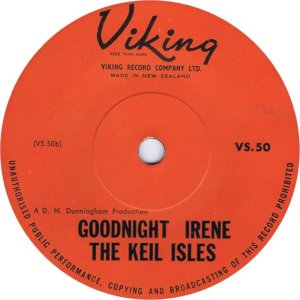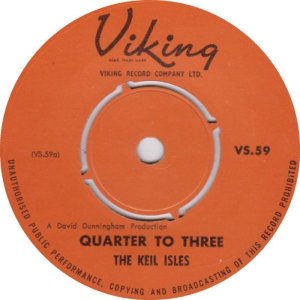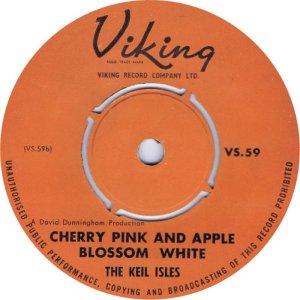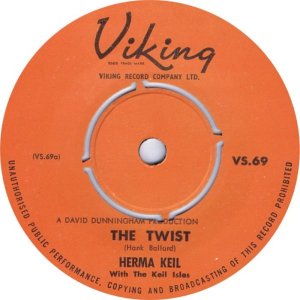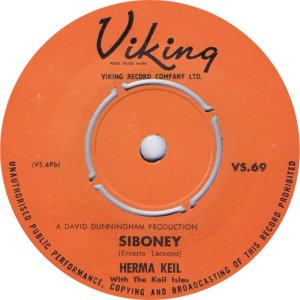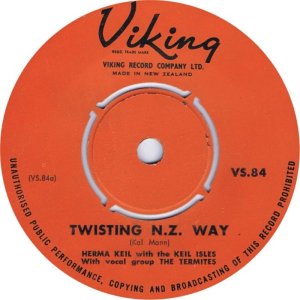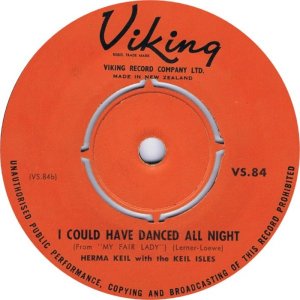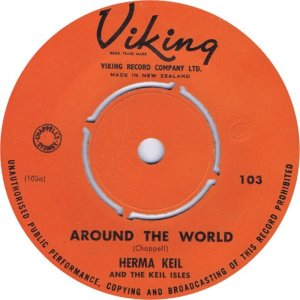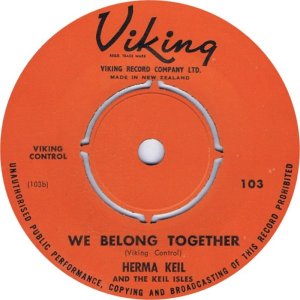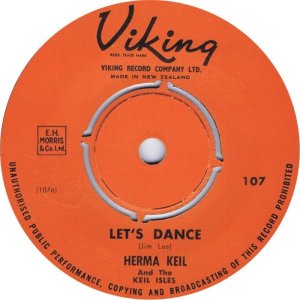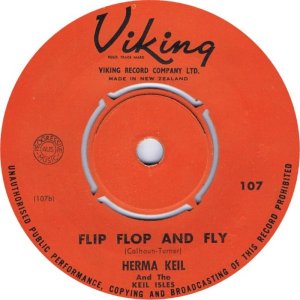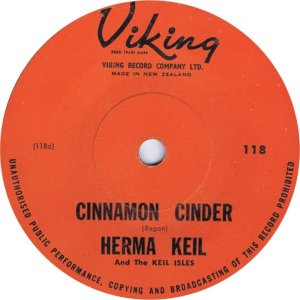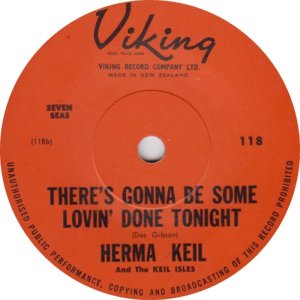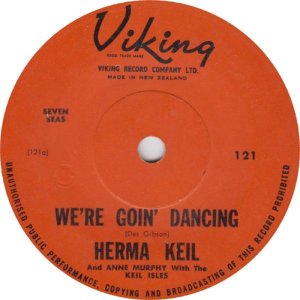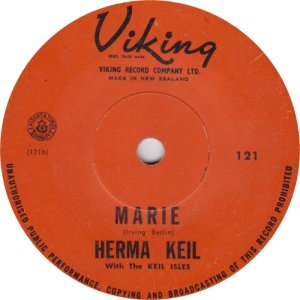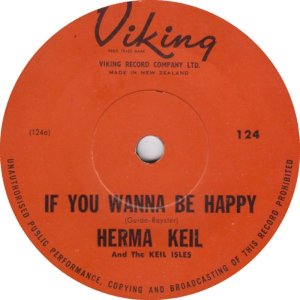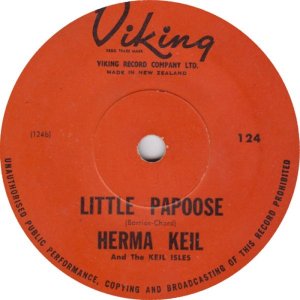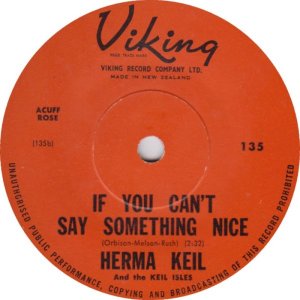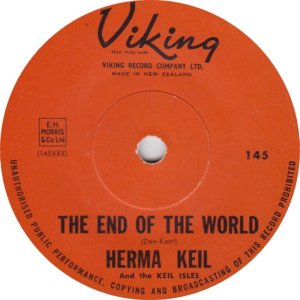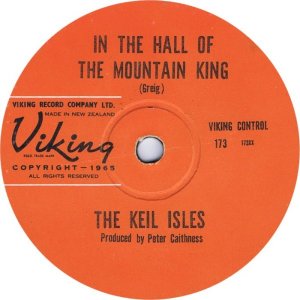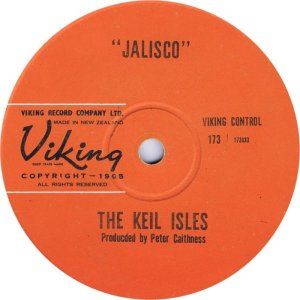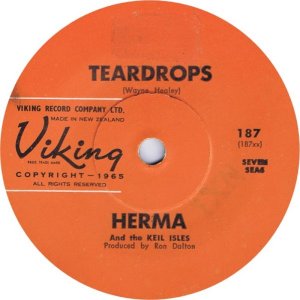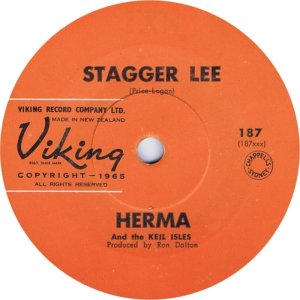 After the departure of Olaf, the Keil Isles went through a number of personnel changes with Johnny Walker taking over on lead guitar, while other changes were saxman George Barna replacing Bill Fairs, drummer Red Williamson replacing Klaus Keil and Warren McMillan taking over from bassist Lou Miller and himself being eventually replaced by Puni Solomon. The group had a four night a week residency at the Oriental Ballroom from 1963 to 1965. The music was changing and the Keil Isles went with the times doing a two-week tour of New Zealand featuring Cilla Black, Sounds Incorporated, Mark Wynter, along with Freddie and the Dreamers in 1965. They were resident on the TV pop show "C'mon", but Herma Keil and Eliza Keil left the group by 1967 to go solo and their departure meant no members of the Keil family remained in the group.
Below are the five EP's recorded for Viking.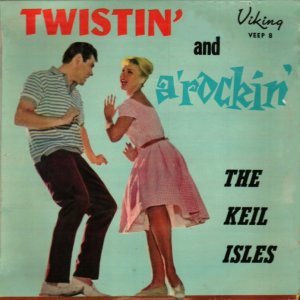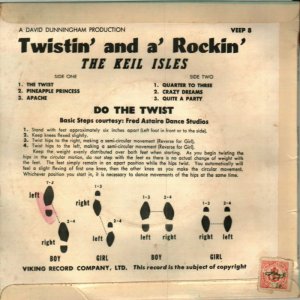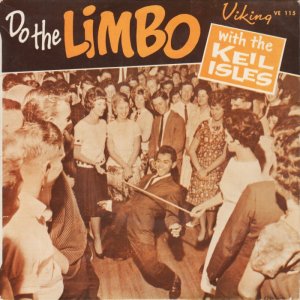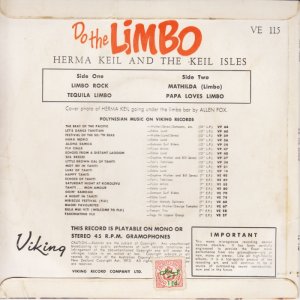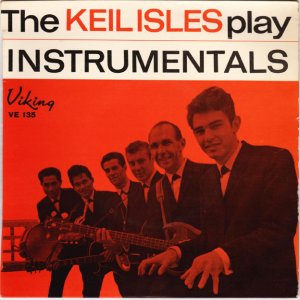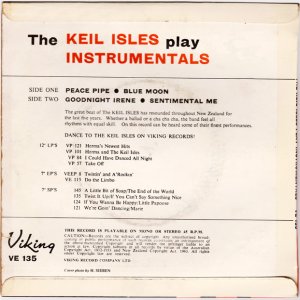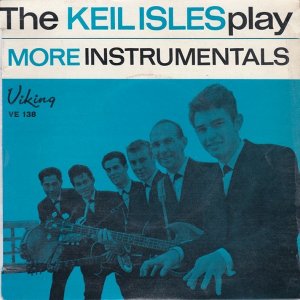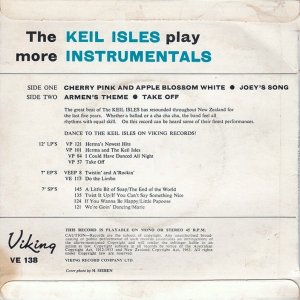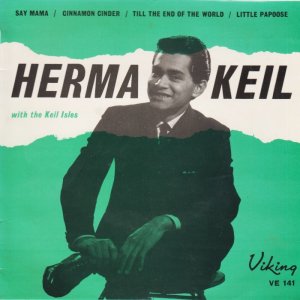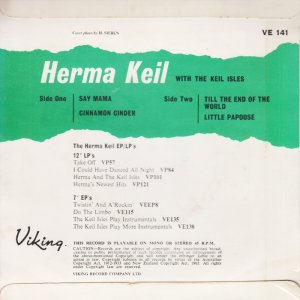 Below are the five LP's recorded for Viking.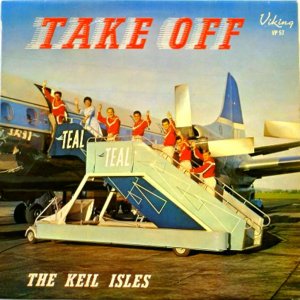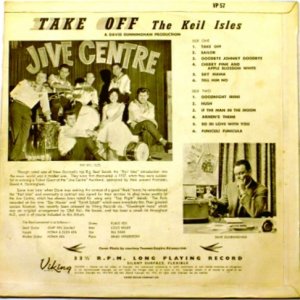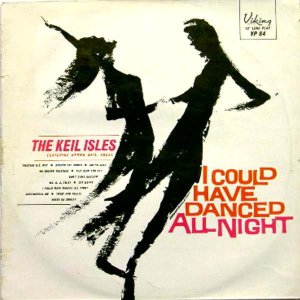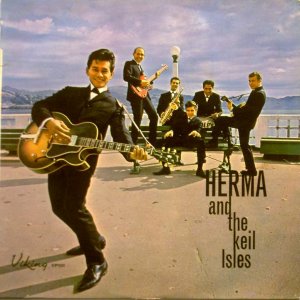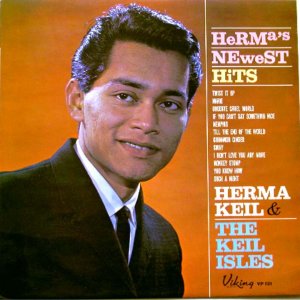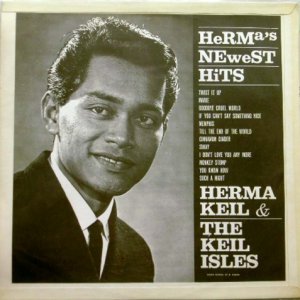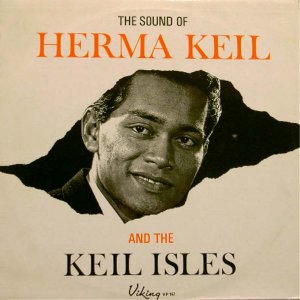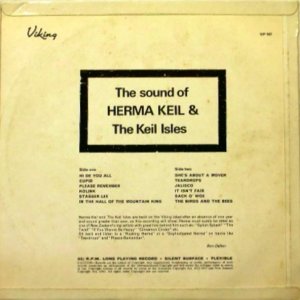 One final single was released on Philips in 1965 called "Peggy Sue"/"ABC Boogie".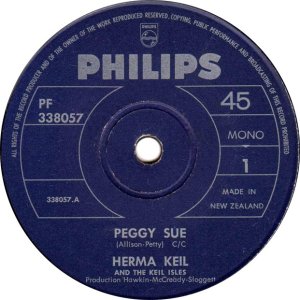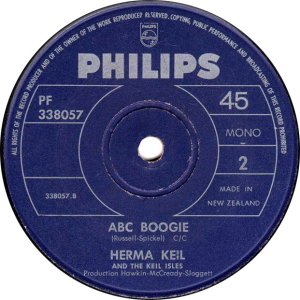 The group carried on for a little while with Brian Henderson on piano, Roger Skinner from the Pleasers, on guitar, Billy Kristian on bass and Jimmy Hill on drums. Another EP and album were released in 1966 and 1967 on the Salem label but the end finally came in 1967 when they called it quits.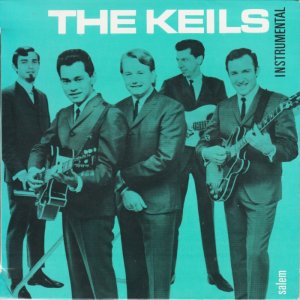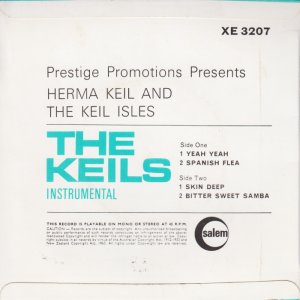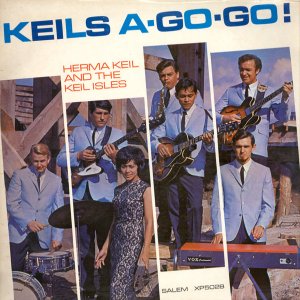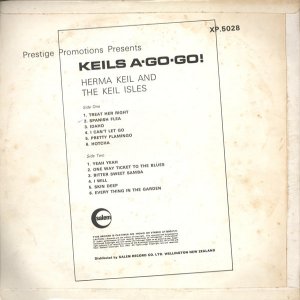 Along the way, the Keil Isles featured a few other luminaries at different times. They included John 'Yuk' Harrison, Doug Jerebine, Jimmy Sloggett, Bruno Lawrence and Rodney 'Dody' Potter.
Herma Keil eventually moved to Australia and retired, Eliza, Helga, Klaus and Olaf all moved to the US, while Freddie went back to the Islands, where he owned a FM Radio Station, but sadly died at the end of 1994.
A couple of compilations were released in 1980 and 1987 respectively, called "Twenty Rock & Roll Hits" and "Rock From The Other Side Vol 4".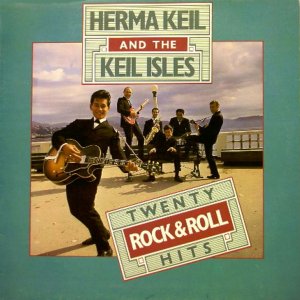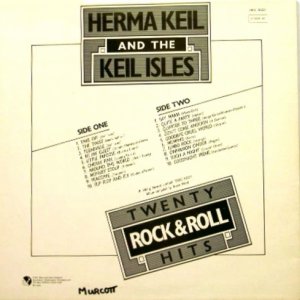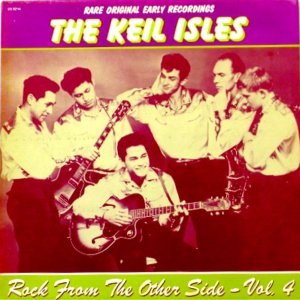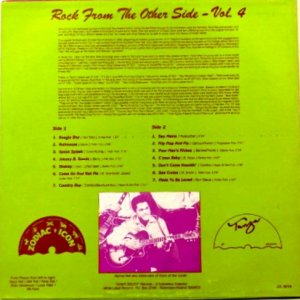 Collector Records released a double CD anthology of the Keil Isles, featuring 60 tracks, including 20 previously unreleased songs and alternate versions. In 2001 EMI also released a compilation CD called "The Very Best Of Herma Keil and the Keil Isles".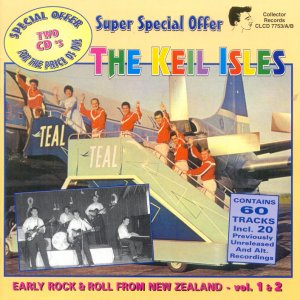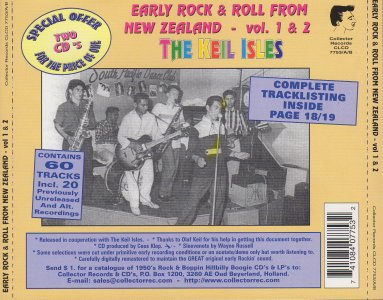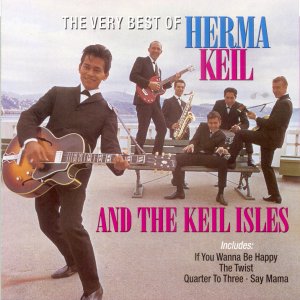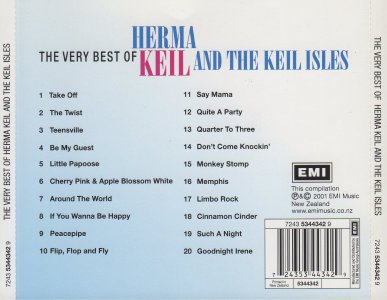 The Keil Isles can also be found on the following compilations.