Rock Candy
Original Line-Up:
Paul Town-Treweek (Electric Violin/Mandolin / Percussion / Lead Vocals)
Jim Joll (Guitar / Keyboards / Vocals)
Gordon Joll (Drums / Vocals)
Trevor Judge (Bass Guitar / Vocals)
Rock Candy was an Auckland cover band that had its beginnings in April 1977, when bass player Trevor Judge successfully auditioned for a group called Swayed. With the departure of their previous bass player, Kelvin Hair, the band was looking not only for a competent bass player, but also for someone with a flair for vocal harmonies.
Swayed's personnel were Paul Town-Treweek from Latin Quarter, (who used to play at the Hotel Intercontinental Top of the Town restaurant) on lead vocals, electric violin, electric mandolin and percussion, Jim Joll, also from Latin Quarter, on guitar, keyboards, flute and vocals (and electronics), Jim's brother Gordon Joll, who had been with Rod and Pauline McCauley's South Auckland band Hot Ash, on drums and percussion (and the occasional vocals), and the newcomer, Trevor Judge from Noazark and Kashmir, on bass guitar and vocals.
Their repertoire was harmony intensive, mainly Crosby, Stills, Nash and Young; America; Eagles; Doobie Brothers; Stevie Wonder; Seals and Croft; along with current Top 40 and some classics. After a few months with this line-up, their repertoire also included seven original songs, two of which they recorded (but never released) at Mandrill Studios in Parnell.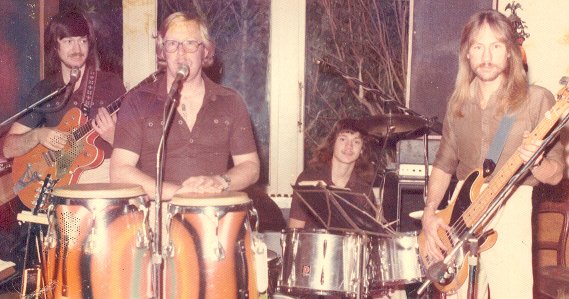 Swayed 1977 at the Toby Jug, Titirangi L to R: Jim, Paul, Gordon and Trevor
After a six month 3-4 nights-a-week residency at the Toby Jug restaurant in Titirangi, and a series of Saturday afternoon spots at Kelston's Westward Ho hotel, they moved on to a residency at the trendy Royal George Tavern in Newmarket, and also a couple of late night spots a week at the Crypt Nightclub. Musically, they were becoming more sophisticated and adventurous, including many songs from Steely Dan's 'Aja' album in their repertoire and playing a creditable live version of Queen's 'Bohemian Rhapsody'.
On the lookout for a new resident band for the nightclub at which he was the entertainment manager and host, well-known Auckland entertainer Tommy Adderley came to hear Swayed at the Royal George Tavern. Tommy subsequently offered them the six-nights-a-week residency at the arguably most prestigious licensed nightclub in Auckland, Aladdin's Nightclub, (downstairs in the Civic picture theatre building) and the gig paid for an extra player, too.
In April 1978, having made the decision to change the band's name, they began their residency at Aladdin's Nightclub as Rock Candy, adding their fifth member, guitarist John Parker (who had been in Kashmir with Trevor in 1976) to the line-up.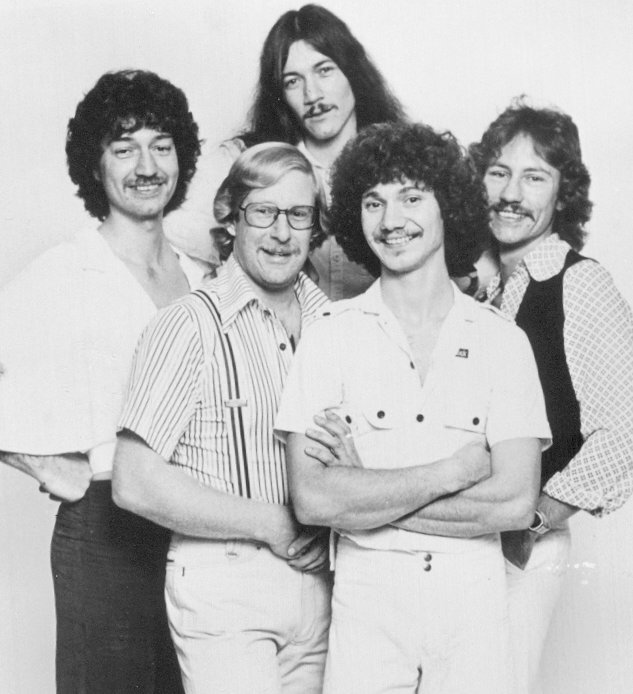 Rock Candy July 1978 L to R: Jim, Paul, John, Gordon and Trevor
Rock Candy was playing six nights-a-week (Tuesday to Sunday), 10pm to 3am, five 30 - 40 minute sets, their repertoire consisting of current Top 40 covers, including songs from Steely Dan; Boz Scaggs; Doobie Brothers; Billy Joel; Bee Gees ('Saturday Night Fever' had just been released); Brothers Johnston; and Earth Wind and Fire.
On a typical night during this era Rock Candy would play two sets, back the club's host/entertainer Tommy Adderley for a set, then finish the night with their last two sets. Usually on Thursday, Friday and Saturday nights they would also back a local or international guest artist for a floorshow set. Behind the scenes it was a sometimes demanding schedule; a full rehearsal for each 'new' act appearing that week (sometimes two or three separate acts in one week); the nightclub's resident host (at first Tommy Adderley, later replaced by singer, songwriter, drummer Jimmy Hill - from Ray Columbus and the Invaders and Headband with Tommy Adderley) usually presented at least one new song each week, requiring a rehearsal with the band, and finally they had their own new material to rehearse.
Sunday nights generally comprised a set from Rock Candy, a movie (such as 'Bonnie and Clyde' or 'The Guns of Navarone') projected onto a screen dropped down in front of the stage, and then a final set from the band. This 'easy night' for the band couldn't last unfortunately, and the movie was replaced with a floorshow, sometimes two acts such as Kim Hart and Andy Anderson – each act needing a rehearsal.
The first of Rock Candy's many TV appearances was in June 1978, on the inaugural Telethon 24 Hour Charity Appeal. It was the first of many such contributions they made to the annual appeal also, this time appearing twice, firstly with a song of their own and later that same day backing Tommy Adderley. Rock Candy also appeared several times on 'Radio With Pictures'.
In September 1978, Rock Candy, along with five other Auckland bands; Lip Service, Urban Road, Peter Woods' Woody featuring Josie Rikka, Red McKelvie Band, and Bruce King's Kingsize featuring Maureen Mitchell, went into Mascot Recording Studios to record two songs each for a compilation album called (predictably) 'Auckland Music', in an attempt to give local talent some airplay and exposure. The two songs Rock Candy chose for the album, 'Whispers' and 'I'm Gonna Fall In Love Tonight' were both written by Kelvin Hair, who had been the original bass player in Swayed, with Jim, Paul and Gordon. Unfortunately, the album was (also predictably) not given any airplay by the Auckland radio stations, although an article about it did appear in the 'Scene' column of the Auckland Star, thanks to music columnist Armand Crown.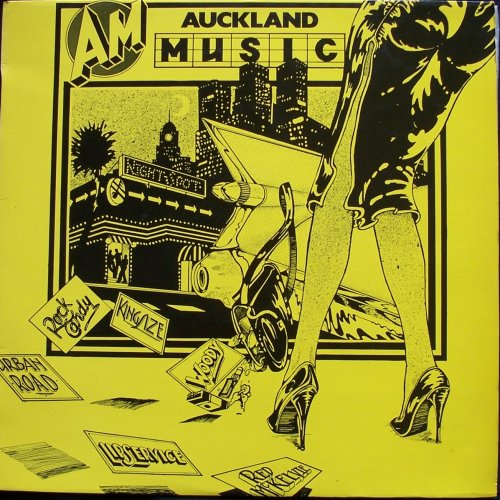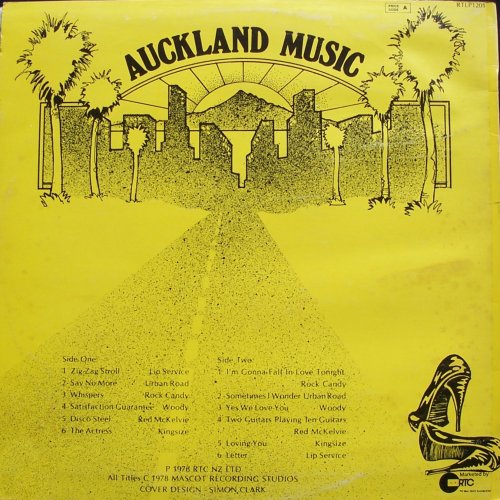 Also in September, Rock Candy appeared on Andy Shaw's new TV 'variety pop show', Star Zone.
Due to the non-appearance of a promised pay rise from the management of Aladdin's, Rock Candy handed in its collective notice to leave the club after a farewell performance on Sunday 26th of November 1978, much to the distress of their many fans, who treated the night as a wake.
Over the following three months, Rock Candy had a Thursday, Friday and Saturday night residency at the New Station Hotel in Anzac Ave, performed guest spots at the Mainstreet Cabaret in Queen Street and the Manhattan Nightclub in Mount Roskill, had another residency at the Foundry Nightclub in Nelson Street and even had a break away, playing the Christmas week at the Henry the Eighth cabaret in Whangarei.
During this time, Aladdin's owner Johnny Tabla was pestering them to come back to the club, promising to make good the original pay rise offer that had been reneged on. As much as they were enjoying moving their equipment around from club to club they decided that a residency in the city was in their best interests. On 27th February 1979, Rock Candy, to the joy of their devoted fans, returned to Aladdin's.
Back to their familiar routine of floorshow rehearsals and performances (Dinah Lee, over from Australia for a season, and a series of black female vocalists from the States), Rock Candy had another distraction to take care of - their guitarist John Parker had decided to take up an offer to join Larry Morris's Shotgun. Kelvin Hair, who had written the two songs Rock Candy recorded for the Auckland Music album, agreed to fill in on guitar until a replacement could be found.
Since the days of Swayed, Gordon and Trevor had played scores of recording sessions at the Mandrill Recording Studios, and during the previous few months had been called into sessions with, and got to know, a hot 'new kid in town' guitarist from Wellington, Kevin Furey, formerly with Malcolm Hayman's Quincy Conserve, and they offered him the position. Kevin's first week with Rock Candy, in June 1979, was spent out of town, as the group had a week's booking at Hamilton's Lady Hamilton Cabaret.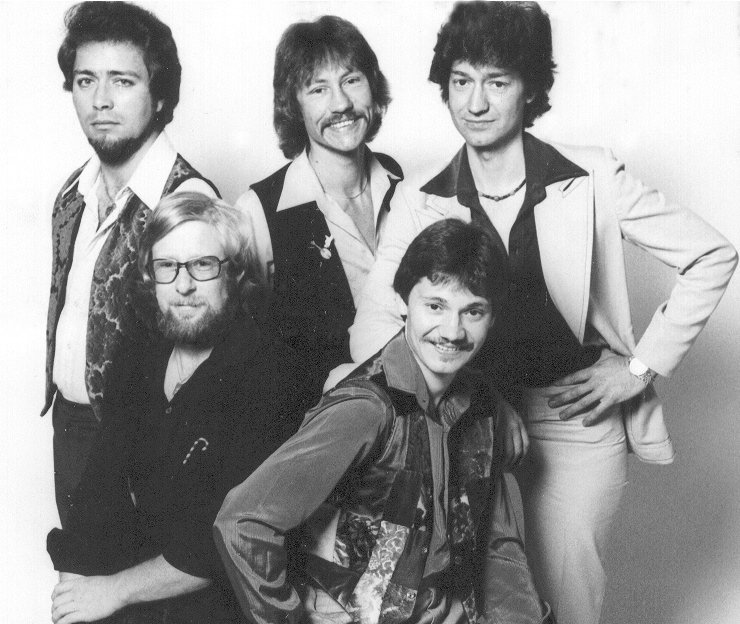 Rock Candy, late 1979 L to R: Kevin, Paul, Trevor, Gordon and Jim.
The next six months was taken up with the familiar procession of new floorshows at Aladdin's including; Miss Viola Wills (from the States); Mr Ray Columbus (with his pianist, Alexis Wiltshire) for a season with an Elton John show; Kim Hart; Herb McQuay; Ray Woolf; the Yandall Sisters; Karl Gordon - taking them through to the end of the year.
With the end of 1979 came 'Pop Encounters', a two hour Top 40-countdown television New Year's Eve Spectacular, starring Mr Ray Columbus, Tina Cross, Kim Hart, the Yandall Sisters, Karl Gordon and, performing all the backing tracks and featuring with four songs of their own, Rock Candy. They began recording the backings to everybody's songs at the beginning of December 1979 at the BCNZ Radio Theatre and started dress rehearsals - the show had a space-age theme with some way-out costumes - and filming at the South Pacific Television studios in Shortland Street on the 18th of December and the show was broadcast from 11pm on the 31st December. During the show, Rock Candy performed 'Don't Say Goodnight Tonight' (the Paul McCartney song), 'The Devil Went Down To Georgia' (featuring Jim on vocals and Paul with his electric violin), 'My Life' (Billy Joel), and (The Police's) 'Roxanne'.
At the beginning of 1980, Aladdin's management gave the band the go ahead to add a female vocalist to their line-up. After extensive auditions they welcomed Jan McCauley into the group to share the spotlight centre-stage with Paul. Jan's addition to the group added to the depth of their repertoire, giving them access to songs from the likes of Pat Benetar, Pointer Sisters and Blondie.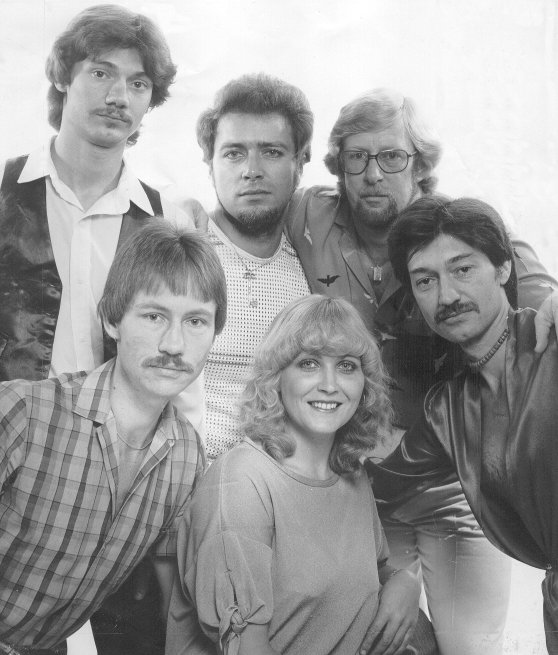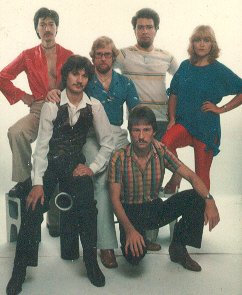 Rock Candy 1980, Back L to R: Gordon, Kevin and Paul, Front L to R: Trevor, Jan and Jim.
On Sunday 1st June 1980, Queen's Birthday weekend (Monday being a holiday), Rock Candy and Aladdin's held a fancy dress party, the first of what was to become a regular feature of the four long weekends of the year; Anniversary weekend; Easter weekend; Queen's Birthday weekend, and the Labour Day weekend (Oct). Each fancy dress party had a different theme, the first being 'Come As Your Fantasy'. Subsequent themes included; 'Rock Candy Colours'; 'The Wild, Wild West'; 'Bad Taste' (apparently, this was the only disappointing turnout as all their fans had extremely good taste); 'Spacemen, Aliens and Super-heroes'; and 'Rock Candy Needs You' (military style dress).
On Saturday 28th March 1981, Rock Candy featured on the first instalment of the '50s themed 'Rock Around the Clock' on TV1, having been flown to Wellington to record and videotape their songs at the Avalon Studios. Other guests on that first show were Tom Sharplin, Tommy Ferguson and Dalvanius.
Though not pertinent to the band as a whole, some of the local artists' albums Gordon Joll and Trevor Judge played on include: 'Stealer of Hearts' - Wayne Roland Brown; 'The Man, The Music, The Legend' - Prince Tui Teka; 'Drinkin' Them Beers' - Noel Parlane; 'Starblaze' - a high-school rock-opera by Shade Smith; 'Just For the Record' - Murray Hancox; 'Shades of Gray', 'Two Shades of Gray' and 'Guitar By Candlelight' - Gray Bartlett.
Gordon and Trevor also played in the TVNZ Radio Theatre backing band for the TV shows '12 Bar Rhythm'n'Shoes' and were in the 12-piece band of the 'live to tape' 'The Suzanne Lee Show', which ran for six weeks.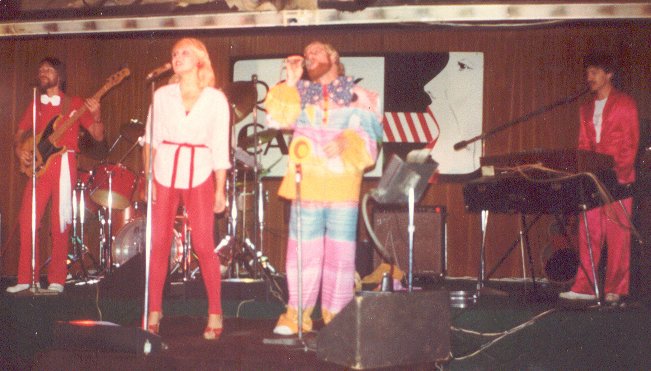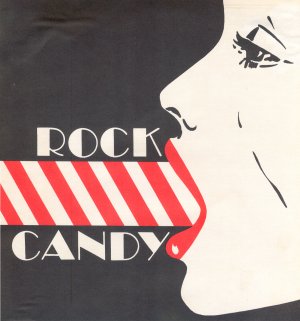 Rock Candy, April 1981 Fancy Dress, L to R Trevor, Jan, Paul and Jim.
In October 1981, two of Rock Candy's founding members left the band to follow new directions, Paul Town-Treweek returning to a spell of teaching and Jim Joll forming his own four-piece band, Rock Squad, with recording star Nigel Lee. Ben Grubb, from the Gremlins, came into Rock Candy on keyboards and their new vocalist was Barry Wetini, who had shared lead vocals with Peter Morgan in Auckland band Charisma.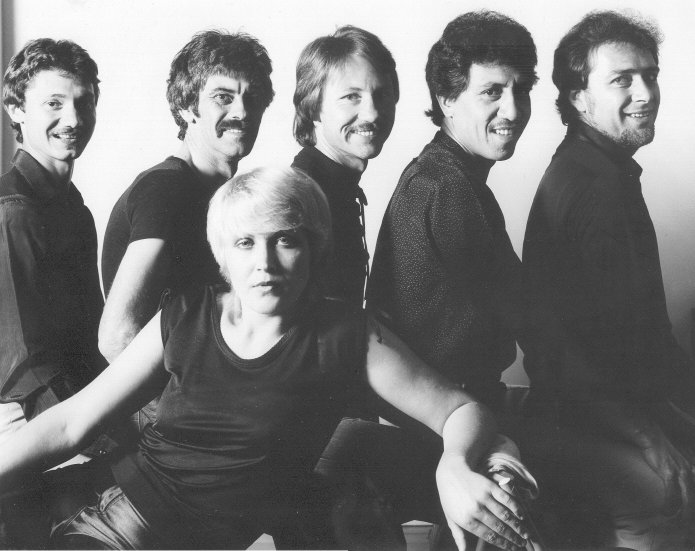 Rock Candy, early 1982, Back L to R: Gordon, Ben, Trevor, Barry and Kevin. Jan in front.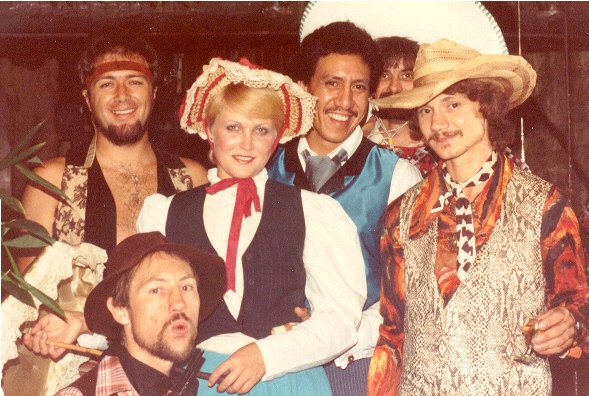 L to R: Kevin, Trevor, Jan, Barry, Ben and Gordon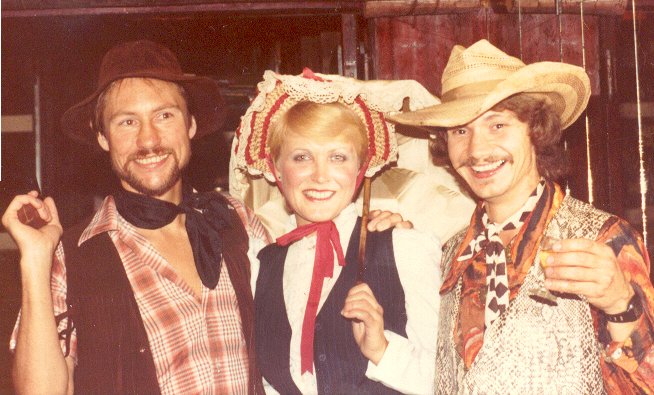 Trevor, Jan and Gordon
1982 saw further changes in the band's personnel. Their female vocalist, Jan McCauley left the band in June to get married. Jan's replacement was Mary-Anne Hemera. Ben Grubb left in November '82 and was replaced by keyboardist Richard Hall. Later that month, bass-player Trevor Judge, another of the foundation members, also left the band, heading to Sydney for some new challenges. His replacement was Max Stowers.
The band continued with this line-up, finishing up at Aladdin's late 1983 and taking up a residency at the Mt Wellington Trust Hotel. At the end of March 1984, Gordon Joll, the last original member of Rock Candy, left to form Databand with two of Rock Candy's other original members, Jim Joll and Trevor Judge (who had returned from Australia to be part of this new group).
Databand, a 5-piece line-up including Kit Panting on guitar, took over the 5-night-per-week residency at Club 21 (formerly known as Aladdin's Nightclub), staying there for another 12 months before leaving and disbanding, with Jim, Gordon and Trevor going on to play 3-piece (with sequencers) as Livewire.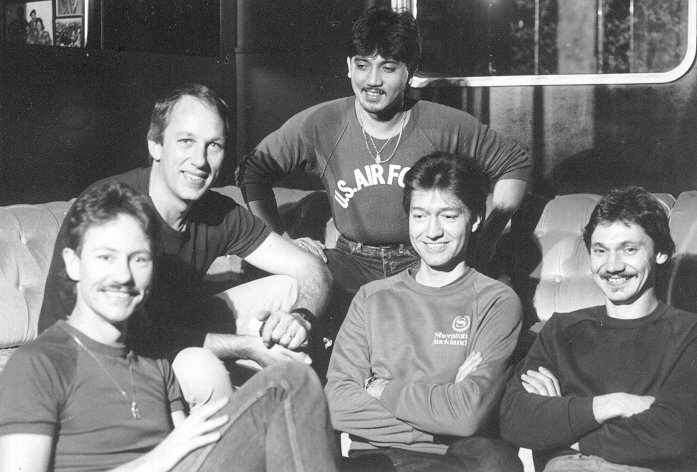 Databand 1984 L to R: Trevor Judge, Kit Panting, Ramon, Jim Joll and Gordon Joll.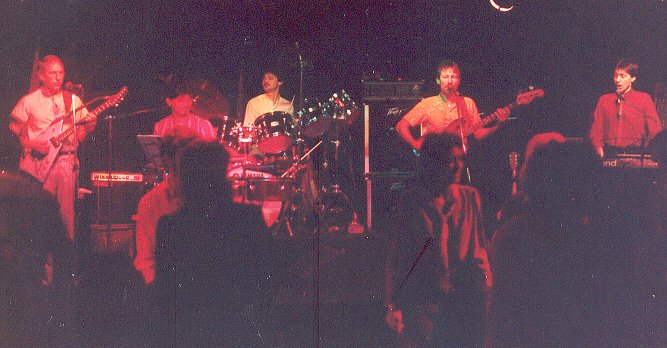 Databand live 1984 L to R: Kit, Ramon, Gordon, Trevor and Jim.
Kevin Furey, who had joined Rocky Candy in 1979, continued the band under that name for another year, with a residency at the Peppermill Nightclub, but with the exit of Gordon Joll, its last founding member, in March 1984, Rock Candy, 'the sweetest band in the land', had had its day.
Since the demise of Rock Candy, all four of the founding members have remained professional musicians to the present day. Paul Town-Treweek went on to found the very successful Southern Comfort Jazz & Blues Festival series with partner Tommy Adderley; managed and toured with bands such as the Kenny Pearson Powerband and Frank Gibson's Jazzmobile. He has recorded with Billy Kristian (Headband) and Jules Riding and won awards for his vocals at the Auckland Soul Olympics and the NZ Music Awards. Paul currently works with his own jazz band Moonlighters with Barry Korcheski.
Jim Joll, having departed Rock Candy late '81 to form Rock Squad, teamed up again with brother Gordon Joll and Trevor Judge in 1984 to form 5-piece Databand which was pared down to 3-piece Livewire a year later. After Livewire disbanded in 1987, Jim went solo, using self-programmed sequenced backings. Since then, Jim has gone on to win a host of awards including: 'Most Professional Entertainer' in 1995; 'Golden Sure Microphone' also 1995; 'Top Instrumentalist' 1997-'98; 'Scroll of Honour' for his service to the NZ music industry and in 2003 he was awarded the 'Benny', NZ's highest award for professional entertainers. In the early '00s Jim teamed up with Debbie Dorday (from Burgundy's of Parnell) to create an incredibly successful comedy and costume style cabaret show.
After Databand and Livewire, Trevor Judge and Mike 'Tich' Walsh, from the Larry Morris Band, and who had taken over on drums in Livewire after Gordon left to join the Satellite Spies, teamed up with keyboardist Murray Hancox from Coup d'Etat to work as Murray Hancox and the Flames. Trevor switched from bass to guitar and went solo in July 1989, with self-programmed sequenced backings, sometimes bringing Jan Posa (nee McCauley of Rock Candy) or NZ recording star Jodi Vaughan in on female vocals. At the end of 1992, Trevor moved to Australia's holiday capital, the Gold Coast, and over the next 11 years, with some very spunky female vocalists, operated two very successful duos, Foreign Affair and Affinity, holding down a weekly residency at Jupiter's Casino for most of that time. Trevor now works solo in Queensland's Fraser Coast city of Hervey Bay, where, in 2006, he was nominated for 'Best New Talent' in the Queensland Entertainer of the Year Awards.
Gordon Joll departed Livewire to join the recording and performing group Satellite Spies. In the early '90s he joined Herbs, playing on their album 'Home Grown' (produced by Eagles' Joe Walsh), and touring extensively with them. Since then, Gordon has been still a very much 'in demand' drummer, playing, touring and recording with bands such as Hello Sailor, Rebel Without Applause, The Handpicked Band and the Greg Moffatt Band. In 2007, Gordon received a 'Service to the Music Industry' award from the Variety Artists Club of New Zealand.