Larry's Rebels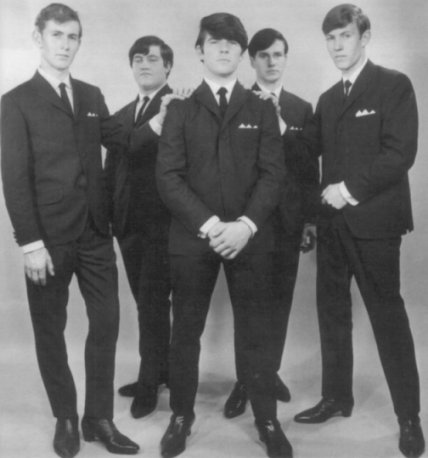 Terry Rouse, Dennis Stott, Larry Morris, John Williams and Viv McCarthy.
Line-Up:
John Williams (Lead Guitar)
Terry Rouse (Keyboards / Rhythm Guitar)
Viv McCarthy (Bass Guitar)
Dennis 'Nooky' Stott (Drums)
Larry Morris (Vocals)
John Williams, Dennis Stott and Harry Leki were school friends, who decided to form a band in 1962. Playing mostly Shadows type tunes, they called themselves the Young Ones and played school dances and socials for a couple of years. Harry Leki left the group during that time and a number of bass players came and went. Some of them included Bob Campbell, Bob McLeod and John 'Yuk' Harrison. Harry Leki later became a member of Wellington's Simple Image in 1967.
After trying their hardest by auditioning for a number of people, they came to the attention of Max Merritt, and he got them a gig. Bob McLeod was still the bass player at this point.
Robert Handlin, a TV Producer in the early days of New Zealand Television, started to increase their popularity by involving himself with Paul Newberry, who in the early 60's operated the "Skylounge" in the main street of Whangarei. This place, along with the A&P Hall, were amongst the most popular teenage hangouts in New Zealand's north. They changed their name to the Rebels and a vocalist named Larry Morris Sturdy was added to the line-up. He is better known as just Larry Morris. Larry was from Taumaranui and fresh out of the navy. It was in the North that the group, with Larry as lead vocalist, made and cemented their popularity.
Robert Handlin produced their first record, two Cliff Richard covers, but the record was never released.
The group quickly became known as Larry's Rebels and started playing regularly in Auckland, at the Top 20 Club and also the Platterack. This was pretty hard going on the boys at this stage as three of them were still at school.
In November 1964, they recorded three demos at Ascot & Mascot Studios. They cut "She's Mine", "Theme From Dr No (Jazz)" and "Don't It Make You Feel Good". In April 1965 they recorded three more at Stebbing Studio, "Leave Me Be", "Till I Met You" and "Mad At Me". They used these demos to try and get Philips interested.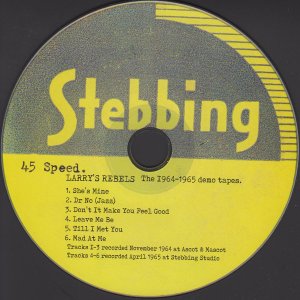 At the end of 1964 they got a more permanent bass player by the name of Viv McCarthy. He was the son of famous rugby commentator Winston McCarthy.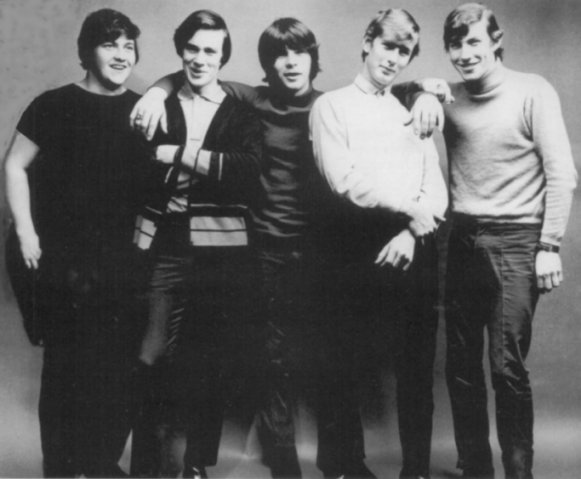 Nooky Stott, John Williams, Larry Morris, Terry Rouse and Viv McCarthy.
Larry's Rebels shared the top billing at the Miss Auckland Personality Contest with Ray Columbus and the Invaders, and after this, Russell Clark, who was managing Ray, took over their management and went about finalising the Philips deal. Deciding on what should be their first single proved difficult. They cut a version of "This Empty Place" but it was rejected. They went back to the studio and put down "Mad At Me", a song written for them by Ray Columbus, but this too was rejected. A decision was made to re-record "This Empty Place". So their debut single in 1965 was "This Empty Place"/"So Much In Love With You". There were enough copies of this single sold for Philips to go with another. The second release was "Long Ago, Far Away"/"Could This Be Love".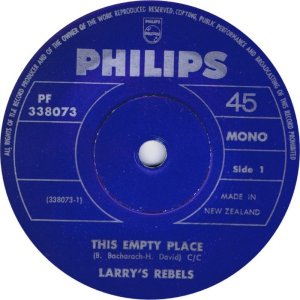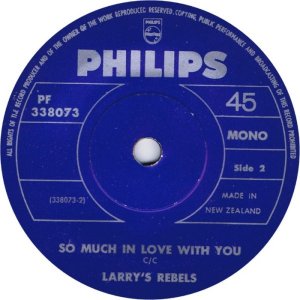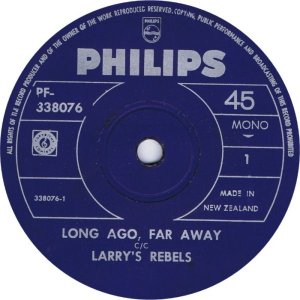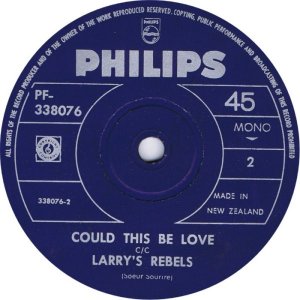 Russell Clark was happy with the sales and the interest shown in the group, so he teamed up with entrepreneur Benny Levin to form Impact Records in 1966, to continue pushing out their recordings. The first release on the new label was hardly a promising indication of things to come, being a clumsy version of the Platters "My Prayer" backed with What Am I To Do". It chalked up respectable enough sales to ensure the label would immediately be successful. A cover of The Who's "It's Not True" backed with "Since I Don't Have You" brought the group national attention with the single making it into the top ten on the charts.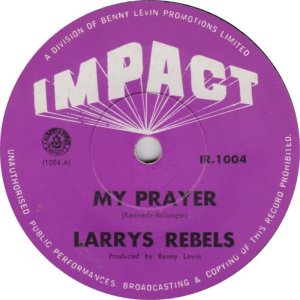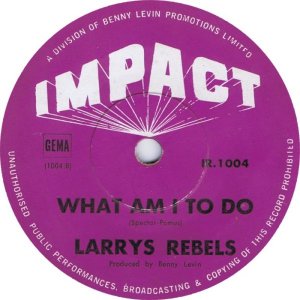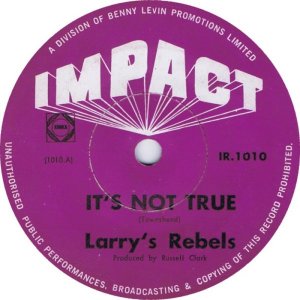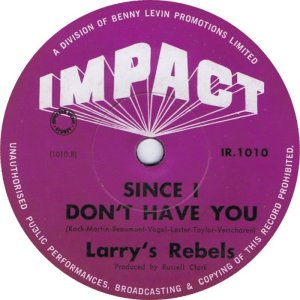 The fifth Larry's Rebels single kicked off a fairytale that would last for well over three years. The song was "I Feel Good" backed with "What'cha Gonna Do About It". "I Feel Good" was an exploding, crashing organ based classic and charted top five nationally in 1966. Citizen Band even revived the song in the seventies and there was also an Australian version of the song by Greg Anderson. Originally written by Allen Toussaint under the pseudonym Naomi Neville and released by Benny Spellman in mid 1965. The Rebel's version wasn't actually based on the Spellman version, but on a UK cover by The Artwoods.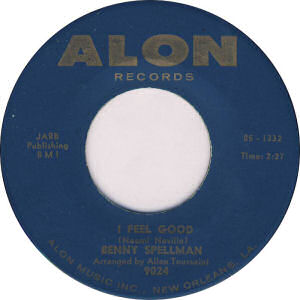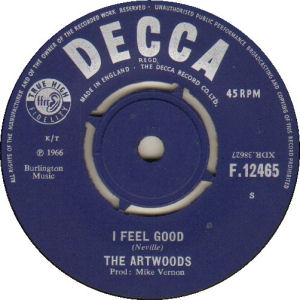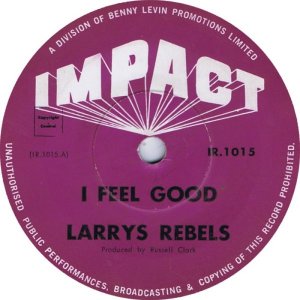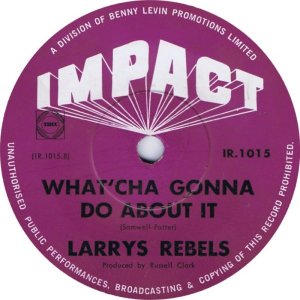 Overnight, Larry's Rebels were a top ten sensation, up there with the well-established La De Da's as Lords of the charts. The first single for 1967 was a good remake of UK band The Creation's "Painter Man" backed with "You're On My Mind". "Painter Man" was racing up the charts only to suffer an abrupt halt in position 6 when a concerned housewife complained of lecherous lyrics. The report in the newspaper read as follows :- "Lady goes pop over can as ... A hit parade number suddenly left the air on NZBC stations late last week. And its death had nothing to do with audience reaction. Overnight "Painter Man" recorded in Auckland by Larry's Rebels, went from number 6 on the pop parade to oblivion. It was snatched from the ladder and all air time after a vigilant lady complained that the lyrics were in bad taste. She objected to references to household soap and a tin can, and claimed that the ambiguous pronunciation turned "Painter Man" into a ribald record. Also referred to in the song are dirty postcards". Such was the power of the listener in those days. Larry's pronunciation of the lyric "tin can" sounded like "shit can". The song was later re-recorded to correct the pronunciation. And so started the career of censorship advocate Patricia Bartlett.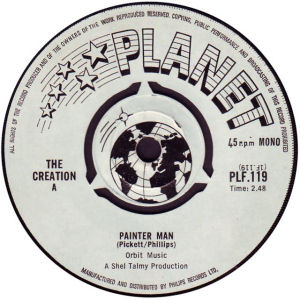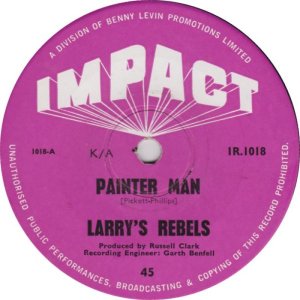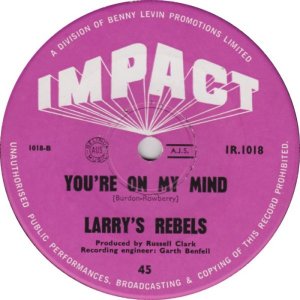 This slight setback hardly dented their mounting popularity. They got the support gig on the Herman's Hermits / Tom Jones tour, and this was closely followed by the support gig for the Yardbirds / Walker Brothers / Roy Orbison tour. A third tour with the Animals / Dave Dee Dozy Beaky Mick and Tich / Paul and Barry Ryan only served to consolidate their national following.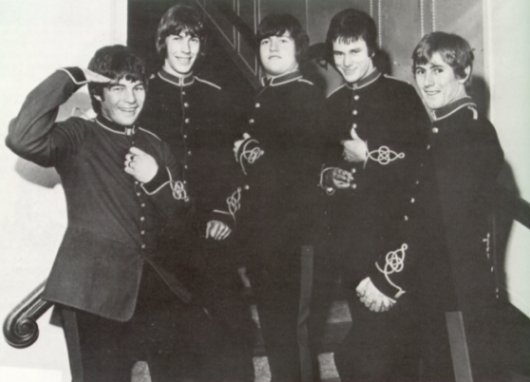 In May 1967, the group released their first album, "A Study In Black". It was a strange mixture of soul, standards and pop. A self titled EP consisting of four tracks from the LP was also released. Instead of touring to support the album, the group abandoned their year long residency at the Monaco, and accepted an invitation to join the Twilights and Ronnie Burns as a support act on the triumphant homecoming Australian tour by the Easybeats in Australia for a few months.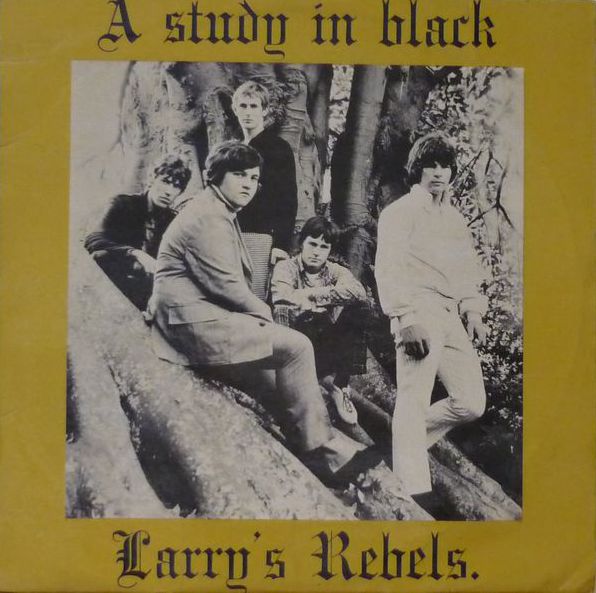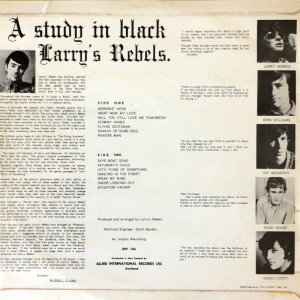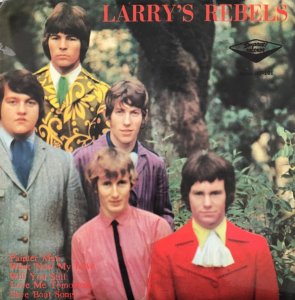 While they were away, there next single "Let's Think Of Something"/"Stormy Winds" was taken from the album. "Let's Think Of Something" was written by Roger Skinner, an ex-member of the Pleasers, and provided Larry's Rebels with their first number one hit in Auckland, and a number four hit on the National Charts, and also an APRA Silver Scroll for Roger.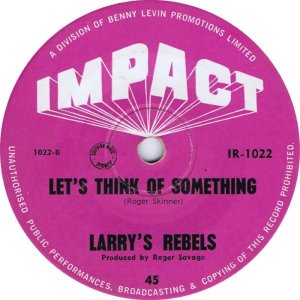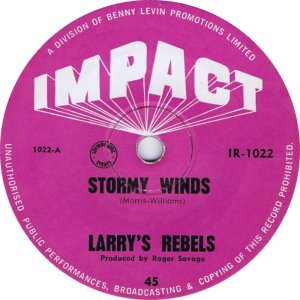 Returning home much polished and professional, at the end of August, the young heroes took their place as special guest stars on the 1967 Golden Disc Spectacular Tour. The triumph of their return did much to mask the realities of the situation. The three months in Australia had been a grueling treadmill of one night stands scattered over absurd distances, with them mostly acting as their own roadies and chauffeurs. On the surface everything seemed to be in their favour, the press raved, radio gave them limited airplay, and they played to the biggest audiences of their short career, but that was all, no hit records in Australia, and subsequently they came home very tired and broke.
Urgently requiring a follow-up to their previous massive hit, the band went back into the studio and recorded a new version of "Painter Man", as well as "I'll Make You Happy", a song given to them by the Easybeats, and their own original "Dream Time". So the last single for 1967 was "Dream Time"/"I'll Make You Happy" and it also did well, making it to number four on the National Charts, but missed the charts completely in Australia. It was followed at the beginning of 1968 by the all too obvious "Fantasy"/"Coloured Flowers" single, which tried a little too hard to move in on the psychedelic trend and was received accordingly, missing out on the National Charts.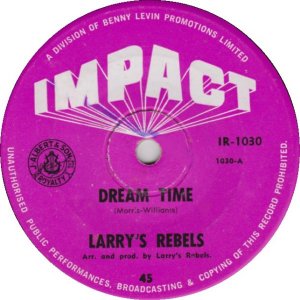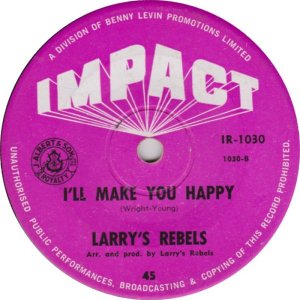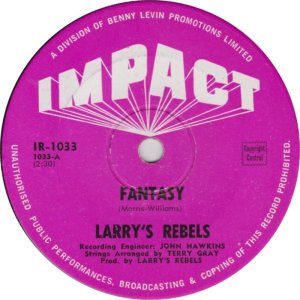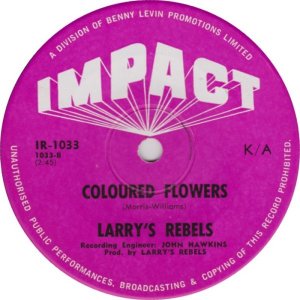 Throughout their somewhat spectacular career, Larry's Rebels attempted to be everything to everybody, and generally succeeded. In October 1966, while pounding the charts with the likes of "It's Not True" and "I Feel Good", the group accepted the invitation of Reverend Basil Hilder to perform at his Methodist church in Birkenhead, Auckland. They performed "The Lord Is My Shepherd" to a modern pop beat and Larry delivered the sermon, a plea for tolerance on behalf of long haired males. A year later, at the end of 1967, following their psychedelic foray, the group issued an EP of traditional Christmas songs.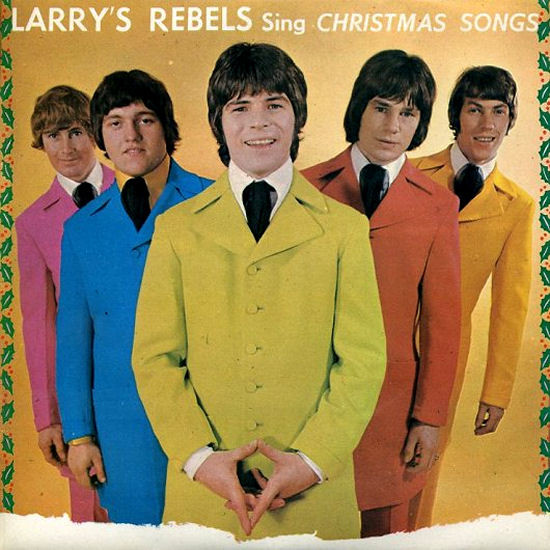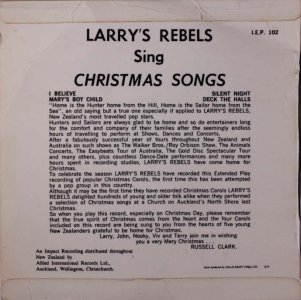 During 1966 and 1967 Larry's Rebels could not put a foot wrong in New Zealand. After their run of classy support roles on international tours, they began headlining their own blockbusters, including two Impact Shows and two Larry's Rebels Dance Spectaculars. At Auckland's Western Springs Stadium they drew a crowd of 18,000, followed shortly after by a crowd of 12,000 in the city's Epson Showground. Many appearances erupted into frantic riots, with the stage rushed and costumes ripped to shreds. A task force was subsequently assembled to provide protection for the band members at shows. A sure sign that the boys were serious stars.
By early 1968 Larry's Rebels were back in Australia, this time more as residents than visitors. Audience and press reactions continued to be highly favourable and the engagements became a deal more lucrative. In March they appeared before an estimated 240,000 at the giant Moomba Concert at Melbourne's Myer Music Bowl. They virtually stole the show with a sensational act.
While they were in Melbourne they recorded "Halloween" and Hans Poulsen's "Everybody's Girl". The single was released in Australia but failed to sell. In New Zealand, Impact promoted the B-Side, "Everybody's Girl" and it went well, climbing to number six on the National Charts in July.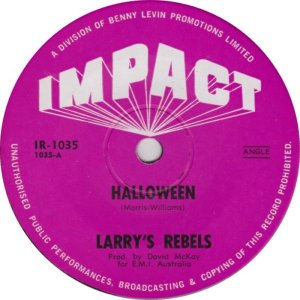 The first half of 1968 was devoted almost entirely to touring Australia, a battle plan which did little to sustain their home-ground superstardom. When the group arrived back in New Zealand, Terry Rouse announced that he was tired of touring and wanted out. He had already suffered one breakdown, being replaced by Clive Cockburn of the Avengers on some dates of the 1967 Golden Disc Spectacular tour. Terry left at the completion of the widely successful Blast Off '68 Tour on July 27 1968.
During the tour they recorded Jimmy Webb's "Do What You Gotta Do" as their next single. Terry wasn't available for the recording session and was replaced by Brian Henderson on organ. When released in September, backed with "Looking For A Way", it also went to number six on the National Charts.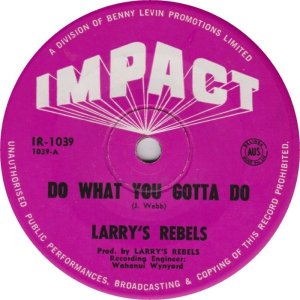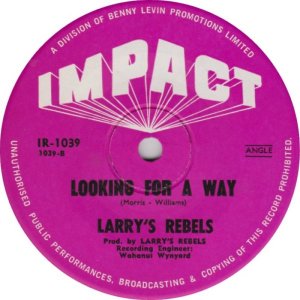 After working as a quartet for a few months, the services of keyboard player Mal Logan were secured. Mal had previously played with the Look in Wanganui and the Green and Yellow in Auckland.
In November, they made a give-away single which contained "Party Time", eleven minutes of personal greetings and song pieces supposedly recorded at a showbiz party. On the reverse were two Coca-Cola jingles that had been receiving airtime on the radio for some time.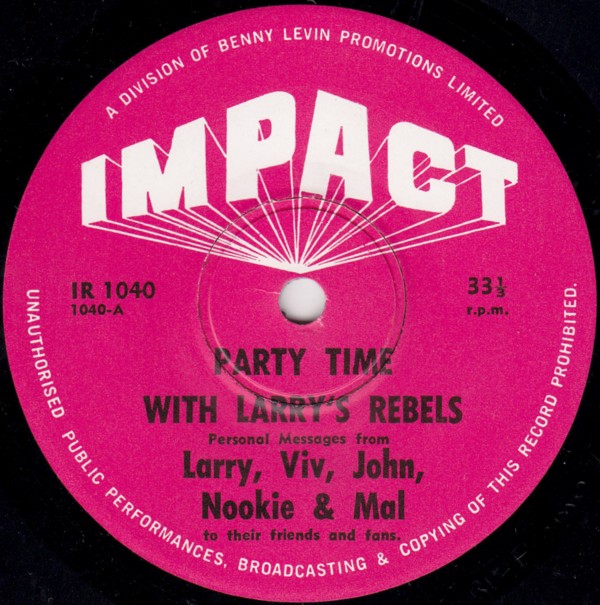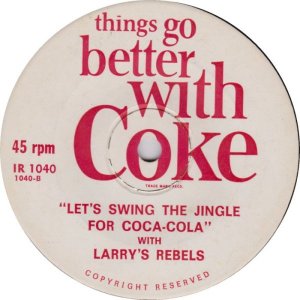 Larry's Rebels remained a major New Zealand act until the end of 1968, although personal relationships were beginning to deteriorate. By Christmas it was agreed to split up into two entities, Larry Morris as a solo act and the Rebels as a quartet. A farewell single was released at the beginning of 1969, with "Mo'reen" on the A-Side and a Larry-less quartet number "By The Time" on the reverse. The single reached number 11 on the National Charts in February and that was it for Larry's Rebels.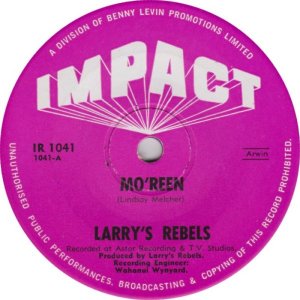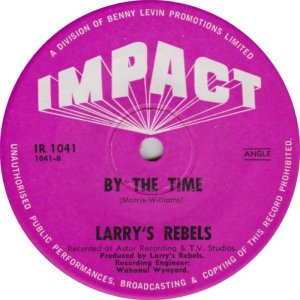 For a time it appeared that the split was healthy for both camps. The Rebels enlisted Glyn Mason, formerly with the Bitter End and Jigsaw, as their new leader and recorded a song called "My Son John". It was written by Doug Flett and Guy Fletcher and recorded by a group called The Onyx. The single raced all the way to number one on the National Charts. The flip-side was a good thumping rocker called "Passing You By". Both tracks appeared on Madrigal, the Rebels album which came out instead of the long promised second Larry's Rebels album.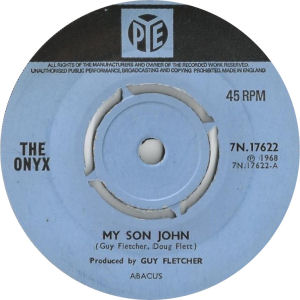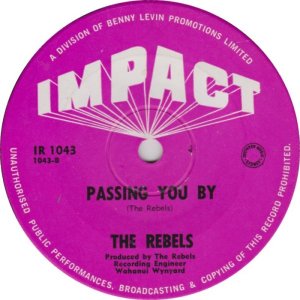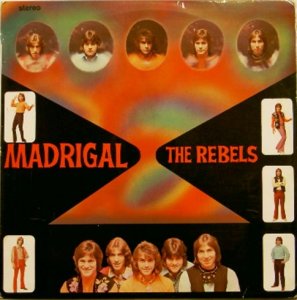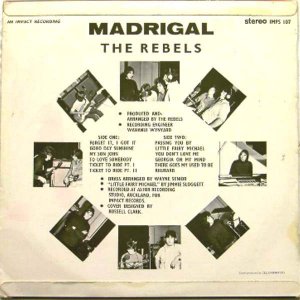 By the time the album was released, the Rebels were resident in Melbourne and had been signed to do a one-off single over there. The single was "Can You Make It On Your Own"/"I Can See The World".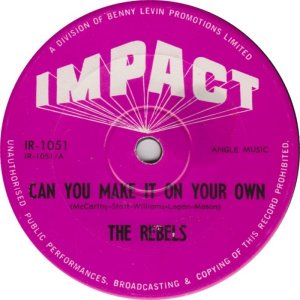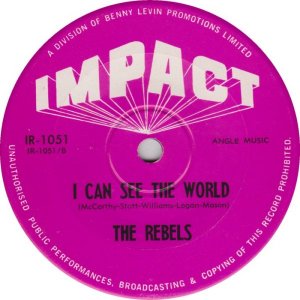 When it sunk without a trace in New Zealand as well as Australia there didn't seem much point carrying on. Bookings became sparse, and the old spark had basically gone. In January 1970, they were no longer. Viv got married and went on a honeymoon, John and Nooky returned to New Zealand for a long rest. Mal and Glyn remained in the music field in Australia. Mason went on to join Chain, Home, Copperwine, Ariel and Stockley, See and Mason, while Logan moved through Healing Force, Carson, Renee Geyer Band and the Little River Band.
In 1983 Raven Records in Australia released "Feelin' Good", a collection of Larry's Rebels greatest hits. It also contained a 45rpm of "Party Time" & the Coca-Cola jingle. In 2001 EMI released a CD called "Larry's Rebels Greatest Hits".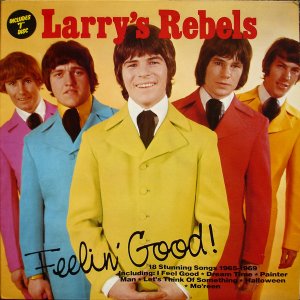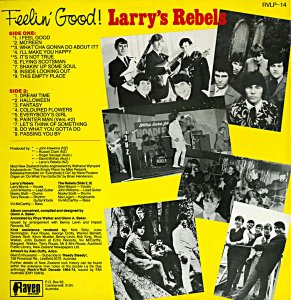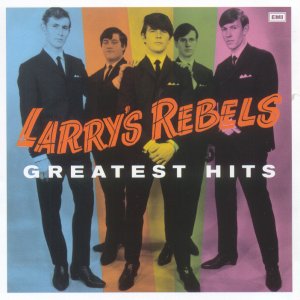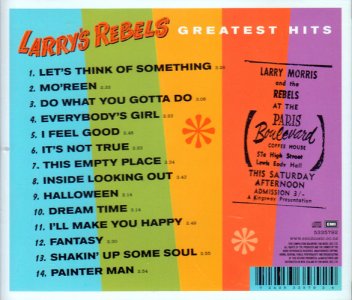 Meanwhile, in 1969, Larry Morris was groomed by Russell Clark for a cabaret singing career. He continued to release singles on the Impact label. There were four during 1969. They were "Bad Moon Rising"/"Lodi", "The Hunt"/"Shilo", "The Game"/"Just One Time" and "Juliette"/"Ford's Bridge". On the National Charts he reached number five with "The Hunt", also a finalist in the 1969 Loxene Gold Disc Awards, and number eight with "The Game". Larry began regular appearances on the weekly TV show, C'mon and Happen Inn. "The Hunt" was written by Hank Marvin and Bruce Welch of the Shadows for the pantomime "Cinderella" for Cliff Richard in 1967. Larry wasn't happy about recording it, but his management insisted and despite Larry hating it, the song did very well for him.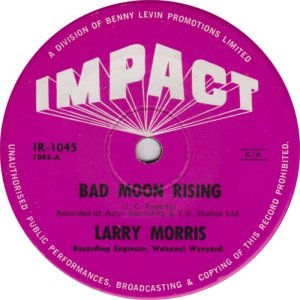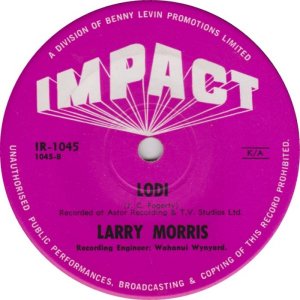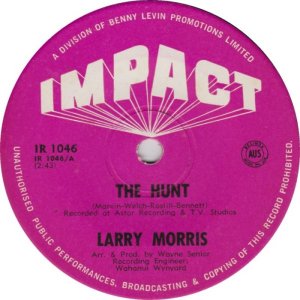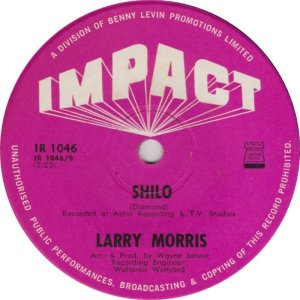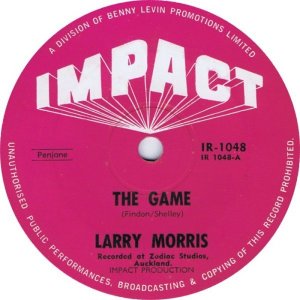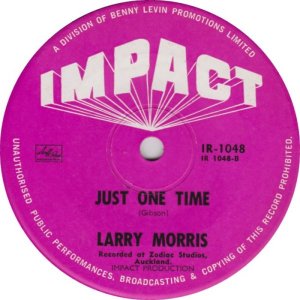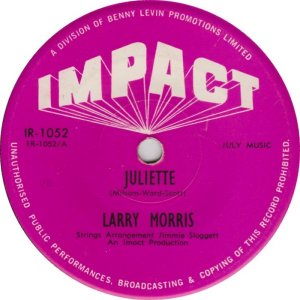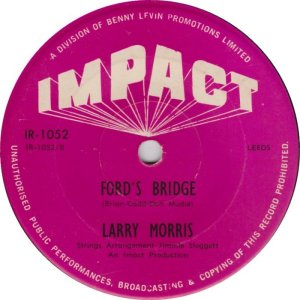 Somewhat disillusioned by the material that was being chosen for him to record, Larry left Impact Records and changed his style and in 1971 he released an album called "5.55 AM" on Gemini. From it were released three singles on Polydor and another three on Gemini. Some songs are repeated across the six singles.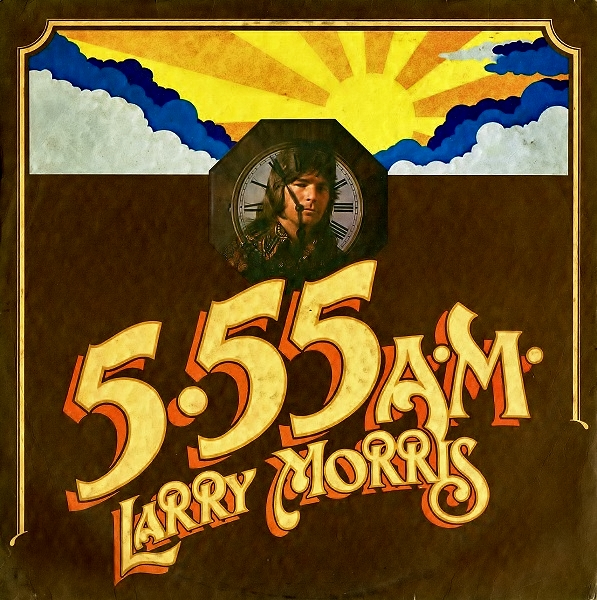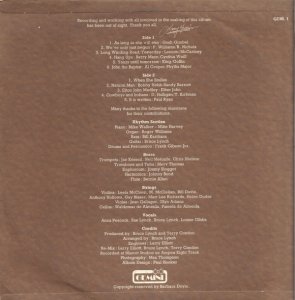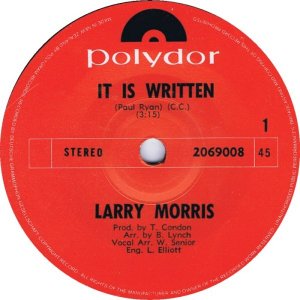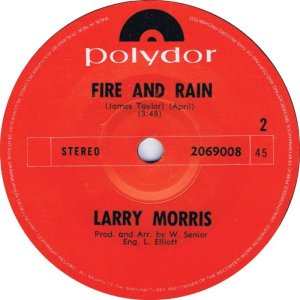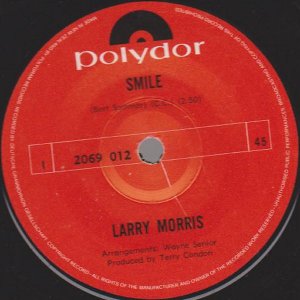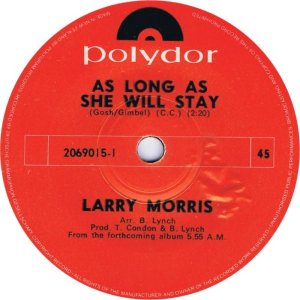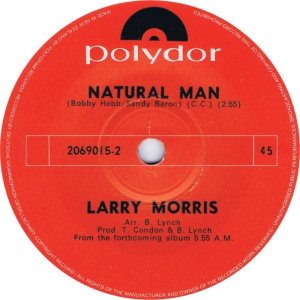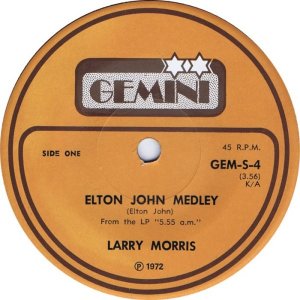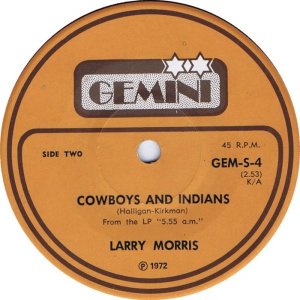 Aided by constant television appearances, by 1971 Larry Morris' dinner suit was going down well on the breweries cabaret circuit and he was beginning to make inroads on the lucrative Australian scene. But in March 1971, Larry was busted for possession of cannabis. The press had a field day, and Larry Morris' main source of income, the breweries, reacted overnight. Contracts were terminated, the work dried up and before the year was out, Larry Morris was back in court on a more serious offence, supplying LSD to an undercover policeman. He received a seven year jail sentence.
Larry was released from prison after serving four years in 1976. He was soon back on the breweries circuit with a cabaret-style floorshow. But this wasn't Larry anymore and he ditched that idea and released a very aptly titled album in 1976 called "Reputation Don't Matter Anymore" on Parlophone / Moon Records. Two singles were also released in 1976.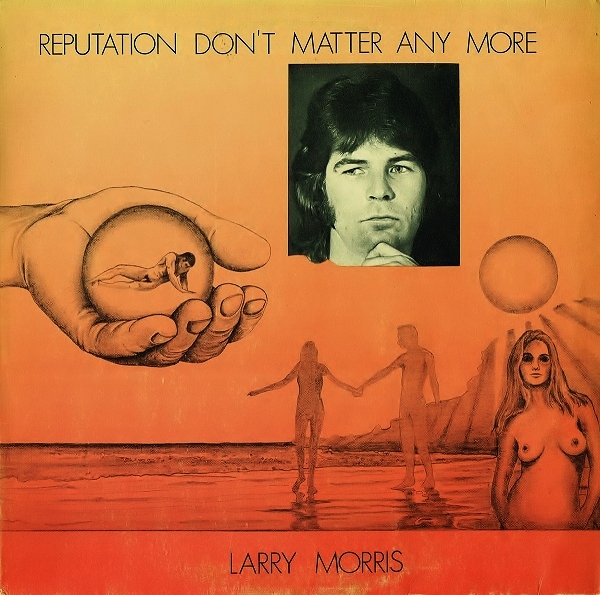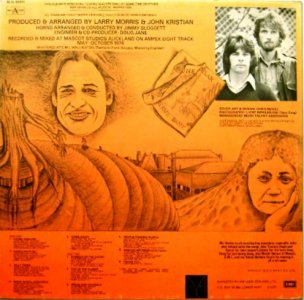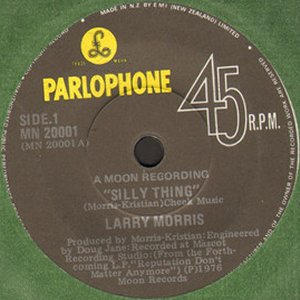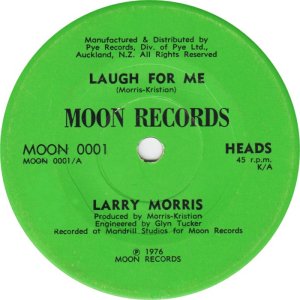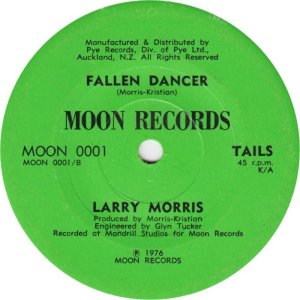 A spot on a Students Arts Council Rock Circus package was followed by a beach resorts tour with Hello Sailor, but Morris was no longer regarded as a star. Polygram picked Morris up in 1978 when he was dropped by EMI. An ambitious single with a title "The Best Is Yet To Come"/"Living Theatre" was released. This was the last solo single Larry released.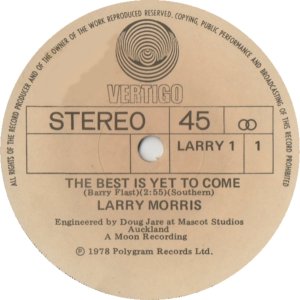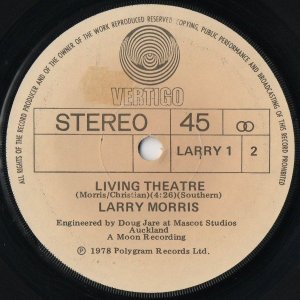 In 1979 Shotgun was formed from a bunch of rock'n'roll veterans. Larry Morris was on vocals, John Kristian and John Parker on guitars, Bob Smith on keyboards, Bob Jackson on bass and Billy Nuku on drums. They recorded one very good single, "Taste Of The Devil"/"Rain", which sold very well.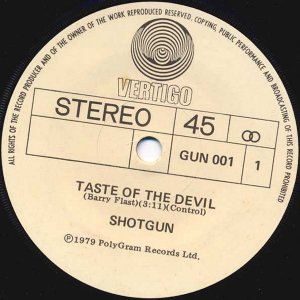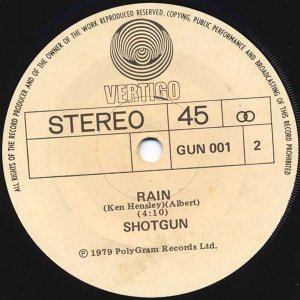 With a single to promote and guaranteed work at Mainstreet, in April 1979 Shotgun began appearing around the Auckland traps. But the venture wasn't too successful and they bombed badly. Their musical expertise was never in doubt, but their dated repertoire and extraneous guitar heroics quite literally drove customers away. The band sounded tired, and the smaller the crowds, the less inspiring the performance. Larry took to abusing his small audiences with tirades against "punk shit". At the same time Larry was also involved in a business venture. He formed "Crazy Shirts" with Hugh Lynn, and as with any new business, time was required to run the business, not allowing Larry time to stay on the road. As a consequence, Shotgun had broken up by December.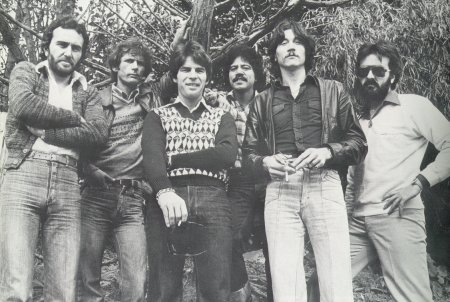 Shotgun 1979, Bob Jackson, John Kristian, Larry Morris, Billy Nuku, John Parker and Bob Smith.
Larry then spent two years in the United Kingdom and on his return in 1982 Larry formed the Larry Morris Band, with Mike Walker on piano, Tuhi Timoti on guitar, Mike Walsh on drums and Bruce Kerr on bass. Bruce was later replaced by Chris Gunn. They played for a short time at Auckland's Numbers Club before taking up the residency at the Foundry in Auckland for two years. A single was released in 1983 called "We've Gotta Get Out Of This Place" / "Little Darlin' ".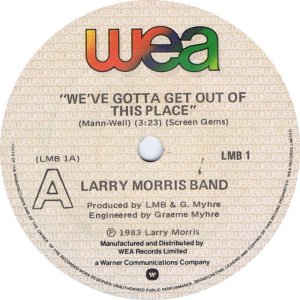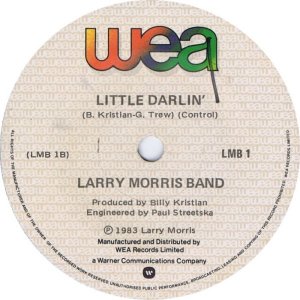 In 1984 Larry left the band and went to Canada and the United States. He spent the next ten years living throughout the United States, the first six years in Hollywood where Larry partnered a music-publishing house with Robert Raymond as well as singing on many sessions. The next two years in Montgomery Alabama, also doing session work and singing with local outfits, and finally two years in Orlando Florida where Larry regularly commuted to Nashville for work with former Australian associate Brian Cadd.
He returned home in 1994, following the death of his close friend Tommy Adderley, and along with many other old mates, arranged the Tommy Adderley Benefit Concert. For his performance at the benefit, Larry enlisted the help of Bruce Kerr to put together a band for the show. Thus was created the second version of the Larry Morris Band, but this time called it LMB. The group consisted of Richard Anaru on lead guitar, Robbie Paterson on bass, Bruce Kerr on guitar, Ben Gilgen on organ and Dan Morley on drums. Later Mickey Ututaonga took over the drummers seat. They recorded an album called "Here and There". The "Here" refers to the Revolver recording studios in Auckland and the "There" refers to Brain Cadd's Nashville Studio in Franklin Tennessee.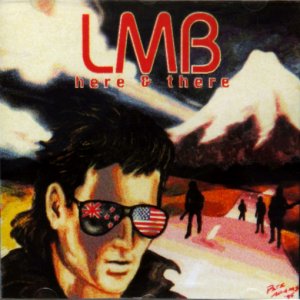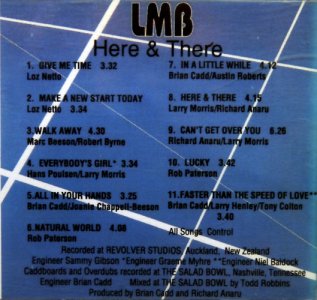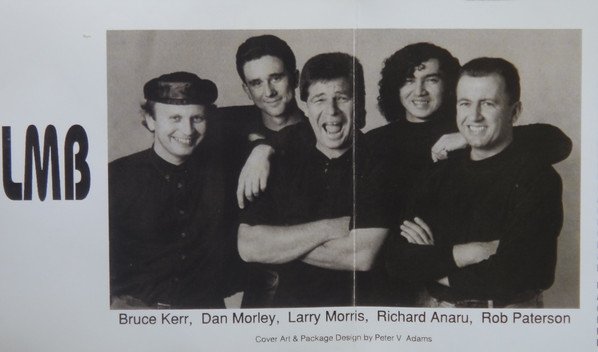 The group continued to play successfully around Auckland and in 1999 the band was chosen to perform at the Louis Vuitton Challengers Ball for the America's Cup. Larry recently took a party of 35 entertainers to East Timor to entertain the peacekeepers stationed there.
It is great to see someone like Larry, who has dedicated his life to the music industry within New Zealand, still enjoying what he does best. He is still very active, and when he is not being a Dad to his two boys, you will find him jamming at an Auckland club or pub somewhere.
In 2013 Frenzy Music re-released the "Study In Black" album and the "Madrigal" album on CD, and followed this in 2015 with "I Feel Good", an essential collection of Larry's Rebels songs with a few alternate versions to a couple of songs.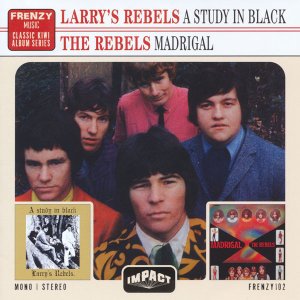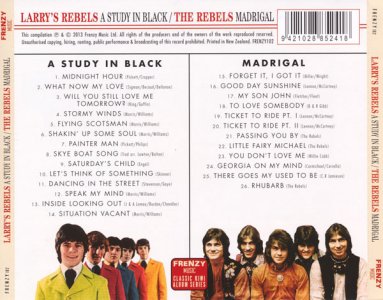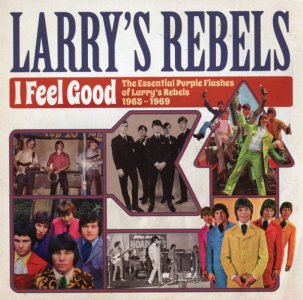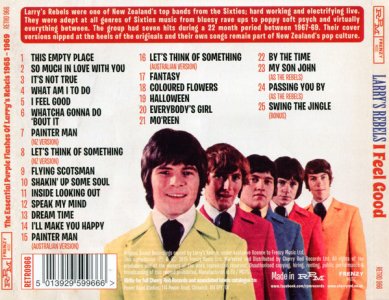 Also in 2015, Reel Groovy Music got together with Frenzy Music and released a vinyl only LP called "A Study In Colour".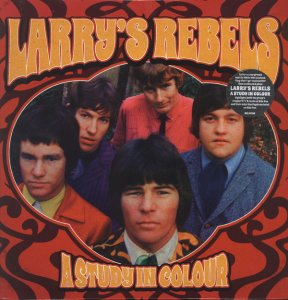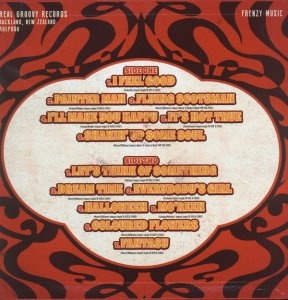 In 2017 the long awaited collection of songs covering Larry's solo years, Shotgun and the Larry Morris Band was released. The CD is called Anthology and was released by Frenzy Music.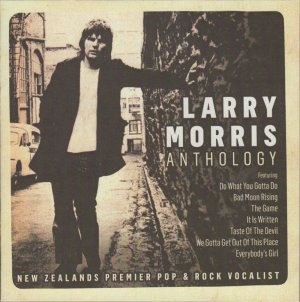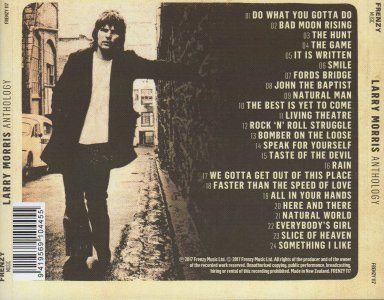 2020 saw the release of "Larry's Rebels - The Complete Singles A's & B's" also by Frenzy. The deluxe version also contained an additional CD with the six demo songs recorded back in 1964 & 1965.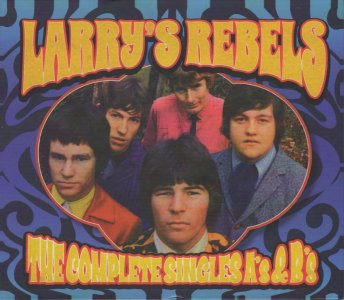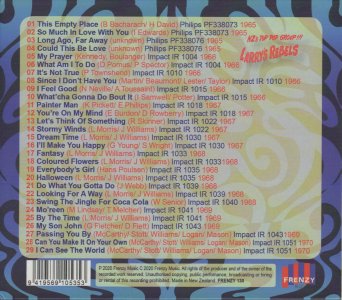 Larry's Rebels and the Rebels can also be found on the following compilations.
Larry Morris can also be found on the following compilations:-