Noazark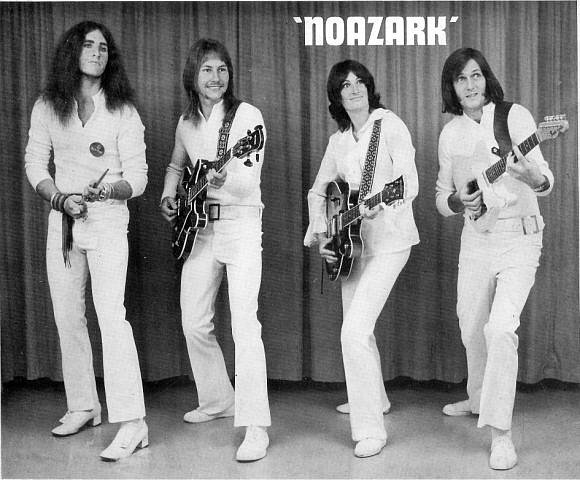 Noazark 1971 L to R: Jon Drinkwater, Trevor Judge, Yvonne Judge, Bill Kane

Line-Up:
Jon Drinkwater (Drums / Vocals)
Yvonne Judge (Rhythm Guitar / Vocals)
Trevor Judge (Bass Guitar / Vocals)
Bill Kane (Lead Guitar / Vocals)

Noazark, an Auckland covers band, was launched in 1971 when husband and wife team Trevor and Yvonne Judge recruited a new guitarist to join their band, although the story really began in 1967, when the couple first met and discovered that they had a lot in common, in that they were both musicians.

Trevor Judge started his first band after leaving high school in 1965, having progressed from the ukulele at age 5, through school recorder groups, school choirs, cello and violin in the Onehunga High School orchestra, to the six-string guitar. However, the electric bass guitar was to be his instrument when he formed The Yetis with a couple of guys he knew from Waterlea Public School back in 1961. With John Tui on drums and Henry Wah on guitar, they began playing at socials and dances mid 1965.

In 1966 Trevor joined Hugo Speman and the Ensigns, a 6-piece, Top 40 and jazz-standards dance-band with a brass section and guest female and male vocalists, that played every Saturday night at the Surfside Ballroom, in Auckland's North Shore suburb of Milford. The drummer in the band at that time was Norris Nutsford from Ray Woolf and the Avengers. Late in the following year, 1967, Trevor went on to take up a fill-in position with another 6-piece band to play at the Surfside Ballroom, Bob Wynyard and the Music Method. Bob Wynyard had played with Sonny Day and the Sundowners and the Soundells before putting together this show/dance-band. The guitarist in this band was Glyn Tucker from the Embers and the Gremlins, who was later to become part owner of Mandrill Studios in Auckland, and whom Trevor was to encounter again many years later.

It was during this time that Trevor met Yvonne Gray - rhythm guitarist.

Yvonne Gray was introduced to music at the age of 6, when she, too, was given a ukulele, and soon after, when given the choice between going to Sunday school or having piano lessons, Yvonne opted for the ivories. In 1965, working, and having bought an electric guitar, Yvonne answered an ad looking for a guitar player for all girl band the Fair Sect, and successfully auditioned for the position, joining Norma Stacey, Faye Reid and Linda Williams (who was the sister of John Williams, lead guitarist for Larry's Rebels) in the line-up. The Fair Sect were New Zealand's most successful all-girl pop group, touring most of the main North Island centres and working in most of Auckland's major pop venues; Club Bo-Peep, The Tabla, the Galaxie, the Platterack, the Top 20 and Nick Villard's club, The Embers. By the time of Yvonne's departure from the group in 1969 they had also recorded four singles, one of which, 'I Love How You Love Me', reached No. 13 on the Auckland charts.

Meanwhile, 1968 saw Trevor playing bass for 6 months for Lou Campbell and the Starlighters, playing jazz standards and old show tunes for strict-tempo dancers in the old Masonic Hall in Upper Queen Street. This was followed in 1969 by a stint with the Laurie Dunn Quartet, a gig band playing jazz standards, but what was notable was that, due to Yvonne's recent departure from the Fair Sect, Trevor had an opportunity to bring her into the band on guitar.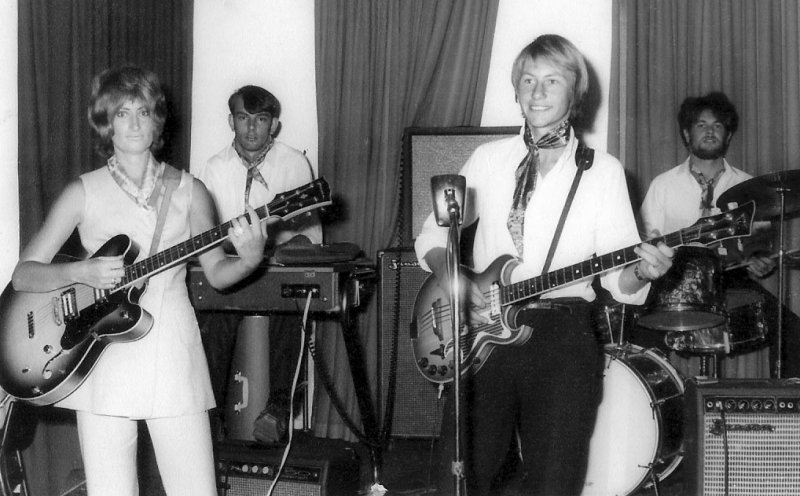 Laurie Dunn Quartet, L to R, Yvonne, Laurie, Trevor and Richard.
By late 1969 Trevor was playing bass and singing with the Blue Souls, a Top 40, R&B and Soul group, with Mo Dawson and Josie Rika on vocals, Robert Morse on guitar and vocals, and a drummer called Steve. When Josie left the Blue Souls, Yvonne joined the band on guitar, organ and vocals. The Blue Souls had a regular 3 nights per week hotel residency and also played at private engagements throughout South Auckland. With a very strong vocal line-up, their repertoire was mostly Top 40 and Soul, with a few 'standards' thrown in for the dinner music sets. Mo Dawson and Josie Rika were later to join Rainbow.
During their time with the Blue Souls, Yvonne and Trevor were married and had a daughter, Tiffany. After the band's demise in 1971, they advertised for musicians, and formed Topaz, a Top 40 covers band, with Mark Ducker from Jamestown Union on guitar, and a showy, extroverted drummer, Jon Drinkwater.
Jon Drinkwater had begun his career as a drummer playing in the Papakura & District Highland Pipe Band. During 1967 and 1968 he was a member of the Intimate Blues Connection, a boisterous group who styled themselves on groups like the Pretty Things and the Who. A few months after some personnel changes and a name change to Clockwork Orange (and a shortage of bookings) they called it quits and Jon moved on to a new psychedelic outfit called the Velvet Bubble. By 1970 John was drumming for Simon (Lou and Simon) Mehana's Travelliers Showband, joining up with Trevor and Yvonne early in 1971.
After six busy months playing pubs and private gigs with Topaz, Mark left the band to try his hand in Melbourne. Fortunately, Jon knew a guitarist, Bill Kane, who could fill the position.
Bill Kane's musical career began at home with the Kane Family four-part-harmony singing group in which Bill also played ukulele and guitar. During his teen years, Bill formed a pop band called The Juniors whilst at high school, played with many different styles of bands and, during his time at Ardmore Teachers Training College, formed a group called The Tunnel with some friends, playing Teachers Training College functions and Youth Club dances.
Bill joined Simon Mehana's Travelliers Showband on bass and vocals in 1970, forming a friendship with the group's drummer, Jon Drinkwater. The Travelliers Showband broke up in1971 with Jon going on to join up with Trevor and Yvonne in Topaz, and Bill joining the band six months later.
By late 1971, and after a name-change to Noazark, the group were playing 6 nights a week - 3 nights at the Jolly Farmer Inn at Drury and 3 nights at the White Horse Inn at Pakuranga. Their original repertoire was from bands such as Guess Who, Daddy Cool, David Bowie, The Beatles, Alice Cooper, the Rolling Stones, the Sweet and some updated arrangements of classic '50s and '60s rock & roll songs.
Aiming for a 'pop' image, they decided to dress in matching stage gear and started off with a white outfit and a black outfit. During the band's first year Bill, Yvonne and Trevor bought matching Gunn amps and speakers, finished in white vinyl, and Jon was playing a transparent Fibes kit. Later on, as the band's image, style and repertoire became more Glam/Rock, they had Lurex costumes and wore full make-up on stage.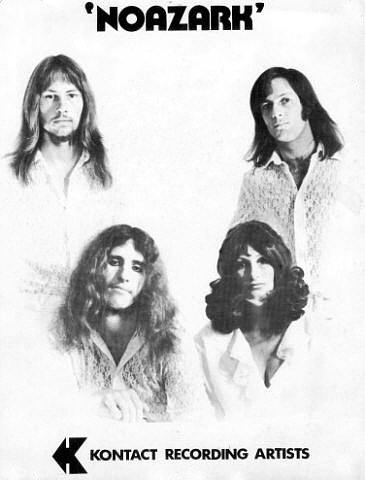 Noazark 1971 L to R: Trevor Judge, Jon Drinkwater, Yvonne Judge, Bill Kane
At the beginning of 1972, soon after Noazark had begun a residency at the White Horse Inn in Pakuranga, the hotel's manager Gary Inglis introduced them to an entrepreneurial friend of his, Dave McKee, who happened to be the then manager of 1950's R&R star, Johnny Devlin. Dave loved what the band was doing and offered them the 'deal they couldn't refuse'. Noazark began an intensive couple of years touring the North Island, headlining their own shows and performing with all the top NZ acts of the day; Johnny Devlin, Tom Sharplin, Angela Ayres, Craig Scott, Bunny Walters, Bart John, Bridgette Allen, The Happen Inn Dancers, Alison Durban, Nash Chase, hypnotist Orchanté (Tom Orchard), Ray Woolf, Mr Lee Grant, Maria Dallas, Yolande Gibson, Frankie Rowles, Rob Guest, Bobby Davis, John Hore, Brent Brodie, Judy Donaldson (The Chicks), and Aussies Normie Rowe and Johnny Farnham.
The single performance with Johnny Farnham was on a packed Sunday night at the Paradice Ice Skating Rink in Panmure, on the Queen's Birthday weekend in June 1972. Some local skaters were endeavouring to break the Australasian Skating Endurance record of 43 hours down at one end of the rink, whilst at the other end, on a stage cantilevered out over the ice, Johnny Farnham and Noazark were belting it out to the dancing skaters. Unwittingly, during a high point in their final set, Noazark set off a red flare in Jon's bass drum - very spectacular, but nearly asphyxiating the Endurance Record team in the process.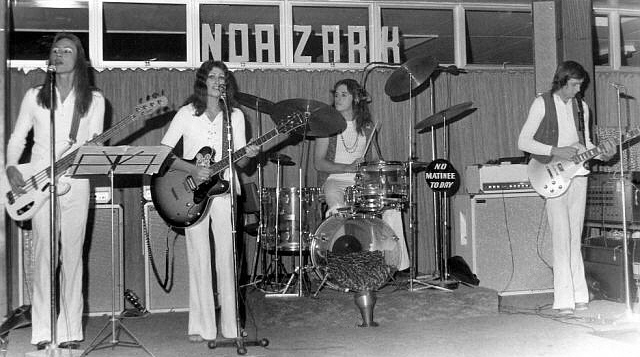 Noazark 1972 at White Horse Inn L to R: Trevor, Yvonne, Jon and Bill.
Noazark appeared on TVNZ's 'Happen Inn' in 1972 with a rock and roll 'shoo-bee doo-wap' style original song, 'Payroll Rock', written by Trevor and recorded at guitar legend Peter Posa's studio.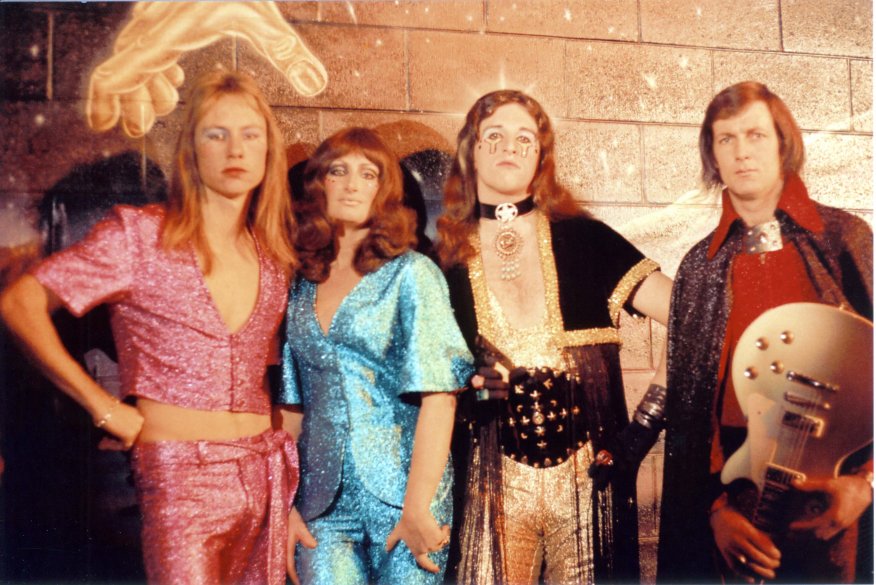 Noazark 1972 at Awapuni Hotel, Palmerston North L to R: Trevor, Yvonne, Jon and Bill.
Later in the year they went into Stebbing's Recording Studio in Ponsonby to record a song called 'Money's Made To Burn', sung by Bill, and released as a single on their manager Dave McKee's Kontact label. Dave commissioned Rock and Roller Tom Sharplin to do the artwork for 'Noazark money' (4 different versions - each member had their head and shoulders photo as a watermark). They performed the song on Happen Inn, played it live and gave away 'Noazark money' like it was going out of style but the song wasn't destined to be a hit. The single's B-side was a dreamy, psychedelic-style song written by their guitarist Bill Kane and called 'Broken Dreams'.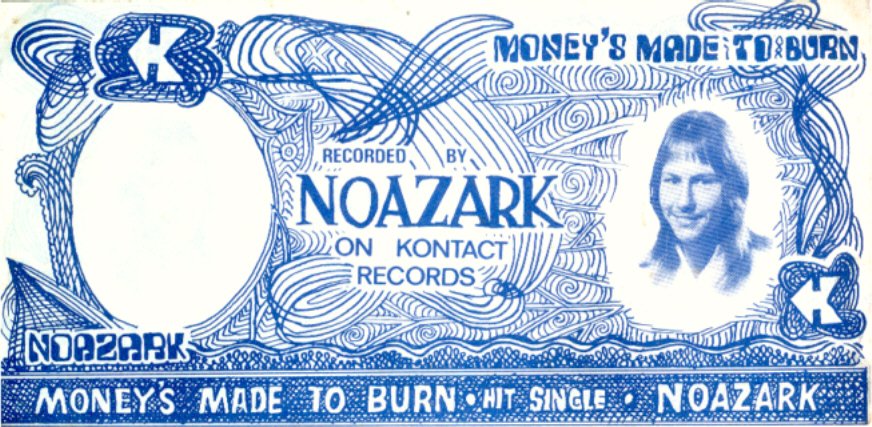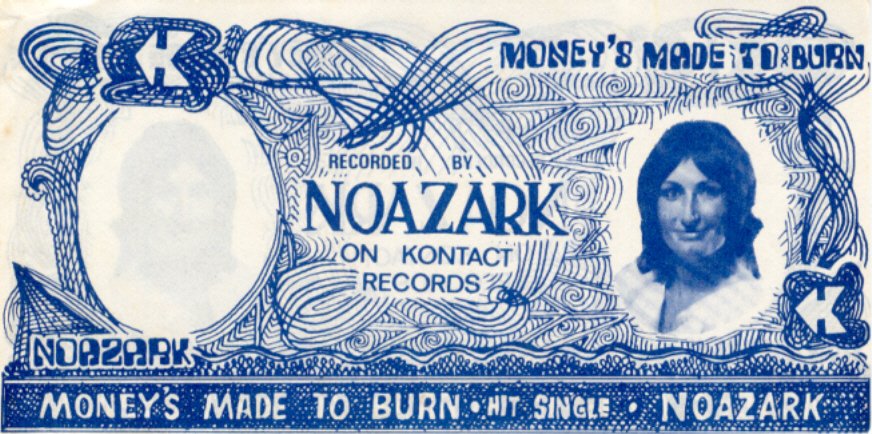 In September 1972, with the imminent arrival of their second child, Derek, Yvonne and Trevor both took a six-week break from Noazark and touring, while Bill and Jon continued with a fill-in bass player. In October, with the band together again, Noazark began a new residency at the White Horse Inn. The end of the year found them, along with Angela Ayres and hypnotist Orchanté, playing matinees and nightly shows in a local hall at Whangamata for a two-week holiday season.
The new year, 1973, saw Noazark touring the North Island extensively, from Kaitaia to Wellington, taking shows to small country hotels and clubs, performing fund-raising concerts at schools and colleges, and playing in large city hotels, night-clubs and outdoor concerts. Their bread-and-butter gigs between tours were residencies at Pakuranga's White Horse Inn, the Thunderbird Valley Inn in Glenfield, the Papakura Town and Country Tavern, the Jolly Farmer Inn and Sunday nights at the Panmure Ice Rink.
New Year's Eve found Noazark playing to 6,500 people at the Western Springs Stadium while on tour with Mr Lee Grant, who was on a brief return visit from England. Three touring holiday-season shows had been combined for this one-off spectacular (with fireworks), before all continued with their respective tours. Other acts in the show included Craig Scott, Angela Ayres, Bunny Walters, Bobby Davis, The Hot Ash Band, the Reflections, the Yandall Sisters and the evening's host was Happen Inn's Peter Sinclair.
Early in 1974, Jon Drinkwater took a break from the group to work with an acoustic band and was replaced by a Teachers Training College friend of Bill's, Renton Brown. Not long after Jon's return six months later, Bill, looking for a more stable family life and seeing an opportunity to buy a photographic shop in Papakura, gave his notice. Trevor and Yvonne, along with Jon, decided to keep Noazark afloat and, after a reasonably smooth transition through two guitar players, first Mike Caen and then Dave Walker, they were joined by Glen White on guitar, slide guitar, harmonica, and vocals, all the while continuing to work the pub circuits.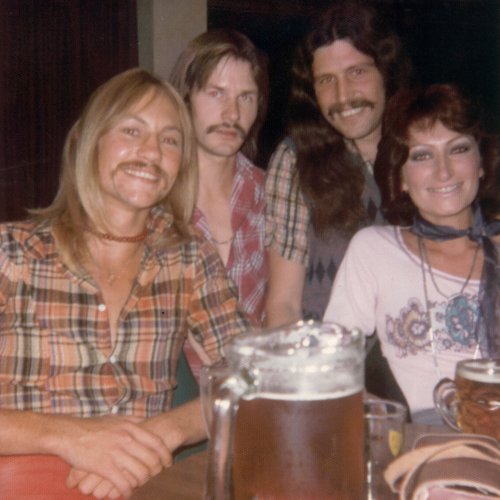 Noazark 1975 at Wiri Trust L to R: Trevor, Glen White, Paul Fenton and Yvonne.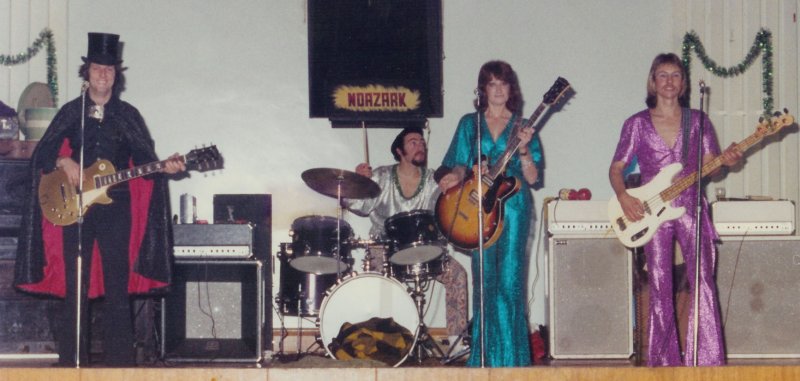 Noazark 1974, Bill, Renton Brown, Yvonne and Trevor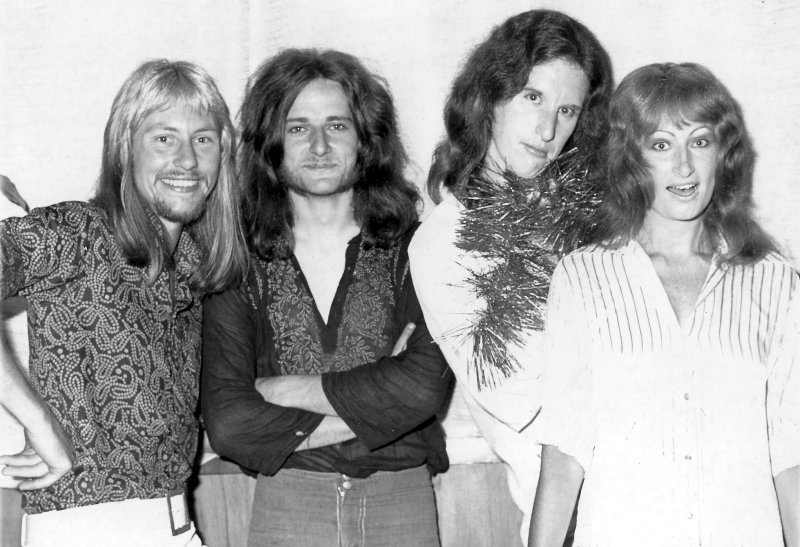 Noazark 1974 Trevor, Dave Walker, Jon and Yvonne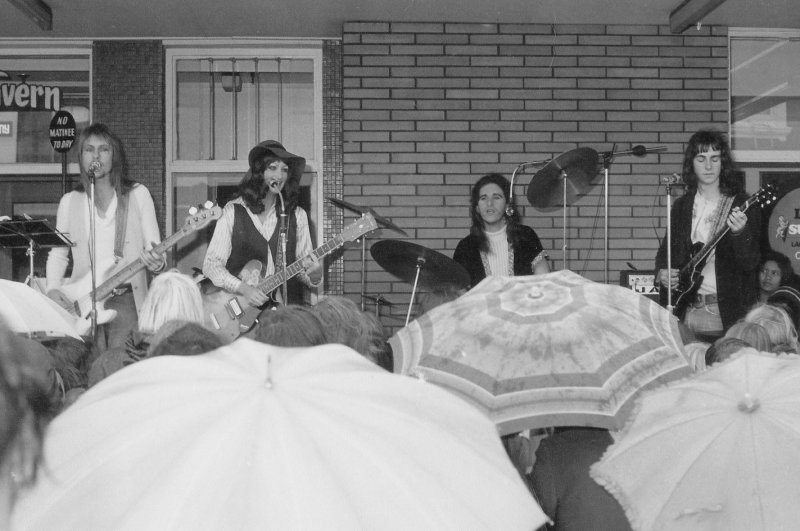 Noazark 1974 Trevor, Yvonne, Jon and Mike Caen
At the beginning of 1975 Glen, Jon, Yvonne and Trevor embarked on a 5-week tour of New Zealand's South Island - one week each in venues at Nelson, Te Anau, Dunedin, Timaru, and Christchurch before returning to their Auckland residencies. Later that year Jon Drinkwater decided to retire from the rock band scene and embrace a more spiritual and peaceful lifestyle, becoming a Krishna devotee. Not giving away music entirely, he continued writing and recording songs with a more spiritual message than those he had performed in the glittering costumes and make-up with Noazark.
The band's replacement drummer, Paul Fenton, with his distinctive vocals and harmonies (and a huge kit - double bass drums, four mounted toms and two floor toms) slotted right in and this final line-up of Noazark settled into a 15 month, 4 nights per week residency at the Wiri Trust Hotel (later known as the Manukau Arms).
Their repertoire with this line-up was from groups such as Santana, Deep Purple, Pink Floyd, Joe Walsh, Rick Derringer, John Myall, Grand Funk Railroad, Skyhooks, Eagles, Bachman-Turner Overdrive etc.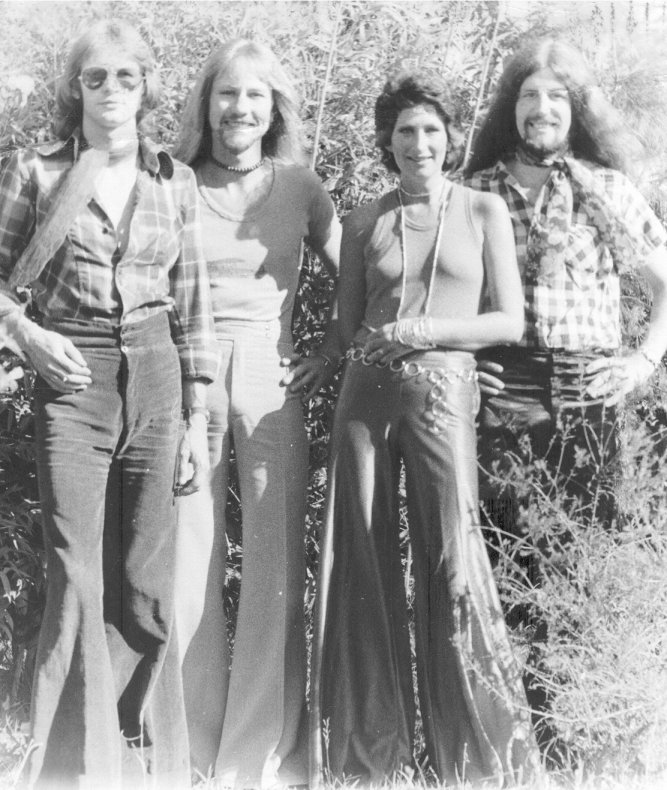 Noazark 1975 L to R: Glen White, Trevor Judge, Yvonne Judge and Paul Fenton.
Finally, in April 1976, after nearly five years of glitter/glam-rock, touring the length and breadth of NZ, from big shows in theatres to small shows in country pubs, and residencies where they made many friends, Noazark was disbanded with Paul Fenton leaving for Sydney, Glen White taking a break before joining up with Tom Sharplin and the Cadillacs, Yvonne taking some time out before forming a gig band with Bill Kane, and Trevor auditioning players for a new band.
Trevor's new group, Kashmir, featured Bill Beare from Wellington's Heartbreakers on guitar and vocals, John Parker also on guitar and vocals, and John Butler on drums. They continued the residency at the Wiri Trust for a few months before moving to the Thoroughbred Tavern in Takanini. Scoring some regular bookings at The Crypt in the heart of the city was a break that put Kashmir into Auckland's nightclub scene. To go from playing to friendly locals in suburban taverns, finishing at 10pm, to playing for a bunch of shady customers in a dim, smoky, downstairs bar until the very early hours of the morning was thought of as an upward move. In January 1977, Trevor resigned from the band, with the remaining members going their separate ways.
Noazark was refloated for one last outing in February 1977, when Trevor, Yvonne and Bill reformed as a three-piece 'unplugged' version for a two month booking, again at the Wiri Trust Hotel, with a laid-back, close-harmony repertoire of Hollies, Beatles, Bee Gees etc.
Bill Kane went on to play bass and tour extensively with Gray Bartlett, Brendan Dugan and Jodie Vaughn on the 'Touch of Country' show, worked for Rockit Amplifiers in 1983 as marketing manager and later joined up with musical equipment company Roland. He now works for the NZ Government and has a small studio at home.
John Drinkwater is still a Krishna devotee, now living in a large commune near Sydney.
After Noazark, Yvonne Judge played with a few gig bands, moving north to Marsden Cove in 1987. Yvonne still keeps her musical hand in, playing at parties and other social occasions. In 1998, Yvonne opened Scavengers, a shop that takes in donated goods, selling them to raise money for local charities. In 2002, the Mayor of Whangarei presented Yvonne with a Civic Honours Award for her ongoing charity work, which has included raising and donating almost $200,000 to the community.
Trevor Judge continued working as a professional musician, playing in bands such as Swayed, Rock Candy and Databand, before going solo in 1989. In 1993, Trevor moved to Queensland, operating a very successful duo on the Gold Coast for many years before moving north to Hervey Bay where he still performs.