This card was issued by A Brodie Ltd in a numbered folder of 200, illustrated below.
This card was available in the Collector Pack NZ-CP-70, but has nothing to differ it from the card in the Brodie Folder.
The actual quantity produced of this card is uncertain. The card itself indicates there were 600 produced. The official collector pack claims there were 600 packs issued,
indicating that this is the only way to get the card. But the Brodie Folder indicates that there are 200 of it.
My guess is that Telecom didn't sell all of the Packs, and rather than destroy the cards like usual, Brodie took them
and issued them in their folder at a price cheaper than the Telecom folder, meaning that there were probably only 600 cards in total.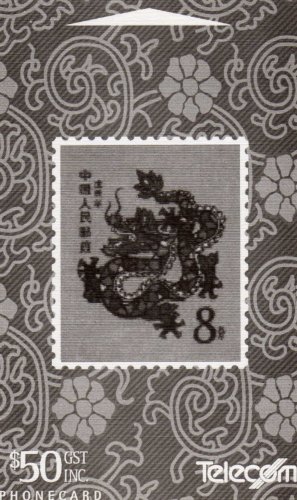 Brodie Folder
No 1 1993 Year Of The Cock
No 2 1994 Year Of The Dog
No 3 1995 Year Of The Pig
No 4 1996 Year Of The Rat
No 5 1997 Year of The Ox
No 6 1998 Year Of The Tiger
No 7 1999 Year of The Rabbit
No 8 2000 Tear of The Dragon