A Brodie produced this Year Of The Dog card, which was the second of an annual release of "Year Of" themed cards.
This card was overprinted on unsold stock of the $50 WWF Pigeon card.
2,850 were available in the Collector Pack NZ-CP-23, and were overprinted Collectors Issue 1994 on the reverse.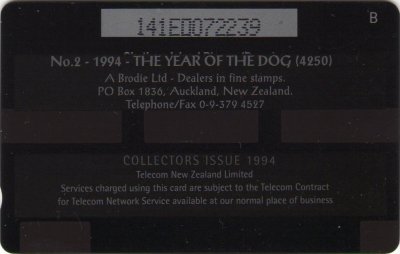 1,400, without the Collector overprint, were available in a numbered Brodie folder, illustrated below.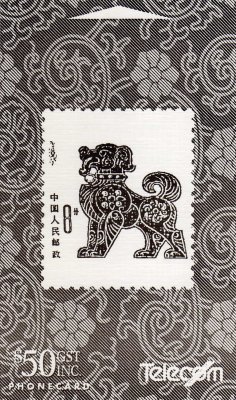 Brodie Folder
No 1 1993 Year Of The Cock
No 2 1994 Year Of The Dog
No 3 1995 Year Of The Pig
No 4 1996 Year Of The Rat
No 5 1997 Year of The Ox
No 6 1998 Year Of The Tiger
No 7 1999 Year of The Rabbit
No 8 2000 Tear of The Dragon