The first issue for 1993 was a new definitive issue replacing the Summer and Winter Sports Series.
During the life of this series there were two amendments to the wording on the reverse.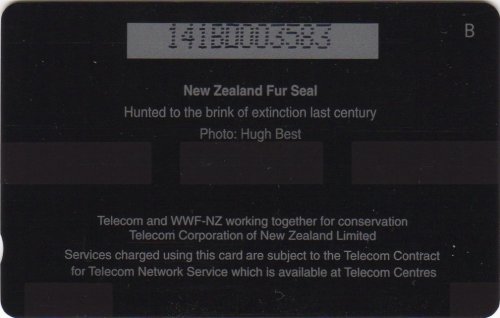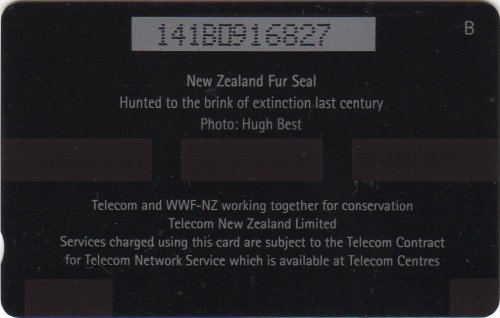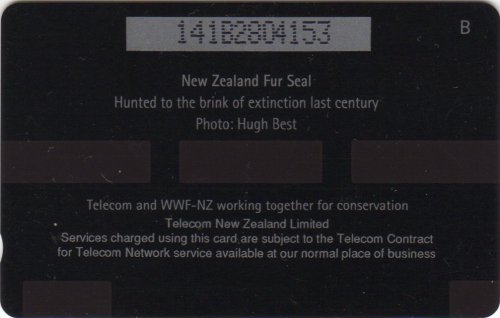 First Back Second Back Third Back
The original issue (First Back) had "Telecom Corporation Of New Zealand Limited".
This was changed to "Telecom New Zealand Limited" for the second printing (Second Back), and for the third printing, the line "For Telecom Network Service Which Is Available At Telecom Centres" was changed to
"For Telecom Network Service Available At Our Normal Place Of Business" (Third Print).
The $5 and $20 cards were available in all three reverses. The $10 only in the first and third.
The original $50 card had the photographer's name spelt wrong, so this was corrected via an overprinted dull black panel before its original release.
The card was then corrected, and later was then also available with the second and third reverses.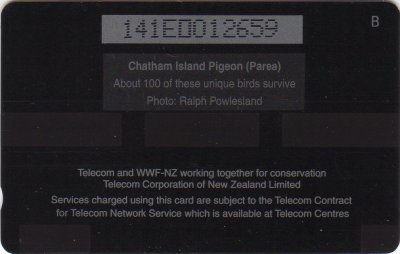 Dull Black Panel Overprint Corrected Back
These four cards were also included in the Collector Pack NZ-CP-8 and were overprinted on the reverse with 1993 Collector Issue and each card in the pack had matching serial numbers.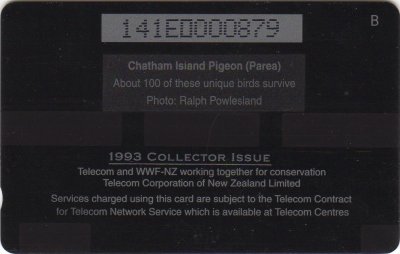 There is also a montage card of the above four pictures, which was available in the Collectors Pack, with the Collector Issue overprint, and also available loose without the overprint. See Montage Card.
Illustrated below are the reverse of the four original cards.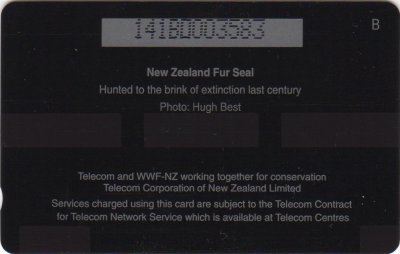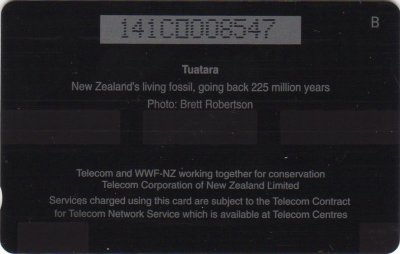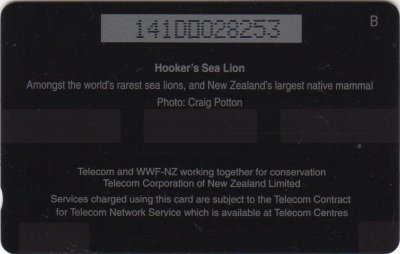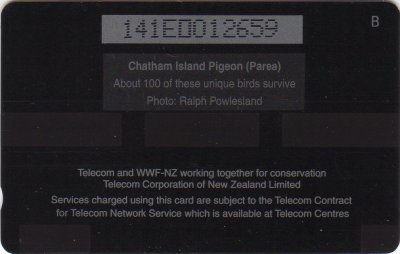 In 1999, towards the changeover to chip cards, rather than print new $10, $20 & $50 cards, Telecom released more of these cards for general circulation, but added an overprint on the reverse,
"Valid for use only with Telecom magnetic PhoneCard payphones until December 1999. There will be no refunds on any unused credit".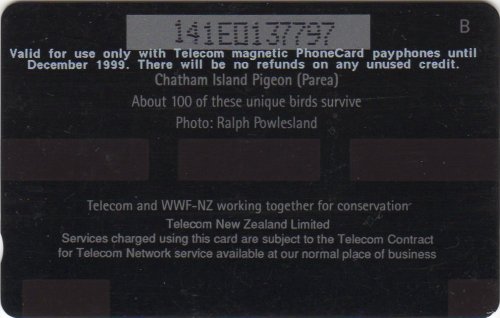 This overprint was produced on the following combinations of cards:-
$10 First & Second Back
$20 First, Second & Third Back
$50 Third Back only