Silhouettes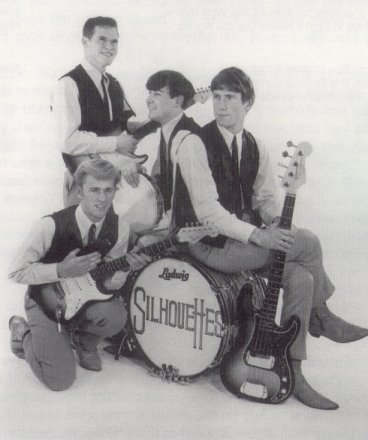 L to R : Warren McInman (standing), Rex Bowmast, Rhys Clarke and Bruce Jarvis.
Line-Up:
Rex Bowmast (Lead Guitar)
Warren McInman (Rhythm Guitar)
Ritchie Sims (Bass Guitar)
Wayne Daverne (Drums)
The Silhouettes came out of Auckland's North Shore. They were formed in 1960 by members of various high school bands and as well as playing at various school socials, they held a residency at the Takapuna RSA Hall on Friday nights, playing at the Teen Dance. In 1961 they entered the "Have A Shot" radio talent show, picking up first place at the final held in the Auckland Town Hall. The first prize was a recording contract with the Viscount label, interesting because the Viscount label was owned by Gary Daverne, Wayne's brother.
They only released one single in the early days, that being "My Tani"/"Alley Oop" in 1961. They did a lot of session work and provided backing for Cathy Howe on some of her singles. They also released a single with the Glendelles, "Please Mr Postman"/"Popsicles and Icicles".
Ritchie Sims left the band in 1962 and was replaced by Les Cunningham. But he only stayed until 1963, when he left, and also Wayne Daverne left at the same time. Wayne joined the Sierras. Their replacements in the Silhouettes came from two members of another North Shore band, the Chequers. They were Bruce Jarvis on bass and Rhys Clark on drums. The other two members of the Chequers at that time were Wayne Lithberg on rhythm guitar and Bruce Mason on lead.
With this new combination, the Silhouettes were strongly influenced by the Beatles and soon became known as Auckland's top 'Beatle Band'. They had a residency at the popular North Shore venue, the Delmonico Coffee Lounge, before appearing at other major gigs at the likes of the Shiralee, the Monaco and the Beatle Inn. A Christmas season residency at the Top 20 was a boost as they got to support Tommy Adderley and Peter Posa, both big names at the time.
By 1964 they had secured a recording contract with Allied International and released a single "Theme From The Endless Summer"/"PS I Love You". The surf craze was just starting and the "Endless Summer" song was the title track of a surf movie. It became a local hit and was even nominated for the Loxene Golden Disc Awards in 1965. Another single in 1965 was "Yes It's Time"/"Milkman".
With a shift in style to surfing music, they moved to the Surfside Ballroom and during 1966 they released three more singles, "There She Is"/"Where Have You Been All My Life", "Surfin' Craze"/"Donna" and "Alone On The Beach"/"I Ran All The Way Home".
In 1966 Rhys Clark left and went to Australia where he joined the Executives. Bruce Jarvis also departed and joined Gray Bartlett's Combo. Around the same time the Sierras were coming to an end, so Wayne Daverne rejoined, bringing Kerry Hawkesworth with him. They started playing the pub and club circuit in 1967 and released their last single in 1967, "Makin' My Mind Up"/"I'll Never Dance Again".
Wayne left again and was replaced by Malcolm Finlayson, and Rex Bowmast left to be replaced by Peter Traille. They continued as a group for about another two years before folding. During that latter part, other members to play in the group included Richard Sinclair, and John Walmsley, ex Hi-Revving Tongues, as well as Denis Murphy, from the Legends, who had a brief stint.