Legends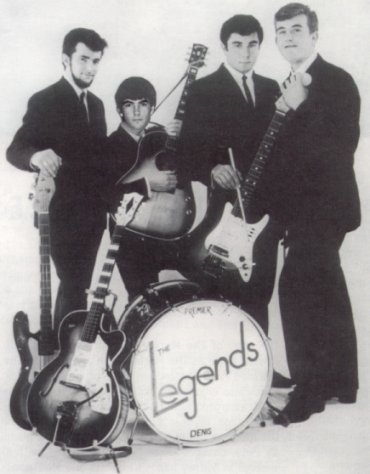 Mike McGovern, Harry Lyon, Denis Murphy and Richard Raven.
Line-Up:
Richard Raven (Lead Guitar)
Steve Laker (Rhythm Guitar)
Mike McGovern (Bass Guitar)
Denis Murphy (Drums)
The Legends were formed on Auckland's North Shore in 1964. In 1966, Steve Laker left and the group advertised for a new guitar player. The successful applicant was Harry Lyon.
The Legends played the usual round of school dances and community hall socials. After playing a few times at the Delmonico in Takapuna, they landed the Saturday night residency at the Surfside Ballroom in Milford.
The group finally broke up in 1967. Harry Lyon went on to play with the Crying Shame, before having his most successful time with Hello Sailor. He was also a member of Coup D'Etat, the Legionnaires and the Pink Flamingos. Mike McGovern also went to the Crying Shame. Richard Raven went to England and played with Iceberg in the seventies, before returning to New Zealand in the eighties. Denis Murphy had a short stint with the Silhouettes.
The Legends never recorded.