Sierras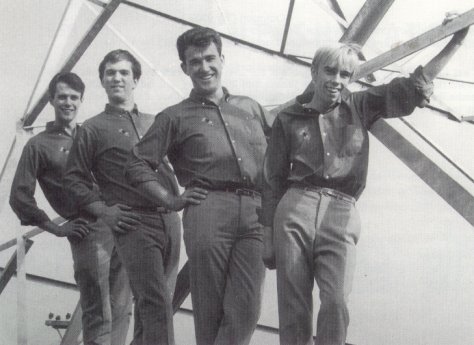 Wayne Daverne, Mike Balcombe, Kerry Hawkesworth and Dave Wright.
Line-Up:
Peter Riseborough (Lead Guitar)
Len Riseborough (Rhythm Guitar)
Kerry Hawkesworth (Bass Guitar)
Wayne Daverne (Drums)
Brothers Peter and Len Riseborough formed the Sierras in Auckland around 1963. Wayne Daverne had come from the Silhouettes. The Sierras were quite successful and proved to be very popular when they released their first few singles in late 1963 and 1964. The first single on Viscount was "Romeo"/"Heaven". This was followed by "The Fall Of The Roman Empire"/"Tip Toe". The third single "The Crying Game"/"Route 66" was very successful, topping the local Wellington charts in 1964. After that they had "To Know Her Is To Love Her"/"Stick With Me Baby".
In 1965 the Riseborough brothers left to later form a new group called the Spectres. About the same time there was another Auckland group called the Whirlwinds that had just come to an end when some of their members left. So Murray Copplestone and Dave Wright from the Whirlwinds joined forces with Kerry and Wayne to continue the Sierras and gig at the Paris Boulevard, the venue that the Whirlwinds had set up. Murray played lead guitar and Dave played rhythm.
Wayne Daverne was always an asset to the band, as his brother was Gary Daverne, owner of Viscount Records, and his cousin was Eldred Stebbing, who ran Zodiac Records. This ensured that they got a look in on recording and session work. One of their first sessions was providing backing on Mr Lee Grant's first single, "Doo-Doodle-Do-Doo". They provided backing for quite a few other artists, including Cathy Howe, the Glendelles, Ray Columbus and Ray Woolf.
When Murray Copplestone left the group to return to New Plymouth, he was replaced by Mike Balcombe. During 1966 the group had three more singles. They were "What More Do You Want"/"She's The One", "Magic Potion"/"Wine" and "Big City"/"Now and Again".
By the middle of 1966 the band folded. Kerry Hawkesworth joined the Silhouettes and Wayne Daverne also decided to return to them for a second go. Mike Balcombe went on to join the Hi-Revving Tongues. Dave Wright teamed up with an old friend of his, Graham Watson, from the Vipers, and formed the Variation.