Roger Skinner's Motivation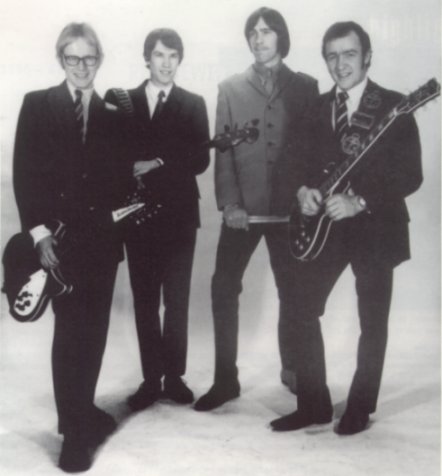 Trevor Gissing, Ron Williams, Dan McCarthy and Roger Skinner.
Line-Up:
Roger Skinner (Guitar / Vocals)
Trevor Gissing (Lead Guitar)
Ron Williams (Bass Guitar)
Danny McCarthy (Drums)
After the Pleasers disbanded at the end of 1966, Roger Skinner had a brief outing with the final version of the Keil Isles, before forming another one of his own bands, called Roger Skinner's Motivation, in 1968. At the time of forming, they appeared as a basic pop group, but over time they expanded their repertoire to become more of a rock band.
Work was generally on the pub circuit, with occasional stints at Embers nightclub and Colony nightclub.
This original line-up stayed together until 1970, after which there were quite a number of different combinations that played with Roger until the groups eventual demise in 1974. Some notable later members were Norris Nutsford, ex Ray Woolf's Avengers, who sadly died of cancer in 1972, Peter Grattan from Marble Arch and Green and Yellow, and both Dave Ingram and Owen Fleet from Maine Street. Paul Crowther and Eddie Rayner were also members before going on to fame with Split Enz. Gerry Biggs also had a go before leaving to form the original Cruise Lane, as did Doug Reed after his stint with Cheshire Katt.
On the recording side there were limited releases during their time on different labels. The first was "Time"/"Hey There Have You Seen My Baby" in 1969 on Zodiac. Another in 1969 was "Sour Milk Sea"/"Sweet Lorraine" on Pye. 1970 saw "Everybody's Got To Be Somebody"/"What's The Use" on Festival and then in 1972 they did two on the Family label, "I Want My People To Know"/"Have A Cuppa Tea" and "I Wish I Could See You Again"/"I Got That Feeling Again". Their last single was in 1974 on Kontact, "Dang A Lang A Loo"/"Before My Time".
After their demise, Roger Skinner released a solo album in 1976 on Music World called "Introducing Roger Skinner". From it came one single "One More Time"/"Song For You".
Ron Williams was killed in a car accident in 1987.