Split Enz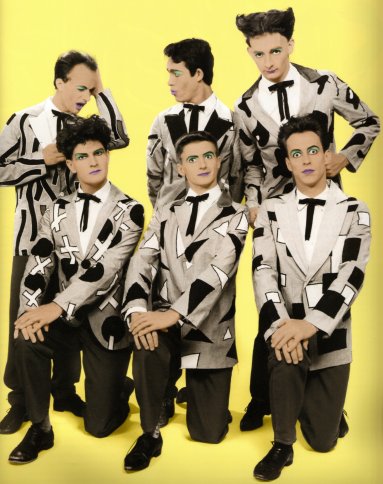 Click Here For Split Enz Discography
Original Line-Up:
Brian Finn (Vocals / Piano / Guitar)
Phil Judd (Vocal / Guitar / Mandolin)
Jonathon Chunn (Bass Guitar)
Miles Golding (Violin)
Mike Howard (Flute)
The beginning of the Enz occurred in Auckland New Zealand in October 1972 when Brian Timothy Finn, Phil Judd, Jonathon Michael Chunn, Miles Golding and Mike Howard formed a five-piece acoustic group called Split Ends. The group stayed around for 12 years, with Brian being the only original member left when the band called it a day in 1984.
Brian was born in Te Awamutu on June 25, 1952. At the age of 11 he started piano lessons, and by age 13, he was quite proficient with his chords and melodies. It was 1965 and Brian was sent to boarding school in Auckland, Sacred Heart College. Whilst at Sacred Heart, he met Jonathon Michael Chunn, from Otahuhu. They both shared a passion for music and in the late 60's were joined by Chunn's younger brother, Geoffrey. They began playing together, with Brian on guitar, Jonathan on bass and Geoffrey on drums. In 1971, Brian and Jonathan began studying at Auckland University, where they met Robert Gillies. He played saxophone and was added to the group. They called themselves Stillwater, but only lasted a few gigs. Jonathon joined another University band called Moses, whose lead guitarist was Paul Wally Wilkinson, while Geoffrey joined a group called Rosewood. Brian concentrated on his studies, and in doing so, found a new art student friend, Philip Judd. Another art student also boarding at Auckland University at that time was Geoffrey Crombie.
Also in 1971, Brian's younger brother Neil, born 1958, started boarding at Sacred Heart College. Also musically inclined, he quickly put together a four piece group that entered the Walter Kirby competition at the end of that year. With Neil, 13 years old, playing piano, they came first equal. Over the summer holidays, Neil entered another talent quest at Mount Maunganui, and in a solo effort playing piano and singing, he took out first prize.
Early in 1972, Brian heard of another talent quest being held at the Te Rapa Racecourse in Te Awamutu. He wanted to put together a group and enter. So together came Rob Gillies on flute, Geoffrey Chunn on drums, Brian Finn on piano, Jonathon Chunn on bass, and another friend Ben Miller on bongos. They won $500 and celebrated late into the night.
Phil Judd was born in Hastings on March 23rd 1953. He was a talented musician, bursting with ideas. Brian considered him a rare find, and together they started forming plans. The tertiary year commenced again in 1972, with Brian and Rob sharing a flat. Phil decided that he'd had enough of the academic life and left Art School. To some extent Brian was influenced by Phil's decision and by mid 1972, he did the same. Neil used to visit Brian's flat in Mission Bay on his free Sunday's from boarding school, and was beginning to like the lifestyle of his older brother and friends. Determined to fulfill his dream of life as a musician or performer, Neil too left boarding school and returned to day school in Te Awamutu.
Meanwhile life continued at the Mission Bay flat, with many musical ideas being floated around. Brian was now spending more and more time with Phil. In August 1972, the Student Art's Festival was on, and Jonathon and Brian thought they should perform. Jonathon had already entered Moses, so Phil and Brian entered a combo under the name Mellodrone. Phil was on drums, Brian at piano and Rob had his flugelhorn. There were a number of others hanging around on stage. One of them was Geoffrey Crombie. At the same festival, the following night was a group called Orb. The keyboard player was Tony Rayner, on drums was Paul Crowther, and the lead singer was Alistair Riddell, with Paul Wilkinson on lead guitar.
By this time Rob had moved out of the Mission Bay flat and Phil took his place. Together Phil and Brian began writing a number of songs. In October they wanted to put together another band. They had met a classically trained violinist, Miles Golding, and with Phil and Brian playing acoustic guitars, they began jamming together. They contacted Jonathon Chunn and after hearing them, he joined as bass player. Chunn in turn introduced flautist Mike Howard to the group. Brian called the group Split Ends.
Now all they needed was a place to perform. Geoffrey Chunn was already scheduled to play at the Wynyard Tavern in Symonds Street, so Jonathon asked him if he could get them a spot to play the three songs they knew. This was arranged and on Sunday 10th December 1972, Split Ends gave their first public performance. Immediately after playing there, they went down the road to Levis Saloon and played their three songs again. The songs were "Split Ends", "For You" and "Wise Men". The promoter at Levis was Barry Coburn. He was impressed with what he heard, and it just happened that he, along with his partner Robert Raymond, were organising a huge music festival in the new year, to be called "The Great Ngaruawahia Music Festival", to be headlined by Black Sabbath. He organised a slot on the Saturday night for Split Ends, immediately before the La De Da's. Although they rehearsed well, the festival was a disaster for the new group. It was the first time they had played to more than 40 or 50 people, and to have to face a restless 18,000 fans waiting for Black Sabbath, with a flute, violin, mandolin and guitar was no fun. Fortunately the festival was running late, so their set was cut in half. The experience left Phil quite shattered and this was a set back in his confidence with audiences.
Barry Coburn still had faith, and in February 1973 he organised a recording session at Stebbing Studios, to record a single. They chose to record "For You", but decided it needed drums, so Div Vercoe, who had played in OK Dinghy, the band Todd Hunter formed before becoming Dragon, was brought in for the occasion. For the B-side they recorded "Split Ends".
The style of music the group was playing was not what was being heard in most of the pubs around New Zealand at the time, so it was difficult to get a gig in any of them. Barry Coburn realised this, so he organised the group's first national tour in March 1973, covering the Universities. Split Ends and Lindsay Marks, another Coburn protégé, supported Australian hard-rock unit Itambu.
Meanwhile in April 1973 the first single, recorded in February, was released by Phonogram. The two sides of the single were also released by Phonogram on a compilation album, along with five other New Zealand artists. The album was called "Allsorts".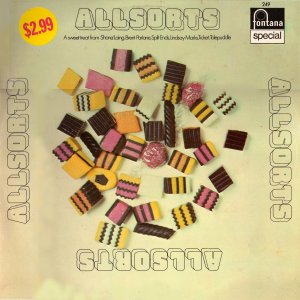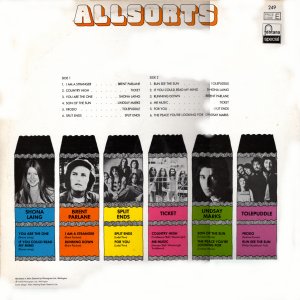 At the end of their tour, Coburn announced to the group that they would be the support act for John Mayall's upcoming tour of New Zealand. But Miles had already decided that he wanted to further his classical violin career, and to do that he was off to London. Brian and Phil saw this as a major blow to the group. But Jonathon suggested that they bring Geoffrey back in on drums and get Paul Wilkinson to play guitar. With this new electric line-up, there really was no place for Mike, so he quite and went back to his studies.
1973 Line-up.
Paul Wilkinson
Philip Judd
Jonathon Chunn
Geoffrey Chunn
Brian Finn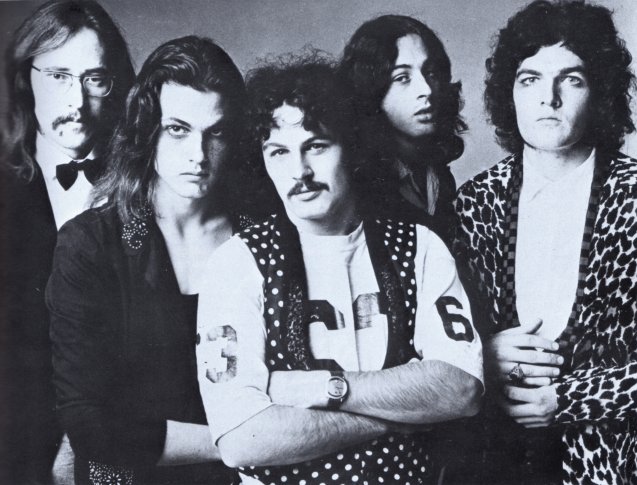 1973 L to R: Paul, Phil, Jonathon, Geoffrey and Brian.
This new line-up, with Rob Gillies in tow on saxophone, did the Mayall tour. Although, again, not a good match to the audiences, there was still more needed exposure. Following the tour, Coburn entered the group in a television talent quest called "New Faces". Split Ends flew to Wellington to record a video of "129" for the heat. They won their heat and had to come up with a new song for the final. They chose "Sweet Talking Spoon Song" and although many people around the country marvelled at this new band, the judges were less impressed and Split Ends finished seventh out of the eight competitors.
EMI released their second single, "Sweet Talking Spoon Song"/"129" in December 1973, and with very little airplay it quickly went the same way as the first. Coburn, still confident, signed them to a management deal, but Phil decided he no longer wanted to perform on a live stage, so this really limited their opportunities.
In January 1974, Coburn organised a 30 minute television special, as a result of them being "New Faces" finalists. The special was called "Six Of The Best", so they needed to quickly come up with four more songs to add to the two from their second single. Rob Gillies was asked to join the group on saxophone and trumpet. They also needed a second keyboard player, and the obvious choice was Tony Rayner from Orb. With this six piece, they recorded "No Bother To Me", "Malmsbury Villa", "Lovey Dovey" and "Spellbound".
Coburn then organised a deal with Radio Hauraki to promote "Buck-A-Head" concerts, mainly aimed at the University circuit. These became regular Sunday afternoon concerts in Albert Park and started attracting thousands of people. In May 1974, one of these concerts was held in His Majesty's Theatre and Split Ends, who had now decided on a name change to Split Enz, performed in front of 1,200 fans. It was the first indication of Split Enz's theatrical intensions. The band's number one fan, Geoffrey Crombie, spent weeks designing their costumes and stage props. The concert was a success, and at last we had seen the true beginnings of the Enz.
Even Phil Judd was enthused again and he decided to rejoin the group as a full time member. But since he had been gone, a slightly different musical direction had been forged, and his return to make seven, started causing some problems. It was only a short time before Rob Gillies and Geoffrey Chunn decided that they weren't happy, so in July 1974 they departed. Geoffrey went on to a short stint with Dragon, before becoming a member of Citizen Band. Rob wasn't replaced, but a new drummer was necessary, so yet another ex-member of Orb, Paul Crowther, was introduced.
Another "Buck-A-Head" concert was scheduled in August at the Mercury Theatre, but this show was nowhere near as good as their previous outing. The review in "Hot Licks" stated that their theatrics were better conceived, but overshadowed the music. For this show, another name change took place, this time to the members of the group. It was decided that, to separate stage persona from private personality, those with second names should use them. So the line-up in July 1974 was Tim Finn, Phil Judd, Wally Wilkinson, Eddie Rayner, Mike Chunn and Emlyn Crowther.
In September, Geoffrey Crombie, now going by Noel Crombie, was invited to join as a full time member. He was art director and in charge of costumes etc. He brought to the group a visual element that many felt help differentiate Split Enz from their contemporaries and helped to set them onto their path to ultimate success. Working the groups individual musical style he developed colourful costumes, crazy hairstyles, makeup, sets and special effects. From a musical side, his spoon solos were to become a favourite with audiences at the group's shows. Noel's first task was to prepare for the three end of year "Buck-A-Head" concerts to be held at His Majesty's.
But first there was another concert arranged. It was in Hamilton, supporting Space Waltz, led by Alistair Riddell. Alistair had folded Orb when he lost Wally and Eddie. Space Waltz had just had a huge hit with "Out In The Street" and Eddie had played keyboards on this song. So, for the concert, Eddie was enlisted to play for them again. Short a bass player, Mike Chunn helped out as well.
In February 1975, Split Enz took there now-refined repertoire and theatrics around the country during the Universities Orientation Week. Audiences around the rest of the country were quite stunned by what they saw.
In the meantime, Coburn was organising two things, the release of a single on his recently set-up new record label "White Cloud" and also a three week trip to Australia.
In March 1975, the third single was released. It was a remixed version of "No Bother To Me" backed with "Home Sweet Home". Once again, the single failed to chart, but this did not disillusion them, as they had more important issues on their minds. They were going to Australia for three weeks, uncertain what to expect and not sure what the future held.
On the 13th March 1975 Split Enz boarded a plane for Sydney, not knowing at the time, that they were leaving for good.
Work In Progress - To Be Continued