This card was produced by the New Zealand Road Safety Association to help promote awareness to drivers of the dangers of railway level crossings, by using their slogan, "Stop, Look & Listen".
There are four different reverses of this card. One with Telecom Corporation Of New Zealand (1st Back), and another with Telecom New Zealand (2nd Back), see above.
The third and fourth versions had a complete panel overprinted and adhered to the reverse with new wording, referring to "Place of Business". These two versions had ADDB or ADCB control numbers.
This card was also included in the Collector Pack AdCards Volume Six NZ-CP-29 and was overprinted on the reverse with Collectors Issue 1994 or International Collectors Issue 1994, if included in the International Pack.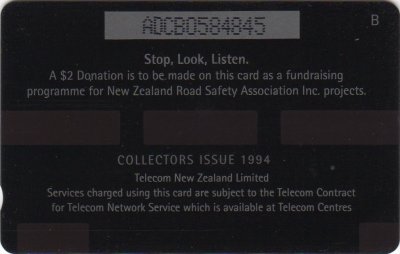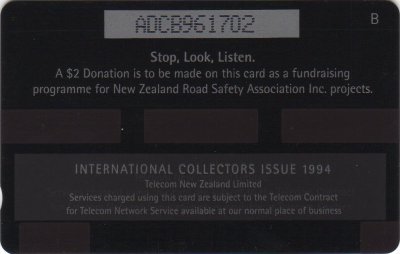 Of interest is that the International card has a complete overprint panel, hard to see in the scan, that introduces new wording. "Telecom Centres" is replaced by "our normal place of business".
Also this card has only six digits in the serial number, no zero after the ADCB as per all other cards.
There were 600 of these cards that were officially overprinted on the reverse with a new description. Refer NZ-P-42. The description reads "Speaking For Communities.
New Zealand Local Government Association 8th Annual Conference Nelson 10-12 July 1995. Telecom New Zealand Limited is pleased to support this conference".
These cards were handed out to delegates who attended. The majority of the cards were either used and thrown away or lost. The significance of the cards, to the holders,
was not realised at the time, and they very soon became very sought after items that appeared on most dealers wants lists for many years.