In September 1993 Telecom launched its commitments to high levels of service for residential customers. To acknowledge the work and dedication of the frontline staff which had enabled the company
to make those commitments, a special edition Phonecard was given as a memento to each frontline staff member. The card was presented in a folder with the same design on the front cover.
This card was also included in the Collector Pack NZ-CP-17 and was overprinted on the reverse with 1993 Collector Issue.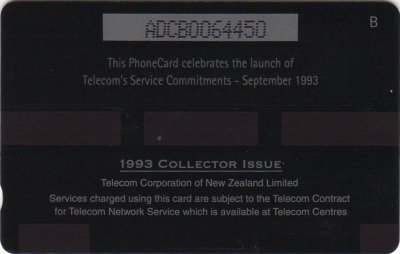 Some of the cards were supplied in a Staff folder as illustrated below.



Telecom also used to send out to its customers, a random selection of three cards, in the folder illustrated below, to compensate for outages in service.