The Pacific Coin Company issued this card to coincide with their 1993 Auckland Kiwi Collectors Fair and Auction held at the Parkroyal Hotel on the 25th & 26th of June.
The cards were overprinted on unsold stock of the $5 Landscape card and the front has a very matt finish as opposed to the normal gloss of regular cards.
The cards were originally only available at the fair and came in a small folder, illustrated below.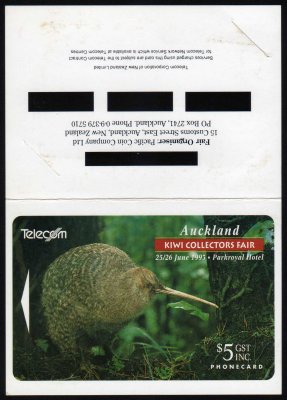 This card was also included in the Collector Pack AdCards Volume Three NZ-CP-15 and was overprinted on the reverse with 1993 Collector Issue.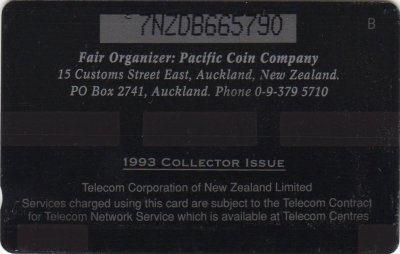 This card was also included in the Animal Tales Folder issued by the Pacific Coin Company. Refer Animal Eyes.