This the third card issued by Ansett New Zealand. It continues the theme of images from their popular television commercial series. The person depicted on the card is New Zealand actor Mark Hadlow.
This card was also included in the Collector Pack AdCards Volume Five NZ-CP-25 and was overprinted on the reverse with Collectors Issue 1994, and had the same overprint for the card in the International Pack.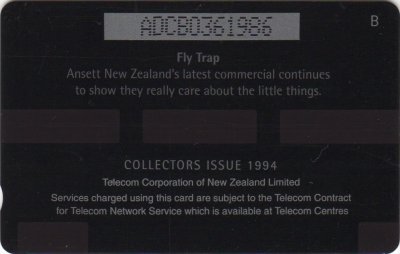 This card was also issued in a Collector Pack, illustrated below, of 500 by Ansett that also contained the other two Ansett cards, refer NZ-A-3 & NZ-A-15.
An unknown number of this card, signed by Mark Hadlow, was also issued in a folder by Shades Stamp Shop.