Reference Number

NZ-A-25
NZ-A-26
NZ-A-27
NZ-A-28
NZ-A-29
NZ-A-30
NZ-A-31
NZ-A-32
NZ-A-33
NZ-A-34
Denomination

$5
$5
$5
$5
$5
$5
$5
$5
$5
$5
Description

Christchurch Parkroyal
Auckland Parkroyal
Wellington Parkroyal
Gardens & Queenstown Parkroyal
James Cook & Auckland Centra
THC Waitomo Caves
Auckland Airport & Te Anau
THC Hermitage & Rotorua
Mt Cook & Auckland City
Christchurch & Solway Park
Control Number

ADCB
ADCB
ADCB
ADCB
ADCB
ADCB
ADCB
ADCB
ADCB
ADCB
Quantity

9,000
7,500
9,000
7,500
7,500
9,000
9,000
7,500
9,000
9,000

To help supplement the promotion of their hotels, Southern Pacific Hotel Corporation commissioned these ten cards. The cards were sold by the individual hotels to their guests
as well as using them for promotional purposes.
These cards were also included in the Collector Pack NZ-CP-20 and were overprinted on the reverse with 1993 Collector Issue.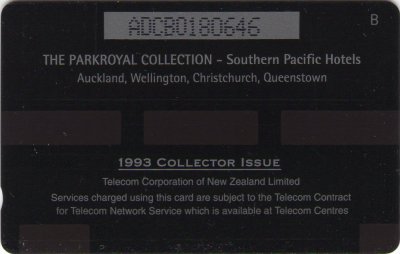 Illustrated below are the reverse of the ten normal cards.