Blood Brothers was another popular stage show to tour New Zealand in 1994. This was the second card commissioned by the Stetson Group, their first was the Phantom Of The Opera card.
This card was also included in the Collector Pack AdCards Volume Five NZ-CP-25 and was overprinted on the reverse with Collectors Issue 1994, and had the same overprint for the card in the International Pack.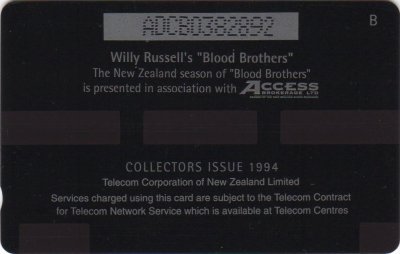 This card was also offered in a small plastic folder, illustrated below, to ticket purchasers as the show moved around New Zealand.