There was one major variety in this issue. The $5 Zebra card can be found with what is known as the "Bullet Hole Flaw" on the Zebra's rump. The $5 cards were printed in sheets of 40. Therefore 2,500 sheets were produced
to get the 100,000 cards. The flaw only occurs on one card per sheet, so there were only 2,500 possible examples of this flaw. Many of those cards were used and discarded, making this flaw quite scarce.
The Polar Bear card was also included in the Animal Tales Folder issued by the Pacific Coin Company. Refer Animal Eyes.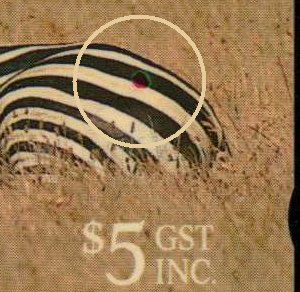 Illustrated below are the reverse of the four normal cards.