Spartans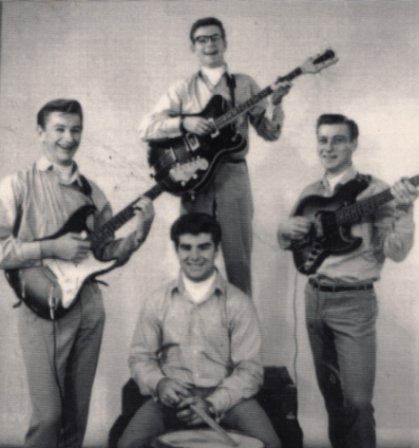 Left Norris Hanna, Top John Barney, Bottom Brian McLaren, Right Lyndsay Mulholland.
Line-Up:
Norris Hanna (Lead Guitar)
Kenny Pope (Rhythm Guitar)
Basil Peterken (Bass Guitar / Lead Vocals)
Brian McLaren (Drums)
The origins of the Spartans name is somewhat hazy. Brian McLaren came from the Blue Diamonds (not the New Plymouth version), while Basil Peterken, playing lead guitar, and Kenny Pope, playing rhythm, came from the Fidelitones. Norris Hanna had been playing lead guitar with a Pukekohe band, the Electronics, followed by stints in a couple of short lived groups, before joining the Spartans, at which time Basil switched to bass guitar.
The Spartans were a Shadows/Ventures cover band, and had a regular gig at the Belair Coffee Lounge. After leaving there, they played the social circuit, which also included gigs in Napier and Whangarei, where they backed Ray Woolf.
At about this time Kenny Pope departed and was replaced by Rex Bullen. With this line-up they started adding to their repertoire by incorporating covers of the Beatles, Rolling Stones and other British groups, for which Rex and Norris switched roles, Rex playing lead and Norris joining in harmony with Brian, and Basil taking the lead vocals. During this period, they played at such venues as Surf City, Shiralee, the Orange and Oriental Ballrooms, and the Top Twenty, playing second billing to either Max Merritt and the Meteors or Ray Columbus and the Invaders, whenever either was in Australia.
When Max Merritt and Ray Columbus and their bands both headed off to Australia for an extended period, the Top Twenty held a Battle of the Bands to find a replacement, which the Spartans won.
They then became the main band at the Top Twenty, and signed with the Kingsway label, with whom they recorded an instrumental, "Baby Elephant Walk" backed with "Round and Round" in 1963. During their tenure at the Top Twenty, it was suggested that they turn professional. However, neither Rex Bullen nor Norris Hanna wished to do that, and consequently the band dissolved, with Rex heading to Australia and Basil joining the Dallas Four with Brian also doing a few gigs with them for a few weeks in April 1964.
Meanwhile Brian and Norris advertised for a bass player, from which Lyndsay Mulholland, who had previously played rhythm with the Fortunes before switching to bass and playing with a few short lived groups, joined the line-up and introduced John Barney, ex Hylytes, on rhythm guitar. All the members contributed to the vocals with Lyndsay taking the majority of the lead work. Again they hit the social circuit, for a while sharing resident band status with the Silhouettes at the Delmonico Coffee Lounge on Auckland's North Shore. Amongst the gigs that they did, were a double billing at the Shiralee with Ray Columbus and the Invaders, a concert performance at the Auckland Town Hall, with Sandy Edmonds and Judge Wayne and the Convicts, Christmas gigs at resorts such as Waiheke and Whangaparaoa, and they were engaged for a Western Springs concert which unfortunately was rained out and never eventuated.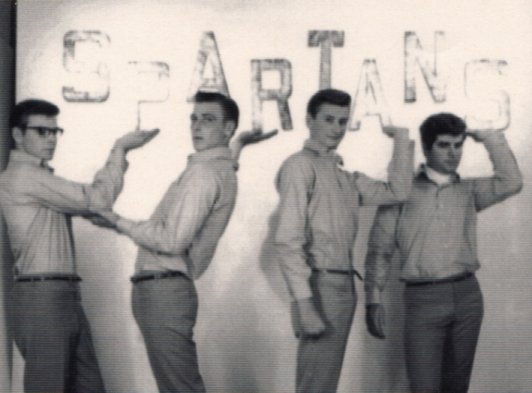 L to R: John Barney, Lyndsay Mulholland, Norris Hanna and Brian McLaren.
They signed with the Talent City label and recorded a single penned by Lyndsay, "One More Day", on which he sang lead with harmonies by John, backed with an older song "Starlight, Starbright" in late 1964. "One More Day" made it to the local Auckland charts within the top twenty, but further success eluded them and the band eventually folded in 1965, with Lyndsay moving to the Rayders.
Curiously, as a result of "One More Day" reaching the top twenty following the demise of the band, they were asked to appear on the New Faces TV Show, hosted by Peter Sinclair, to do "One More Day", which they did, conscripting Basil Peterken to mime the words as Lyndsay was not available to appear.
Today the whereabouts of Kenny Pope and Rex Bullen is unknown. Basil Peterken is still playing professionally in Auckland, doing the corporate circuit. John Barney is in Melbourne where he went to pursue his insurance executive career, and now has his own company and casually provides some guitar backing at pub gigs. Norris Hanna went to England, where he performed with the London Maori Club before returning to New Zealand and continuing an IT career. Lyndsay Mulholland owns his own company, as did Brian McLaren before his untimely death in 2000 from cancer. All maintain a private interest in music.
My sincere appreciation is given to Norris for providing me with this invaluable information.