Roadrunners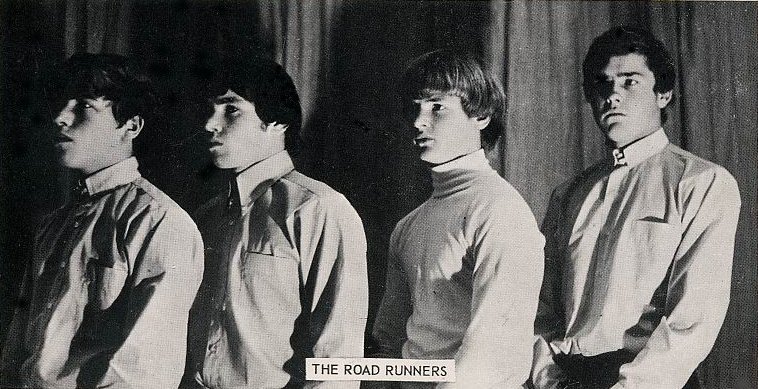 L to R: Tim, Chaz, Noel and Glyn.
Line-Up:
Chaz Burke-Kennedy (Lead Guitar / Vocals)
Glyn Mason (Rhythm Guitar / Vocals)
Noel Koskella (Bass Guitar)
Tim O'Connor (Drums)
The Roadrunners were from the Lower Hutt, just north of Wellington and formed in 1964. With an average age of sixteen, they were a sensational live r&b band. During 1965 they had a residency at the Intermezzo Coffee Lounge for a short while. The Roadrunners were managed by their friend Jim Pilcher, who later went to the UK in a similar role with the Fourmyula.
This band was the starting point for Chaz Burke-Kennedy and Glyn Mason, who both went on to larger things. Chaz was a member of the Underdogs, Jigsaw and Fresh Air, while Glyn was with the Bitter End and Jigsaw, before replacing Larry Morris in the Rebels. Glyn eventually moved to Australia, and joined Chain in 1970. After a spell in England, he came back to Australia, where he joined Ariel in 1975 and later the Stockley See Mason Band. In 1966, it just happened that the Roadrunners were forced into a temporary hiatus while guitarist Chaz Burke-Kennedy began to explore the delights of life as a recluse. This left drummer Tim O'Connor free to join the Derelicts for a short time, returning when Chaz decided to venture out into the wide world again.
The group never recorded, but did do a demo session. This session contained a song called "LSD", which has been located and can be heard on the CD "Get The Picture" from the LEGENZ series, produced by Jayrem Records. Another track from the session was "Get Out Of My Life Woman" and can be found on the other CD in the series, "Out From The Cold". A third song from the session was "House In The Country".
The Roadrunners can be found on the following compilations:-