Relics
Line-Up:
Milton Parker (Lead Guitar / Vocals)
Rick White (Rhythm Guitar / Vocals)
David Jenkinson (Bass Guitar / Vocals)
Alan Beamsley (Drums)
The Relics were a Wellington pop group formed in 1964, while Rick White was still at school. When he left school in 1966 at age 17, the Relics were already well established on the Wellington scene, playing regularly, every weekend at local school and community halls, around the suburbs of Wellington and the Hutt Valley.
In 1966 they recorded their one and only single, "Hanky Panky"/"Jambalaya" for Viking.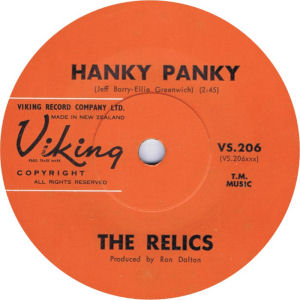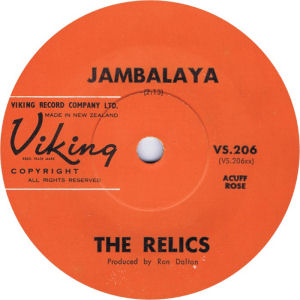 Musical differences within the group forced a break up immediately after the single. There was a brief outing by some of the members in a group called Suburban Mudd in 1967, but the best was still to come, with Rick White going on to form Tom Thumb and Milton Parker joining the Wedge, then Phil Jacobs Combo and Freshwater. In the seventies he moved on to Tangent.
The Relics can also be found on the following compilation:-