Music Convention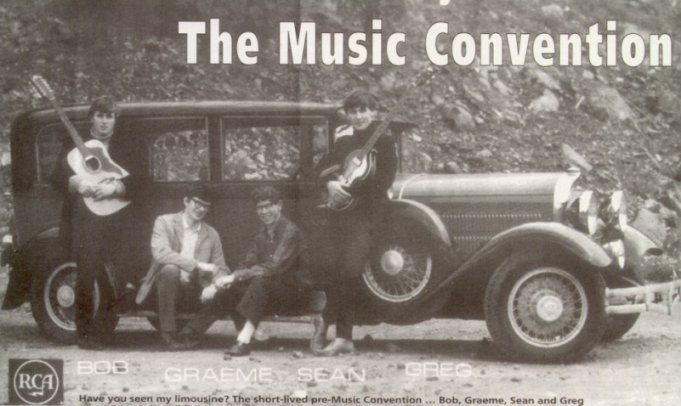 L to R: Bob O'Donnell, Graeme Webber, Sean Kelly and Greg O'Donnell.
Line-Up:
Robert O'Donnell (Lead Guitar / Vocals)
Graeme Webber (Organ)
Greg O'Donnell (Bass Guitar)
Sean Kelly (Drums)
The story of Music Convention began back in Hamilton in the early sixties, when brothers Robert and Greg O'Donnell and school friend Sean Kelly from St John's Catholic College formed a band called the Spectres, a name to be used later by another group out of Auckland in 1967. As the Spectres they began playing at parties and even entered the Johnny Cooper Talent Contest, where they made the finals. Playing Shadows type music, they picked up a few gigs around Hamilton.
After the Beatles arrived in town in 1964, they left in their wake of new wave of look-alike bands, the Stoners, the Mods, the Paragons and the Spectres, who had now decided on a name change, calling themselves the Trends and adding Ken Murphy to their line-up. They all started playing around town, threatening the established rock and roll bands, like the Satellites, and the Saturday night dance clubs, with their beat influenced music.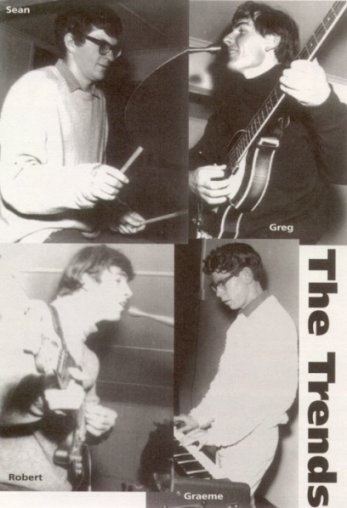 The Trends became regular performers at a new club called the Three Musicians in Hamilton. There they were given the opportunity to cut their teeth in a more serious manner. This was a club that would also host other touring bands like the Pleazers and the Rayders. As they got more confident and known, they started playing in the surrounding towns to supplement their city work, venturing as far as Tauranga to play at the Embers Club, run by original Four Fours drummer Trevor Spitz.
In early 1966, Greg moved to Auckland to begin a graphic arts course. Robert followed a few months later, so when Sean and Ken decided to come to Auckland too, the Trends reformed, scoring work at the Platterack and Top 20 clubs as well as a variety of school dances and functions.
In 1967, Robert, or Bob as he was more commonly known, was called up for National Service, which meant he would be out of action for three months. The band decided to take a break, but during that time, Ken Murphy left to form a vocal duo with ex-Wellingtonian Alan Galbraith, called the Real Thing.
Following Bob's return, the Trends reformed, replacing Ken with organist Graeme Webber and changing their name at the same time to Music Convention. The band had met Graeme at Piha Beach, a popular surfing and holiday hangout west of Auckland, where the Trends played regularly during the summer at the surf club. Another person they met at Piha was Andy McAlpine, a young surfer and would-be film maker who would play a role in their future.
Meanwhile a recording deal was secured with RCA Records and their first single, "Have You Seen My Limousine"/"Good Clean Fun", both originals recorded at Astor Studios with producer Wahanui Wynyard, was released under the name Bob, Graeme, Sean and Greg in 1967. The group were the first band to be released on the RCA label in New Zealand.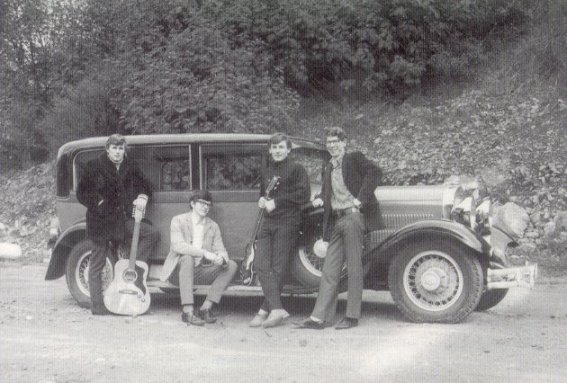 L to R: Bob O'Donnell, Graeme Webber, Greg O'Donnell and Sean Kelly.
After listening to the Beatles and other British groups delving into Indian music, Greg started playing the sitar. Using this instrument and adding some drug related lyrics they released their second single "Footprints On My Mind"/"Country Boy", using the name Music Convention.
Andy McAlpine was making a surfing film and asked the group if they would record a soundtrack to his movie. What resulted was an EP called "Children Of The Sun" which contained some sitar-driven surf instrumental tracks, including "Belly Board Beat" and the theme to the movie. A single from the EP with "Theme From The Children Of The Sun"/"Creaming On A Midnight Wave" was also released in 1968.
Their next single in 1968 was "One"/"Nonsense" which gained good airplay on release, but was soon dropped when another version of Harry Nilsson's "One" was released by the Bee Gees shortly afterwards. The Music Convention hadn't finished with movies yet either. They were asked to record a song based on the "Charge Of The Light Brigade" movie, to play before the film in theatres around New Zealand. The resulting song "Ballad Of The Light Brigade" was killed with sound effects, with the band's original song competing with cannon fire, trumpets and other battle sounds. The flipside to the single was a version of Chuck Berry's "Berry Rides Again".
Greg O'Donnell left the band in 1969, but before doing so, ex-Bluestars bass man Rick van Bokhoven joined increasing the line-up to five. Rick stayed with the band until they went through another change. Sean Kelly moved to Australia and was replaced by ex-La De Da's drummer Brett Neilsen. Graeme Webber retired and was replaced by ex-Le Frame organist Max Wolfgramm. When Greg came back home, he rejoined replacing Rick and in 1970 they changed their name to Suite FA. A final change came about when Neilsen decided to go abroad and Denis 'Tub' Winters joined the line-up for a time.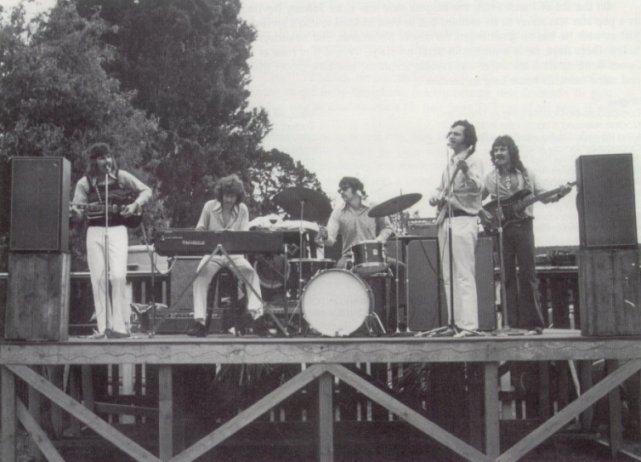 L to R: Robert O'Donnell, Graeme Webber, Sean Kelly, Rick van Bokhoven and Greg O'Donnell.
Denis Winters and Greg O'Donnell later joined Larry Killip's band Larry and the Ladders in the early eighties.