Le Frame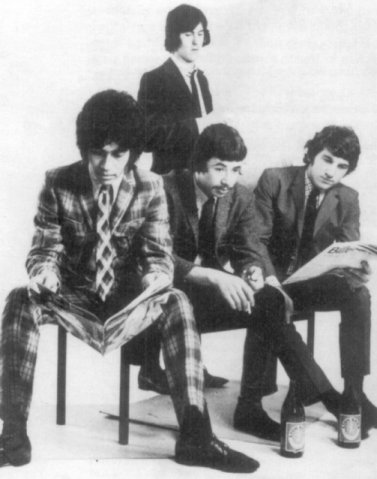 Fred Bower, Neil Edwards, Max Wolfgramm and Doug Thomas.
Line-Up:
Fred Bower (Lead Guitar / Vocals)
Max Wolfgramm (Keyboards / Vocals)
Michael Harrison (Bass Guitar / Vocals)
Mike Donnelly (Drums)
In 1966, Fred Bower was looking to form a soul / rhythm and blues band. He invited Mike Harrison and Denis Winters to join him. Mike and Denis were currently members of the Zarks and along with Toodie Brown, agreed to participate in some rehearsals to see what it would be like. After the rehearsals, when it came time to commit to being full-time, Denis decided to stay with the Zarks and Brown disappeared. This just left Mike, so Fred set about recruiting Mike Donnelly, from Soul Agents, on drums and Max Wolfgramm, from Intimate Blues Connection, on keyboards. After further rehearsals, this became the line-up that finally launched as Le Frame in 1967.
They gained a residency at the Galaxie and played a good variety of soul covers. Fred Bower was the main focal point of the group, with his afro hair style and good looks, he was popular with his audiences.
The group recorded two songs at Stebbings studio in April/May 1967 with this line up. The songs were "It's A Man's World" and "Secret Love". The songs were never released. The group members changed not long after these recordings, which may be why they weren't released. "It's A Man's World" did see the light of day many years later, on a compilation, see below.
During the two years of their existence, there were a number of line-up changes. Mike Harrison left and was replaced by Bob Taylor, previously with the Crying Shame. Bob, himself, was replaced by Neil Edwards, who had come from the Underdogs. Mike Donnelly was replaced by Doug Thomas, previously with Rex and the Roadrunners and also the Breakaways. Peter Bayliss had a stint on guitar and Billy Brothers, from Intimate Blues Connection, joined as bass player. Dave Stewart, from the Boddys, was the only other member on guitar.
Le Frame only ever released one single. This was "Knock On Wood"/"Get Ready" on Allied International in 1967. "Knock On Wood" was a good cover complete with thunder and lightning sound effects. The line-up on this recording was Bower, Edwards, Wolfgramm and Thomas.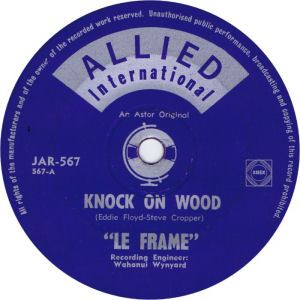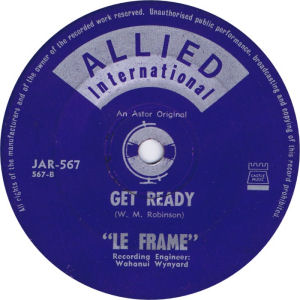 Max Wolfgramm joined a later version of the Music Convention in 1969. Neil Edwards was in Rainbow in 1974.
Le Frame can also be found on the following compilations:-