Mike Perjanik Band
Line-Up:
Mike Perjanik (Piano)
Doug Jerebine (Guitar)
John 'Yuk' Harrison (Bass Guitar)
Bruce King (Drums)
Mike Perjanik originated from Dargaville, before moving to Auckland, where he became a member of the Embers in 1963. When the Embers disbanded at the end of 1963, Mike grabbed some of the remaining members of the group and in 1964 formed the Mike Perjanik Band, who became the mainstay session band on the Auckland recording scene for the next few years.
One of their first sessions involved backing a new singing sensation duo that Ron Dalton had heard singing, and had invited into the Viking Studio to make their first real recording, "Heart Of Stone"/"I Want You To Be My Boy". The duo were Sue and Judy Donaldson, and Mike was responsible for giving them their name, the Chicks.
Mike was also responsible for spotting a talented singer while he was doing a show in a Morrinsville hotel. Mike went straight back to Auckland to tell Viking Records' chief Ron Dalton that he'd found his next star in the Waikato. Almost overnight the girl with the power packed voice was in an Auckland recording studio, recording Jay Epae's "Tumblin' Down", under the name Maria Dallas.
Another young star who needed backing was Allison Durbin. She was teamed with Mike's band in the studio and it wasn't long before she was dating him and then appearing as the band's featured singer in their live work. In October 1966, she and the Mike Perjanik Band moved across the Tasman for a residency at Sydney's Coogee Bay Hotel, before moving into the prestigious Latin Quarter in May 1967. After nine months with the band, Allison Durbin left the band to pursue a solo career. Members of the group at that time included Mike on piano, George Barna on sax, Pat Crichton on trumpet, Peter Skerrett on bass, Wally Scott on guitar, Mickey Leyton on vocals, and Bruce King on drums, later to be replaced by Doug Gallagher.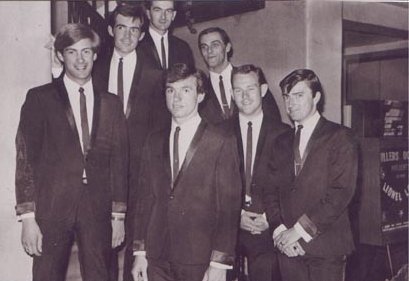 Mike Perjanik Group in Sydney. Mike at the back, Peter Skerrett at left.
While in Australia, Mike recorded a single in 1967 called "We Can Make It"/"My Girl" on the HMV label. It was released in both Australia and New Zealand. In 1969 he released another single on Columbia in Australia called "She Never Smiles Anymore"/"I'm Gonna Love You" as the Mike Perjanik Complex.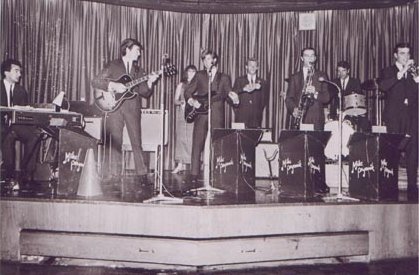 At the Latin Quarter 1967. Allison Durbin and Tommy Adderley at the back.
After this Mike concentrated on his studio session work with a different group of musicians. He used himself on piano, organ and synthesiser, Dave Donovan on guitar, Dave Ellis on bass and Will Dower on drums, and they called themselves Synthesis. In 1973 they released an album called "Lennon and McCartney : Today and Yesterday" on the Drum label.
In 1977 Mike, now as the Mike Perjanik Orchestra, did the theme to a new Australian television series, the "Restless Years", and this was released on a single with Renee Geyer singing the vocal version on the A-side. In 1982 another single had Peter Chambers singing "Norman Loves Rose" and Mike doing the instrumental version on the flip side.
Mike is still working in Australia and has produced quite a number of themes to various television shows. He is in strong demand as a session musician.