Lika Street Choir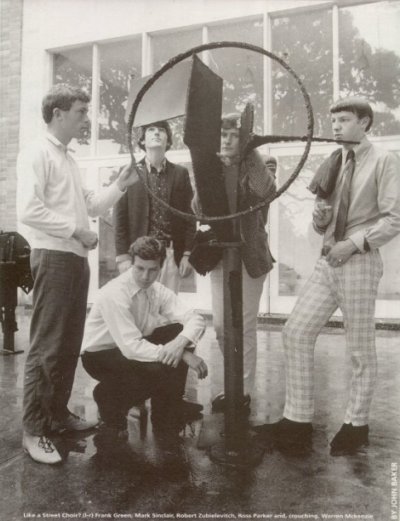 L to R: Ross Parker, Mark Sinclair, Robert Zubielevitch, Frank Green and crouching Warren McKenzie.
Line-Up:
Robert Zubielevitch (Bass Guitar)
Ross Parker (Rhythm Guitar)
Herman Desouter (Drums)
Phil Endean (Lead Guitar)
Mark Sinclair (Vocals)
The Lika Street Choir adopted their name from the road, Ligar Street, that used to run under the Grafton Street bridge in Auckland, through the cemetery that used to be there before the motorway was put through. Their parents believed they sounded like a street choir, so that completed the name.
A group of friends at Mt Roskill High School formed a band called the Founders. Members of that group included Lou Rawnsley and Tony Walton, and when they left to join the Boddys, before going to the Underdogs, the Founders were no more. The two remaining members were Robert Zubielevitch and vocalist Fred Kalka. Fred called it a day, so Robert joined forces with another school mate, Ross Parker, who had been playing guitar with another group called the Jet Blacks. That group had also contained Jack and Dan Stradwick, before they went on to the Figures and then the Action, and Ian Revell, who was later to find his way into parliament.
Rob and Ross then recruited drummer, Herman Desouter, and young vocalist, Mark Sinclair, recently of brother Clive's group, the Brakers. For lead guitarist, Phil Endean was hired to complete the line-up for the group that launched as Lika Street Choir in 1966.
Phil Endean had previously been playing with a group called the Intruders.
Herman Desouter left the group not long after it's formation and was replaced by local drummer, Frank Green.
The group generally played at the halls in the Mt Roskill, Mt Eden, Mt Albert areas, but did also play at times at the more prestigious city clubs. During 1967, Phil Endean left the group and was replaced by Warren McKenzie on lead guitar.
One night, the group played their gig at the Galaxie, dressed in cassocks, borrowed from the Hillsborough Friary. A photo of them dressed like this made it into the local papers and this attracted a number of disapproving letters, including one from an Anglican Bishop.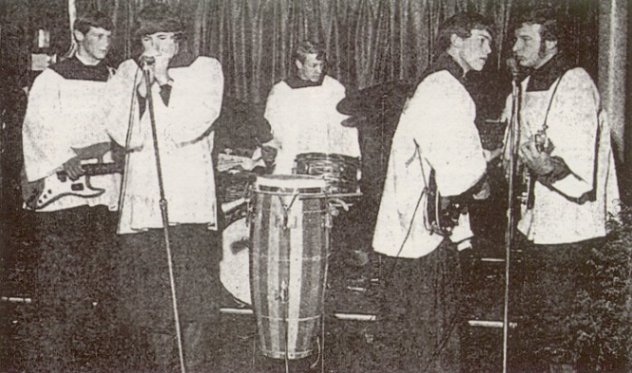 Their repertoire consisted mainly of covers of Easybeats, Rolling Stones, Kinks and Yardbirds. Owing to their success at the Galaxie, the group was invited to Stebbing's Studios to record a couple of songs. They put down energetic versions of two Easybeats numbers, "In My Book" and "Easy As Can Be". Unfortunately these songs were never released.
During their time, Nick Scott, from the Cossacks, joined on keyboards. In 1967 Mark Sinclair left and became vocalist for the Challenge. At that time Ross Parker took over on vocals. By late 1968, Warren McKenzie left and joined Cincinnati Underground, so the remaining members played out the group's existing bookings and in early 1969, the Lika Street Choir broke up.
After he left the Choir, Phil Endean gigged around with numerous other groups and by late 1970, he was in the UK doing session work.