Latter Rain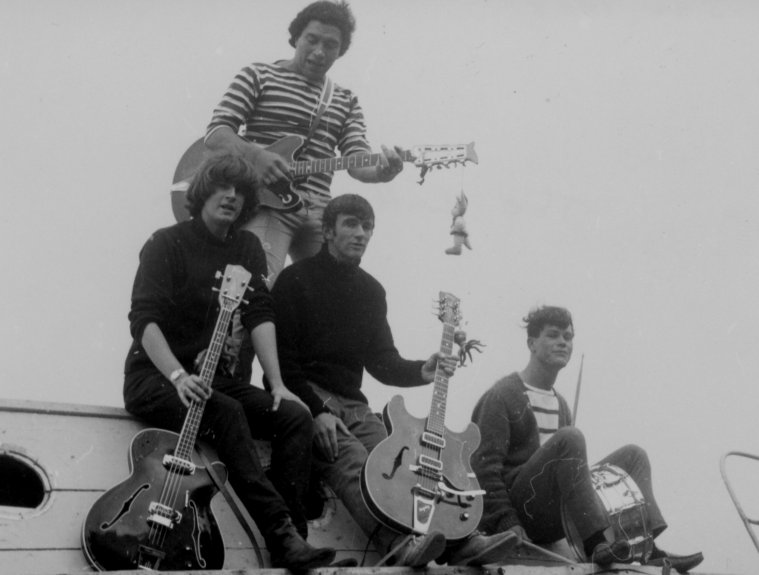 The Latter Rain (L to R): Brian, John, Paul and Kerry
Line-Up:
John Te Kira (Lead Guitar / Lead Vocals)
Paul Brunton (Rhythm Guitar / Vocals)
Brian Bushby (Bass Guitar / Vocals)
Kerry Willard (Drums / Vocals)
The Latter Rain formed in Wellington, New Zealand in 1967. They comprised of guitarist John Te Kira, who played a 12 String Guitar and provided the lead vocals. He was accompanied on Rhythm Guitar by Paul Brunton. The engine section of the band was produced by Brian Bushby on Bass Guitar and Kerry Willard behind the Drums. Paul, Brian and Kerry provided back-up vocals, while Kerry would occasionally supply lead vocals.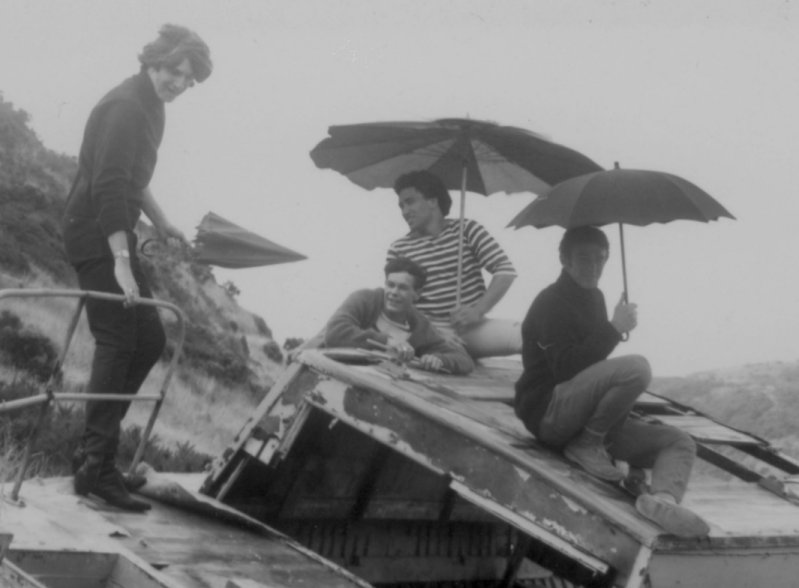 L to R: Brian, Kerry, John and Paul
The Latter Rain developed out of the young teenage friendships in the Porirua and Paremata localities of Wellington between Brian, Kerry and Paul. Being close to beaches and sand dunes, the boys grew up together during their wonderful youthful periods as lads riding madly on bicycles, being beach bums and College friends, through to owning first cars and later even becoming workmates. A strong and passionate interest in music developed independently in each of them which is still extremely evident to this day. Paul and Brian leaned toward pop, rock and instrumental music (being heavily influenced by the Shadows group) while Kerry followed a traditional folk path. When some other local friends formed a covers group called the Survivors, Brian and Paul were stimulated to consider creating their own band. They excitedly ran the idea past Kerry who was so enthusiastic that the band immediately became a very real project. The first task was to decide which role each member would play. As Kerry was forever tapping out beats with pens, rulers, combs etc. on any available hard surface, his position was self-evident. Paul was already a very promising rhythm player so his role was easy to place. Brian had a penchant for bass sounds or anything which had a musical thump so his choice of the bass guitar was a simple decision. It was not until the roles had been established that the question arose where and how to obtain some good quality electric instruments and a set of superior drums. The guitars and amplifiers were purchased on a drip-feed plan through the helpful retailer Shand-Miller, and as luck would have it, a musician friend named Dave Duffel was selling a beautiful Ludwig drum kit.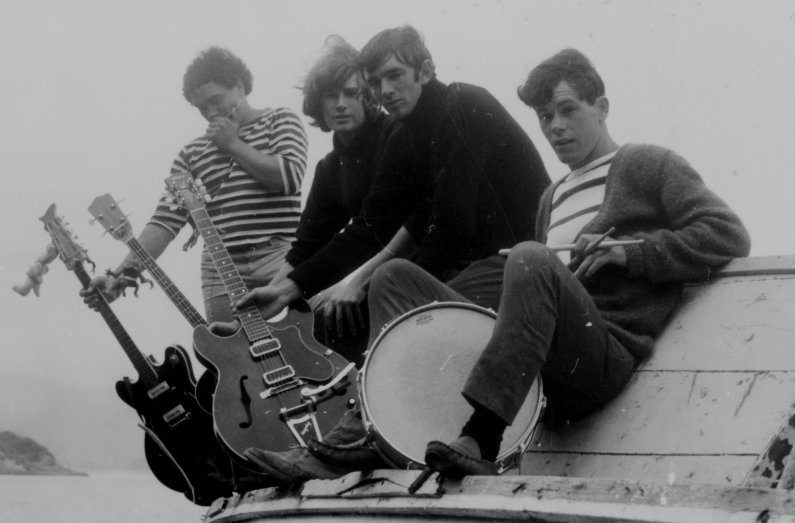 L to R: John, Brian, Paul and Kerry
The trio were now in business and it was time for some serious practice. It was immediately noticed from the very first get-together that there were some large gaps in the line-up. A lead guitarist and lead vocalist would be necessary if they wanted to sound loud and prominent. Also at this time and after much discussion, the name No Thoroughfare was chosen for the fledgling band. Brian placed an advertisement in the daily newspaper seeking the additional much-needed band members. An interesting array of applicants stepped forward and were auditioned but either they did not shine or they did not have their own transport. The ability to carry one's own gear from gig to gig was very important at this stage as no band member owned a sufficiently large vehicle. The results were disappointing. Undaunted the band kept rehearsing and began to obtain a number of additional necessary items such as microphones, cables, spare guitar strings and power leads.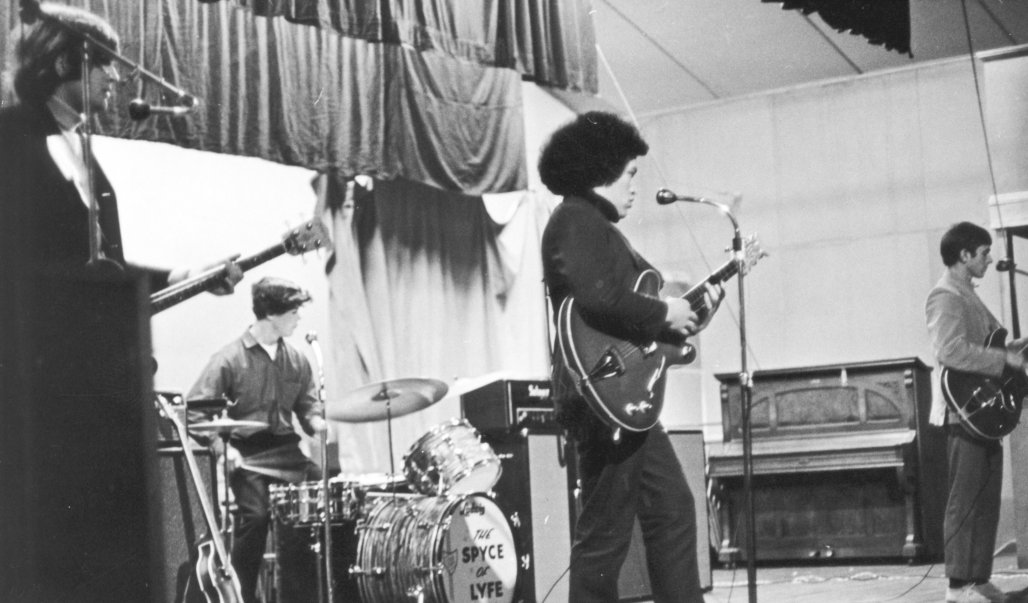 The Latter Rain on stage. Note the shared use of drum kit.
After about three months the trio became aware of another Paremata based guitarist and approaches were made for him to attend the next practice session. His name was John Te Kira and he arrived with an electric 12 string guitar and a batch of songs, both covers and originals, plus the exceptional bonus of possessing a very good singing voice. Brian, Kerry and Paul were enthralled with the Byrds style 12 string sound and liked it so much that John was immediately offered to join the band as a permanent member. No Thoroughfare was now a group which was intending to stamp its mark on the Wellington music scene. John's musical interests mainly lay in rhythm and blues, so together with the pop, rock and folk of Brian, Kerry and Paul, an incredibly large range of music was available from which the band could draw inspiration. The first priority was to create a repertoire large enough to last an entire evening without any repeats (except for fan's requests). This was no mean feat and many hours of practice were necessary. Not to mention the amount of time needed to arrange the set-list in a pleasant listenable order. Once all the basics were completed they searched for practice and performance venues. It was not long at all before local Clubs and dances were offering work and the band was willing to accept any and every opportunity. Practice often took place in the Paremata and Plimmerton Boating Clubs and they made themselves a regular haven in the bach of a friendly neighbour of the Bushby family. The bach was extremely useful for trying out new material in complete privacy while the clubs and halls were better for trialling the music in public as many locals would call in once they heard the band start playing.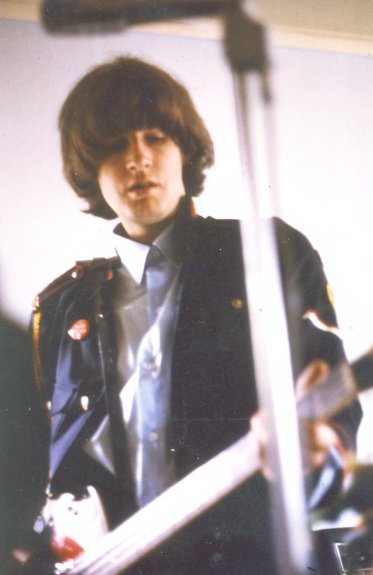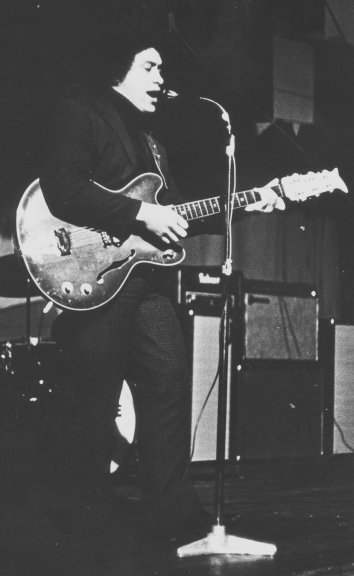 Brian and John
An unexpected interest came from local Churches of varying denominations for the band to play at early evening services aimed at attracting the young people. This is precisely what happened as the services drew considerably large numbers of attendees often with standing-room only. It also took the band quite some time to vacate the premises due to the many requests for autographs. The band enjoyed this aspect and searched for a new name which would reflect there wide repertoire. One day Kerry and Brian were browsing through an eclectic collection of reading material during morning tea at their place of work when Kerry came across the term "The Latter Rain" and put it forward as a new name. Apparently the expression meant "rejoice" in Christian-speak and seemed to fit what the band was trying to achieve. The name also sounded different, easily remembered and hinted at the psychedelic, which was the music style of the day. After gaining approval from Paul and John, the name was adopted.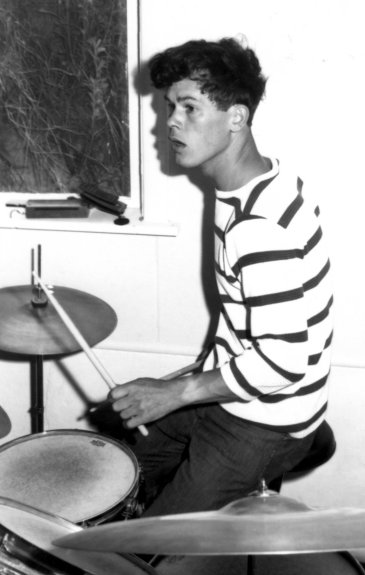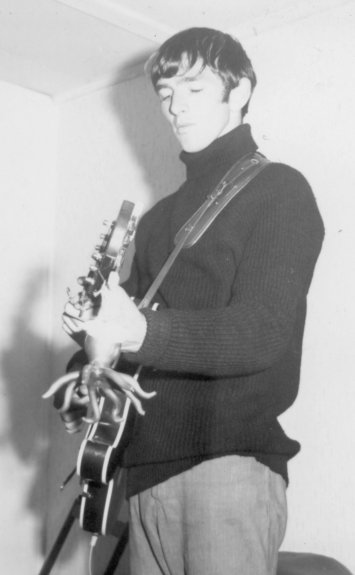 Kerry and Paul
Additionally, the Latter Rain played at many Wellington youth clubs and dances often sharing the stage with their friends, the Survivors (who were now known as the Spyce Of Lyfe) and many other bands. Of particular enjoyment were the dances promoted as Jamborees. These were dances where four or five bands would take turns playing during the evening and it was an excellent time to see what other bands were doing. The Latter Rain were very popular and would usually play during the later shifts. They were often the only band who would intersperse cover tunes with their own originals and this assisted the band to gain more popularity than their competitors, especially with the fan base who would follow the band from venue to venue. While the band mostly always played for a fee so that their instruments could be paid off they would also gladly play for free where it was deemed appropriate. After one particular dance one of the patrons asked the band if they would play for the patients and nurses at the local Psychiatric Hospital for a fee of one dollar per tune. In the sixties one dollar was a good deal of money and the band excitedly anticipated playing all night and becoming instantly wealthy. It was already quite late in the evening and after only about five songs the patients began to fall asleep so the evening was cancelled. Excitement soon turned to dejection but such is the life for budding rock stars.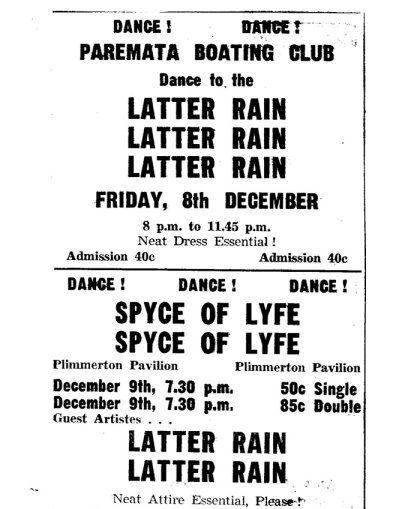 The Latter Rain also had difficulties with the equipment at some of the old village halls, particularly one time at a hall in Paekakariki, where the band regularly blew all the fuses each time they stirred up the tempo leaving the venue constantly in total darkness. The many girls in the audience would youthfully squeal and scream in the dark but it was the boys who had appreciative beaming smiles on their faces once the lights came back on. The band's popularity grew rapidly which was mainly due to the excellent responses they received for their original material. They were one of only a few bands throughout New Zealand who were producing and playing a large number of self-composed tunes. Brian believed that they should have some of their own songs professionally recorded so that they could gain an impression of what their fans were truly hearing. This would provide a good foundation for further advancement. He hired HMV Recording Studios (now EMI) for two nights and secured their most experienced and successful recording engineer, Mr Frank Douglas, to capture their unique sound. The band recorded approximately fourteen songs over the two nights which was probably a production record in its own right. They were so well-rehearsed that almost no changes were made to the tunes at all. They are presented exactly as they would be at any of the Latter Rain's personal appearances. Among the unreleased tracks that were recorded at His Masters Voice Recording Studios (now EMI) in Wellington during 1968 by the esteemed recording engineer Frank Douglas, were "Julie", "62nd Street", "You Look So Beautiful", "You Take Me For A Fool", "Mrs Goofy" and "The Sun Shines In The Valley". The tune "62nd Street" so impressed the management at HMV that they sent their A&R manager, Mr Howard Gable, to offer the band a deal. HMV had a certain song available to them which they believed would win New Zealand's coveted Loxene Golden Disc Award for 1968, and were looking for the right band to record it.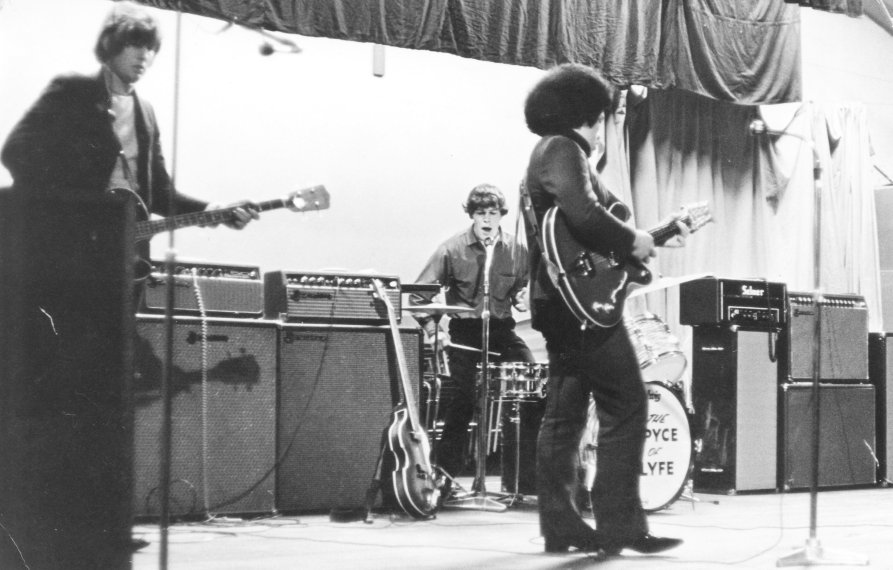 Howard and the band got together at a nearby cafe and he explained HMV's position. He then offered the Latter Rain an opportunity to record the song. This caused enormous excitement for the lads who promptly verbally agreed to participate. Howard returned to his company and advised his management that the Latter Rain would record their highly promising song. HMV personnel then immediately devised a detailed plan which Howard soon presented to the band. Unfortunately, from the band's viewpoint, the plan had one major flaw which would need to be overcome if at all possible. As HMV would be investing a great deal of time and finance in producing and promoting the record, they demanded full rights and insisted that the band turn professional and give up their day work. John was fortunate to be in a position where he could probably agree to the proposal but it was a very different story for Brian, Paul and Kerry. Brian and Kerry were midway through five year apprenticeships and had already achieved some of the requisite trade examinations while Paul held an envied position with a large national banking group. After much discussion and seeking the advice of families and friends, the gut-wrenching and heart-breaking decision was made to turn the HMV offer down.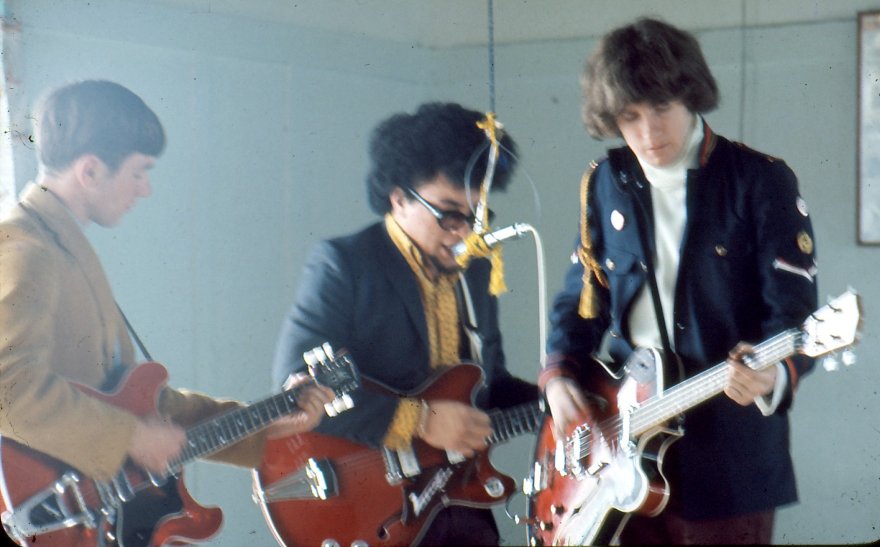 The beliefs and aspirations of the sixties was to "get a trade behind you" or to try to get a job in a bank or with a Government Department where you would be "set-up for life" The boys felt that ultimately this was the advice that they should follow. HMV subsequently sought the services of an alternative band and they enjoyed considerable success. The decision was particularly difficult for John who was personally affected even though he was fully prepared to accept the challenge. This event caused great disappointment within the band and gradually the bond of friendship and enthusiasm was reduced to a point where some members began supporting other local artists. The Latter Rain eventually disbanded, but if the band had simply possessed a little more self-belief as to their musical and song-writing abilities, they would certainly have chosen an alternative path. No doubt their individual decisions still evoke a sad memory amongst their many, many wonderful reminiscences. Long reign the Latter Rain and thankyou for the music.