Tom Bradley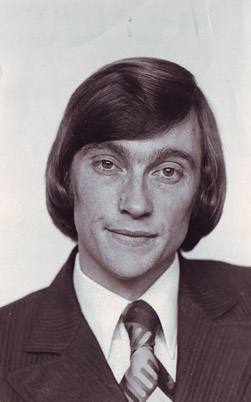 Before he became one of New Zealand's best known newsreaders, Tom Bradley was a teenager starting off in radio. Born in Wellington, and educated at Mana College, he joined Palmerston North station 2ZA as a radio announcer at age 19.
His next port of call was Hamilton's Radio 1ZH, where he also cut his 'baby-teeth' as a television newsreader, presenting short Waikato news breakouts on the Auckland version of Town and Around.
In 1969, he moved to Auckland to become one of the 'good guys' at Radio Hauraki, while it was still a pirate radio station. At Hauraki he indulged his passion for singing, recording one single on the Zodiac label in 1970. He was backed by the Motivation for this recording of "Fly With Me"/"Once Upon A Moment".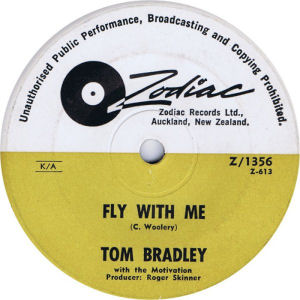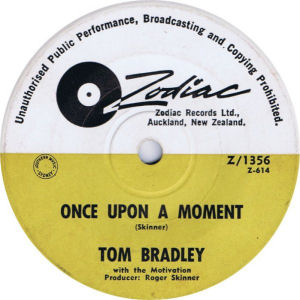 Bradley jetted off to Sydney in early 1970, to try and break into the Australian TV industry. He pitched 'Fly with Me' to Channel Nine and, within a few weeks of hitting town, was singing it on Bandstand, a high-rating music show that had been running since 1958. When he performed the song again for the breakfast show on opposition channel ATN-7 (now Seven Network), he learned that they were looking for an on-screen daytime newsreader, plus an off-screen voice. He auditioned, got the job, and within a couple of weeks of singing on Today, was back on the same show, reading the news while their regular reader was on holiday. Over the next three years at ATN-7, Bradley co-hosted a Saturday morning children's show, worked on their regular Telethons, and sang on variety shows. He also launched a cabaret act around the local nightclub circuit. Bradley, by now with a young family, eventually grew tired of the hectic Sydney lifestyle.
He was offered a job in Wellington radio, and worked for 2ZM and 2ZB while freelancing as a voice-over artist on commercials. But he kept his eyes open for television gigs. In 1974 he got the job hosting religious quiz show Jacob's Ladder, which was produced in Dunedin. He also conducted occasional TV interviews for the Wellington newsroom. When state television was split into two channels in 1975, Bradley did a short period as the continuity announcer for the revamped TV One. But his Australian TV experience made him a target for the new second channel, and he quickly jumped ship and moved north to Auckland.
Bradley soon moved into the primetime spot, teaming up with John Hawkesby to co-host TV2's 6pm news show, First Edition.
By the time he left broadcasting in 1998, Bradley had clocked up over 30 years as a professional broadcaster, either behind a microphone (including narration for a number of promotional films), or in front of a camera.
In the early 90s, Bradley began writing the first of more than 20 children's books, mainly family comedy-dramas and teenage thrillers. He has been published in Australasia and the United States.