1964 Round 2
Pukekohe

Round Two: PUKEKOHE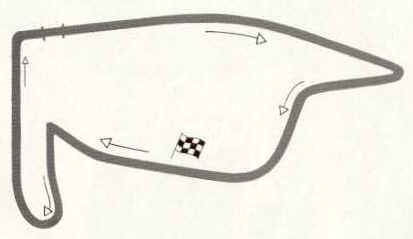 11th New Zealand Grand Prix
Applying the fabled principle of if at first you don't succeed then try, try again, Bruce McLaren, a regular contestant for New Zealand Grand Prix honours, reaped the reward at his eighth attempt in most convincing fashion, to the obvious enjoyment of the smallish and very partisan crowd that ringed the 2.2-mile Pukekohe circuit. Just 4.4 sec behind his lightweight 2.5-litre Cooper- Climax came the other New Zealand international, Denny Hulme (2.5 Brabham-Climax) and next in order were Timmy Mayer (2.5 Cooper-Climax) and John Youl (2.5 Cooper-Climax). First resident New Zealander to finish was Jim Palmer (2.5 Cooper-Climax) in fifth spot, and then came Tony Shelly (2.5 Lotus-Climax). McLaren covered the 110 miles in 74 min 20.7 sec, having taken over the lead after seven on the fifty laps. He was strongly challenged for the next twenty laps by triple Grand Prix winner Jack Brabham (2.5 Brabham-Climax), but the Australian tangled with Shelly in the approach to the Elbow and catapulted out of the race, fortunately without injury. Hulme pressed McLaren hard in the concluding stages but the young Aucklander remained in control of the situation.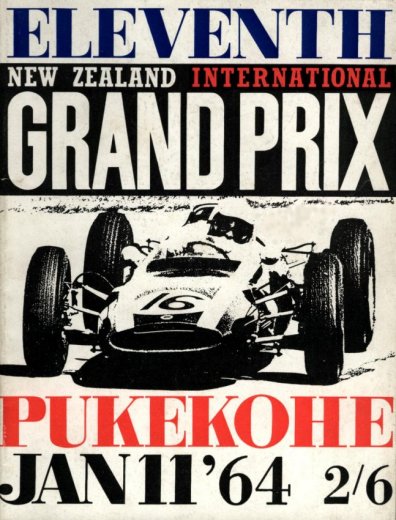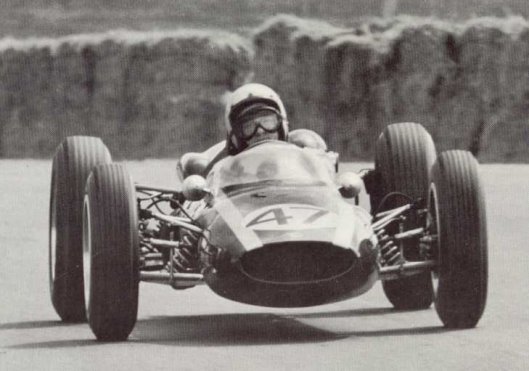 Bruce McLaren (Cooper-Climax T70)

McLaren provided a preview of things to come when in the final training session he lapped in 1 min 25.2 sec to edge Brabham from the top of the list by 0.3 sec. Next in line was the fast Sydney-sider Frank Matich with 1 min 26 sec in a Brabham-Climax built to Tasman Formula specifications and almost identical with Brabham's car. Youl and Hulme were not far behind, in fact, only 6 sec separated the first nine qualifiers.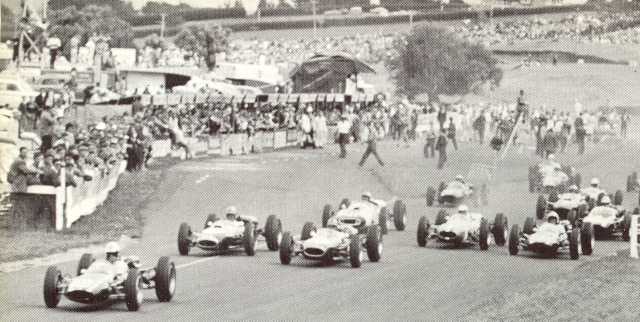 Mayer in the lead just after the start of the 11th NZ Grand Prix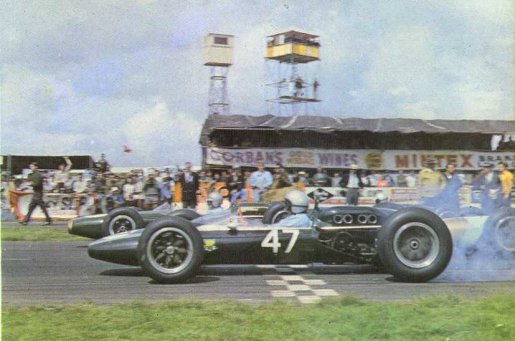 McLaren with too much wheel spin made a slow start

In the first of the morning's 33-mile preliminary heats to determine grid positions for the Grand Prix, McLaren rocketed to the lead and did not relinquish it. Youl ran an easy second. Hulme took Shelly after three laps and came home in third place. Shelly was fourth, followed by Andy Buchanan (1.6 Brabham-Ford) and David Young (1.5 Cooper-Ford). Hulme got in the groove to set a 1 min 26.2 sec lap record in his thirteenth lap.

Brabham dictated the terms in the second heat and was followed in by Matich and Palmer. Mayer's gear lever came adrift during his first lap and after a long stop he managed to finish sixth, two laps behind. Brabham, to show he meant business, put in a lap of 1 min 26.6 sec, but Matich went just 0.2 sec better.

During the heats Thomasen had a rod go through the side of the crankcase in his Cooper and Amon did not get off the line when a hub broke on his Lola. Flowers was also having problems with both his gearbox and distributor.

McLaren and Brabham, old adversaries and seasoned New Zealand Grand Prix campaigners, shared the front row when the field lined up in the afternoon. Behind them were Matich, Mayer and Youl. Then came Hulme, Shelly and Palmer, Rex Flowers, Buchanan and Young in the next row. Levis, Boyd and Sager were next, with Amon and Hollier at the back. Mechanics appeared on the grid to top up the fuel tanks of the McLaren team cars minutes before the start as fuel consumption tests had shown that the slim Coopers would have little left in the final laps.

Mayer flew from the second row to lead Brabham, Matich and Hulme off the grid. McLaren was slow and Shelly stalled his Lotus. But Brabham wasted no time in hitting the front and McLaren picked off a number of rivals in the first hectic lap. Flowers called into the pits at the end of the first lap with ignition problems again and rejoined a lap down. When they moved into the second lap the leaders were Brabham, Mayer, McLaren, Matich, Hulme, Palmer and Youl. Next time round Mayer had given up his place to McLaren and Hulme had taken Matich. There was a gap to Palmer, Amon, Shelly, Buchanan and Roly Levis.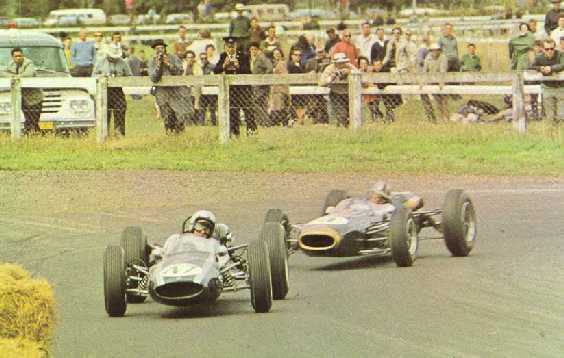 McLaren leading Brabham In three laps Brabham and McLaren, racing nose to tail, drew out three hundred yards from Mayer, Hulme and Matich, who were very close. There was a gap to Palmer and Shelly and then Amon, who had already made a pit stop on lap 3 with brake problems and abandoned completely after two more stops on lap 12. McLaren found the gap he was looking for in the eighth lap and hit the front. Matich, keeping up the Brabham-Climax reputation, took Mayer to be third. The McLaren Cooper now had two Brabhams behind it, with Mayer's Cooper next and then Hulme's Brabham. The Cooper men were properly blanketed. McLaren pulled out all the stops, but Brabham stuck fast. After ten laps 25 sec separated McLaren from sixth man Youl, who was having gear selection troubles. Next were Shelly, Palmer and Buchanan. On the next lap Boyd had a piston blow through the block.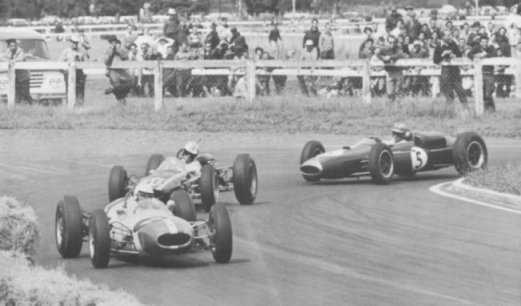 Frank Matich leading Mayer and Hulme

Matich had a go in the thirteenth lap, equaling the morning's record set by Hulme, but Brabham held on just behind McLaren. Then on lap 26, Matich burst his engine and dropped oil at the hairpin. Mayer hit the oil and went off allowing Hulme to immediately take him. Youl was having gear selector problems and doing his best to stay ahead of Palmer and Shelly. The leaders were now lapping the slower cars and Brabham attempted to take Shelly in the approach to the Elbow. Wheels touched and Brabham's car shot into the air, body panels flying in all directions. The Australian was unhurt. Shelly made two stops in the next two laps but was able to finish.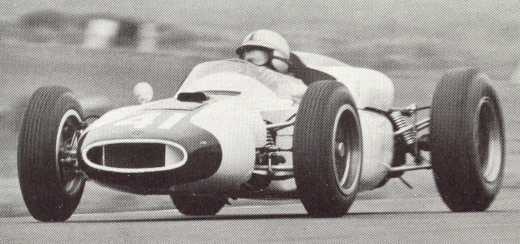 Jim Palmer (Cooper-Climax). First resident New Zealander

Brabham's abrupt departure left McLaren 20 sec ahead of Hulme, who was being harassed by Mayer. Then came Youl, Palmer, Buchanan, Young and Levis. Hulme was really motoring and in ten laps whittled the lead down to 14 sec, but a light shower of rain helped McLaren to keep his distance for the next three laps. The track quickly dried and Hulme once more began to gain, at the rate of 3 sec a lap, as McLaren eased off slightly to conserve his car. He crossed the line only 5 sec ahead of Hulme, followed by Mayer, Youl, Palmer and Shelly, who had driven remarkably well to make up lost ground. It was a Kiwi 1-2 and after 11 years there was finally a New Zealander's name on the trophy.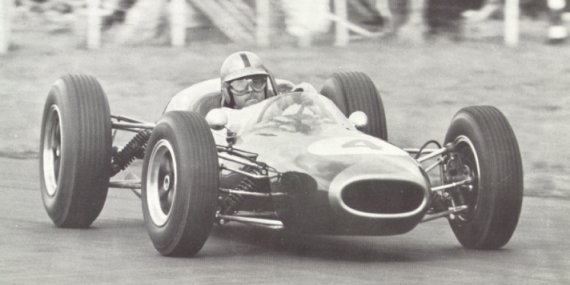 Jack Brabham (Brabham-Climax BT7A)
11th New Zealand Grand Prix
Date: 11th January 1964
Venue: Pukekohe
50 laps of 3.54kms (177kms)
| | | | | | |
| --- | --- | --- | --- | --- | --- |
| Result | Driver | Nat | Car | Laps | Time |
| 1 | Bruce McLaren | NZ | Cooper T70 / Climax 2499cc 4cyl | 50 | 74m 20.7s |
| 2 | Denny Hulme | NZ | Brabham BT4 / Climax 2495cc 4cyl | 50 | 74m 25.1s |
| 3 | Timmy Mayer | US | Cooper T70 / Climax 2499cc 4cyl | 50 | 74m 36.4s |
| 4 | John Youl | Aust | Cooper T55 / Climax 2495cc 4cyl | 50 | 75m 21.6s |
| 5 | Jim Palmer | NZ | Cooper T53 / Climax T45 2495cc 4cyl | 49 | |
| 6 | Tony Shelly | NZ | Lotus 18/21 / Climax 2495cc 4cyl | 48 | |
| 7 | Andy Buchanan | NZ | Brabham BT6 / Ford 1598cc 4cyl | 46 | |
| 8 | David Young | NZ | Cooper T65 / Ford 1473cc 4cyl | 46 | |
| 9 | Roly Levis | NZ | Lotus 22 / Ford 1650cc 4cyl | 45 | |
| 10 | Dene Hollier | NZ | Cooper T52 / Ford 1475cc 4cyl | 43 | |
| 11 | Ken Sager | NZ | Lotus 20 / Ford 1475cc 4cyl | 43 | |
| 12 | Rex Flowers | NZ | Lotus 20B / Ford 1498cc 4cyl | 42 | |
| Ret | Jack Brabham | Aust | Brabham BT7A / Climax 2499cc 4cyl | 28 | Accident |
| Ret | Frank Matich | Aust | Brabham BT7A / Climax 2499cc 4cyl | 26 | Blown Piston |
| Ret | Chris Amon | NZ | Lola T4 / Climax 2495cc 4cyl | 12 | Brake Failure |
| Ret | Jim Boyd | NZ | Valour VP1 / Ford 1098cc 4cyl | 11 | Engine |
| DNS | Bill Thomasen | NZ | Cooper T51 / Climax 1960cc 4cyl | | Engine |
| DNQ | Morrie Smith | NZ | Lola Mk2 / Ford 1475cc 4cyl | | |
Fastest laps: Denny Hulme (in preliminary heat) and Frank Matich (in race) 1 min 26.2 sec 92 mph (record).