1965 Round 1
Pukekohe

Round One: PUKEKOHE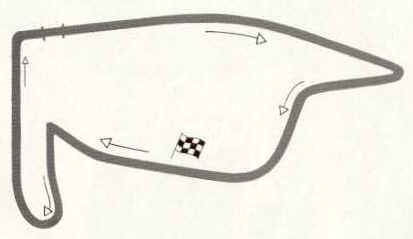 12th New Zealand Grand Prix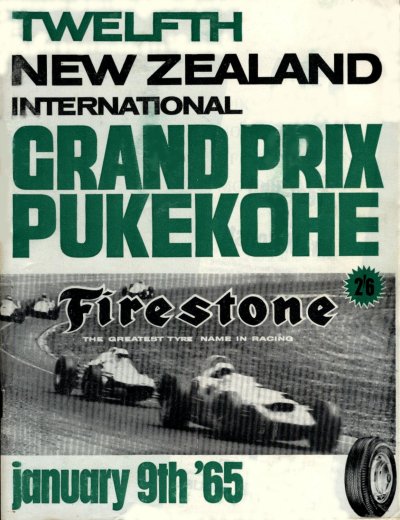 The worth of Jack Brabham as a racing car constructor was convincingly demonstrated when three of his Coventry-Climax engined Tasman Formula cars, driven by Graham Hill, Frank Gardner and Jim Palmer, representing Britain, Australia and New Zealand respectively, emerged triumphant in an incident studded New Zealand Grand Prix at Pukekohe. Hill, driving the Australian entered Scuderia Veloce car, led from lap two to the finish in impeccable style to set a new race record of about 90 mph, while Gardner, the only other to go the full distance, came in 1 min 22.9 sec later. Bereft of a mount after his team leader Bruce McLaren had made an off-course excursion in his 2.5 Cooper-Climax in a preliminary heat, 1961 world champion Phil Hill was among the spectators and was quickly joined by 1963 world champion Jim Clark, whose Lotus-Climax was shunted by McLaren in the second lap. McLaren, the 1964 GP winner, completed a disconsolate trio when his gearbox packed up in lap thirteen. With his major adversaries out, Hill romped away with the race, but at unabated pace. He put in his 47th lap in 1 min 26.3 sec, a mere 0.1 sec outside the lap record jointly set by Frank Matich and Denny Hulme in 1964.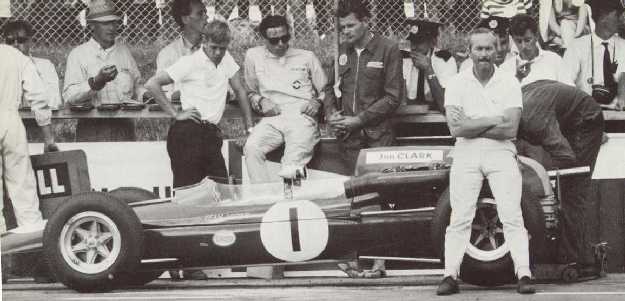 Clark relaxes after being shunted out of the GP. Colin Chapman sitting on the rear wheel.

Jim Clark was entered by Colin Chapman in a special Lotus 32 based on a F2 27/32 monocoque but with a spaceframe rear to house the Climax FPF, which left the whole car only 8 cm longer than the F2 version. The engine in Clark's Lotus was, in fact, a reduced 2.7 bought from Innes Ireland and this was mated to a ZF gearbox.

Fresh in from South Africa, the overseas contingent started training three days before the race. A significant feature was the presence of VIP tyre people. Nursing Bruce McLaren Motor Racing was Firestone's Bob Martin in colourful Indianapolis rig, while Goodyear men were watching the interests of the yellow Brabham, entered by Australian Alec Mildren for Gardner to drive. Local Dunlop people were anxiously awaiting the arrival of Vic Barlow, who had made a hurried trip from London with the new Dunlop 'yellow spots' in his baggage for the Scuderia Veloce Brabham.

When they got down to work, it was Graham Hill who made the most of it, ultimately lapping in 1 min 25 sec, or 0.2 sec better than McLaren's fastest training lap in 1964. Clark, under the supervision of Colin Chapman, managed 1 min 25.5 sec after some early gear selection and carburetion troubles, while McLaren, using Phil Hill's car, was only 0.1 sec slower. The McLaren equipe was having problems, as the Coopers had been designed for 13 inch wheels rather than the 15 inch wheels required for the American tyres. Time-keeping did not make everyone happy, but it appeared that Gardner, Phil Hill and Palmer were next fastest, followed by Kerry Grant (2.5 Brabham-Climax). A broken crankshaft was discovered in Grant's car on the eve of the race so he had to race the Lesco Racing's 1.5 Lotus-Ford instead

About 27,000 people saw the preliminary heats. In the first 12-lapper main interest centred on Clark, McLaren, Gardner, Lex Davison (2.5 Brabham-Climax) and Palmer. Within seconds the oil warning flags were out all round the circuit. Gardner was first to go at the Elbow. More spectacular was the departure of ex-motor-cyclist Bryan Thomas on an oil patch in the Esses. Two laps later McLaren went at the same spot, striking an ambulance and finishing up unhurt in a water-filled ditch. His car was too badly damaged to start in the grand prix. Clark won as he liked from Davison, Palmer, John Riley (2.5 Lotus-Climax), Leo Geoghegan (Lotus-Ford 32) and Andy Buchanan (1.5 Lotus-Ford) in 17 min 50.2 sec.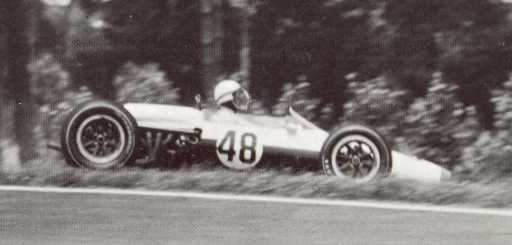 Phil Hill going off during practice. Frank Gardner (Brabham-Climax). For the first lap of the second heat Phil Hill led Graham Hill, but he did not look happy, and the Londoner surged to the front to win in a slow 19 min 2.4 sec from Phil Hill, Red Dawson (2.5 Cooper-Climax), Roly Levis (1.5 Brabham-Ford), Bruce Abernethy (2.5 Cooper-Climax) and Kerry Grant (1.5 Lotus-Ford). Phil Hill surrendered his car to McLaren so the crowd's idol would be seen in the grand prix.

The three-two-three grid formation for the GP was G. Hill, Clark, Davison; McLaren, Palmer; Abernethy, Levis, Riley; Dawson, Geoghegan; Grant, Buchanan, Glass; Hollier, Flowers; Smith, Thomasen, Stone; and at the back Gardner.

There was trouble from flag-fall. Abernethy shunted Levis, spinning his Lotus off the track, and finished up broadside-on in the face of a howling pack that somehow avoided the Cooper. Abernethy lost nearly a lap, while hurried repairs delayed Levis for an even further five laps.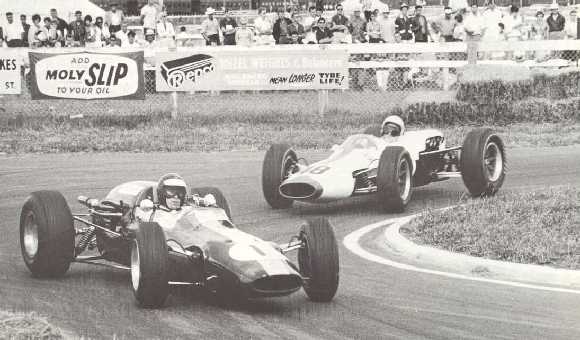 Clark leading McLaren into the Elbow just after the start.

In the meantime Clark, going like the wind, led McLaren, Davison, Graham Hill, Riley and Gardner. In the second lap McLaren attempted to take Clark, under braking for the hairpin at the end of the back straight. The Cooper clipped the green and yellow Lotus and put it out of the race with damaged suspension. Hill came round in first spot with Davison, Palmer and McLaren following. Two laps later McLaren, running second, made a bid to move in on Hill, closing the gap to 4 sec. But by the 14th lap he was out with gearbox failure. At the end of lap 2 Glass pitted to have his suspension looked at. Palmer got a bump from Riley in the back at the elbow on the next lap and was without fourth gear from that point on.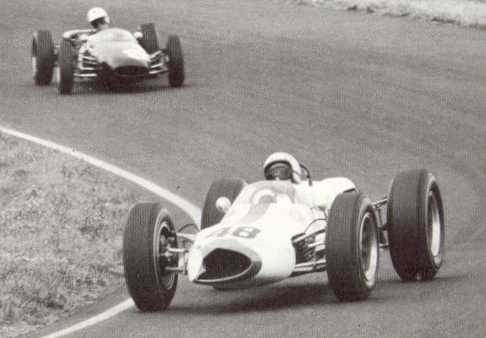 McLaren, showing evidence of his shunt with Clark. Andy

Buchanan (

Brabham

) in rear. Davison could make no impression on Hill and had Palmer and Gardner at his rear wheels. This trio had drawn well clear of Riley and his followers. With eighteen laps completed, Davison made the first of a series of stops to remedy overheating and Gardner took advantage of the situation to pass Palmer. Davidson pitted again on lap 28 for a water top-up while two laps later Smith came in with fuel pick-up problems. Geoghegan pushed the Lotus ahead of Thomasen's now rather sick sounding Brabham. Abernethy's splendid drive came to an end on lap 32 when the gearbox gave out. Davison finally called it a day on the next lap.

The race became a procession with Hill well in front, circulating steadily in about 1 min 28 sec. By half-way he had 30 sec in hand. Palmer was having gear selection trouble and wisely decided to try and hold on to his third place. With ten laps left, Hill had a minute on Gardner, who was 9 sec ahead of Palmer. The rest had been lapped several times by the two leading cars. Hill could have reduced speed safely, but evidently he and manager David McKay were anxious to finish the business as quickly as possible, for Graham kept his foot down to take the flag with second man Gardner within his sights. In another lap or two the winner would have doubled the Australian also. Palmer repeated his 1963 GP performance by taking third place.

Race winner Graham Hill (Brabham-Climax).
12th New Zealand Grand Prix
Date: 9th January 1965
Venue: Pukekohe
50 laps of 3.54kms (177kms)
| | | | | | |
| --- | --- | --- | --- | --- | --- |
| Result | Driver | Nat | Car | Laps | Time |
| 1 | Graham Hill | UK | Brabham BT11A / Climax 2499cc 4cyl | 50 | 73m 43.4s |
| 2 | Frank Gardner | Aust | Brabham BT11A / Climax 2499cc 4cyl | 50 | 75m 6.3s |
| 3 | Jim Palmer | NZ | Brabham BT7A / Climax 2499cc 4cyl | 49 | |
| 4 | John Riley | NZ | Lotus 18/21 / Climax 2495cc 4cyl | 47 | |
| 5 | Rex Flowers | NZ | Lola T4 / Climax 2499cc 4cyl | 47 | |
| 6 | Leo Geoghegan | Aust | Lotus 32 / Ford 1498cc 4cyl | 47 | |
| 7 | Andy Buchanan | NZ | Brabham BT6 / Ford 1498cc 4cyl | 46 | |
| 8 | Red Dawson | NZ | Cooper T53 / Climax 2495cc 4cyl | 46 | |
| 9 | Kerry Grant | NZ | Lotus 22 / Ford 1495cc 4cyl | 46 | |
| 10 | Bill Thomasen | NZ | Brabham BT4 / Climax 2495cc 4cyl | 45 | |
| 11 | Dene Hollier | NZ | Lotus 20B / Ford 1498cc 4cyl | 45 | |
| 12 | Ken Smith | NZ | Lotus 22 / Ford 1475cc 4cyl | 41 | |
| 13 | Roly Levis | NZ | Brabham BT6 / Ford 1495cc 4cyl | 40 | |
| 14 | Bill Stone | NZ | Cooper T52 / Ford 1498cc 4cyl | 39 | |
| Ret | Lex Davison | Aust | Brabham BT4 / Climax 2495cc 4cyl | 33 | Overheating |
| Ret | Bruce Abernethy | NZ | Cooper T66 / Climax 2495cc 4cyl | 32 | Gearbox |
| Ret | Bruce McLaren | NZ | Cooper T70 / Climax 2499cc 4cyl | 13 | Gearbox |
| Ret | Arnold Glass | Aust | Cooper T51 / Climax 2495cc 4cyl | 3 | Suspension |
| Ret | Jim Clark | Scot | Lotus 32B / Climax 2499cc 4cyl | 2 | Suspension |
| DNS | Phil Hill | US | Cooper T70 / Climax 2499cc 4cyl | | McLaren drove |
| DNS | Bryan Thomas | NZ | Lotus 27 / Ford 1498cc 4cyl | | Accident |
Fastest lap: Graham Hill, 1 min 26.3 sec.