1966 Round 1
Pukekohe

Round One: PUKEKOHE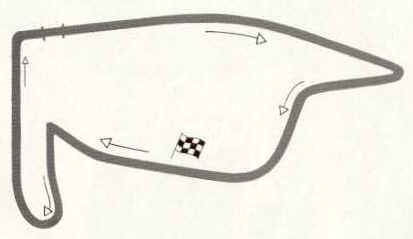 13th New Zealand Grand Prix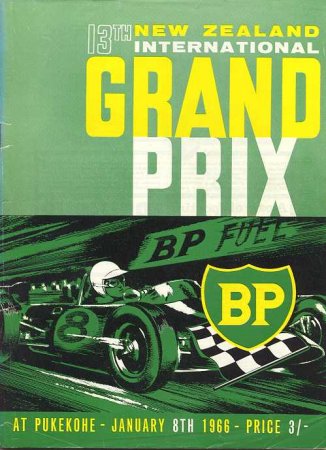 Graham Hill completed a notable double in the New Zealand Grand Prix, asserting his authority in the first lap and going on to win very much as he liked. In 1965 Hill won with the Scuderia Veloce 2.5 Brabham-Climax. This year he was in the 1916cc 'works' BRM and was trailed home by his Scottish team-mate Jackie Stewart 1.5 sec behind. Shortened from just over 100 miles to 84 miles, the race was cut out at a comparatively slow average speed of about 80 mph, compared with 90 mph in 1965, but Hill did have the satisfaction of setting a new lap record of 1 min 25.7 sec, just 0.5 sec inside the 1964 record held jointly by Frank Matich and Denny Hulme. The BRM men finished ahead of Jim Palmer and Dennis Marwood, who were third and fourth. Fifth and sixth were Australian Leo Geoghegan and Ken Sager who both completed 39 of the 40 laps. A fateful start ended the chances of Jim Clark, Frank Gardner and Andy Buchanan. Clark stripped first gear at flagfall and Buchanan in the third row initiated a telescopic collision which eliminated himself and Gardner. Clark, push-started, chased the field for six laps then retired with a sick gearbox.
This year there was only one day of practice before the race, in weather that ranged from sunshine to torrential rain. This year there were to be no heats for the Grand Prix so that practice times really meant something. The lack of training time caused some discontent, particularly among the overseas visitors. Clark was one of the first out to sample the new Firestone tyres on the Lotus. It was not long before he produced his best time of the day, 1 min 25.5 sec.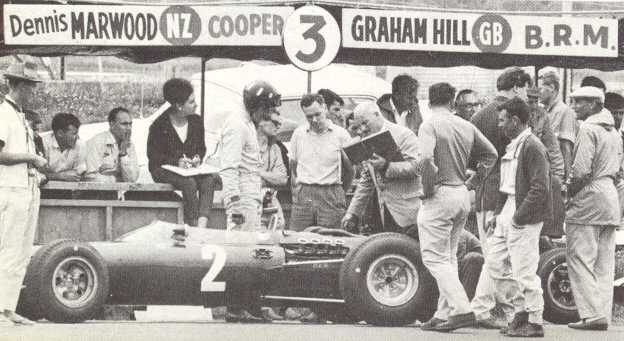 The Hill pit, a far cry from today's scene.

Hill and Stewart warmed to their work fairly quickly. Hill finally came out on top with 1 min 25.2 sec to gain pole position, and also equal the unofficial lap record set by Bruce McLaren in 1964 in a 2.5 Cooper-Climax.

When the qualifying times were posted after the two half-hour training sessions, it was found that Scuderia Veloce's Spencer Martin was second quickest with 1 min 26.3 sec, and 0.1 sec better than Stewart. That made the Grand Prix front row Hill, Clark and Martin. Stewart was on the next row with Palmer (1 min 26.8 sec). Third row was Marwood (1 min 29.8 sec). Surprisingly, Gardner, second in the 1965 GP, could do no better than 1 min 29.9, while fellow-Australian Geoghegan managed a good 1 min 30 sec with the small Lotus-Ford. The next row was Dawson and Lawrence; then Riley, Buchanan and Sager; Smith and Whittaker; Hollier, Levis and Stone; and Thackwell at the rear.

A crowd of about 35,000 gathered under a leaden sky to see the start of the big race. Dark clouds did not deter Clark from deciding to run on the 'dry' Firestones. Both Hill and Stewart were on all-weather Dunlop R7s. The field was depleted by two as Bill Caldwell and Brian Innes (1.5 Brabham-Ford and 1.5 Lotus-Ford) had tangled in the earlier 1.5-litre event, fortunately without serious consequences.

With less than half a minute to go, the first drops of rain came down and when the flag fell the bottom really dropped out of the bucket. Martin made the best of the start with Hill fractionally slower. Clark had stripped first gear and tried to warn everyone by raising both hands high in the air. Gardner got the message and swerved to get around the stricken Lotus but tangled with Buchanan in the process. These two Brabhams were out of the contest and the rest were well on their way by the time Clark was pushed away.





The start with Clark's arm raised. The aftermath with Gardner being removed and Clark being push started. Once the field had negotiated the Elbow, Stewart was tucked in behind Hill, having passed Palmer, and the two BRM men set off after Martin's red Brabham. On the approach to Railway Bend, Martin came unstuck, hitting the embankment and damaging his radiator, although he managed to run the length of the straight before abandoning. Hill and Stewart were off on their own. At the end of the first lap, the BRM's were almost on top of each other, with Palmer not far behind. Then there was a fair gap to Marwood and another to John Riley, Geoghegan, Sager and Roly Levis. Hill soon summed up the situation. He got cracking in the second lap to set the new lap record (92.8 mph) but Stewart stayed with him. The sudden spurt left Palmer very much on his own in third place with Marwood, running fourth, also a 'loner'. In the next group, Levis took advantage of spins by Red Dawson and Geoghegan in the fourth lap to move into fifth place, the position he held until he also spun in the dying stages of the race.

After six laps Clark pitted amid a flurry of mechanics and deliberately removed his helmet and gloves, his GP over again in similar fashion to his 1965 race when he was shunted out in his second lap. Also out was Stone, who had collected a fence post at the hairpin. Lawrence also stopped with clutch problems.

With ten laps gone, Hill and Stewart were averaging 85 mph and hitting 150 mph on the back straight. They were about 20 sec clear of Palmer who had a similar advantage over Marwood. Then down came the rain again. Lap times for the 2.2-mile circuit immediately dropped 10 sec to about 1-37 for the leading pair, while the remainder slipped back even farther. The BRM's were now getting among the slower cars. They doubled Marwood in lap sixteen and Palmer's turn came three laps later. Smith had a spin on lap 12, but managed to get going again. Geoghegan stopped to change his goggles for a visor to try and improve his visibility in the rain.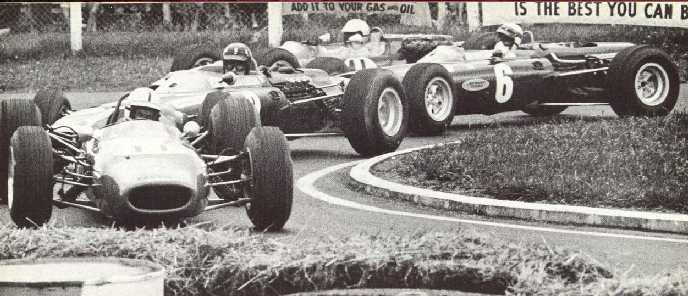 First corner with Martin leading from Hill, Stewart and Palmer.
The rain ceased shortly after Hill and Stewart had covered half the distance and by then the BRM's were out on their own. On lap 21 Riley went out with electrical problems
Back in the ruck, Geoghegan and Sager began to make up some of their lost ground, but it was not until Levis spun out in the Loop in the thirty-first lap that they made fifth and sixth spots, Sager being in front at the time. Three laps later Geoghegan took him.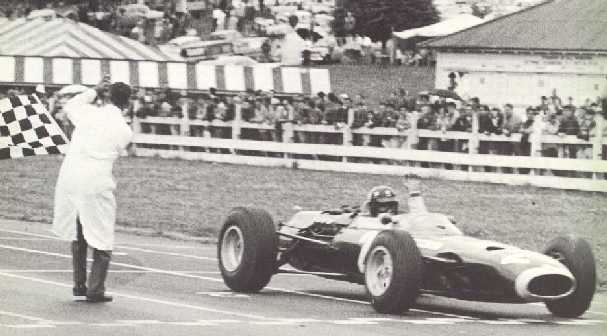 Hill acknowledges the flag for the second successive year.

In the final five laps on the now dry track Stewart gave the appearance of trying to take Hill as he took fractions of a second off each time round, but Hill held on with confidence to win by 1.5 sec in what was, in the best sense of the words, a grandstand finish. Marwood's drive was outstanding, considering that it was only his fifth time in a single seater and his first ever international. He finished fourth and on the same lap as the leaders.

13th New Zealand Grand Prix

Date: 8th January 1966
Venue: Pukekohe

40 laps of 3.54kms (141.61kms)
| | | | | | |
| --- | --- | --- | --- | --- | --- |
| Result | Driver | Nat | Car | Laps | Time |
| 1 | Graham Hill | UK | BRM P261 / BRM 1916cc V8 | 40 | 62m 56.5s |
| 2 | Jackie Stewart | Scot | BRM P261 / BRM 1916cc V8 | 40 | 62m 58.0s |
| 3 | Jim Palmer | NZ | Lotus 32B / Climax 2495cc 4cyl | 40 | 63m 10.3s |
| 4 | Dennis Marwood | NZ | Cooper T66 / Climax 2495cc 4cyl | 40 | 63m 54.0s |
| 5 | Leo Geoghegan | Aust | Lotus 32 / Ford 1498cc 4cyl | 39 | |
| 6 | Ken Sager | NZ | Brabham BT6 / Ford 1498cc 4cyl | 39 | |
| 7 | Red Dawson | NZ | Brabham BT7A / Climax 2499cc 4cyl | 39 | |
| 8 | Roly Levis | NZ | Brabham BT6 / Ford 1498cc 4cyl | 39 | |
| 9 | Dene Hollier | NZ | Lotus 20B / Ford 1498cc 4cyl | 38 | |
| 10 | Neil Whittaker | NZ | Brabham BT4 / Climax 2495cc 4cyl | 38 | |
| 11 | Ray Thackwell | NZ | Brabham BT6 / Ford 1498cc 4cyl | 36 | |
| 12 | Ken Smith | NZ | Lotus 22 / Ford 1498cc 4cyl | 36 | |
| Ret | John Riley | NZ | Lotus 18/21 / Climax 2495cc 4cyl | 21 | Electrical |
| Ret | Bill Stone | NZ | Cooper T52 / Ford 1498cc 4cyl | 7 | Accident |
| Ret | Graeme Lawrence | NZ | Brabham BT6 / Ford 1498cc 4cyl | 7 | Clutch |
| Ret | Jim Clark | Scot | Lotus 39 / Climax 2495cc 4cyl | 7 | Gearbox |
| Ret | Spencer Martin | Aust | Brabham BT11A / Climax 2499cc 4cyl | 0 | Accident |
| Ret | Frank Gardner | Aust | Brabham BT11A / Climax 2499cc 4cyl | 0 | Accident |
| Ret | Andy Buchanan | NZ | Brabham BT7A / Climax 2499cc 4cyl | 0 | Accident |
| DNS | Bill Caldwell | NZ | Brabham BT6 / Ford 1498cc 4cyl | | |
| DNS | Brian Innes | NZ | Lotus 22 / Ford 1498cc 4cyl | | |
Fastest lap: Graham Hill, 1 min 25.7 sec.