1966 Round 2
Levin

Round Two: LEVIN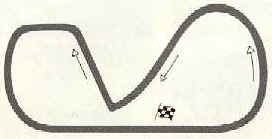 7th Levin International

The 1966 Levin Gold Leaf International Trophy will surely be remembered by Australian Frank Gardner as the race he should have won. With the Alec Mildren 2.5 Brabham-Climax he set a lap record 2.1 sec better than that of Jim Clark in 1965 and towed the field along for twenty-six of the twenty-eight laps, only to abandon with transmission failure and see Richard Attwood come home a surprised winner in the 1916cc BRM not much more than a second later. Attwood's race average was a record 79.65 mph and, indeed, the first six home all went comfortably inside Clark's 24 min 5.9 sec race record of 1965, Attwood's winning time being 23 min 12 sec. In second spot, 12.1 sec in arrears, was Clark himself in the 2.5 Lotus-Climax. Third was Spencer Martin, 11 sec behind Clark, and fourth was Roly Levis, a mere 0.7 sec later. Jim Palmer at fifth lost his monopoly on being first resident driver home, and sixth was Red Dawson. A record crowd of 23,000 saw these six go the full distance while Dennis Marwood and Andy Buchanan were flagged off a lap short. Besides Gardner another notable retirement was that of Jackie Stewart, who spun his BRM at Pit Bend in the seventh lap while running second and then dropped out in lap ten with gear selection bothers.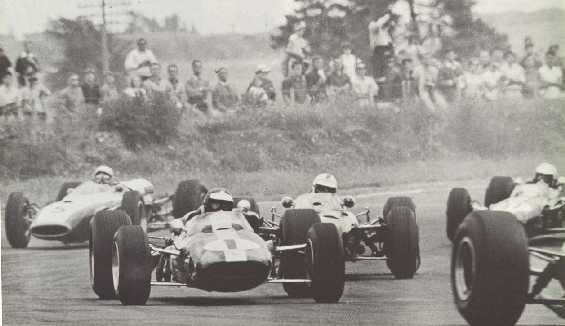 Clark (Lotus-Climax) notched up his only placing in NZ at Levin. Practice began on the afternoon before the meeting, the BRM drivers Stewart and Attwood quickly acquainting themselves with the pitfalls of the short, tight circuit. It proved as bumpy as usual except for the fast sweep out of the straight, which had been resealed. Clark struck trouble early on when a rear radius arm snapped. Fortunately he was traveling fairly slowly and although he ran out of road he was able to stop the Lotus without too much drama. This ended Clark's practice, his best lap having been a sluggish 51.2 sec.

Stewart was soon in the Levin groove and notched fastest qualifying lap with 49.2 sec. Next were Gardner (49.6 sec), Martin (50.1 sec), Attwood (50.4 sec), Dawson (51 sec), Palmer (51.2 sec, the same as Clark), Buchanan (52.3 sec) and Marwood (52.4 sec).

As usual at Levin, grid positions for the feature race were determined by the fastest laps put in by entrants in the two eight-lap preliminaries held in the morning. The field for the first heat lined up in brilliant sunshine (which lasted through-out the day). It comprised all the 1.5-litre cars as well as a sprinkling of elderly 2.5s, the grid positions being allocated on the basis of the practice times. Levis had not practiced and could have been at a disadvantage, but by lap two he had moved up to second place behind Graeme Lawrence and he hit the front in lap five to come home the winner in 6 min 56.5 sec, ahead of Lawrence who limped in with a damaged crown-wheel and packed up for the day. Third was John Riley who failed to qualify for a starting place in the feature event.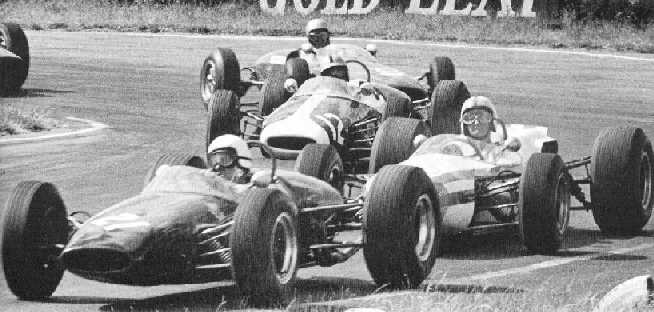 Roly Levis followed by Red Dawson, Ken Sager and Dene Hollier. Gardner promptly gave notice of his intentions by scuttling to the front from flagfall in the second heat and held off Stewart and Martin quite comfortably. Clark and Attwood were in the ruck, but at the end of four laps had moved up to be fourth and fifth. Then Clark came unstuck at Cabbage Tree Corner and that let Attwood into fourth place. Clark finished a lap in arrears. Gardner's race time was 6 min 35.3 sec and he set a new lap record of 48.3 sec to earn pole position.

On the front row of the grid with Gardner were Stewart (48.5 sec) and Clark (49 sec) outside him. The second row was Attwood (49.4 sec), Martin (49.5 sec) and Levis (50 sec). Dawson (50.6 sec) was first in the third row with Marwood and Palmer (51 sec each). Next saw Hollier, Sager and Thackwell, with Caldwell, Buchanan and Smith at the rear. Neil Whittaker (2.5 Brabham-Climax) failed to qualify.

There were fifteen starters for the big event, the maximum for Levin. They did the warm-up lap and before anyone had time to do more than draw breath the pack was off with Gardner in the yellow-nosed Brabham out-dragging Stewart, Clark, Attwood and Martin into the long left-hander through to Cabbage Tree Corner with Levis, Palmer and Dawson next in line.

Gardner completed the first lap about three lengths clear of Stewart. Thackwell retired with a broken half-shaft on lap 2. At the end of three laps, Stewart was right on Gardner's rear wheels and Attwood had taken Clark to be in third position. A lap later Gardner and Stewart were wheel-to-wheel and two hundred yards ahead of Attwood while Martin was in the process of taking Clark.

The next change in the pattern came in lap seven when Stewart, who had been trying hard to head Gardner, spun on the bend by the pits. Attwood took second place some three hundred yards behind the leader, with Stewart next and Clark and Martin neck-and-neck.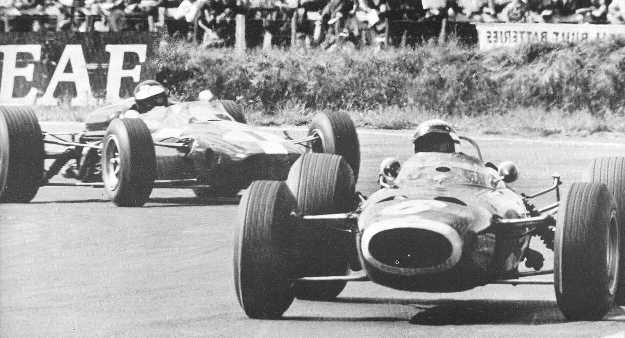 Stewart with Clark close behind.

The leaders began lapping the tail-enders, but Stewart's race was almost over. As Gardner, Attwood and Clark came round at the end of the eleventh lap, there was no sign of the second BRM. Stewart had retired with gear selection problems. Martin, Levis, Palmer, Dawson, who was going great guns, Marwood and Buchanan comprised the order. Gardner made lap fifteen the fastest of the day and the new record 47.8 sec. He motored on, well in the lead, and it looked as if nothing could stop him. Behind him Attwood now had 11 sec over Clark, then came Martin, seemingly content at fourth, with Levis comfortably holding off Palmer, while Buchanan and Marwood were nearly a lap back. Hollier stopped with an oil leak on lap 13.

At the end of the twenty-sixth lap Gardner began to slow appreciably and Attwood overhauled him before he came to a stop on the back of the circuit with transmission failure. Before the customers quite realized it, Attwood shot round to take the victory flag, followed by Clark, Martin, who was closely attended now by Levis, and Palmer and Dawson next. Attwood received Levin's traditional enthusiastic reception but Gardner, who had set such a cracking pace, had all the sympathy of the crowd.

Race winner Attwood (BRM).
7th Levin International
Date: 15th January 1966
Venue: Levin
28 laps of 1.77kms (49.56kms)
| | | | | | |
| --- | --- | --- | --- | --- | --- |
| Result | Driver | Nat | Car | Laps | Time |
| 1 | Richard Attwood | UK | BRM P261 / BRM 1916cc V8 | 28 | 23m 12.0s |
| 2 | Jim Clark | Scot | Lotus 39 / Climax 2495cc 4cyl | 28 | 23m 24.1s |
| 3 | Spencer Martin | Aust | Brabham BT11A / Climax 2499cc 4cyl | 28 | 23m 33.1s |
| 4 | Roly Levis | NZ | Brabham BT6 / Ford 1498cc 4cyl | 28 | 23m 35.8s |
| 5 | Jim Palmer | NZ | Lotus 32B / Climax 2495cc 4cyl | 28 | 23m 42.7s |
| 6 | Red Dawson | NZ | Brabham BT7A / Climax 2499cc 4cyl | 28 | 23m 48.0s |
| 7 | Dennis Marwood | NZ | Cooper T66 / Climax 2495cc 4cyl | 27 | |
| 8 | Ken Sager | NZ | Brabham BT6 / Ford 1498cc 4cyl | 27 | |
| 9 | Andy Buchanan | NZ | Brabham BT7A / Climax 2499cc 4cyl | 27 | |
| 10 | Ken Smith | NZ | Lotus 22 / Ford 1498cc 4cyl | 27 | |
| Ret | Bill Caldwell | NZ | Brabham BT6 / Ford 1498cc 4cyl | 26 | |
| Ret | Frank Gardner | Aust | Brabham BT11A / Climax 2499cc 4cyl | 26 | Transmission |
| Ret | Dene Hollier | NZ | Lotus 20B / Ford 1498cc 4cyl | 13 | Oil Leak |
| Ret | Jackie Stewart | Scot | BRM P261 / BRM 1916cc V8 | 9 | Gearbox |
| Ret | Ray Thackwell | NZ | Brabham BT6 / Ford 1498cc 4cyl | 1 | Half-Shaft |
| DNS | Graeme Lawrence | NZ | Brabham BT6 / Ford 1498cc 4cyl | | |
| DNQ | Neil Whittaker | NZ | Brabham BT4 / Climax 2495cc 4cyl | | |
| DNQ | John Riley | NZ | Lotus 18/21 / Climax 2495cc 4cyl | | |
Fastest lap: Frank Gardner 47.8 sec (record).