1966 Round 3
Wigram

Round Three: WIGRAM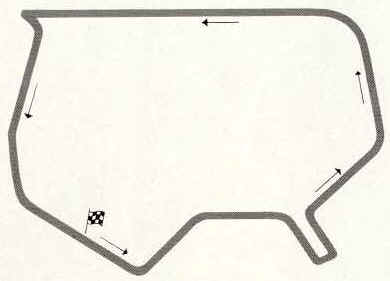 15th Lady Wigram Trophy

It was BRM one and two, with race and lap records for Jackie Stewart and second place for Richard Attwood in the Lady Wigram Trophy after a fourth lap shunt involving Jim Clark and Frank Gardner had taken most of the sting out of the race. From that dramatic moment the drivers of the 1916cc V8s from Bourne had things all their own way. The BRMs' most formidable rivals were eliminated when Gardner's brakeless 2.5 Brabham-Climax struck the rear of Clark's 2.5 Lotus-Climax as he was turning the hairpin at the end of the fast back straight. Neither driver was hurt but both cars were damaged. As the pair trudged unhappily back to the paddock Stewart, with Attwood some distance behind, peeled off the laps with clockwork precision to set a race record of 63 min 44.1 sec, an improvement of 35.2 sec on the 1965 record set by Clark. The new lap record came early in the piece, the third, when Stewart had Clark at his heels and went round in 1 min 25 sec or 97.41 mph, cutting 0.9 sec from the 1965 time set jointly by Clark and McLaren. Next were Jim Palmer and Spencer Martin. Fifth and sixth places went to Andy Buchanan and Dennis Marwood.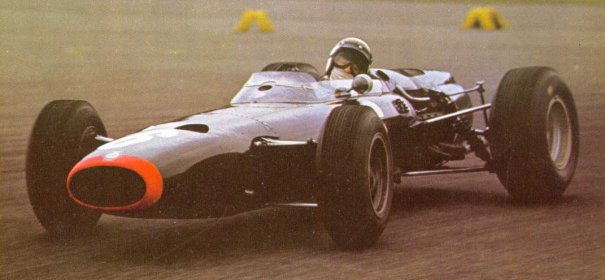 Jackie Stewart (BRM). Clark's run of New Zealand misfortunes continued through the practice runs on the day before the race. One of the first out, he was soon back in the pits with an oil-coated engine. Repairs were made and he twice went out again, only to return almost straight away. Most of his day was spent on an engine change and late in the afternoon he put in a few desultory laps around 1 min 27 sec. Martin, also in trouble, made but a brief appearance.

Stewart and Attwood, however, were soon rolling round the 2.3-mile circuit at speeds close to the lap record despite the fact that this was their first acquaintance with Wigram. There was much experimentation with roll bars and tyre pressures in the BRM camp but they had things well sorted by the time official qualifying runs were held and Stewart recorded a sizzling best of 1 min 23.9 sec or 98.8 mph. Gardner turned out second fastest with 1 min 25 sec. Then came Attwood (1 min 25.1 sec), Palmer (1 min 26 sec), Red Dawson (1 min 27.9 sec), Marwood (1 min 28.7 sec) and Buchanan (1 min 29.5 sec). The 1.5-litre cars were all in the 1-30s.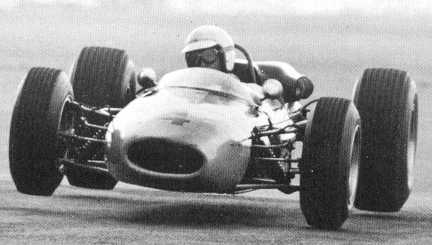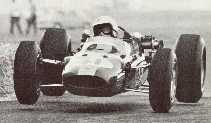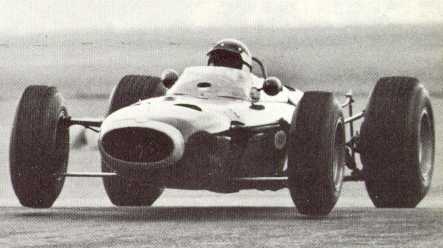 Gardner, Palmer and Stewart all negotiating the bump at the entrance to the loop. Grid positions for the Lady Wigram Trophy are determined in two 25-mile heats, places being allocated on the basis of individual race times. There were puddles on the track after overnight rain and light showers were falling when the first heat started on race day. Attwood romped home with Clark and Martin some distance behind and Buchanan and Dawson next. Attwood's time for the eleven laps was 16 min 45.6 sec. Clark finished 28.2 sec behind him, with Martin within 1.7 sec of the world champion. The second heat was another BRM walkover, Stewart cutting out the race in 16 min 43.1 sec. Gardner, Palmer, Marwood and Levis ran most of the race in that order behind him. The Australian finished 23.9 sec back, with another 18.4 sec to Palmer.

When the eighteen starters lined up for the trophy race in the afternoon the track was dry, the day warm and humid. The front row comprised Stewart, Attwood, Gardner and Clark, while Martin, Palmer and Buchanan shared the second row, and Dawson and Marwood with the 1.5 Brabham-Ford drivers Roly Levis and Graeme Lawrence were in the next. They were followed by Sager, Riley and Gillum with the last row having Hollier, Thackwell, Caldwell and Rhodes.




Jim Palmer in the ex-Clark Lotus lead Stewart (right) and Gardner (left)
through the first turn after the start. Stewart made a slow beginning but narrowly led Clark, Attwood, Gardner, Martin, Palmer, Buchanan, Dawson, Levis and Marwood through Bomb-Bay Bend into the back straight, after Palmer had initially led through the first corner. The Scottish BRM driver returned 1 min 30 sec for the standing lap. He had Clark to his tail, with a moderate gap to Attwood and Gardner and a longer one to Martin and the rest. Lawrence trickled into the pits for the first of a series of stops that led eventually to his withdrawal with a broken clutch.

Clark applied some 'hurry-up' in the second lap which carried Stewart and himself into a 100-yard lead over Attwood and the slipstreaming Gardner. Clark looked really with it for the first time in the international series.

As they approached the hairpin at the end of the straight in lap four, Gardner, still in Attwood's slipstream, braked at the 200-yard marker only to find to his consternation there was no one at home. At once he moved out alongside Attwood with just a little retardation coming from his rear wheels which were locking up. It looked as though Gardner would reach the escape road but Clark, still in his turn, was in the Australian's path. The Brabham clouted the Lotus and both cars spun to the grass. Attwood somehow missed them and moved to second though quite some distance behind Stewart.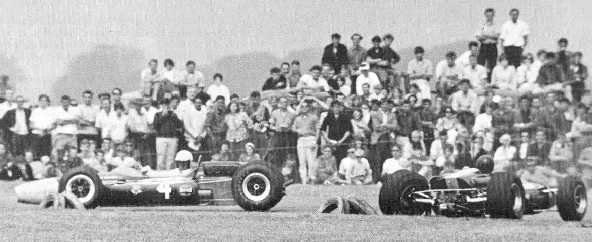 Gardner and Clark after their tangle at the Hairpin. The race was over bar the shouting. Once Stewart had been apprised of developments he settled down to lap steadily at around 1 min 27 sec and gradually drew farther away from Attwood, who was comfortably in second place, clear of Martin who had Palmer on his tail. There was a considerable gap to Buchanan who was having a ding-dong battle with Dawson, and another to Marwood who had Levis in the first of the 1.5 cars for company.

Stewart completed his eighth lap and began to double the tail-enders, while Ken Sager pitted his Brabham-Ford with a suspected blown head gasket. He made two more calls and then retired for good. With fifteen laps gone Stewart led Attwood by 8.5 sec with 17.5 sec back to Martin and another 5 sec to Palmer. Seven laps later Buchanan was relieved of competition from Dawson who stopped to take on water. He returned to the fray but dropped out after thirty two laps. Caldwell went out on the same lap with a broken half-shaft. At the half-way mark the leaders were Stewart and Attwood, well ahead of Martin, Palmer, Buchanan, Marwood and John Riley. Palmer made his move and took Martin who in his twenty-seventh lap, while attempting to go with the New Zealander, spun his Brabham and lost more ground.

Apart from some conjecture as to whether Buchanan's off-beat-sounding engine would last the race, his car had a broken valve spring, there was nothing to enliven the dying stages. Once again it was a BRM victory, and Stewart's first win of the series.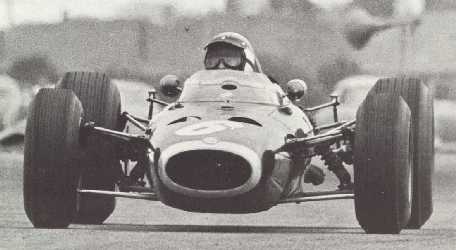 Race winner Jackie Stewart (BRM).
15th Lady Wigram Trophy
Date: 22nd January 1966
Venue: Wigram Airfield
44 laps of 3.7305kms (164.14kms)
| | | | | | |
| --- | --- | --- | --- | --- | --- |
| Result | Driver | Nat | Car | Laps | Time |
| 1 | Jackie Stewart | Scot | BRM P261 / BRM 1916cc V8 | 44 | 63m 44.1s |
| 2 | Richard Attwood | UK | BRM P261 / BRM 1916cc V8 | 44 | 64m 00.5s |
| 3 | Jim Palmer | NZ | Lotus 32B / Climax 2495cc 4cyl | 44 | 64m 50.0s |
| 4 | Spencer Martin | Aust | Brabham BT11A / Climax 2499cc 4cyl | 44 | 65m 02.7s |
| 5 | Andy Buchanan | NZ | Brabham BT7A / Climax 2499cc 4cyl | 43 | |
| 6 | Dennis Marwood | NZ | Cooper T66 / Climax 2495cc 4cyl | 42 | |
| 7 | Roly Levis | NZ | Brabham BT6 / Ford 1498cc 4cyl | 42 | |
| 8 | Dene Hollier | NZ | Lotus 20B / Ford 1498cc 4cyl | 40 | |
| 9 | Peter Gillum | NZ | Cooper T65 / Ford 1498cc 4cyl | 39 | |
| Ret | Graeme Lawrence | NZ | Brabham BT6 / Ford 1498cc 4cyl | 36 | Clutch |
| Ret | Red Dawson | NZ | Brabham BT7A / Climax 2499cc 4cyl | 32 | Overheating |
| Ret | Bill Caldwell | NZ | Brabham BT6 / Ford 1498cc 4cyl | 32 | Half-Shaft |
| Ret | Ken Sager | NZ | Brabham BT6 / Ford 1498cc 4cyl | | Head Gasket |
| Ret | Allan Rhodes | NZ | Lotus 18 FJ / Ford 998cc 4cyl | | |
| Ret | Ray Thackwell | NZ | Brabham BT6 / Ford 1498cc 4cyl | | |
| Ret | John Riley | NZ | Lotus 18/21 / Climax 2495cc 4cyl | | |
| Ret | Jim Clark | Scot | Lotus 39 / Climax 2495cc 4cyl | 4 | Accident |
| Ret | Frank Gardner | Aust | Brabham BT11A / Climax 2499cc 4cyl | 4 | Accident |
Fastest laps: Jackie Stewart, 1 min 25.0 sec.