1966 Round 4
Teretonga

Round Four: TERETONGA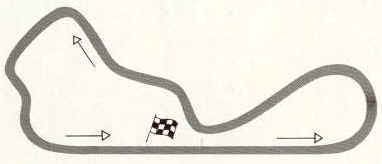 9th Teretonga International

Jackie Stewart made it a clean sweep for BRM in the New Zealand section of the Tasman Championship by finishing 18.8 sec ahead of Frank Gardner in the Teretonga International at Invercargill. The next three places were taken by Jim Palmer, Dennis Marwood and Roly Levis, all of whom finished two laps behind. Sixth was Ken Sager another lap back. The race was marred when Bill Caldwell's 1.5 Brabham-Ford plunged off the track in the Esses during the unfortunate driver's thirty-third lap. Caldwell and two boys among the spectators died from their injuries. The race was stopped when Stewart and Gardner had completed forty-six of the fifty laps. Stewart who in his preliminary heat had set a new circuit record of 61 sec, or 88.5 mph, won at an average speed of about 84.5 mph although he had the use of only third gear on the tight, twisting 1.5-mile circuit for the final fifteen laps. Again there was trouble soon after the start. Within seconds of flagfall Spencer Martin, Richard Attwood and Red Dawson tangled in the first turn, the Loop, and all shot off into the undergrowth. After winning his preliminary heat, Jim Clark led the race into the fourth lap when he spun off the track and went out with a damaged radiator.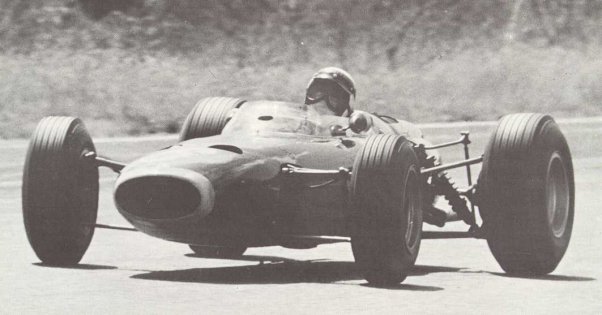 Stewart (BRM) makes it two wins in a row.

Unofficial practice began in excellent weather the morning before the race and Stewart was soon circulating near the 60 sec mark. When he came in he expressed the view (probably with tongue in cheek) that the circuit seemed better suited to Brabhams and Lotuses, all of which were at least a second slower! All the same, his contention was borne out when official qualifying time trials were held on a slippery track in the afternoon. Gardner returned 61 sec on his eighth circuit and Stewart equaled the figure on his thirteenth lap. Neither could improve so the Australian earned pole position for the preliminary heat featuring Tasman Formula cars. Clark ran out with 61.3 sec while Attwood equaled the world champion's 1965 lap record with 61.3 sec. Then came Martin (62 sec), Palmer and Dawson (63.6 sec each) and Andy Buchanan (63.8 sec). When the 1.5 cars rolled off to qualify, Levis upset the applecart by going round in 62.1 sec to get in among the big boys.

There was a good crowd at the track for the 1.5 main race heat next morning and here it was Sager for the six laps with Lawrence in second position. Levis, prominent early, faded with a misfiring engine and Dene Hollier (Lotus-Ford) finished third, with Thackwell fourth.

The second heat for the Tasman Formula cars was more interesting. Although Gardner made the best start, Clark soon hit the front to put in an opening lap of 68.5 sec. He held off Stewart though the timekeepers could not separate them at the finish, both being given 6 min 6.2 sec. It was in this heat that Stewart set the 61 sec lap record, 0.7 sec inside Clark's 1965 time. Clark's best lap was 61.1 sec. These two were followed home by Gardner, Martin, Attwood, Palmer, Dawson and Marwood with John Riley a lap in arrears.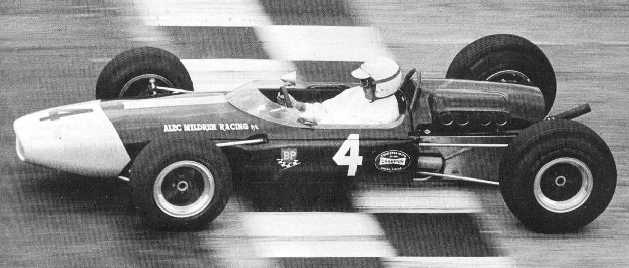 Teretonga provided Gardner his only NZ placing for the season. To avoid crowding on the starting grid for the main race, the usual four-three-four layout was replaced by three-two-three, the positions being determined by elapsed race times in the heats. Clark had pole position, by virtue of his win, with Stewart and Gardner outside him. Martin and Attwood shared the second row, with Palmer, Dawson and Marwood in the third. Fourth row had Buchanan and Riley. Sager, Lawrence and Hollier were next, then Thackwell and Levis; then Gillum, Rhodes and Caldwell; with Shaw at the rear.

Gardner shaded Clark off the line while Dawson came through quickly to be prominent also. Then before anyone realized what was happening, came the mix-up in the Loop, it looked much worse than it turned out to be, and Attwood, Martin and Dawson were off the scene, claiming the same bit of track at the same time. Martin slid, Dawson hit him and Attwood sailed over the top of both, ending upside down and trapped under his BRM. Attwood was slightly injured in the accident.

Clark, with the bit between his teeth, managed to draw out a few lengths on Stewart who, in turn, maintained a similar distance over Palmer and Gardner. Then there was a gap back to Buchanan, Riley, Sager, Lawrence and Levis.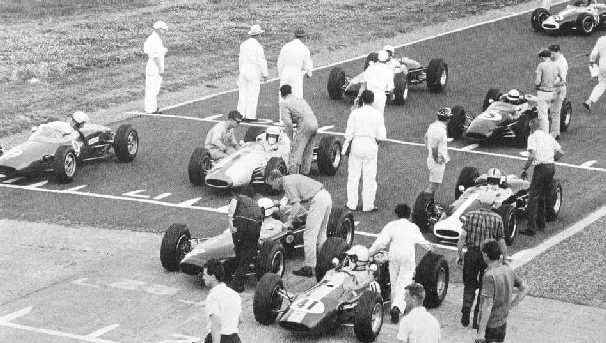 Preparation for the start of the main race. Out in front, Clark was averaging 87 mph and it looked as though this time he had the Lotus properly sorted out. He drew farther away from Stewart, which was fortunate for the latter as fate intervened, in the shape of an oil slick at the far end of the Loop, in the fourth lap. The Lotus went so quickly that there was nothing Clark could do and he spun to the infield out of the race. Stewart was able to avoid the hazard and so was Gardner who had taken Palmer. Once again early casualties had robbed the race of much of its interest.

Stewart drove consistently at about 62.5 sec while Gardner was about a second slower and Palmer was in the 64 sec range. Buchanan was fourth with Riley, Levis, Lawrence and Sager next in line. Next time round Levis took Riley, who began to drift back. At the end of ten laps, Stewart's advantage over Gardner was about 8 sec and he increased this to 10.6 sec five laps later. By the end of twenty-one laps, Stewart had doubled the field, except Gardner, Palmer being the last to receive this treatment. Lawrence was having ignition problems and finally retired on lap 23.

There was some excitement in the thirty-first lap when, as Stewart flashed past the timekeepers' stand, the BRM jumped out of gear. For the next few rounds the car sounded rough and Stewart's lap times began to fluctuate. Despite his having the use of only third gear he quickly settled down once more and it became clear that he was not going to give anything away.

Marwood finally usurped Buchanan's fifth place behind Levis as Stewart completed his thirty-second lap. Three laps later the Cooper driver took Levis also and it was just before this that Caldwell ran off with such tragic results. He had a throttle jam open on his Brabham at the entrance to the esses. The car careered through the lupins, hit a ditch and launched itself into the air, coming down hard against a sheeptruck. White flags, signifying that services vehicles were on the track, were hung out at all points; the field slowed sadly until the race was finally stopped when the ambulances were ready to leave the circuit.


Dennis Marwood (Cooper-Climax) managed a good fourth placing.
9th Teretonga International
Date: 29th January 1966
Venue: Teretonga Park
46 laps of 2.4138kms (111.03kms)
| | | | | | |
| --- | --- | --- | --- | --- | --- |
| Result | Driver | Nat | Car | Laps | Time |
| 1 | Jackie Stewart | Scot | BRM P261 / BRM 1916cc V8 | 46 | 49m 04.8s |
| 2 | Frank Gardner | Aust | Brabham BT11A / Climax 2499cc 4cyl | 46 | 49m 23.6s |
| 3 | Jim Palmer | NZ | Lotus 32B / Climax 2495cc 4cyl | 44 | |
| 4 | Dennis Marwood | NZ | Cooper T66 / Climax 2495cc 4cyl | 44 | |
| 5 | Roly Levis | NZ | Brabham BT6 / Ford 1498cc 4cyl | 44 | |
| 6 | Ken Sager | NZ | Brabham BT6 / Ford 1498cc 4cyl | 43 | |
| 7 | John Riley | NZ | Lotus 18/21 / Climax 2495cc 4cyl | 43 | |
| 8 | Dene Hollier | NZ | Lotus 20B / Ford 1498cc 4cyl | 42 | |
| 9 | Ray Thackwell | NZ | Brabham BT6 / Ford 1498cc 4cyl | | |
| 10 | Peter Gillum | NZ | Cooper T65 / Ford 1498cc 4cyl | | |
| 11 | Allan Rhodes | NZ | Lotus 18 FJ / Ford 998cc 4cyl | | |
| 12 | Tony Shaw | NZ | Lotus 20 / Ford 1498cc 4cyl | | |
| Ret | Bill Caldwell | NZ | Brabham BT6 / Ford 1498cc 4cyl | 34 | Fatal Accident |
| Ret | Andy Buchanan | NZ | Brabham BT7A / Climax 2499cc 4cyl | 33 | Engine |
| Ret | Graeme Lawrence | NZ | Brabham BT6 / Ford 1498cc 4cyl | 23 | Ignition |
| Ret | Jim Clark | Scot | Lotus 39 / Climax 2495cc 4cyl | 3 | Spun Off |
| Ret | Red Dawson | NZ | Brabham BT7A / Climax 2499cc 4cyl | 0 | Accident |
| Ret | Richard Attwood | UK | BRM P261 / BRM 1916cc V8 | 0 | Accident |
| Ret | Spencer Martin | Aust | Brabham BT11A / Climax 2499cc 4cyl | 0 | Accident |
Fastest lap: Jackie Stewart 1 min 2.1 sec (1 min 01.0 sec in heat) (record).