1964 Round 3
Wigram

Round Three: WIGRAM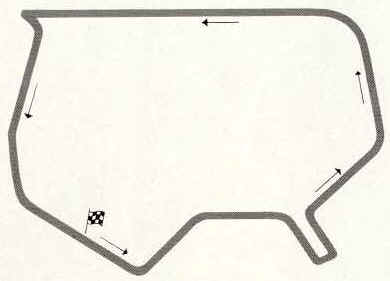 13th Lady Wigram Trophy
Bruce McLaren, in what he afterwards described as the best race in his career so far, completed a Wigram 'double' when he cut out the 102 miles in 65 min 0.8 sec in his Tasman Cooper-Climax after a tremendous tussle with the Brabham-Climaxes of Jack Brabham and Denny Hulme. He beat Brabham by 8 sec, while Hulme nursed home an ailing car some 16 sec later, comfortably in front of John Youl's 2.5-litre Cooper-Climax. Jim Palmer completed forty-three of the forty-four laps in a similar car to be fifth, and a further lap back came Tony Shelly (2.5 Lotus-Climax) and Rex Flowers (1.5 Lotus-Ford). McLaren's team-mate Timmy Mayer was out of luck. He lost ground early through throttle trouble, a complaint that bothered both cars of Bruce McLaren Motor Racing Ltd at Wigram, and finished eighth, just heading off Andy Buchanan (1.6 Brabham-Ford). Of the thirteen starters, eleven were still circulating when McLaren crossed the finishing line. The tenth Lady Wigram Trophy race was without doubt the most exciting ever held on the circuit, with the placings uncertain all the way.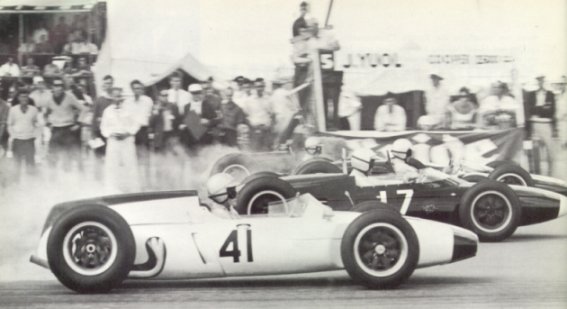 Tony Shelly (Lotus-Climax) and Jim Palmer (Cooper-Climax)

With two rounds in the Tasman Championship already decided and Hulme holding a slender lead over McLaren, it was clear that the Wigram race could settle the New Zealand part of the series. The track had a new section added to eliminate the chicane with its infamous bump. Now there was a loop with three infamous bumps.

Hulme was fastest in practice with 1 min 27.7 sec. Then came Brabham (1 min 29.0 sec), Mayer (1 min 29.2 sec), McLaren (1 min 29.6 sec) and Youl (1 min 29.8 sec). Hulme was the only one who seemed to have sorted out the intricacies of the Loop. Most of the other drivers, McLaren and Brabham among them, made no bones about the fact that they thoroughly disliked it, a view that was not shared by onlookers who thrilled to the sight of cars taking the right-hand swerve leading into the Loop and leaving the ground on a quite formidable bump at the point where severe braking was required.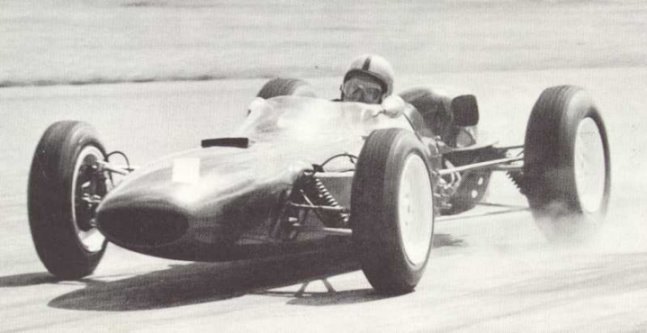 Chris Amon (Lola-Climax) The two twenty five mile heats to determine grid positions for the Trophy race in the afternoon were an innovation also welcomed by the large crowd of more than 20,000. In the first Mayer made the best of the start but skated out of the race at Club Corner and came to rest with damaged suspension. That left Hulme on his own to win in 16 min 22.6 sec and establish fastest lap of the day, 1 min 26.7 sec. Palmer, Shelly, Amon and Levis were next in line.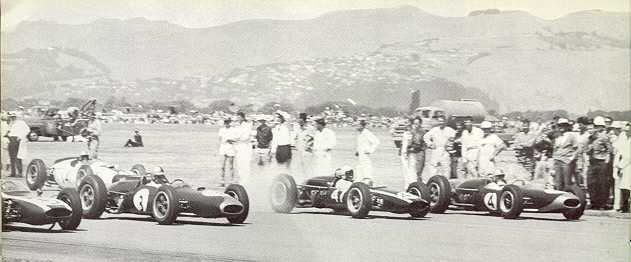 Start of the race with from right Brabham, McLaren, Hulme and Youl

Always a clean starter, Youl shot to the front in the second heat, but was passed by McLaren and Brabham in the second lap. The old adversaries fought it out with Brabham winning in 16 min 12.5 sec. McLaren was 0.5 sec back, then came Youl, Buchanan, Flowers and Young. Brabham's fastest lap was in 1 min 27.2 sec.

Elapsed race times determined the Trophy grid, so Brabham had pole position with McLaren, Hulme and Youl outside him. Youl again was first out, but Brabham and McLaren soon passed him. In the third lap McLaren's throttle stuck in the Loop and an excursion into the 'rough' relegated him to eighth place, the order then being Brabham, Hulme, Youl, Mayer, Palmer, Amon, Shelly, McLaren, Buchanan and Flowers.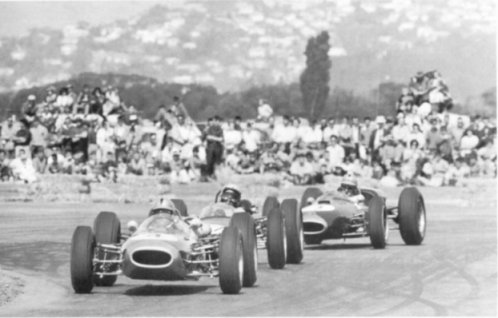 Brabham leads McLaren and Hulme

Mayer also had trouble in the Loop and a long pit stop cost him all chance. The outlook for the McLaren team looked grim but driving in forceful fashion McLaren was fourth at the end of five laps and after five more took Youl to be only 8.5 sec behind leader Brabham and his team-mate Hulme. Youl held on for a while then was content to keep clear of Palmer who had Shelly and Amon hard on his heels. Ten laps later only 2 sec separated Brabham and McLaren, with Hulme still in between. Twice McLaren nearly won a corner from Hulme but it was not until lap twenty-three that he finally took him. In this period Amon went out with suspension troubles. Palmer then had a spin that cost him his place to Shelly and later Shelly spun and let Palmer back to fifth behind Youl. Up in front the leaders were regular as clockwork. McLaren, probing for a gap, found it in the Loop in the thirty-ninth lap when Brabham slid into loose metal as he attempted to pass a slower car on the outside. Hulme also slipped through. Brabham drove desperately to make up lost ground. Then, on the final lap, Hulme slowed down with engine bearing trouble. McLaren took the flag ahead of Brabham, followed in by a disappointed Hulme. Then came Youl, the only other to complete the 44 laps.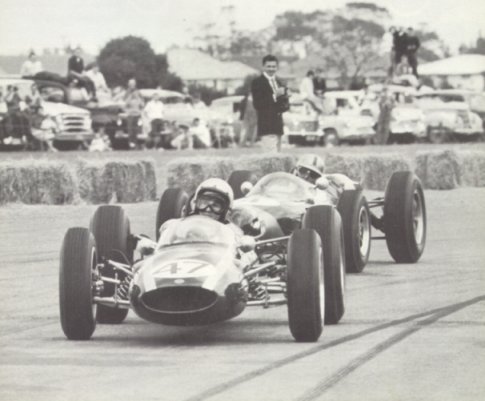 McLaren holding on to the lead from Brabham
13th Lady Wigram Trophy
Date: 18th January 1964
Venue: Wigram Airfield
44 laps of 3.7305kms (164.14kms)
| | | | | | |
| --- | --- | --- | --- | --- | --- |
| Result | Driver | Nat | Car | Laps | Time |
| 1 | Bruce McLaren | NZ | Cooper T70 / Climax 2499cc 4cyl | 44 | 65m 00.8s |
| 2 | Jack Brabham | Aust | Brabham BT7A / Climax 2499cc 4cyl | 44 | 65m 08.8s |
| 3 | Denny Hulme | NZ | Brabham BT4 / Climax 2495cc 4cyl | 44 | 65m 24.0s |
| 4 | John Youl | Aust | Cooper T55 / Climax 2495cc 4cyl | 44 | 66m 23.8s |
| 5 | Jim Palmer | NZ | Cooper T53 / Climax 2495cc 4cyl | 43 | |
| 6 | Tony Shelly | NZ | Lotus 18/21 / Climax 2495cc 4cyl | 42 | |
| 7 | Rex Flowers | NZ | Lotus 20B / Ford 1498cc 4cyl | 42 | |
| 8 | Timmy Mayer | US | Cooper T70 / Climax 2499cc 4cyl | 41 | |
| 9 | Andy Buchanan | NZ | Brabham BT6 / Ford 1598cc 4cyl | 41 | |
| 10 | Roly Levis | NZ | Lotus 22 / Ford 1650cc 4cyl | 40 | |
| 11 | Ken Sager | NZ | Lotus 20B / Ford 1498cc 4cyl | 37 | |
| Ret | Chris Amon | NZ | Lola T4 / Climax 2495cc 4cyl | 26 | Suspension |
| Ret | David Young | NZ | Cooper T65 / Ford 1473cc 4cyl | | |
Fastest laps: Hulme, 1 min 26.7 sec (in preliminary heat); McLaren, 1 min 26.9 sec (in main race).