1964 Round 4
Teretonga

Round Four: TERETONGA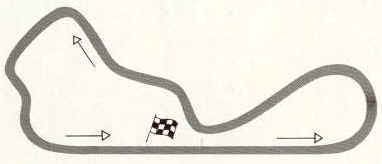 7th Teretonga International
Driving the Tasman Cooper-Climax, Bruce McLaren notched up his fourth Teretonga win and his third in succession, as well as his third successive victory for the 1964 season. His time for the 75 miles was 58 min 24.5 sec, just 0.1 sec faster than that of his team-mate Timmy Mayer, who finished next. Third home was Jim Palmer (2.5 Cooper-Climax) and then came Tony Shelly (2.5 Lotus-Climax), Bill Thomasen (2.5 Cooper-Climax) and Roly Levis (1.65 Lotus-Ford). For a while the race looked as though it would be a repetition of Levin for Denny Hulme, the sole Brabham-Climax representative, dominated the first eight of the fifty laps, building up a lead of nearly 10 sec over McLaren. But the newly-resealed track was slippery and Hulme came unstuck at the exit from the sweeping loop which is a feature of the 1.5-mile circuit and damaged the front suspension of his car. With Hulme out of the way McLaren and Mayer turned on a high-speed driving demonstration, and as they were driving as a team and were not pressed neither race nor lap records were established.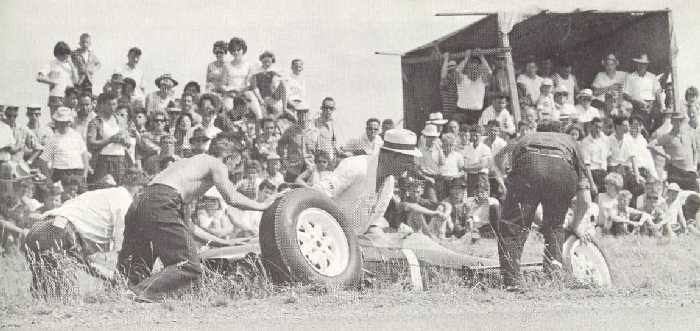 Chris Amon spun his Lola-Climax into a ditch

In the unofficial training session McLaren and Mayer soon found to their discomfort that the new sealing was inclined to bleed and make the circuit slippery and the coating of small stones whipped up into the drivers' faces. Because of these unpleasant conditions no spectacular times were registered at the official session later in the day. Hulme was fastest with 1 min 6.3 sec, using the Repco-developed twin-ignition Coventry-Climax engine in his Brabham that his team-leader had raced at Wigram the previous Saturday. Next came Mayer with 1 min 7.5 sec, Youl with 1 min 8.0 sec in his older and heavier Cooper-Climax, and McLaren with a 1 min 8.2. These qualifying times determined grid positions for the two preliminary six-lap heats on race day which, in turn, determined positions for the start of the feature race.

In fine weather six cars lined up for the first heat, Mayer, Thomasen, Chris Amon (2.5 Lola-Climax) and Rex Flowers (1.5 Lotus-Ford) sharing the front row with Jim Boyd (1.5 Valour-Ford) and Palmer at the rear. Mayer led from start to finish, winning in 6 min 53.4 sec from Amon, Thomasen, Palmer, Flowers and Boyd, the positions having remained the same all the way. The second heat was more interesting with Hulme, Youl, McLaren and Shelly (2.5 Lotus-Climax) lined up in front of Levis (1.65 Lotus-Ford), Barry Porter (2-litre Lotus-Climax sports) and Ken Sager (1.5 Lotus-Ford). Youl led for the first lap and was then taken by McLaren and Hulme. Hulme really tried for two laps, then eased a little to come home second with Youl, Shelly, Levis, Porter and Sager next. McLaren's time was 6 min 50.8 sec.

Before the main event Hulme brought out the Brabham-Climax fitted with a pair of wide-section tyres on the rear wheels and put in two very quick laps, considering the state of the circuit, to the consternation of the other competitors.

McLaren had pole position, with Hulme, Mayer and Amon outside him. Youl was a last-minute defection. A broken fuel line was discovered as the car was about to be wheeled out. Thomasen and Shelly had the second row to themselves, while at the rear were Palmer, Flowers, Levis, and Sager and Boyd. Barry Porter was also a non-starter.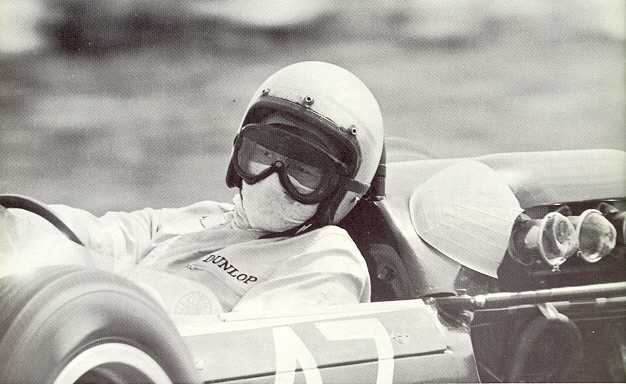 McLaren on his way to his fourth Teretonga victory

Hulme won the first corner from McLaren, Amon, Palmer, Mayer and Thomasen and built up a 4 sec lead in the first two laps. Mayer then moved to third place ahead of Amon, who was followed by Palmer, Thomasen and Shelly. A lap later Hulme made fastest lap of the day in 1 min 5.7 sec and had a 7.5 sec lead over McLaren. With six laps gone, Hulme's lead was 8.5 sec and as he started the ninth the margin was 9 sec. Then, coming out of the long loop, he spun to the infield, hitting a fence post, and was out of the race.

McLaren was now a surprised leader 3 sec ahead of Mayer, who was followed by Amon, Palmer, Thomasen, Shelly, Levis, Flowers, Boyd and Sager. Amon made his bid, driving magnificently in a car that was handling badly, but he came to an end in the nineteenth lap when he spun off to finish in a ditch. His departure enabled McLaren and Mayer to circulate in tight formation at about 1 min 10 sec per lap. Palmer, Thomasen, Shelly, Levis and Flowers followed, with Boyd a long way back.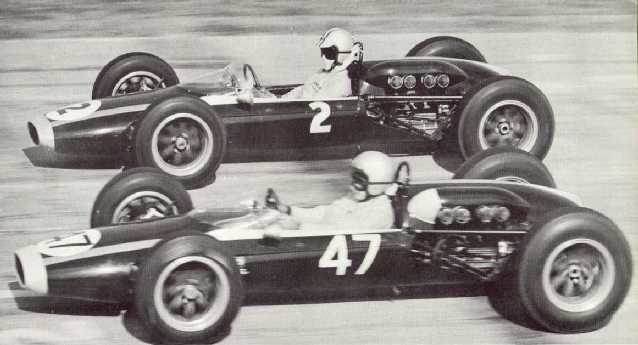 Formation 1-2 finish for McLaren and Mayer It was obvious that this would be McLaren's race for it would give him the maximum points to be scored in the New Zealand section of the Tasman Championship. However, he and Mayer made a spectacle for the crowd and in the course of the thirty-fifth lap Mayer forged to the front and stayed there for five rounds, although McLaren momentarily moved ahead in lap thirty-eight. McLaren took over again in the forty-first lap to lead Mayer, Palmer, Shelly, Thomasen, Levis, Boyd and Sager. Flowers had stopped to remedy gear-box trouble. Mayer took the lead again in lap forty-five, but McLaren went ahead as they ran into the forty-seventh lap and from then on these two worked up to a grandstand finish with barely a length separating them. Palmer was a good third well clear of Shelly and Thomasen, the only other runners to go the full distance.

7th Teretonga International

Date: 25th January 1964
Venue: Teretonga Park

50 laps of 2.4138kms (120.69kms)
| | | | | | |
| --- | --- | --- | --- | --- | --- |
| Result | Driver | Nat | Car | Laps | Time |
| 1 | Bruce McLaren | NZ | Cooper T70 / Climax 2499cc 4cyl | 50 | 58m 24.5s |
| 2 | Timmy Mayer | US | Cooper T70 / Climax 2499cc 4cyl | 50 | 58m 24.6s |
| 3 | Jim Palmer | NZ | Cooper T53 / Climax 2495cc 4cyl | 50 | 58m 36.0s |
| 4 | Tony Shelly | NZ | Lotus 18/21 / Climax 2495cc 4cyl | 50 | 59m 10.0s |
| 5 | Bill Thomasen | NZ | Cooper T53 / Climax 2495cc 4cyl | 50 | 59m 36.4s |
| 6 | Roly Levis | NZ | Lotus 22 / Ford 1650cc 4cyl | 48 | |
| 7 | Jim Boyd | NZ | Valour VP1 / Ford 1098cc 4cyl | 47 | |
| 8 | Ken Sager | NZ | Lotus 20 / Ford 1475cc 4cyl | 47 | |
| Ret | Rex Flowers | NZ | Lotus 20B / Ford 1498cc 4cyl | | |
| Ret | Chris Amon | NZ | Lola T4 / Climax 2495cc 4cyl | 12 | |
| Ret | Denny Hulme | NZ | Brabham BT4 / Climax 2495cc 4cyl | 8 | |
| DNS | John Youl | Aust | Cooper T55 / Climax 2495cc 4cyl | | |
| DNS | Barry Porter | NZ | Lotus 15 / Climax 1964cc 4cyl | | |
Fastest lap: Denny Hulme 1 min 5.7 sec.