Reference Number

NZ-A-91
NZ-A-92
NZ-A-93
NZ-A-94
NZ-A-95
NZ-A-96
NZ-A-97
NZ-A-98
NZ-A-99
NZ-A-100
Denomination

$5
$5
$5
$5
$5
$5
$5
$5
$5
$5
Description

1972 Volkswagen Beetle 1302S
1959 Cadillac DeVille
1963 Ford Thunderbird
1977 Ferrari 512 Berlinetta Boxer
1957 Porsche 356A Coupe
1969 Mercedes 280SL Coupe
1969 E-Type Jaguar
1971 Chevrolet Corvette Stingray
1966 Ford Mustang
Weet-Bix Cereal
Control Number

2ACB
2ACB
2ACB
2ACB
2ACB
2ACB
2ACB
2ACB
2ACB
2ACB
Quantity

23,000
23,000
23,000
23,000
23,000
23,000
23,000
23,000
23,000
23,000

There was a Special Limited Edition Folder of 500, illustrated below, available for putting the set of 10 cards in. It came with spaces for placing the regular set of 20 Weet-Bix cards,
available in the Weet-Bix packets. The set of 20 cards depicted images of 17 different New Zealand Phonecards, and one of each from the Netherlands, Sweden and Australia.

There was an alternate regular album also available for inserting the cards, 2nd illustration below.

As well, the 10 cards were available, two cards at a time from the set, in a small white folder, illustrated at bottom.

The Ferrari, Porsche, Mercedes & Corvette cards were also included in the Collector Pack AdCards Volume Ten NZ-CP-43 and were overprinted on the reverse with Collectors Issue 1995
or International Collectors Issue 1995, if included in the International Pack.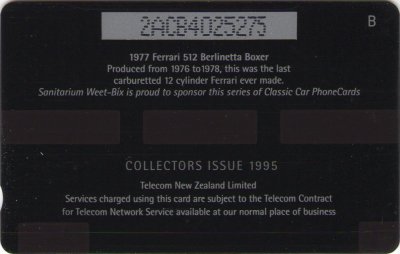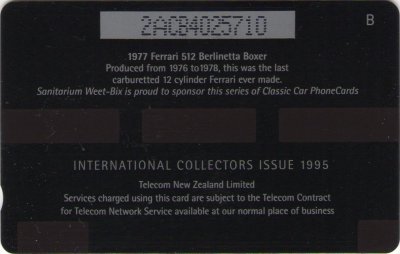 The reverses of the normal cards