Reference Number

NZ-A-83
NZ-A-84
NZ-A-85
NZ-A-86
NZ-A-87
NZ-A-88
NZ-A-89
NZ-A-90
Denomination

$5
$5
$5
$5
$5
$5
$5
$5
Description

KZ1 - The Big Boat
KZ1 - Contender 1988
KZ7 - Kiwi Magic
KZ7 - Contender 1987
NZL20 - Red Sled
NZL20 - Contender 1992
NZL32 - Black Magic 1 - Contender 1995
NZL32 - Black Magic
Control Number

1ACB
1ACB
1ACB
1ACB
1ACB
1ACB
1ACB
1ACB
Quantity

15,500
15,500
15,500
15,500
15,500
15,500
15,500
15,500

The KZ1 Contender 1988 card is known with European Zeros Ø in the control number.

The NZ-A-90 card has been discovered with the back of NZ-A-89.

Cards NZ-A-86, 88, 89 & 90 were issued in a special Winners Pack, limited to 2,500, illustrated below. This pack also contained a specimen card.
Another spectacular Presentation Folder of 1,500, was issued by Kiwi Event Phonecard Ltd. This pack, illustrated bottom, contained all 8 cards and an actual piece of sailcloth from the
mainsail of 1987 challenger, Kiwi Magic.
A further pack of 2,000, called Homecoming, illustrated below, was issued by Pacific Coin Company. It contained 5 of the 8 cards, NZ-A-83, 85, 87, 89 & 90.
A souvenir folder of 600, was issued, illustration at bottom, combining the New Zealand Post 45c Victory Stamp, along with two cards of Black Magic, NZ-A-89 & 90

All eight cards were also included in the Collector Pack AdCards Volume Nine NZ-CP-37 and were overprinted on the reverse with Collectors Issue 1995 or International Collectors Issue 1995,
if included in the International Pack.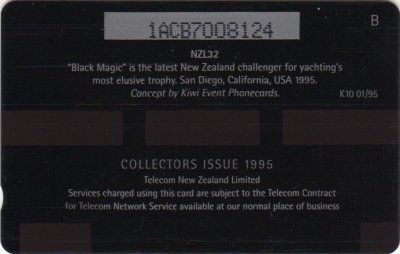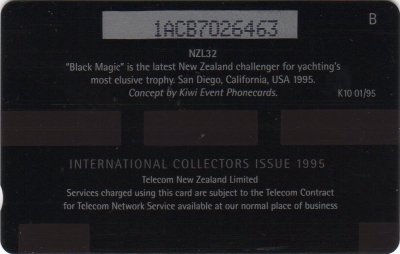 The reverses of the normal cards