Reference Number

NZ-A-101
NZ-A-102
NZ-A-103
NZ-A-104
NZ-A-105
NZ-A-106
NZ-A-107
NZ-A-108
Denomination

$5
$5
$5
$5
$5
$5
$5
$5
Description

Skyline Gondola, Queenstown
Whale Watch, Kaikoura
Volcanoes & Giants, Auckland Museum
Maori Arts & Crafts, Rotorua
Kelly Tarlton Penguins, Auckland
Helicopter Line
AJ Hackett Bungy, Queenstown
Rainbow Springs Trout, Rotorua
Control Number

141B
141B
ADDB
ADDB
141B
ADCB
141B
141B
Quantity

13,000
17,000
17,000
13,000
17,000
13,000
17,000
13,000

The 141B cards were overprinted on unsold $5 WWF Fur Seal cards. All five of them are known without the overprint on the reverse, leaving the Fur Seal inscription exposed.
The Helicopter Line card is available in ADDB (4th back) & ADCB (5th Back).
The Hackett card is common with141B "Centres" back and quite rare with 141B "Business" back.
The Rainbow Springs card has been seen with "International Collectors Issue 1995" even though it was not part of the International Pack.

All eight cards were available in a special presentation folder illustrated below.

The Whale Watch, Volcanoes, Kelly Tarlton & Hackett Bungy cards were also included in the Collector Pack AdCards Volume Eleven NZ-CP-48 and were overprinted on the reverse with Collectors Issue 1995
or International Collectors Issue 1995, if included in the International Pack.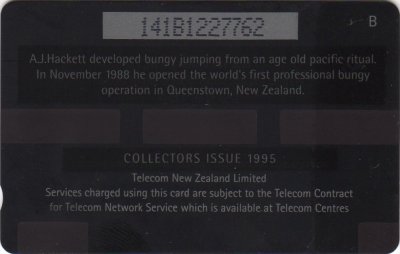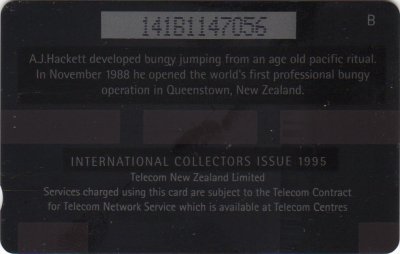 The reverses of the normal cards