Telecom produced this card and included it in a special invitation for Telecom customers to attend the TUANZ exhibition held in Auckland from August 4-7, 1993, illustrated at bottom.
TUANZ stands for Telecommunication User's Association Of New Zealand.
This card was overprinted on unsold stocks of $5 Landscape.
This card was also included in the Collector Pack AdCards Volume Three NZ-CP-15 and was overprinted on the reverse with 1993 Collector Issue.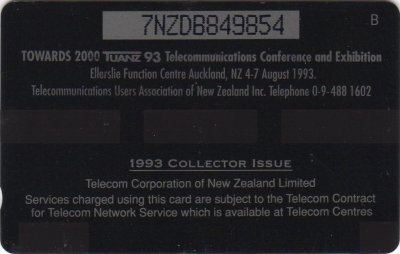 Exhibition Invitation.