Denomination

$5
$5
$10
$20
Description

Autumn
Winter
Spring
Summer
Control Number

232B
231B
231C
231D
Quantity

220,000
220,000
160,000
100,000

This set of cards shows New Zealand's popular seasonal pastimes.
All the $5 Winter cards are printed with backs that have the C on its side in the top right hand corner. All the other cards have B's.
The $20 card can be found with European Zeros Ø in the serial number and normal zeros.
These cards were also included in the Collector Pack NZ-CP-36 and were overprinted on the reverse with Collectors Issue 1995 or International Collectors Issue 1995 for those in the International Pack.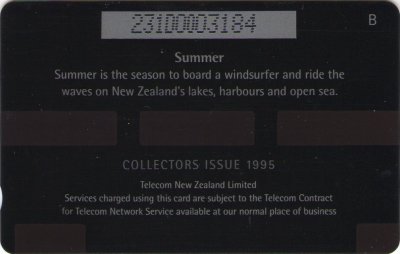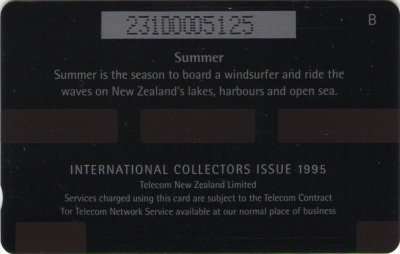 There is also a fifth card in this series, which was only available in the Collectors Pack. See Fifth Card.
Illustrated below are the reverse of the four normal cards.