Denomination

$5
$5
$10
$20
Description

Bellbird
Kotuku
Pukeko
Blue Duck
Control Number

241B
242B
241C
241D
Quantity

75,000
75,000
45,000
25,000

This set features New Zealand birds commonly found in the forest and wetland areas. The photographs were taken by Nic Bishop.
These cards were also included in the Collector Pack NZ-CP-39 and were overprinted on the reverse with Collectors Issue 1995 or International Collectors Issue 1995 for those in the International Pack.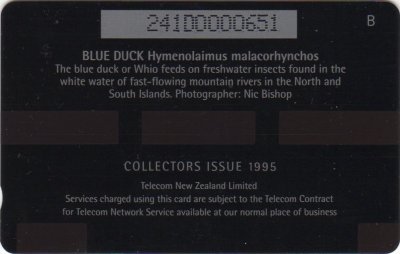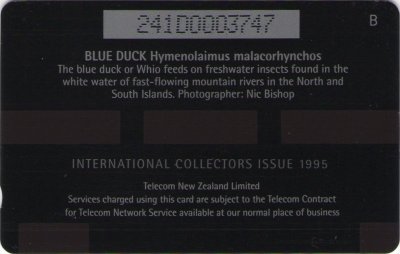 There is also a montage card of the above four pictures, which was only available in the Collectors Pack. See Montage Card.
Illustrated below are the reverse of the four normal cards.